8 of the best stainless steel pans for excellent searing and stewing
Hardwearing and efficient heat conductors, the best stainless steel pans are an essential for every kitchen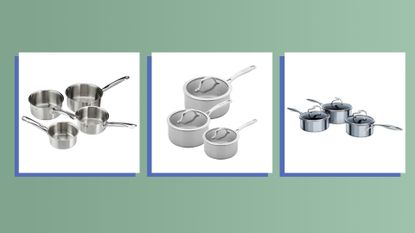 (Image credit: Future)
Having a set of stainless steel pans is an essential part of any cook's kitchen, given how well they retain heat and how durable they are. The best stainless steel pans should be able to last you a lifetime—if cared for properly—making them a great investment for any kitchen.
Like the best induction pans, stainless steel pans come into their own when used to sear or stew food—such as meat, fish, and seafood—because of their smooth steel bases. Choosing the best cookware for your home can be confusing with so many options. Our expert cookware tester has rounded up and evaluated a selection of the best stainless steel pans out there to help you make find the right one for you—from top brands including Le Creuset, Tefal, and Circulon.
Our expert tester used each pan to make a few different meals, subsequently assessing each pan—or pan set—for cooking performance, value-for-money, heat conduction, and how easy they were to care for. Below, they have also shared which pan is best for different needs in the kitchen, and detailed all and any specs you'll need to know about each product.
How we tested the best stainless steel pans
As with all of our buying guides—from the best woks through to the best blenders and the best food processors—we've tried and tested each of the below recommendations for you so we can be sure our list is comprised of the very best.
Our primary tests for our stainless steel pans were of course centered around how they performed when we cooked with them. But we also tested a range of other factors. During testing, we assessed the following points for each product:
Heat conduction—did they come up to temperature quickly and evenly, and stay hot after cooking?
Performance—did they allow for a good sear, and a good overall final product?
Ease of use—how easy were they to keep clean and maintain? Did they mark or damage easily?
Any extras—did they have any special features, such as internal measure marks or pouring lips? Do they come with lids?
The best stainless steel pans, as tested by our expert
1. Le Creuset 3-ply Stainless Steel 3-piece Saucepan Set
Best overall stainless steel pans
Specifications
RRP: From $160 per pan/£360 for the set
Included in set: 1 x 16cm saucepan, 1 x 18cm saucepan, 1 x 20cm saucepan
Warranty/guarantee: Lifetime
Oven safe: Yes
Dishwasher safe: Yes
Materials: Stainless steel
Reasons to buy
+
Excellent heat distribution, conduction and retention
+
Lifetime guarantee
+
Internal measuring marks
+
Pouring lips
+
Secondary helper handles
There's no escaping the fact that Le Creuset pans present a serious investment, but as with so many things in life you truly get what you pay for here. The brand has spent decades working out what cooks need and want, and has put hours upon hours of testing into getting its stainless steel pans just right. The results, we're pleased to report, seem worth the effort.
As with a few of our top stainless steel pan picks, Le Creuset has used a multi-layering technique to get the most from the metal while also bolstering the gaps where its flaws lay. The aluminum core surrounded by stainless steel offers the stability and even heating of aluminum, with the high-temperature handling of stainless steel. It's this combination that allowed the pans to come up to temperature quickly, even over a low or medium heat—and the bodies helped keep dishes hot over a prolonged period of time before serving.
Seemingly simple tweaks—like the internal measuring marks and the well-formed pouring lips—made these extremely functional for speedy weeknight cooking. Cleaning too was straightforward thanks to the set being completely dishwasher-safe, and we saw no visible deterioration on the pans over a few separate uses. Long handles and secondary helper handles meant we felt completely comfortable moving around the kitchen with these. Highly recommended.
2. De Buyer Prim Appety Stainless Saucepan Set
Best budget stainless steel pan set
Specifications
RRP: $206.75/£150
Included in set: 1 x 14cm saucepan, 1 x 16cm saucepan, 1 x 18cm saucepan, 1 x 20cm saucepan
Warranty/guarantee: 2 years
Oven safe: Yes
Dishwasher safe: Yes
Materials: Stainless steel
Reasons to buy
+
Dishwasher safe
+
Lightweight—easy to move around
+
Fast to heat
Reasons to avoid
-
No lids
-
Handles can get hot during use
Handling both searing and stewing easily, these stainless steel pans felt like professional pieces of kit despite their more reasonable price tag. With few bells and whistles on the design side of things, they're oddly pleasing in their functional form (although we have to say the lack of lids did make us feel slightly irked when it came to trying to steam or simmer anything).
Thanks to their lightweight build we found these really easy to handle and swil when making soups and sauces, and even once full they were straightforward to lift and maneuver with just one hand. Despite their seemingly delicate makeup, the bases were thick and sturdy enough to conduct heat well, and we found these came to temperature rapidly without the need for too much intensity from the hob top. Caution did have to be exercised if used over prolonged periods, as the handles had the potential to get very hot—especially when used over gas.
Being dishwasher-safe we loved that we could throw these straight into our machine after using, but the hollow handles do retain water which we found needed to be drained before stashing them away. Competent cooks shouldn't be put off by a couple of niggles surrounding the handles, however, as all in all, we thought these pans were excellent performers and would bring a touch of professionalism to domestic kitchens, making them our best stainless steel pans for those on a budget.
With thanks to Sous Chef (opens in new tab) for providing the pans to test in this review
3. Crane S Series 4 Stainless Steel Pan Set
Best luxury stainless steel pans
Specifications
RRP: From $139 per pan/£525
Included in set: 1 x 17cm Tri Ply Saucepan, 1 x 20cm Tri Ply Casserole, 1 x 26cm Tri Ply Saute pan, 1 x 29cm Tri Ply Frying Pan
Warranty/guarantee: Lifetime guarantee
Oven safe: Yes
Dishwasher safe: Yes
Materials: Stainless steel
Reasons to buy
+
Classic but contemporary design
+
Excellent heat conductors
+
Durable
+
Good range of sizes
+
Induction hob compatible
Reasons to avoid
-
High price point
-
Pans don't stack
-
Handles can get hot
From the first use, we were impressed with Crane's stainless steel pans. These are pans made by cooks for cooks, and it shows in every element. The sides on all of the pans in the set are high enough to ensure ingredients stay where they should be—rather than spilling over—and we were particularly impressed with the heat distribution. The multi-layered structure meant that they came up to temperature quickly but also evenly, with no heat spotting evident in our classic pancake test when using the frying pan. Lids fit snuggly to bolster the speed of bringing a pan of pasta or potatoes to the boil, while the relatively slimline bases helped get cooking off to a rapid start on both a range cooker and an electric hob during testing (in fact, these were the fastest of all we experimented with to come up to heat).
Looks-wise we don't think you can improve on these simple yet stylish designs which simultaneously look classic whilst maintaining a contemporary edge. Attractive enough to serve straight from (and handmade in England), these are ideal for entertainers who feed friends and family on a regular basis—the sizes easily allow you to cater for between 4-6 people at any one time.
The double handles on the larger pots were great for instilling confidence while moving around the kitchen, while the ergonomically designed knobs on the lids were easy to grip. Slight niggles included the odd thing sticking here and there on the saucepan, and the fact that the handles can get hot if used over flames. All in all, the stainless steel Crane pans perfectly balance the best bits of classic design with the knowledge of contemporary cooking needs. One to watch, we suspect you'll be seeing a lot more of this brand to come.
4. Kuhn Rikon Allround Stainless Steel 3pc Saucepan Set
Best starter stainless steel pan set
Specifications
RRP: $287.80/£209
Included in set: 1 x 16cm saucepan, 1 x 18cm saucepan, 1 x 20cm saucepan
Warranty/guarantee: Limited lifetime guarantee
Oven safe: Yes
Dishwasher safe: Yes
Materials: Stainless steel
Reasons to buy
+
Comfortable handles
+
Glass lids with steam holes
+
Thick bases
+
Hanging hooks
+
Aga compatible
Reasons to avoid
-
Rivets can be hard to clean
-
No internal measure markers
Oven-safe and dishwasher suitable (which is good because the rivets can be tricky to get clean), this is a stainless steel pan set that is perfect for families who want multi-functional and practical pieces in their kitchen. The included lids have been given as much thought as the pan bodies, with steam holes and glass tops to allow for easy simmering and simple monitoring while your food cooks—a relatively rare element in competitor pieces. The comfortable ergonomically designed handles also helped in making transitional moments efficient. We liked that when the lids were flipped upside down in the pans they didn't slide around, which made them easy to store on top of the bodies, and also meant the pans could be stacked up on top of each other in a pyramid.
The handles promise 'cooltouch' technology, and we found the claims to be true even when cooking on the hob over prolonged periods of time. This of course isn't the case when used in the oven, but for safer simmering or stewing on a hob this was a nice bonus feature.
While they might be slightly pricier than your average pan purchase, the stainless steel makeup of these pans really does positively impact their performance. We found them to come up to temperature evenly, and we got a good medium-high heat easily for frying off meat before stewing it. For an all-round set that can do both searing, stewing and simmering, we thought these made the perfect starter stainless steel set.
5. Circulon Steelshield™ Nonstick Stainless Steel C-series 3 piece saucepan set
Best stainless steel pans for induction hobs
Specifications
RRP: $329/£240
Included in set: 1 x 16cm saucepan, 1 x 18cm saucepan, 1 x 20cm saucepan
Warranty/guarantee: Lifetime guarantee
Oven safe: Yes
Dishwasher safe: Yes
Materials: Stainless steel non-stick
Reasons to buy
+
Comfortable handles
+
Easy to clean
+
Scratch-proof
+
Handle stays cool
+
Good non-stick
Reasons to avoid
-
Expensive
-
No secondary grip handles
-
Bulky
It has to be acknowledged that fully stainless steel pans aren't for everyone, because despite their name they can—and do—mark, and food can stick to them if not used in a fairly precise way. Bridging the gap between the ease of non-stick and the performance of stainless steel is the Steelshield range from Circulon. Cleverly designed to mimic the heat conduction of stainless steel, these pans have a ridged, ringed interior made from stainless steel, while the sides and base are covered in a top-spec non-stick coating. This dual technology means the base of the pans does excellent searing—as good as any of the pans we tested —while at the same time we found food was much less likely to stick, making it one of the best non-stick pans in this round-up. The pans are also compatible with induction hobs, which is a very handy point to note.
This combination also made for a much easier cleaning job even when we were a little 'enthusiastic' with the heat. While some smaller food pieces did stick to the ridges, on the whole, the base wiped clean without too much effort, and because all of the pans are dishwasher-safe we mostly popped them into a regular cycle for the machine to do the hard work for us. We saw no deterioration after a few different washes and felt confident in the longevity of the flattened, riveted handles and well-made lids. While the handles were comfortable, we found them to be fairly bulky which made storage a bit tricker than we'd like. But overall for oven-safe, induction-compatible pans that have the convenience factor of a non-stick coating, we felt that these would be a top pick for many busy households.
6. Zwilling 5 Piece Stainless Steel Cookware Set Twin Classic range
Best stainless steel pans for a family
Specifications
RRP: $330/£349
Included in set: 1 x 2l stock pot, 1 x 6l stock pot, 1 x 2.9l stew pot, 1 x 1.5l saucepan, 1 x 24cm frying pan.
Warranty/guarantee: Lifetime
Oven safe: Yes
Dishwasher safe: Yes
Materials: Stainless steel
Reasons to buy
+
Internal capacity markers
+
Great range of pan sizes and shapes
+
Even heat distribution
Working out at just over $50/£50 per pot, these aren't cheap necessarily, but we thought this Zwilling pan set worked out as great value for money given the quality. The bottoms are layered with aluminum to get a good even heat distribution while maintaining their functionality for all stovetops. If you only bought one set to furnish an entire kitchen, this could be it (perhaps with the addition of a cast-iron skillet and a good non-stick frying pan). The sizes are generous and range from the ideal capacity to serve a couple, through to a stockpot big enough to make soups and stews that would feed a bigger family comfortably—making them our pick for the best stainless steel pans for a family.
Despite the double handles, these did stack easily for storage with the lids off (one of our preferred pan storage ideas). Internal capacity markers were handy for fast and intuitive cooking. The only slight issue we felt dulled the shine slightly was when it came to tidy-up time. The bottom is bonded with a seam across the base, while the handles have a plate where they attach to the body. Both of these areas needed extra attention to get them clean when washing by hand, although they did come up nicely after a dishwasher cycle. Nicely finished pouring lips made transferring liquids from the pans to serving dishes fuss and mess-free, while the matte surface meant any accidental spills weren't particularly visible when they did happen.
7. Samuel Groves 26cm Non-stick Stainless-steel Frying Pan
Best stainless steel frying pan
Specifications
RRP: $172/£125
Warranty/guarantee: Lifetime
Oven safe: Yes
Dishwasher safe: Yes, but hand washing recommended
Materials: Stainless steel, aluminium and non-stick F-lon
Reasons to buy
+
Non-stick coating
+
Great guarantee
+
Well balanced
+
Excellent heat transfer
+
Robust
Reasons to avoid
-
Expensive
-
Not suitable for use with metal utensils
Weighty without being too hard to handle (as all of the best stainless steel pans should be), this smart frying pan was one of our favorites during testing. Samuel Groves is a British heritage brand, and the years of research and refinement have resulted in a pretty much perfectly formed pan.
During our trial, we were impressed at just how quickly this came to temperature (under a minute on an induction hob), and while the non-stick coating may not give you quite as good a sear as a traditional stainless steel interior, we did love the ease of maintenance. With a completely smooth non-stick coating, frying eggs and omelets in this pan was super simple and straightforward, without the need for oil. And washing up was a breeze with just a warm cloth and warm, soapy water needed. After a few consecutive uses, we saw no damage to the interior, but if you do manage to scuff up the coating Samuel Groves promises to recoat it for you—along with a whole other string of extras in their impressive lifetime guarantee.
The base retains and distributes heat very well thanks to the aluminum core sandwiched between the stainless steel base and interior, a combination that made for a well-caramelized steak crust and a vibrant, crunchy stir fry. Well balanced, we found that the pan didn't tip during cooking, yet was easily manipulated to swirl oil or ingredients when we wanted to do a quick flash fry. While this pan certainly couldn't be classified as cheap, for a treat for yourself or a loved one, this is a special piece of kit that is sure to be a favorite cookery companion for life.
With thanks to Selfridges (opens in new tab) for providing the pan to test in this review
8. Jamie Oliver by Tefal Premium Stainless Steel 30cm Shallow Pan
Best all-rounder stainless steel pan
Specifications
RRP: $105/£77
Warranty/guarantee: 10 years
Oven safe: Yes
Dishwasher safe: Yes
Materials: Stainless steel and Titanium non-stick
Reasons to buy
+
Pouring lip
+
Dishwasher safe
+
All-rounder shape and size
+
Great heat retention for keeping food warm
Reasons to avoid
-
Rivets can be hard to clean
This wide-bottomed stainless steel pan from Tefal is the kind of shape that you can use for all kinds of dishes—from Bolognese through to curries, to stews and pasta sauces. It really is the perfect multi-tasker.
A seemingly trivial tweak, the silicone pads under the handles made this pan really easy to lift and maneuver for quick-fire cooking when you want to get food on the table for your family, fast. The ergonomic design of the side handles is mirrored on the lid, which is also comfy and snug fitting for efficient simmering. Another key feature was the pouring lip running around the entirety of the edge, which meant a no-spill transfer of liquids. Once we'd finished cooking in this pan we found that it kept food warm for prolonged periods of time too, thanks to the natural insulation of the stainless steel. So it's ideal for busy households with people eating at different times.
Dishwasher and oven-safe, we reckon this would be an all-around practical addition to any kitchen—we liked that it felt robust and weighty without being unmanageable. Showing no signs of deterioration after multiple uses (and runs through the dishwasher), we think this would far outlive its guarantee and become a firm favorite for anyone cooking for a family regularly. The only slight niggle (which we've found commonplace in similar designs) is that the rivets aren't flattened, which can mean food gets caught in the joins.
Why is stainless steel good to cook with?
There's a reason you'll find chefs all over the world stocking their kitchens with stainless steel pans—they're reliable, durable and high-functioning. But why else are they preferable to cook with?
They are great for acidic foods—while uncoated cast iron skillets, for instance, are great for high-heat cooking, they're less able to deal well with acidic foods so don't do well with basics like a tomato sauce. Here stainless steel has no problems, making it a great choice of material to invest in if you're a cook who likes to make acidic-based meals, as the metal doesn't react when it comes into contact with ingredients such as tomato or vinegar.
They hold heat very well—stainless steel does a really good job of keeping a steady heat even after colder ingredients have been added. This might seem arbitrary but it's not a given with all pans. Even after taking it off the heat, stainless steel will hold in heat well (with a lid on) which is especially handy if people are eating at different times. This means it is a great material to turn to during busy hosting periods, such as Christmas.
They're ideal for searing—stainless steel is a top-class cooking investment because of its ability to help you get that perfect sear, due to its great heat maintenance. Testing whether a stainless steel pan is hot enough to sear with is simple, just drop a little water onto the surface and if it balls and disperses quickly it's ready to go. When searing, don't be tempted to move your meat, fish, or vegetables before they have had time to form a proper crust. You'll know you're ready to flip when you can gently move the food around the pan with just a shuffle of the handle, without having to scrape it aggressively.
How to clean stainless steel pans
To keep your stainless steel pans performing perfectly and to their best ability, they need to be maintained appropriately, and you need to ensure you know how to clean stainless steel properly. But it should be quick and easy to do, so long as you follow a few key steps while using them:
Firstly, when using your pans try not to let them get too hot too quickly as this can warp the metal irreversibly.
Secondly, avoid allowing food to burn onto the surface, as it's this material that can build up and make your pans hard to use in the long run.
Finally, always keep your plans clean and cared for by washing them only after they've cooled down. If you add cold water to a hot pan it can result in buckling of the base or interior of the pan, as well as discoloration, which will create an uneven cooking surface resulting in patchy cooking.
Luckily, most stainless steel pans are dishwasher safe, so can also be loaded in cycle after cycle if you're happy to keep them maintained by your machine. Some people prefer to hand wash their pans the old-fashioned way, and because they're tough they withstand being scrubbed if needed—although day-to-day maintenance should only require a wash with a soft cloth and warm soapy water.
A common complaint from stainless steel pan users is that food sticks to them, and that might be true, but this only happens if a couple of simple steps aren't followed. To get the best efficiency from your pan purchase, make sure to heat the pan first, then add the oil. If you add the oil while the pan is coming up to the temperature you'll overheat it which not only results in a poor flavor experience, but also can also mean food sticks immediately when it comes in contact with the hot oil, because of the extreme fluctuation in temperature. Ingredients should also be room temperature where possible, so should be brought out of the fridge for an hour or so before you begin to cook with them.
Rosie Conroy is a food and drinks journalist with over a decade of experience working for big-name titles in both print and online. Formerly the Digital Food Editor of woman&home, Rosie went on to head up the team at SquareMeal, reviewing the best London restaurants and hunting out emerging culinary trends. With previous experience in food styling and recipe development, Rosie knows what to look for in a good piece of kitchenware and has extensive experience testing consumer goods—from kitchen electricalz and cooking accouterments through to new foodie treats.