The best Ninja air fryers for fuss-free and healthy cooking
We've tested the best Ninja air fryers to help you find the right match for your cooking requirements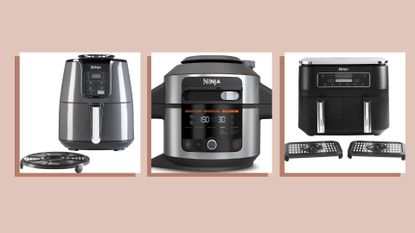 (Image credit: Future)
The best Ninja air fryers combine the functionality of multiple kitchen appliances into one stylish, countertop-friendly product.
Cutting the amount of oil needed in conventional cooking by as much as 75%, air fryers offer a healthier cooking option. They're also speedy, promising to cut cooking times by as much as 50%.
Ninja is the sister brand of Shark, and its range of best air fryers has won an army of fans in recent months. Typical cooking functions can include air frying, roasting, baking, dehydrating, and reheating, with rapidly circulated hot air resulting in food that is perfectly cooked every time.
Of course, with that degree of functionality, the prices aren't perhaps as low as some of the other brands on the market at the moment – but you might be pleasantly surprised. Ninja offers fantastic value for money, with long-lasting products (typically backed by a decent warranty) that will prove themselves to be invaluable.
The brand has a range of air fryers and health grills, with the latter combining air fryer functionality with a BBQ-esque twist. The range of what you can cook in an air fryer is amazing: from frozen to fresh, they can serve up meat, fish, vegetables, chips, pastries, fresh bread, and more. But which is the best Ninja air fryer in 2022? We've rounded up the best picks in our buying guide.
How we tested the best Ninja air fryers
Why you can trust Woman & Home Our expert reviewers spend hours testing and comparing products and services so you can choose the best for you. Find out more about how we test.
As with all kitchenware products we test, from the best kitchen gadgets to the best induction pans, we tried out the Ninja air fryers in a real-life kitchen to see how they performed in an everyday home. During testing, the factors we assessed included:
How well they performed: We looked at how easy the air fryer was to use, and, most pressingly, how it performed when cooking various food types.
Its design: We considered how each machine looked, as well as how functional it was. Was it bulky? Easy to move? Easy to assemble?
Ease of care: We looked at how easy it was (or wasn't) to clean the air fryer. How simple was it to remove the parts that needed cleaning, and how easy was it to maintain? Are parts non-stick, and can any of the components be put in the dishwasher?
Overall value for money: With all of the above taken into consideration, did we feel each Ninja air fryer was worth its price tag?
You can read what we thought of each Ninja air fryer below, and also discover details such as the price of each product and its size, weight and range of cook functions.
The best Ninja air fryers, as tested by our experts
(opens in new tab)
1. Ninja Foodi Dual Zone Air Fryer - AF300UK
Best overall Ninja air fryer
Specifications
RRP: $220.00 / £199.00
Capacity: 7.6l in total
Weight: 8.2kg
Size (HxWxD): 31.5cm x 38cm x 26.5cm
How many cooking functions?: Six: max crisp, roast, bake, reheat, dehydrate and air fry.
Warranty/guarantee: 1 year
Reasons to buy
+
Great range of cooking options
+
Dual cooking functionality
+
Very easy to clean
Due to its range of cooking modes, ease-of-use and general versatility, the Ninja Foodi Dual Zone Air Fryer is a worthy winner that ticks all our boxes. It promises dual functionality, meaning its two drawers can be used to cook two different food types, in two different ways, at the same time. Even more impressively, the air fryer promises to have both ready at the same time, meaning neither gets cold.
We tested this AF300 by using 'bake' mode to heat up a pie on one side and 'air fry' mode for chips on the other. The results were perfect: the pie was golden and piping hot, while the chips were crispy on the outside and soft within. And best of all, it was just so quick: from start to finish, everything took less than 20 minutes. The enclosed recipe brochure was handy for getting timings right, and also offers plenty of food for thought if you're all-out of dinner ideas. We've got our eyes firmly on the halloumi fries recipe, if you were wondering.
In short, it offers fantastic value for money and matches all the requirements that the typical modern family might have. The AF300 arguably brings together all the best bits of the various Ninja air fryers. It offers six cooking modes, has a relatively neat design (although it is pretty bulky, so might not be a great choice if you don't have much space) and has a generous capacity, too, making it a great choice for families or individuals who prefer to batch-cook their meals.
There were some small downsides: it is quite loud, although we imagine the noise will quickly disappear into the background once you get used to it. It also set our fire alarm off twice the first time we used it, presumably due to the heat it was expelling.
(opens in new tab)
2. Ninja Foodi MAX Health Grill & Air Fryer AG551UK
Best luxury Ninja air fryer
Specifications
RRP: $299.99 / £249.99
Capacity: 7.6l in total
Weight: 10.18kg
Size (HxWxD): 27cm x 39cm x 41cm
How many cooking functions?: Six: air fry, bake, roast, reheat, dehydrate and grill.
Warranty/guarantee: 1 year
Reasons to buy
+
Ideal for cooking for up to six people
+
Very versatile
+
Great range of cooking functions
Combining an air fryer with a grill, the Foodi MAX Health Grill & Air Fryer AG551 is a strong choice for BBQ fans. Promising perfectly chargrilled food every time, it also offers the multi-functionality that we've come to expect with Ninja's Foodi products, with modes including 'roast', 'bake' and, of course, 'air fry.'
We tried it with salmon fillets, garlic bread and lasagne (not all at once, we should add), and the results were great. We tried using 'reheat' for the homemade lasagne (and even when it didn't look quite crispy and golden enough, a few more minutes revived it), while the garlic flatbread sizzled into life. We were slightly wary of the salmon fillets: the handy guide suggested that these would take less than 10 minutes, with no need to flip. But it worked: 'grill' mode produced fish that was tender and flaky, in about eight minutes flat.
However, we were most impressed with its meat cooking: it's a BBQ with its very own brain. There's no need to flip or turn food as it cooks, as the AG551 cooks both sides at the same time when in 'grill' mode. We tried it with kebabs and steaks, and they were perfect—mouthwatering, tender, and juicy.
While it's brilliant for 'flatter' foods, such as chicken breasts and steaks, however, it's worth noting that this machine can't quite be used in the same way as other Ninja air fryers. We thought about trying to roast a large chicken in it, for example, but quickly realized that it wouldn't fit under the lid.
What it lacks in height, however, it more than makes up for in width and depth, as it can hold up to six portions worth of meat, fish, and poultry. On that note, it's also incredibly heavy. It took two of us to carry it into position, so if you're looking for a lighter-weight air fryer that can be moved around the kitchen, you might want to consider another Ninja model.
(opens in new tab)
3. Ninja Air Fryer AF100UK
Best budget Ninja air fryer
Specifications
RRP: $119.99 / £129.99
Capacity: 3.8l in total
Weight: 5.2kg
Size (HxWxD): 36cm x 25cm x 32cm
How many cooking functions?: Four: air fry, roast, reheat and dehydrate
Warranty/guarantee: 1 year
Reasons to buy
+
Cheapest Ninja price point
+
Great for smaller kitchens
+
Lightweight and easy to reposition
Reasons to avoid
-
Limited functions compared to other models
A great introduction to air fryers, Ninja's AF100 model is ideal for beginners and anyone on a budget. Coming in at the lowest price point, it offers four classic cooking modes and is also a neat all-rounder for someone who has less space in their kitchen. However, it's worth noting that due to its small capacity (3.8l), it's not the best choice if you plan to cook for more than three or four people at a time.
We loved the smooth curves of the AF100's upright design, with its taller-than-wide dimensions making it a great choice for anyone who doesn't have much countertop room. The instruction manual was easy-to-follow and the set-up couldn't have been simpler. We tested it with fries from the freezer and were pleasantly surprised by how quick and simple the whole process was. Cooked using 'air fry' mode, the AF100 blasted the fries at 180°C for about 15 minutes, which resulted in perfectly crispy potatoes. It's worth being aware that the greater the number of fries you'll be cooking, the longer the cook time.
We later tested it with a chicken breast and roasted vegetables; while the chicken was cooked to perfection, we underestimated the power of the air fryer and the vegetables ended up being charred rather than roasted, but this was largely down to our misplaced scepticism that it could roast the veg as quickly as it suggested.
It's worth remembering that the cooking time of a Ninja air fryer is around half that of a conventional oven, so do be sure to check the guidelines to ensure you don't accidentally burn food.
(opens in new tab)
4. Ninja Foodi MAX Dual Zone Air Fryer AF400UK
Best Ninja air fryer for a large family
Specifications
RRP: $199.99 / £229.99
Capacity: 9.5l in total
Weight: 8.8kg
Size (HxWxD): 32.5cm x 41.5cm x 27cm
How many cooking functions?: Six: max crisp, roast, bake, reheat, dehydrate and air fry
Warranty/guarantee: 1 year
Reasons to buy
+
Handy for cooking multiple food types at once
+
Huge capacity makes it great for batch cooking or big families
+
Wide range of cooking modes
Ninja's Foodi MAX Dual Zone Air Fryer AF400UK is not for the faint-hearted. Huge in size, its two baskets each boast a 4.75l capacity (adding up to 9.5l) in total, making it a fantastic choice for households that need to cook for larger groups on the regular —in fact, Ninja advises it can serve eight-plus people at a time. It's also worth noting that it's heavy, clocking in at just under 9kg, so make sure you know where its forever home is going to be before you buy it, as you don't want to be repositioning it too often.
This machine also gives you the choice to decide whether you want both baskets to operate with the same cooking function at the same time, meaning you can opt to 'sync' or 'match' them. 'Match' is ideal if you need to cook a huge amount of something (for example, if you're cooking a pasta bake for a large group of people), while 'sync' gives you the freedom to cook two different food types in two different ways at the same time.
We tested this with a breakfast-time meal of fresh sausages and bacon (which we cooked on the 'air fry' setting), paired with frozen hash browns (which we cooked on 'max crisp'). It couldn't have been easier—or more delicious—and also resulted in a lot less washing-up than it would have if we'd cooked in a conventional oven. Altogether, they took about 10 minutes to cook but probably would have been ready a minute or two quicker if you were less fussy about having crunchier hash browns.
(opens in new tab)
5. Ninja Air Fryer MAX AF160UK
Best Ninja air fryer for a small kitchen
Specifications
RRP: $169.99 / £149.99
Capacity: 5.2l in total
Weight: 5.2kg
Size (HxWxD): 36cm x 25cm x 32cm
How many cooking functions?: Six: air fry, roast, bake, reheat, dehydrate and max crisp
Warranty/guarantee: 1 year
Reasons to buy
+
Wide range of cooking options
+
Great for smaller kitchens as tall rather than wide
+
Lightweight, so easy to move around
Reasons to avoid
-
Smaller capacity than some other models
The Ninja Air Fryer MAX AF160 is made for smaller homes. With its upright design, it requires less countertop space than some of the other models on this list but can still comfortably feed a family. We tested it on homemade fish and chips and it was delicious: the breaded fish was crispy and flaky, while the chips were perfectly golden. We did this with the 'max crisp' mode, which is specifically geared towards freezer food and circulates air of 240°C around the fryer.
We also experimented with the other modes: the 'reheat' function brought a slice of pepperoni pizza sizzling back to life, though the results were more or less on a par with what you'd get if you had popped it on the microwave. We also tried the MAX AF160 out on some frozen breakfast pastries (pain au chocolat, if you're wondering, air fried for about eight minutes), and they were cooked with an even finish and a melt-in-the-middle center. They did need a moment or two to 'sit' and cool down before eating, though.
On top of its cooking performance, the MAX AF160 is also easy to clean. We found the basket responded best to a soft sponge and warm, soapy water, but it can also be popped in the dishwasher, too.
The MAX AF160 was a very close contender for our all-round winner, losing out simply due to its smaller capacity. All in all, it's a fantastic option for beginners, and at a decent price point to boot.
6. Ninja Foodi 11-in-1 SmartLid Multicooker
Best multifunctional Ninja air fryer
Specifications
RRP: $279.99 / £229.99
Capacity: 6L in total
Weight: 10.9kg
Size (HxWxD): 33cm x 35cm x 36cm
How many cooking functions?: 11: Pressure, Steam Air Fry, Steam Bake, Air Fry, Grill, Bake, Dehydrate, Sear/Saute, Steam, Slow Cook, Yogurt
Warranty/guarantee: 1 Year
Reasons to buy
+
Great range of 11 functions
+
Simple to use
+
Easy to clean with dishwasher-friendly accessories
+
Decent capacity
Reasons to avoid
-
Takes up a lot of space
-
Considerable investment
For experimental home cooks who are as interested in slow cooking and pressure cooking as they are air frying, this impressive bit of kit will see you right on all fronts. There are 11 functions in all, including two types of air frying: regular and steam air frying (the latter being especially great for meat as it locks in moisture for a tender texture.) It's a real step up from Ninja's previous model, promising to save up to 20% more energy and offering two extra functions than its older sibling.
We love air frying for the great texture it can give foods, and this one worked a charm on the mound of thick-cut chips and breadcrumbed fish fillets we cooked in it. Those spuds came out with golden, crunchy jackets on and fluffy middles, while the fish was plump and flaky underneath its browned, crumbly crust. We comfortably cooked a meal for three in the air-fry basket, rustled up a jacket potato in as little as 45 minutes, and brought a day-old baguette back to life in no time (a quick splash of water and just 4 minutes on 200C reinstated both its crustiness and warm, soft center).
We found the accessories (a pot, air frying basket, and removable rack) helped us to really use this multicooker to its potential, and it was with a sigh of relief we learned they can all be flung in the dishwasher safely, too.
You might think that having 11 functions would make this piece of gear tricky to use, but we found the controls easy to get the hang of – there's a slider, dial, and arrow keys for selecting function, temperature, and cooking time – and there's a clear digital display, too. We loved that the lid is attached by a hinge and that it opens to the side to keep your hand away from any steam or heat that's built up inside.
We can't pretend this hunk of a small appliance didn't take up considerable amounts of space on our countertop, but it works hard enough to justify the sacrifice.
Image 1 of 2
How to choose the best Ninja air fryer for you
There are several factors to consider when deciding which Ninja air fryer is the perfect fit for your lifestyle. These include:
Size: How much room does the air fryer require, and where will you store it in your kitchen? Some of the bigger-capacity air fryers can take up more room due to their dual-drawer design, meaning that they might not be a great choice for kitchens that are lacking in countertop space.
Volume: How much food do you anticipate cooking in your air fryer on a daily basis? If you're hoping to use it for almost every aspect of your evening meal, for example, you might prefer a design with drawers. If you'll use it occasionally rather than regularly, you might prefer to choose a smaller product.
Functions: Are there specific cooking functions you're looking for, or are you more influenced by other factors? Each Ninja air fryer offers different cooking modes, meaning you need to check the model you've got your eye on meets your needs.
"I love my Ninja dual zone Air Fryer, it's absolutely changed how I cook and I hardly ever put the oven on," says Jen Bedloe, w&h's Food Director. "I cook for a family of 4 and can use 2 drawers to make a meal for the family, or just use one drawer for something quick like reheating pizza, or a jacket potato. The air fryer is so easy to use and has different functions, so I hardly need to refer to the cooking instruction booklet. Would highly recommend it."
Of course, like any appliance, air fryers require careful maintenance. However, if you've ever wondered how to clean an air fryer, Ninja couldn't make it easier. Dishwasher-friendly by design, the drawers, and plates of Ninja air fryers are typically non-stick thanks to a PTFE coating, meaning even accidentally burnt-on food is easy to deal with.
Which Ninja air fryer is the biggest?
With a total capacity of 9.5L, the Ninja Foodi MAX Dual Zone Air Fryer AF400UK is the biggest. It boasts two 4.75L drawers, meaning that you can cook your whole meal in one go, with minimal fuss. Each drawer can be programmed to cook with a different function, meaning you could roast and dehydrate at the same time, for example.
If you're looking for the Ninja air fryer with the biggest single compartment capacity, the Ninja Air Fryer MAX AF160UK is a great choice. With its 5.2L drawer, it can comfortably rustle up everything from a roast chicken dinner to a burger and fries.
Katie Byrne is a contributor to woman&home and a writer whose interests span everything from homes and interiors, to pop-culture, travel, business and self-development. A former digital editor, her freelance journalism has featured across a wide range of print and online titles, including Raconteur, Digital Spy and more. When she's not writing, she loves reading (and has the groaning bookshelves to prove it...), dreaming up new décor ideas for her flat and devouring Netflix's latest true-crime series with her husband. You can find her on Twitter: @katie_b123 (opens in new tab).