The best kitchen gadgets that are as fun as they are functional
The best kitchen gadgets of this year will add both fun and function to your cook-space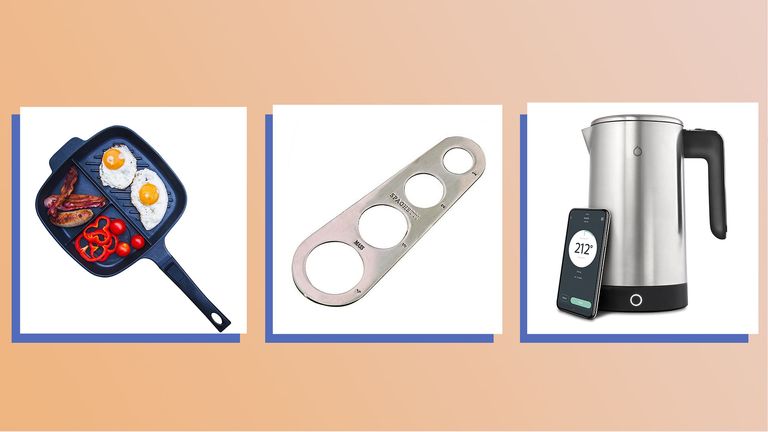 (Image credit: Future/Amazon)
The best kitchen gadgets are here to make cooking much more simple. Whether you want something to make preparing your food easier, a device to help you serve it, or simply an inventive little contraption that saves you faffing about with a certain kitchen task, there is a huge range of kitchen gadgets that you won't know how you lived without.
Investing in clever kitchen gadgets can save you a lot of time when it comes to prepping and cooking a meal. Plus, many of the gadgets included below boast a multi-functional design, which makes them fantastic value for money, too.
The best kitchen gadgets will be able to:
The best kitchen gadgets to buy in 2021
We've rounded up the must-have gadgets of 2021 that we believe will make food prep, cooking, and serving much easier and quicker for you. There's something for everyone on our list, from budding baristas and baking enthusiasts to BBQ pros and veggie fans—whether you're looking to replace a tried-and-trusted gadget, or are keen to find something totally new.
---
1. A milk frother
Reasons to buy
+Can elevate your hot drinks+Affordable and multi-functional
If you've been attempting to unleash your inner barista at home, a milk frother is here to take your favorite hot drinks—whether you're hankering for a cappuccino or a hot chocolate—to the next level. It can froth milk in seconds, giving you that coffee-shop drink every time. This clever tool is battery operated so there's no need to worry about cords—simply use the USB charger to keep it fully powered for those last-minute caffeine cravings.
---
2. A spiralizer
Reasons to buy
+Ensures easy veg prep+Simple—and fun—to use
Want to up your intake of veggies? Sometimes, getting out the big food processor (see our guide to the best food processors here) feels like too much of a chore. If so, a spiralizer, one of the most popular and trendy kitchen gadgets out there, could be just what you need. Strong enough to tackle even the sturdiest of vegetables, a spiralizer comes with multiple blades for fuss-free food prep. They can help you to chop all sorts of veggies—from courgettes to carrots and even onions. It'll reduce your prep time and will help you to create some delicious healthy meals.
---
3. A garlic press
Reasons to buy
+Great for quick food preparation+Allows you to prep multiple garlic bulbs at once
A multi-purpose garlic press allows you to both slice and mince garlic, meaning there's no need to reach for a separate gadget if you want to try something different with the fragrant bulb. A garlic press is one of our must-buy kitchen gadgets, as it'll allow you to save precious minutes (and effort) preparing your meal. Need garlic in bulk for the recipe you're trying? That's no problem—most multi-purpose garlic presses can handle multiple bulbs at once.
---
4. A spaghetti measurer
Reasons to buy
+Great for portion control+Minimizes waste
Constantly over (or under) estimating how much spaghetti you need to use? This simple yet effective measuring tool is here to help. Clearly marked, it helps you to measure out how much pasta is required from one to four portions, and is ideal for helping to cut down on food waste. It's one of those must-have kitchen gadgets if you generally always make too much pasta (yes, our hands are up too.)
---
5. A smart kettle
Reasons to buy
+You can schedule your tea or coffee for when you arrive home or wake up+Easy to use and set-up
For many of us kettles are kitchen essentials. But have you ever had a smart kettle? A WiFi-connected kettle can be switched on from wherever you are in the house— meaning you can, get the wheels in motion for that morning cup of tea or coffee before you've even stepped out of bed—which is why this item is one of our top kitchen gadgets. You can choose the temperature you want it to boil to, meaning it's as ideal for hot drinks as it is for new parents and hungry babies. Smart kettles are often compatible with other smart home devices and most boast a neat cordless design, too.
---
6. A lazy pan
Reasons to buy
+Eliminates multiple-pan clear-up+Ensures even cooking for different ingredients
Kitchen gadgets that save us on washing up? Sign us up. Cooked breakfast or brunch is a serious treat—but is often served with an equally serious side of kitchen cleaning. However, a non-stick Lazy Pan promises to minimize this rather dull task, as it allows you to cook everything from fried or scrambled eggs to perfectly crispy bacon, all in the same pan. Most house three or four different sections, meaning there's a slot for all sorts of different ingredients, depending on what your preferences are—Sunday mornings couldn't get any easier. And make sure you check out our pan storage ideas to keep this in the best condition possible.
---
7. A waffle maker
Reasons to buy
+Ensures perfect waffles every time+Small for easy storage
No longer will we buy shop-bought waffles. We all love a home-baked treat—and this one is great for either sweet desserts or savory snacks. Whether you have them drizzled with chocolate sauce or served with a side of bacon, a waffle maker means you'll achieve waffle perfection every time—simply pour in your batter and the machine essentially does all the work for you. No kitchen gadgets fan should be without it.
---
8. A blender
Reasons to buy
+Ideal for making smoothies or soups+Makes food prep much easier
Everybody needs the very best blender in their homes—whether you use yours for milkshakes and juices, or protein shakes and smoothies, a good blender makes whipping up your favorite drinks a breeze. Also great for baby food prep, most blenders have a powerful motor that can blitz everything from ice to fresh fruit for a refreshment fix like no other. Plus, they're super easy. Personal blenders are simple to use and quick too, taking just moments to blend food. That's why, for us, they're one of the best kitchen gadgets around.
---
9. A collapsible fruit bowl
Reasons to buy
+A brilliant space-saver—frees up room for cooking+Affordable
Reasons to avoid
-Empty List
It might not sound like a 'gadget' as such, but fruit bowls are an essential item for our dining spaces. And if worktop space is precious in your kitchen, a collapsible or foldable fruit bowl could be just the ticket for you. Ideal for filling up with your favorite five-a-day delights, many of these can be folded down and popped in a drawer for easy storage when not in use, helping to free up precious room in your cook space. Clever, right? One of our must-have kitchen gadgets.
10. A knife sharpener
Reasons to buy
+Easy to use+Designed for safety+Will help increase lifespan of your knives
Easy to use and designed with safety in mind, a knife sharpening set is ideal for helping you keep your kitchen knives in the very best condition, which is why it's made our list of the top kitchen gadgets. Designed to last a lifetime, it can restore everything from bread knives to cleavers in mere moments. It makes chopping so much easier too, saving you minutes spent battling with a blunt knife.
---
11. A slow cooker
Reasons to buy
+Requires minimal work+Can prep dinners and go
Want to conjure up wholesome dinners from scratch—but just don't have the time? A slow cooker could be the solution you've been looking for. Most slow cookers can help you cook all sorts of things—from stews to casseroles to pasta dishes and even baking. All you need to do is add your ingredients and leave it to work its magic for anything from four to twelve hours for a delicious, nutritious meal. Many of them also keep your food warm for you after you're done cooking, so your meal can be ready for everyone, even if people are planning on eating at different times.
---
12. A recipe book stand
Reasons to buy
+Makes following recipes so much easier+Creates space in your kitchen
When it comes to organizing a kitchen, your stash of the best cook books on the countertop might be preventing you from achieving the chic, streamlined space you strive for. So a must-have for anyone who loves following a recipe and wants to feel a bit more organized is a sturdy book stand, that will keep your tasty tomes safely away from your food-prep area. As well as keeping those precious pages free from sticky spillages and stains, it also reduces the amount of countertop space a book will take up—giving you more room to chop, stir and fry.
---
13. A vacuum sealer
Reasons to buy
+Great for food storage+Easy to use
Kitchen gadgets don't come much cooler than this. Trying to keep on top of the contents of your freezer? A vacuum sealer gadget will help. Allowing you to neatly store leftovers inside a vacuum-sealed bag, it's easy to use and can preserve the freshness of your food for much longer. With most machines, you can also easily make a custom-sized vacuum wrapper for food with the built-in cutter.
---
14. A sink organizer
Reasons to buy
+Give you a clean and tidy sink space+Doesn't take up much counter space
Learning how to clean a stainless steel sink can be time-consuming, especially if yours is filled with your cleaning cloths and sponges. But a slick organizer can restore order to even the most chaotic of kitchen sink areas. With space for dish soap, cloths, and sponges, it's super easy to clean, and most of them boast a sleek grey design that will complement almost any kitchen aesthetic. Many sink organizers also give you the option to hang dishcloths up, whilst others also have a non-slip tray base which is ideal for catching drips. Kitchen gadgets don't come much handier than this clever tool.
---
15. A water filter
Reasons to buy
+Improves taste and quality of your water+Looks smart
Ideally sized for neatly slotting into almost any fridge, a water filter jug makes for a very handy addition to any home. Cutting the need for shop-bought bottled water, it filters tap water, removing chlorine and other impurities to improve the taste and quality of your water. Plus, it looks great too, and guarantees cold water every time if you store it in your fridge.
---
16. A magnetic fridge calendar
Reasons to buy
+Great for organization+Keeps the whole family in the loop
If meal-prep is something you want your household to get better at, a simple wipe-clean whiteboard could help. Allowing you to not only map out meals for the week ahead, it can also double up as a shopping list for those essential ingredients or household purchases. Additionally, it can also be used as a central memo-board for everyone in the house to keep on top of important upcoming dates and appointments. No home should be without one.
---
17. A multi-functional kitchen bottle tool
Reasons to buy
+A multi-tasking product+Ideal for meal prepping
Warning: this clever eight-in-one gadget might just make you feel a little bit sheepish about your own multi-tasking abilities. Comprising a funnel, cheese grater, spice grater, lemon squeezer, egg masher, egg separator, cap opener and a 420ml measuring cup, the various tools slot neatly together to create a rainbow display in the shape of a bottle. The bottle creates one easy-to-reach-for appliance, so you don't have to go searching for all of the separate parts whilst preparing your meal. Genius!
---
18. A grill cleaning brush
Reasons to buy
+Makes cleaning so much easier+Perfect for summer dining
Calling all BBQ enthusiasts—if you're getting ready to fire up the grill, a BBQ cleaning brush is going to be your new best friend. Gone are the days of struggling with a sponge—rather, this barbeque blitzer will make cleaning almost all surfaces a breeze. Their long handles will keep you safely distanced from any heat, whilst its sturdy stainless steel and plastic composition means its long-lasting, for many summers to come.
---
When you've finished stocking your kitchen, why not seek out some design inspiration in the form of our favorite kitchen splashback ideas?
Katie Byrne is a contributor to woman&home and a writer whose interests span everything from homes and interiors, to pop-culture, travel, business and self-development. A former digital editor, her freelance journalism has featured across a wide range of print and online titles, including Digital Spy, Grazia, Family Tree and more. She also previously edited the website KBB Ark, which focused on high-end interiors, decor and home improvements. When she's not writing, she loves reading (and has the groaning bookshelves to prove it...), dreaming up new décor ideas for her flat and devouring Netflix's latest true-crime series with her husband. You can find her on Twitter: @katie_b123.