The ultimate kitchen essentials list—the 16 must-have items every home needs
Set yourself up for tackling any recipe or task with these all-important kitchen essentials...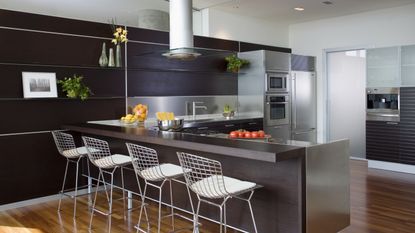 (Image credit: Getty Images)
Whether you're getting settled in your first home or looking to fill gaps in a space that feels incomplete, there are a number of kitchen essentials that no home should be without.
But what is essential for some might not be essential for others. "Essential means different things to different people, so really think about how you live and eat," says John Lewis Home Design Stylist, Alexandra Fox. "For some, quick and easy key pieces such as a blender for their morning smoothie is a must for their fast paced lives. For others, it will mean investing in a beautiful timeless dinner set or a set of Le Creuset cooking pots."
So if you're looking for some inspiration for your kitchen, or just want to know if you're missing out on any essential kitchen items, look no further than our must-have list below. For obvious reasons, these also make brilliant housewarming presents...
Cookware essentials
1. A great set of pans
No cook could live without a few different pans, and these are likely to be used daily. A couple of good quality, stainless steel saucepans with lids (preferably in two different sizes so you can stack them if necessary), as well as some of the best induction pans, will always come in handy, and you'll probably want to add a nonstick frying pan, saute pan and/or wok, depending on what you like to cook. You could even pair these with one of the best portable induction hobs if you need a bit of extra cooking space. If you're low on space, be sure to read up on our clever pan storage ideas to help you keep your pans organized and in top condition. And if you're wondering how to keep your cookspace clean, see our guide to how to clean a stovetop here, as well as how to clean an oven.
2. A sturdy cast iron roasting dish
A good roasting dish will last for years and come in handy for many different things: roasting vegetables, making lasagne, and preparing simple one-dish dinners. It's the kind of item that's likely to go from oven to table, so perhaps choose one that looks good. For this, Le Creuset's classic and colourful designs are perfect.
3. A timeless-looking toaster and kettle set
Alexandra's top piece of advice is to invest in a great kettle and toaster. "The Dualit classic kettle and toaster are my go to when helping my customers choose their first home essentials," says Alexandra. "By introducing a classic timeless style, it will allow you to take the set through all the different kitchen styles you'll likely go through in life."
Kitchen utensils
4. A good set of knives
This is another thing you'll use every day, so think of your knives as an investment and buy the best you can afford within your budget – a chef's knife, paring knife and serrated bread knife are the most useful and important. To keep them in good shape, never put your knives in the dishwasher and buy a knife sharpener and learn how to use it – there are classes and YouTube tutorials online.
5. Heavy duty kitchen scissors
Heavy duty kitchen scissors are always useful to have close to hand. You'll probably end up using them for some non-food based tasks (opening packets, for example) so make sure you give them a good wash before snipping herbs or chopping chicken.
6. A garlic press
A garlic press is one of our favorite kitchen gadgets, and will always come in handy if you prefer to minimise chopping time, but there's a little known secret that turns it into a true essential: there's absolutely no need to peel the cloves before you start pressing. Simply throw them in, skins and all, and the garlic press will press the clove while separating the peel. Magic!
7. Glass measuring jugs
Measuring jugs - especially ones made of glass - will last you a lifetime of baking and recipe-making. Use them for the obvious task of measuring liquids, as well as heating things up in the microwave. If you're wondering which ones to get, we love these classic and durable Pyrex ones.
8. Cheese grater
A simple box grater with a few different grades for standard or fine grating will support you through a variety of tasks – from simply grating cheddar or parmesan, to zesting lemons and shredding fruit and vegetables.
Kitchen accessories
9. A couple of baking sheets
A couple of good baking sheets will go a long way – you'll use them for everything from baking cookies to cooking oven chips to laying out chopped fruit and vegetables for freezing.
10. Digital scales
When it comes to baking, the single most accurate way to measure ingredients is by weight, which is why you must have a pair of digital scales. Salter's simple, slimline set of digital scales has a generous upper weight limit of 5kg, and gives you the option to use bowls of any size, so you can combine ingredients as you go along. It's also easy to store once you've finished.
11. Wooden and plastic chopping boards
You'll need a couple of good chopping boards to go along with those knives. A traditional wooden board will look great on the countertop, but you'll also need a food grade plastic board exclusively for chopping meat. Use mineral oil to season your wooden board and keep lemons on hand to remove stains.
12. Glass tupperware
While glass tupperware may take up more space than its plastic equivalent, it's far more versatile. You can store your leftovers in the freezer, put the glass tupperware into the oven or microwave once the contents have thawed, then put the container in the dishwasher when you've finished cooking. Unlike plastic, it's eco-friendly and stain and odour resistant as well.
13. Salt and pepper bottle mills
Using substandard salt and pepper mills is a frustrating experience, but it's also nice to have good quality spice mills that are aesthetically pleasing, and look great on the table for any guests. If you're not sure which ones to choose, Menu bottle mills are both great quality and good-looking, with the added bonus of an unusual upright design which prevents any spills on the table or countertop.
Kitchen appliances
14. A brilliant blender
There are many different types of blender out there, but the best blender for you will depend on how you use your kitchen. If you love to make smoothies, a countertop blender is probably your best bet. However, if you're more likely to make soups, sauces and batters, you may find one of the best hand blenders more useful.
15. A multi-functional stand mixer
While stand mixers and the best food processors are undoubtedly useful if you do a lot of baking, they are also the unsung workhorse of many kitchens, since they can also be used for shredding meat, mashing potatoes or mixing dips. The most popular stand mixer brand is Kitchenaid, and a great failsafe option for any home. If you have the right attachments, you can also use a KitchenAid mixer to make pasta, ice cream, juice or spiralized vegetables. And the best hand mixers can be just as useful in making baking recipes, too.
16. Coffee maker
If you can't live without your morning cup of coffee, spend as much as you can afford on the kit to make it. You'll use it everyday, perhaps multiple times a day, so think of it as an investment. One of the best investment brands for a coffee machine are Nespresso - they make some of the most popular coffee makers out there and for good reason.
With thanks to Alexandra Fox.
Helen Booth is a freelance writer and maker who loves interiors, crafts, and keeping tabs on homes trends. When she's not sourcing inspirational homes for magazine features, you'll find her curating irresistible interiors shopping edits, posting on Instagram—or selling her handmade homewares on Etsy. She also co-founded the popular weekly newsletter Lunch Hour Links, a curated selection of the best books, articles, podcasts and TV shows to browse while you eat your lunch.