The best non-stick pans for easy, efficient cooking and quick clean-up
The best non-stick pans are easy to use and even easier to clean, but which one topped our list?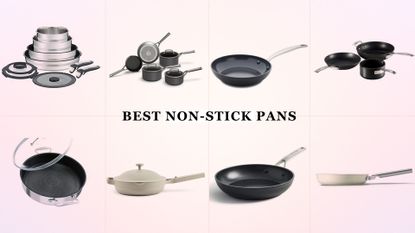 (Image credit: Future)
Our guide to the best nonstick pans will enable you to cook all kinds of recipes quickly and easily—and with a simple clean-up, too. Non-stick pans are the ideal piece of low-maintenance cookware—but not all non-stick is made equal, so it's well worth searching for the best one for all your kitchen tasks.
Non-stick pans have a slick coating, so they're both easy to use (no sticking food, of course) and incredibly easy to clean afterward. The non-stick technology also means that there's no need to use much oil, making them a good option for the health-conscious. If you're on the hunt for the best nonstick pan for your kitchen, one of the main elements that will likely impact your decision will be the pan's coatings. If you're worried about non-stick materials, it's worth checking that your chosen non-stick pans are PFAS, PFOA, and PTFE-free—which guarantees a healthy pan. Alternatively, look for a ceramic non-stick coating, which is a natural barrier used by some brands.
How we tested the best non-stick pans
Why you can trust Woman & Home Our expert reviewers spend hours testing and comparing products and services so you can choose the best for you. Find out more about how we test.
Despite their similar appearances, no two non-stick pans are the same, which means testing them against each other is a careful balance of comparison. In order to bring you only the very best non-stick we undertook some intricate trials.
Appearance—when looking for the best cookware, there's no harm in having something in your kitchen that also looks attractive. Having a good-looking non-stick also means you can present food directly from the pan, which less washing up.
How well it worked—we examined things like the thickness of each base to see how well the model would retain heat and how well coated the interior was to evaluate its non-stick capabilities. We made sure to cook in each pan to get a true feel for its abilities.
Extra features—for example, which noted which ones were oven safe, which had hanging hooks for easy kitchen storage, and which ones came with lids for a more versatile cooking experience.
Ease of cleaning—non-stick pans should all be easy to clean—but we assessed how far this claim held up for each item. We also looked at whether each one was dishwasher-safe.
Size—lots of brands will do a range of sizes, and we'd actually recommend having a good range of non-stick pans. Smaller pans are great for couples or frying eggs in, while larger ones are perfect for full, family-sized meals and one-pot meals like risotto.
The best non-stick pans as reviewed by our expert
1. Our Place Always Pan
The best overall non-stick pan
Specifications
RRP: $145/£140
Warranty/guarantee: None
Oven safe: No
Dishwasher safe: No
Materials: Aluminium body with a ceramic non-stick coating
Reasons to buy
+
Lightweight
+
Non-toxic ceramic coating
+
Multi-functional
+
Very attractive design
Reasons to avoid
-
Higher price point
-
Small helper handle can get hot
-
Long handle can make it tricky to store
We were seriously impressed with the thought behind every little detail of this popular pan, which made it one of those cookware pieces we found ourselves reaching for repeatedly—even outside of our testing. The Always pan combines the functionality of a frying pan, saute pan, steamer, skillet, and saucepan—in fact, the uses seemed almost endless. The deep sides ensure no spills when you're making a big hearty family meal like bolognese, but it's also light enough to make flipping pancakes easy. We loved the addition of having the spatula on the handle too, a clever little twist that gave this the edge over some of our other top non-stick pans. However, the long handle of the pan can make it tricky to store, while the small helper handle can get quite hot whilst cooking.
The coating is ceramic, so free from potentially harmful chemicals, and we couldn't fault it—from making egg-fried rice through to quick pasta sauces, nothing we made in the Always Pan caught on the bottom, which meant a quick and easy clean too. The colorful exterior (there's a choice of seven different hues) means this also looks great for when you want to serve at the table. While it isn't cheap, it works hard for its price tag and condenses down the need for multiple pots and pans to free up precious cupboard space. If you are going to just invest in one decent non-stick pan, we think this should be it.
See our full Our Place Always Pan review
2. Le Creuset Toughened Non-Stick 3-piece Cookware Set
The best luxury non-stick pan
Specifications
RRP: $382.55/£275
Warranty/guarantee: Lifetime
Oven safe: Yes
Dishwasher safe: Yes
Materials: Hard Anodised Forged Aluminium
Included in set: 1 x 16cm milk pan, 1 x 24cm shallow frying pan, 1 x 26cm deep frying pan
Reasons to buy
+
Useful spread of styles
+
PFOA-free coating
+
Dishwasher safe
+
Durable
+
Quick to clean
+
Top-quality non-stick surface
Reasons to avoid
-
No lids included
-
Substantial investment
As you might expect from one of the most highly regarded cookware brands in the world, Le Creuset's non-stick pans are solidly crafted to last a lifetime. Each pan in this non-stick set feels sturdy, with a good, weighty base, which means they come up to temperature quickly and evenly whilst cooking. Typically, non-stick pans can't compete with a stainless steel pan's heat transfer, but we thought these were solid competitors. The non-stick was top-quality, and we found pancakes cooked quickly with no catching from heat spots, and we even tried searing scallops over high heat and got a satisfyingly crisp caramelization.
Despite consistent use, we saw no warping on the base (a common issue with cheaper alternatives) and unlike other Le Creuset items, the handles do stay cool, even during prolonged cooking sessions. And because they're dishwasher-proof, cleaning was quick and easy to boot. We also love that these are a heritage brand and that they look very stylish—which makes them a gorgeous gift for a keen cook in your life.
If Le Creuset feels a bit too pricey for you to invest in right now though, you may be interested in keeping an eye on our guide to the best Le Creuset sales, which is updated regularly.
3. Circulon SteelShield™ Nonstick Stainless Steel C-Series 30cm Covered Sauteuse
The best non-stick pan for induction hobs
Specifications
RRP: $222.58/£160
Warranty/guarantee: Lifetime guarantee
Oven safe: Yes
Dishwasher safe: Yes
Materials: Stainless steel tri-ply
Reasons to buy
+
Heats up like a stainless steel pan
+
Attractive design
+
Great size and shape
+
Easily holds enough for four people
+
Dishwasher safe
Reasons to avoid
-
Bulky lid means it can't be stacked
-
Food can catch on the ridges occasionally
For us, a saute pan is one of the best styles of cookware you can have in your kitchen, and this Circulon non-stick option is one of the best. The wide bottom and deep sides mean you can brown the meat well, before simmering it down for a sauce or stew, and also ensures there are no spills when stirring. This induction-safe pan (see our guide to the best induction pans on the market) by Circulon is weighty enough to get a good heat transfer across the bottom (which the clever raised stainless steel rings also help with) but also light enough to ensure maneuverability doesn't become an issue, even when it's full. The two shorter handles on either side also mean you can lift with confidence. It's also pretty wide, meaning the pan can easily hold enough food for up to four (maybe even six) people. Width-wise, storage isn't an issue—but the lid doesn't flip for easy stacking, due to the raised handle.
We found the non-stick coating to be pretty efficient on the whole, although things could get a little sticky on the raised stainless steel ridges. In saying that, a quick wash with soap and water was all it took for things to come up clean again, and it's dishwasher safe too, which we took full advantage of on a few occasions and couldn't see any resulting damage. While the rings on the base of the pan may not be preferable for everyone, they do give a great caramelization to ingredients, which is hard to achieve in other non-stick pans. We think if you're happy to give your pans a bit more attention maintenance-wise, this option cleverly combines the functionality of a stainless steel pan, with (almost) the ease of one of the best non-stick pans on the market.
4. GreenPan Barcelona Ceramic Non-Stick Frying Pan
The best non-stick pan without teflon
Specifications
RRP: $89.95/£110
Warranty/guarantee: Lifetime guarantee for the pan with a 2 year guarantee for the non stick coating
Oven safe: Yes
Dishwasher safe: Yes, but hand washing recommended
Materials: Aluminium with a ceramic non-stick surface
Reasons to buy
+
Lightweight
+
Good heat transfer
+
Can be used on most hob types
+
Ceramic non-stick coating
+
Easy to clean
Reasons to avoid
-
Short guarantee
-
Hand washing only recommended
If you're worried about using Teflon-based non-stick pans, GreenPan's ceramic coating alternative is perfect. This simple frying pan was extremely useful in that it was lightweight and a good size and shape for two generous portions—perfect for couples cooking everyday meals (although not good for families) We liked the deeper-than-average sides which allowed us to cook various recipes inside (more than compared to other frying pans) and thought it came up to temperature quickly and evenly. When making crepes the batter released easily once cooked, and there was an even coloring across the surface—indicating no heat spots.
Although chucking this in the dishwasher isn't recommended (which might be a deal-breaker for some), the GreenPan frying pan was extremely easy to clean by hand—we used a sponge cloth, warm water a little soap to achieve quick results. A slight negative was that the rivets on the handle got easily splashed with any overspill, which proved the trickiest spots to get sparkling again. Overall, this is a great option for those who want a non-stick pan without Teflon—just be aware of the shorter guarantee.
5. KitchenAid 28cm Non Stick Forged Hardened Aluminium Pan
The best non-stick pan for gas stove
Specifications
RRP: $89.30/£64.20
Warranty/guarantee: Limited lifetime warranty
Oven safe: Yes
Dishwasher safe: Yes
Materials: Aluminium
Reasons to buy
+
Stylish all-black design
+
Works on all hob types
+
Easy to clean
+
Excellent non-stick coating—held heat well and evenly
Reasons to avoid
-
Only oven-safe up to 160C
Forged as one piece—rather than being made up of a soldered base and bottom—this pan by KitchenAid is robust and an excellent example of modern non-stick technology. The forged base had an additional benefit (aside from being hard-wearing), in that it really held heat well and evenly. When testing this we brought water to the boil and looked for even bubbling across the entire surface, which is an easy at-home test to check how well your pans are conducting the heat from your hob, and it performed beautifully. While we think there's a place in every kitchen for a wok or cast iron pan, the beauty of having a non-stick pan is that typically they're easier to maneuver for quick kitchen jobs. We found KitchenAid excelled in this area, with the pan being super lightweight and very comfortable to manage when making speedy dishes such as stirfry.
Unusually, both the handle and pan body are black which makes for a pleasing aesthetic and also meant we couldn't see any signs of wear on ours even after several cycles through the dishwasher. We were particularly impressed with frying eggs in the KitchenAid pan—they slid right out and we used hardly any oil (we reckon you could get away with using none if you preferred). In fact, the non-stick coating was probably one of the best overall that we tested. We thought the maximum oven-safe temperature of 160C was a bit disappointing, but as the only slight negative thought overall it was a well-engineered, high-performance pan that seemed built to last. A solid option for a gas stove.
6. Smeg 26cm Frying Pan
The best non-stick pan for design conscious cooks
Specifications
RRP: $100/£99
Warranty/guarantee: None
Oven safe: Yes
Dishwasher safe: Yes
Materials: Cold-forged aluminium
Reasons to buy
+
Great design
+
Stay cool handle
+
Excellent temperature reaction
+
Oven safe up to 250C
Reasons to avoid
-
Higher price point
-
Tricky to store
While Smeg might be best known for large-scale appliances and electrical gadgets like some of the best blenders on the market, they've also been squirreling away at some pretty impressive cookware, and non-stick pans, recently. We tried out a couple, and our favorite was the frying pan. The first thing that struck us was that the brand's design credentials have clearly been cleverly woven through their cookware too—the pan is utterly chic and reminiscent of their retro-styling.
When it comes to function, the elongated handles are lightweight and stay cool to the touch when handling them over a hob. The gently curved sides of the pan meant that making a stir-fry was easy, and the uniquely shaped starburst pattern on the base helped it to heat up quickly and evenly. It was simple to control the level of heat too, with the pan reacting well to temperature changes throughout our testing. Safe up to 250C, this is an oven-safe nonstick pan with much more resilience than most, making it hugely versatile.
While the design of the handle is clever—the ridges are to allow water to drain easily they say—it is long and slightly cumbersome for storage purposes. If you have hanging hooks and are a cook who regularly reaches for a frying pan, this is a top-quality non-stick piece that looks good to boot. The choice of colors also means that whether you're a neutral lover or a big color fan, there should be something to suit every kitchen.
7. Jean Patrique Stonetastic Granite Frying Pan
The best budget non-stick pan
Specifications
RRP: $74.99/£59.99
Oven safe: Yes
Dishwasher safe: No
Materials: Forged aluminium pan body and non-stick granite interior
Included in set: 1 x 20cm frying pan, 1 x 24cm frying pan, 1 x 28cm frying pan
Reasons to buy
+
Great value
+
PFOA and PTFE free granite coating
+
Three-piece set
+
Lightweight
Reasons to avoid
-
Not dishwasher safe
-
Cannot be used with metal utensils
Simple but effective, these light and easy-to-use non-stick pans from Jean Patrique represented outstanding value for money. We liked that it came as a three-piece set, as it meant we could flex which piece to use depending on the recipe, or how many people we were feeding. The granite non-stick coating gripped well enough to ensure things like pancakes didn't spread too much while allowing enough give to mean no oil or fat at all was needed (making it a good option for those who want to avoid it). Each pan was light too, which is great for everyday cooking when ease of function and speed are paramount.
Cleaning was a breeze, and although these pans are not dishwasher safe (which might not be good for some households), we found just a quick rinse round with some warm soapy water did the job fine. With slightly thinner bases than some of the others we tested, we have a niggling reservation about warping, but from what we can see from other users' experiences this doesn't seem to be a common issue. Another slight drawback is that you can't use metal utensils with these pans, as it will damage the base. But, if you want a functional, robust set of non-stick pans that give you options for all kinds of meals, these well-designed ones from Jean Patrique are perfect.
8. Ninja Foodi ZEROSTICK 5-Piece Pan Set
The best non-stick pan set
Specifications
RRP: $276.85/£199.99
Warranty/guarantee: 10 years
Oven safe?: Yes
Dishwasher safe: Yes
Materials: Hard-Anodised Aluminium
Reasons to buy
+
Great value
+
Lightweight
+
Oven safe
Reasons to avoid
-
Takes a while to come to heat
-
Limited guarantee
There's something ultimately satisfying about having a matching set of pans, and for under £200, Ninja has designed a kit that will completely furnish your kitchen for you. This five-piece set provided the most cooking options of all the pans we tested, with a pot or pan for nearly anything we could think of to cook. To put ours to the test we made rice in one of the saucepans, and despite leaving it on for a little too long the grains weren't caked across the bottom and everything lifted out easily—a sign of a good non-stick.
In the frying pan, we made eggs and needed no butter or oil to see them slip out easily. We liked that although the pans felt robust and weighty, they weren't too heavy to lift and move around when we wanted to tip ingredients straight from the pans to our plates. When compared with other pans, these were slightly slower to come up to heat—but once they did reach temperature they maintained the heat well, and reacted quickly to temperature changes. For a mid-range set, we thought these were well-made and high functioning and provided a good cooking experience for their affordable price point.
9. Anolon 21cm X SearTech Non Stick Frying Pan
The best non-stick pan for withstanding high heat
Specifications
RRP: $111.30/£80
Warranty/guarantee: Lifetime
Oven safe: Yes
Dishwasher safe: Yes
Materials: : Aluminium
Reasons to buy
+
Great searing ability
+
Lightweight
+
Even heat conduction
+
Quick to heat
+
PFOA free non-stick
+
Induction suitable
Reasons to avoid
-
Higher price point
-
Not as easy to clean as some non-stick pans
Sometimes it's understandable to be dubious when it comes to pans with lots of marketing spiel behind them, but these new dual-purpose pans from Anolon really do live up to the hype. The combination of a non-stick coating with a smart stainless steel grid means you can get these hotter than most non-stick pans, making them our best option for cooking high-heat dishes—and they still remain simple to clean and easy to use with just a little oil.
To really put our sample pan to the test we tried making a steak. Typically these are best made in something that can get super hot—like a cast iron skillet (see our guide to how to clean a cast-iron skillet for the best cleaning method after cooking)—but we found the Anolon could really hold its own when it came to searing. We got a perfect crust with dark browning and an even finish inside too, suggesting a uniform temperature across the base of the pan, which came up to heat really speedily.
It might seem trivial, but we also loved the crisscross pattern the grid created, giving the meat a professional-looking finish. Plus, the pattern also held the butter we used in the center of the pan rather than it being dispersed to the edges, as often happens in non-stick pans—which in turn helped to flavor the meat as it cooked. The metal does make this a little trickier to clean, but we found it was nothing a soft sponge wouldn't shift, and the trade-off felt more than worth the extra effort. It's also suitable for induction hobs as well as gas hobs.
10. Tefal Ingenio Jamie Oliver 9 Piece Pan Set
The best non-stick pans for various uses
Specifications
RRP: $264.37/£185
Warranty/guarantee: 10 years
Oven safe: Yes
Dishwasher safe: Yes
Materials: Stainless Steel
Included in set: 1 x 16cm saucepan, 1 x 20cm saucepan, 1 x 24cm sautepan, 1 x 28cm frypan, 1 x 16cm glass lid, 1 x 20cm glass lid, 1 x preservation lid, removable Bakelite handles
Reasons to buy
+
Removable handles for easy storage
+
Red spots for gauging temperature
+
Great non-stick coating
+
Measurement marks
+
Metal utensil safe
Reasons to avoid
-
Fiddly to take handles on and off
-
Exterior marked from handles with excess use
-
Doesn't actually provide nine pans
Undeniably clever, Jamie Oliver's range for Tefal is a large non-stick set that can be combined in various different ways depending on your cooking style. Despite the name, you actually get just four pans, with the additional five items being made up of lids and handles. Tefal's signature red spots are used on each of the pans, which shows you that they have come up to temperature. As well as being a handy visual aid, this also assists in helping you not to overheat your pans, which in time would mean there could be the potential for warping.
We loved the space-saving functionality of having removable handles, but in reality, this was a little fiddly when moving things in and out of the oven (as the handles aren't oven-safe). We did, however, think it was clever that they could then be stacked and stored in the fridge easily. Measurement marks on the internal sides of the pan meant it was easy to throw together a recipe without the need for scales or measuring jugs, and the clear lids allowed for simple monitoring throughout cooking. A slight gripe was that the handle seemed to mark the edge of the pan after a few uses. But overall we were impressed with the top-quality non-stick functionality and the clever mix and match design. These would be great for stocking a kitchen up with some very handy non-sticks. If you opt for this set, be sure to read up on our clever pan storage ideas so that you keep these organized and in top condition.
See our full Tefal Jamie Oliver Ingenio collection review