The 10 best cookware sets to help you whip up meals like a pro
We've tried and tested the best cookware sets, putting pans through their paces to reveal which ones your kitchen needs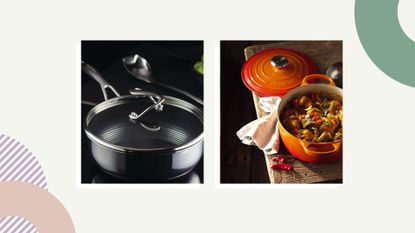 (Image credit: Future)
The best cookware isn't hard to find if you know where to look – and we've made it easy for you with this handy guide. Add any of these 10 highly-rated cookware sets to your kitchen and you'll be whipping up the tastiest meals that have ever graced your dining room table.
As the old adage goes, the best investment is in the tools of one's trade, and the same can be said for cooking. Getting the best cookware for the job is essential. Whether it's the best cast iron skillet to sear a steak, or the best stainless steel pot to bubble a stew in, the right cookware will not only make your food taste so much better, but you'll spend less time dealing with gruelling kitchen cleanup, too.
We've put all types of pans and pots through their paces to come up with our definitive list of the best cookware.
This guide features a range of price points, styles, and sets so that there should be something to suit every household and budget. We're talking hardworking, hard-wearing cookware for your kitchen that will stand the test of time.
And whichever set you go for, be sure to read up on our clever pan storage ideas so that you can keep your new cookware organized and in the best condition.
How we tested the best cookware sets
Why you can trust Woman & Home Our expert reviewers spend hours testing and comparing products and services so you can choose the best for you. Find out more about how we test.
To make sure we are recommending the best cookware we have to test it (as we did with the best food processors and best blenders)—and we don't take our job lightly. To help be your eyes, ears (and sometimes noses) we gathered together the most highly-rated cookware sets on the market to test various designs, styles, and specs against each other.
We tested each cookware item and set for:
Quality and durability—as any cook knows, pans can change over time, so we used each item day in, day out, across the testing period to look for signs of degradation. We cooked in every one multiple times and then washed, scrubbed, and scoured them to test their resilience. If the instructions said they were dishwasher-proof we chucked them in with burnt-on bits, to review how they came out and kept an eye on any chinks on their armor after each cycle.
Its cooking purpose—where appropriate we also cooked the recommended dish in each of the various pans. Some are specially designed to get great results from steak, while others make the perfect pancakes. Could they live up to the marketing claims?
Storage, design, and extra features: How easy each pan set is to store, the design of the set, and all the little extras offered all played a part in our decision-making. From saucepan sizes through to hanging hooks, measurement marks, and more, we've highlighted the features that elevate standard cookware into exceptional pots and pans.
In each of our picks below we'll also explain how that individual piece of cookware was tested, so you can decide whether it's up to the job you're looking for it to do.
The best cookware as tried and tested by our team
1. Circulon SteelShield C-Series
The best cookware set overall
Specifications
RRP: £240 / $400
Warranty/guarantee: Lifetime guarantee
Oven safe: Yes
Dishwasher safe: Yes
Materials: Stainless steel non-stick
Reasons to buy
+
Comfortable, stay-cool handles
+
Scratch-proof, even against metal
+
Easy to clean
Reasons to avoid
-
No secondary grip handles
-
Pricey and hard to find (in UK)
-
Bulky, so not ideal for small kitchens
Undeniably efficient, the nonstick coating of the Circulon SteelShield C-Series cookware allows for easy cooking and cleaning all in one, making it our pick for the best cookware set overall. Ergonomically comfortable handles mean an easy grip and good control while cooking, but they could prove to be an issue for small storage units as they're pretty bulky. Also, there are sadly no secondary control handles—which can be useful when carrying pots full of boiling water to drain the contents in the sink.
The instructions promise scratch-proof technology, even with metal utensils, and if you can stand the sound of metal on metal then we found this to be true—with the coating withstanding multiple spatulas and spoons throughout testing, with no marks left. The clever stainless steel ridges mean you can't actually touch the non-stick coating on the base. This combination allows you to get a piping hot pan that's more akin to a traditional stainless steel finish, but with the ease of cleaning that a non-stick brings.
In the UK, Circulon offers a 3-piece SteelSheild C-Series saucepan set – although it's become rather hard to find in stock online. Stateside, Circulon provides a much larger 10-piece set that includes four pots, two pans plus a couple of utensils.
If you don't need an entire set of pots and/or pans, you can purchase pieces individually, no matter which side of the pond you're on. The Circulon SteelShield C-Series cookware is not cheap, but with a reassuring lifetime guarantee, these feel designed to stand the test of time and are truly a joy to cook with.
2. Crane S Series
The best cookware set for induction hobs (UK)
Specifications
RRP: £525
Warranty/guarantee: Lifetime guarantee
Oven safe: Yes
Dishwasher safe: Yes
Materials: Stainless steel
Reasons to buy
+
Sleek eye-catching design
+
Great heat conductors
+
Durable and dishwasher safe
Reasons to avoid
-
High price point
-
The sets don't stack
-
Lids aren't interchangeable
Induction hobs aren't all that popular in the U.S., where a mere 3 percent of all homes use one. It's a different story in the UK, where ranges with induction cooktops are much more common. Thus, finding induction-friendly cookware is a much higher priority in the UK – and there's none better than the Crane S Series. In fact, it's made our list of the best induction pans.
If you display your best cookware out on the side instead of stashing it away, you may be keen on a brand that not only does the job well, but that also looks good. Crafted from brushed stainless steel, with modern, curved handles the S Series 4-piece set from Crane is undeniably handsome.
The base of each pan is slimline enough to come up to heat well, while the stainless steel conducts efficiently for an even cooking temperature. We liked that these felt more premium than your average cookware set, increasing weightiness and giving great cooking results. Because of the stainless steel surface, we found cooking everyday family food—like soups and stews—in the Crane pans preferable to making things like burgers (which did tend to stick a bit in the frying pan).
Durability was another plus point for us with the Crane pans. When anything did stick, a good scrub was all that was needed to remove the debris, and it didn't feel like it was damaging the interior. In fact, Crane cookware comes with a lifetime guarantee. We threw ours in the dishwasher a few times for good measure too and saw no warping, streaking, or scratching. For an attractive induction hob all-rounder, we thought these were hard to beat.
3. De Buyer Prim Appety
The best cookware set for camping (UK)
Specifications
RRP: £150
Warranty/guarantee: None
Oven safe: Yes
Dishwasher safe: Yes
Materials: Stainless steel
Reasons to buy
+
Easy-to-read capacity markers
+
Lightweight yet sturdy
+
Excellent pouring lips
Reasons to avoid
-
No clear warranty information
-
Doesn't come with lids
-
No family-sized pan included
Classic French brand De Buyer has been on the market for a long time (since 1830, no less, when they started with their copper pans) and has certainly picked up a few useful design details on the way. Their handy notes on volumes on the inside of each Prim Appety pan are so useful when throwing together a recipe in a hurry, and we love that they actually train you to be intuitive in your measuring after a while.
The simple, yet elegant, design has been centered around practicality, with each pan having a curved lip the entire way around the edge, meaning you can get a drip-free pour from any angle. Simultaneously light and sturdy, these would be the kinds of pans we'd reach for on an everyday basis and would be perfect for camping or cooking away from home, given their entirely metal makeup.
We found the sizes to be useful for reheating portions big enough for couples, but they'd be less suitable for family use given their limited volume. However, this element does have its benefits as the pans in this cookware set neatly nest inside one another for easy and compact storage.
We liked the softly curved interiors too, which were great when making a roux for a sauce so that nothing gets stuck in an angular seam. This also makes for easy handwashing. At this price, we'd want the lids to be included, but they actually have to be bought separately (an insight into the brand's chef credentials perhaps, as professional kitchens rarely use lids when working at the pass). Despite this, these are solid cookware sets that were easy and functional to use.
4. Kuhn Rikon Allround
The best cookware for gas stoves (UK)
Specifications
RRP: £183
Warranty/guarantee: Limited lifetime guarantee
Oven safe: Yes
Dishwasher safe: Yes
Materials: Stainless steel
Reasons to buy
+
Comfortable handles with hanging hooks
+
Convenient steam holes in lids
+
Aga compatible
Reasons to avoid
-
Tricky to clean rivets
-
No measurement markers
-
Not enough for cooking for large groups
Swiss engineering is famously precise—and they put the same level of detail into their pans as they do their watches. The Kuhn Rikon set had a tiny detail that can make all the difference—steam holes in the lid. This seemingly minor addition meant when we were slow-cooking a curry we could see through the glass lids at all times to check the dish's progress, without the need to open the whole thing up resulting in unnecessary cooling—a gamechanger for curries, stews, and tagines. If you're making a dish where you need the steam to do a lot of the cooking though (say, a biryani), you can always conceal these with foil.
Handles that are comfortable and have a good length made us feel confident moving the pans from stovetop to oven (see our guide to how to clean a stovetop when you're done), while good pouring lips meant transferring liquids from one to the other was straightforward too.
The thick bases came up to temperature well for a quick-cooking start. They maintained heat easily for consistency throughout cooking too. Hanging hooks mean easy storage, and the subtle branding means they're attractive on open shelving. A couple of minor niggles including no measurement markers inside, and handle rivets which can in time prove tricky to keep clean.
Because of its sturdiness, the stainless steel bodies of these pans are perfect for gas stove users. The metal reacts well to even small temperature changes, which you can easily control with a gas hob.
5. Le Creuset Toughened
Best luxury cookware set
Specifications
RRP: £275 / $220
Warranty/guarantee: Lifetime
Oven safe: Yes
Dishwasher safe: Yes
Materials: Hard anodised forged aluminium
Reasons to buy
+
Ideal starter set
+
PFOA-free non-stick surface
+
Built to withstand consistent cooking
Reasons to avoid
-
Big name brand carries a big price tag
-
Doesn't come with lids
Kitchen names don't come much more iconic than Le Creuset. While there might be history here, the brand hasn't rested on its laurels, but has instead continued to innovate. And their Toughened Non-Stick 3-piece Cookware Set is a prime example of this. In stark contrast to many non-stick coatings, this set withstood consistent cooking, plus cleaning through harsh dishwasher cycles, showing no signs of damage over a prolonged period.
The grouping of pans in this set means everyday meals are easy, with good shapes and sizes for dishes like steak, sauces, and stir-fries alike. The thick bases of these Le Creuset pans conduct heat well for an even cooking surface, giving a beautiful sear or caramelization to meat and fish, and a uniform finish to things like pancakes.
This luxury starter set gives a good mix of styles beyond the classic saucepans many other cookware kits stick to—but there are no lids, which can be helpful to have on saucepans when making things like a frittata, or for simmering veg. Robust, dishwasher safe and a top-quality non-stick finish ensure these are the sort of pans you'd reach for time and time again, which is why they are our best luxury pick. But, they're no doubt a pricey pick, and you would need to add a couple of other saucepans potentially, to kit out a full kitchen.
6. GreenPan Barcelona / Valencia
Best natural non-stick cookware
Specifications
RRP: From £80 / From $76
Warranty/guarantee: Lifetime guarantee for the pan; 2-year guarantee for non stick coating
Oven safe: Yes
Dishwasher safe: Yes but hand washing recommended
Materials: Aluminium with a ceramic non-stick surface
Reasons to buy
+
Excellent heat transfer
+
Induction safe
+
Natural non-stick coating
Reasons to avoid
-
Limited guarantee for coating
-
Hand washing recommended
-
No steam hole on lid
In the spirit of the fact that no cookware set is the same, the Barcelona range from GreenPan comes in separate pieces, rather than a pre-made grouping. While this does allow for full flexibility in which pieces you choose, it does mean that the cost could quickly add up, if you wanted all matching pans.
However, during testing, we loved that the non-stick coating was made from ceramic, a natural (and therefore healthier than your average) material. If cared for properly, this should well outlast the limited two-year guarantee from GreenPan. We found that the size and shape of the casserole pan made it incredibly versatile. It's shallow enough to make omelets and crepes in, while being deep enough for soups and stews too—a real allrounder.
Weighty, without being too heavy, the pan base is forged seamlessly with the upper to create useful heat transfer up the sides as well as across the bottom. This was great for creating a cocoon to cook things like dumplings in. It's a small detail, but no doubt one that will extend the life and usefulness of the pan in your kitchen. Hand washing is recommended for this pan so it's a little bit more high maintenance—but despite this, it quickly became a favorite for our tester.
Note that the Barcelona range does not appear to be available Stateside; however, it looks like the Valencia line is the most similar we can find. It's induction-safe and oven-safe up to 600 degrees Fahrenheit.
7. Anolon X SearTech
The best cookware set for searing and cooking steak
Specifications
RRP: From £77 / From $55
Warranty/guarantee: Lifetime guarantee
Oven safe: Yes
Dishwasher safe: Dishwasher safe
Materials: PFOA nonstick coated aluminium
Reasons to buy
+
Unrivaled searing for a non-stick pan
+
Metal utensil safe
+
Great range of pan sizes and styles
Reasons to avoid
-
Top-notch searing comes at a cost
-
Aluminium core could put some people off
-
Grid may take some getting used to
Anyone who has tried to cook scallops in a non-stick pan will know only too well the pain of an anemic, metallic finish. While most pans like this aren't up to the job of getting a good sear on meat, shellfish, or veg, this new design from Anolon combines an easy-clean interior with a searing hot surface giving you—in our opinion—the best of both worlds.
The trick is in the metal grid, which covers the bottom of the pan to create the heat of something akin to stainless steel, while the rest of the pan is covered in a sturdy non-stick. And this isn't just good marketing it turns out. We found it really does work to give a golden caramelization to everything from steak to scallops, making this pan set our best option for searing food, in particular steak.
The grid also helps to evenly distribute oil, which can be tricky in other non-stick pans. The feeling of the grid takes a little bit of getting used to, with utensils feeling a little bumpy. But overall, we thought the set gave a good range of pans (enough to completely set up a kitchen) and that the combo of cooking scope and easy cleaning was a winner. Hanging hooks make for simple storage too, and we saw no signs of damage across the course of use, including multiple cycles in the dishwasher.
8. Le Creuset Cast Iron
The best cookware set for range cookers
Specifications
RRP: From £135 / From $130
Warranty/guarantee: Lifetime guarantee
Oven safe: Yes
Dishwasher safe: Yes
Materials: Cast iron
Reasons to buy
+
Attractive design for stovetop to tabletop
+
Lifelong guarantee and great customer service
+
Unrivalled heat distribution and retention
Reasons to avoid
-
A costly investment
-
Heavy to maneuver
For longevity, you can't beat the original and classic cast iron Le Creuset sets. These lifelong cooking companions are iconic in their coloring and make the best wedding presents or gifts for couples who have just purchased their first home. Little tweaks over the years have resulted in smaller, improved handles for a comfortable grip and much easier storage.
Double handles meant moving these pots and pans from stovetop to oven was straightforward and felt safe, and the attractive design made serving from stovetop to tabletop a pleasure (and, crucially, it also cuts down on washing up!). However, they are pretty heavy, which is something to bear in mind.
Functionality-wise these cast-iron pans act like mini ovens in themselves. Once they're hot, they stay hot, so you don't have to cook at too high a temperature. You can instead enjoy long, low and slow cooking turned down to a simmer. This means less hands-on cooking time needed, which is a win for busy homes.
We particularly enjoyed making sourdough bread in ours, with the pan helping to give a good crust without the heat typically needed from an industrial oven. This feature also acts in reverse, with the metal staying incredibly cold once finished with. This also meant easy storage of leftovers—you can pop these pans right in the fridge, rather than having to decant your food into containers.
While they are certainly expensive investment pieces, the guarantee and subsequent customer service are excellent and covers you indefinitely. You can also get fantastic Le Creuset deals at certain times of year such as Black Friday.
9. Epicurious Cookware Classic Collection
The best cookware for gas stoves (US)
Specifications
RRP: $150
Warranty/guarantee: Limited lifetime warranty
Oven safe: Yes
Dishwasher safe: Yes
Materials: Heavy-gauge aluminum
Reasons to buy
+
Great price for an 11-piece set
+
Built to heat up quickly and evenly
+
Glass lids make it convenient to see what's cooking
Reasons to avoid
-
Copper finish tends to chip over time
-
Low max temp for the oven
Epicurious is a popular online hub for recipes in the United States – but the foodie-centric site also has its own line of cookware and kitchen accessories. Its Epicurious Cookware Classic Collection is made of heavy-gauge aluminum with an eye-catching copper finish so it not only warms quickly and evenly on the gas range, it also looks appealing.
Containing a selection of pots and pans in various sizes, this cookware set does a fine job of evenly distributing heat thanks to impact-bonded stainless steel bases and a rounded form factor. The tempered glass lids allow home chefs to keep an eye on what's cooking without having to open anything up (and risking food cooling prematurely).
If you must transfer food from the stovetop to the oven, this cookware is oven-safe up to 350 degrees Fahrenheit. That's not a very high maximum temperature, but it's good enough if you want to keep things warm before you're ready to serve.
We found that cleaning these pans was easy, as you are able to pop them in the dishwasher rather than standing at the sink hand-washing them after every meal. Some customers claim that this cookware set tends to chip and scratch after a while with regular use . However, this won't otherwise impact performance – and for an 11-piece set, it's one of the best values out there.
10. Stanley Even-Heat Camp Pro
The best cookware set for camping (US)
Specifications
RRP: $150
Warranty/guarantee: Limited lifetime warranty
Oven safe: No
Dishwasher safe: Yes
Materials: Stainless steel
Reasons to buy
+
Nesting design makes for easy transport
+
Thick bottoms allow for even heat
+
Everything is dishwasher-safe
Reasons to avoid
-
Cutting board doesn't stay flat
-
Aesthetically, not much to look at
-
Too heavy for backpacking
Stanley is a trusted name in outdoor gear, and that includes camping-centric cookware. The Stanley Even-Heat Camp Pro set includes a stock pot, saucepan, and frying pan – all crafted from stainless steel. It also comes with a collapsable cutting board, spatula, spoon, and two trivets.
Aesthetically, this set isn't much to look at, but on the campsite that's the least of your concerns. These pots and pans are well-made and durable, with extra thick bottoms designed to distribute heat evenly so your campfire food is properly cooked and delicious. We found the pair of ventilated lids, included with the stockpot and saucepan, helped prevent liquids from boiling over. We also thought the extra accessories were a nice bonus - so you don't have to borrow anything from the at-home utensil drawer - although the cutting board doesn't always stay as flat as it should.
Whether you're traveling solo or with a group, the generous capacities of the Stanley Even-Heat Camp Pro cookware set will allow you to prepare more than enough food. Cleanup is a cinch as all you'll need is a simple handwash with soap and water – but if you have an RV with a dishwasher, these pots and pans can go in there, as well.
Everything stores nicely within the 4.75-quart stockpot for easy transport. However, this is quite a heavy set so if you're backpacking it might all be a bit too much. But for longer camping trips (or glamping, if that's more your speed), you'll be very glad to have this cookware set with you.
What to think about when shopping for the best cookware sets
There are a few different considerations to take into account when shopping for the best cookware, and most questions to ask yourself will depend on how you use pots and pans in your own kitchen. For instance, if you batch cook meals—size might be high up on your list of priorities, while if you don't have much time in the evenings, dishwasher-proof pans might be a kitchen essential.
Here are a few things that are worth considering when looking for the best cookware:
Non-stick or not—Non-stick can be much easier to cook on and easier to clean. However, it can be less scratch-resistant, and as a result less durable and hardy over time. Consider which is more important for you and your cooking needs. And if you're really after a non-stick, see our guide to the best non-stick pans available to buy.
Your storage space—if buying a cookware set, do they stack into each other and store easily? Are they bulky to store, or neat and slimline? Kitchen storage is vitally important to consider when buying any new item.
Ease of movement—how heavy are the pans? Are they easy/light to maneuver, or awkward? This is an important consideration, especially if you struggle with strength in your wrists. Consider how you want to use your pans too—do you want to bring them from stovetop to tabletop?
Ease of cleaning: Are the pans dishwasher-friendly? Not all are. This is essential for some of us, who might not have the time—nor the energy—to hand-wash pans after a busy day. However, some might not mind washing pans up themselves after a meal.
Your hob type: Make sure to check if the pans you want are compatible with your hob type—be it gas, electric, or induction. This is especially important for induction hob owners for whom only induction pans will work. You can assess the benefits of an induction hob vs gas hob in our guide, and if induction is your stove of choice then read our specialist guide to the best induction pans.
Guarantee: Do they come with a guarantee? Having one can provide peace of mind while cooking, and can often be a good indicator of quality.