Best blenders to buy: make smoothies, soups, sauces and desserts with blenders for every budget
See our pick of the best blenders on the market, that'll help you make some of your favourite recipes and get the most out of your ingredients.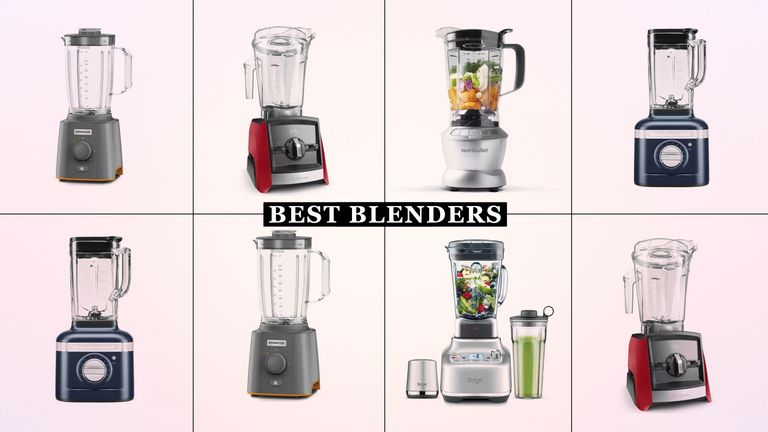 (Image credit: Future)
Making use of one of the best blenders has to be one of the easiest ways to get in your five-a-day, use up a fridge full of ingredients, or even add some variety into dinnertime. That's because it transforms fruit, vegetables, nuts and seeds into tasty blended combinations that the whole family will enjoy. 
These days, the best blenders need to live up to some critical criteria: they should offer a good mix of performance and programs, as well as be easy to keep clean and maintain for everyday use. And of course, they need to look good displayed in our homes.
If you're in the market for a new blender, we've selected and tested models at a range of price points to help you whittle down the options. Much like the best food processors, these machines will whizz up your chosen ingredients into a healthy and delicious blend. Among the best blenders that should cover your every blending need are our recommended buys – the Sage Super Q and Vitamix A2300i – as well as the more affordable NutriBullet Blender Combo. The latter is a great-value option that's still packed full of handy features. However, there are various things you'll no doubt want to take into account before investing so, without further ado - here are our reviews of the best blenders on the market. (Now all you need now is some of the best induction pans.)
How to choose the best blender for me
Before you start to consider price points, think about what you're likely to use one of the best blenders below for. For example, would you appreciate the convenience of programmes to make traditional blender recipes like smoothies and soups, or are you more likely to use different speeds and settings to handle a varied baking and cooking repertoire? Capacity is another consideration – larger jugs are useful in family households, or for those who batch-cook, while smaller models are ideal for compact kitchens or those short on workspace. The compact sizes are also one of the reasons why the best blenders win in the food processors vs blenders debate.
Dedicated programs provide convenience for everyday tasks such as ice crushing, smoothies and soups, so are worth adding to the wishlist, as are those with 'self-cleaning' functions - although learning how to clean a blender isn't too difficult. These self-cleaning functions though sidestep running the dishwasher or scrubbing a jug by hand, by using a high-speed mechanism to whisk away stubborn debris from around the blades and up the sides (when filled with water and washing-up liquid). Self-cleaning processes don't always reach the lid that well, so you may still need to wash this separately. 
Finally, look for the most powerful model you can afford – it'll provide faster blending and reduce your food prep time. Do note, however, that while higher wattage gives a rough idea as to how powerful the motor is, it doesn't always equate to a blender being a better all-round model than another one.
The best blenders as reviewed by our experts
The best blender for doing it all
Specifications
RRP: $399.95/£449
Speeds: 10
Programmes: Soup only
Guarantee: 10 years
Reasons to buy
+Heats soup +Built to last
Reasons to avoid
-Heavy-Bulky
The Vitamix A2300i is a blender that does it all – soup, smoothies, frozen desserts and even grinding – making it one of the best blenders you can buy right now. It also has excellent capacity in its durable yet deceptively lightweight two-litre jug, plus it's quick to get blending – the jug drops onto the 1400W base, the lid clips on, you choose one of 10 speeds and hit start. In tests, no task was too difficult: it made faultless smoothies, piping-hot soup and crushed ice without skipping a beat. There's even a recipe book to inspire you with frozen desserts, baby food and nut butter ideas, which tells which settings to use for which recipes in case you're not super confident about how to use a blender. Admittedly, there are no pre-programmed settings on this model but, as it's so easy to use, you may find you don't miss them. Our best pick for or serving up fuss-free food.
See our full Vitamix A2300i blender review
The best luxury blender
Specifications
RRP: $499.95/£499
Speeds: 12
Programmes: Five
Guarantee: 10 years
Reasons to buy
+Good choice of settings+Personal blending cup
Reasons to avoid
-Expensive-Accessories need to be stored
One of the priciest blenders in our guide, the ultra-powerful two-litre 2400W Sage Super Q justifies its cost by blitzing both quickly and using noise-suppression technology. This means that while it's far from whisper-quiet, the sounds it makes are less obtrusive than many, and certainly those with a larger motor. What is also notable is the LCD display – enabling you to see at a glance what speed you've selected, set a blending timer or keep an eye on how long is left on a programme. The Super Q performed well on all our blending tasks, producing fibre-free smoothies, efficiently crushing ice, and blending soup that was heated to hot – if not as piping as the Vitamix above. 
See our full Sage the Super Q blender review
The best budget blender
Specifications
RRP: $79.99/£99.99
Speeds: Three
Programmes: One
Guarantee: 1 year
Reasons to buy
+Good capacity+Can blend hot soup
Reasons to avoid
-Accessories to store-Limited programmes
Once you've got to grips with how to use a Nutribullet, the NutriBullet Blender Combo will deliver a lot for you in terms of value. It's got a full-sized 1.8-litre blender that can handle hot liquids, three cups that can be blended into and used to store the contents, a tamper for making frozen desserts and a powerful 1200W motor that works the same way as the original to create speedy smoothies. It's louder than some, but delivered consistently in our tests, producing evenly blended smoothies, chunk-free soup and snowy ice perfect for cocktails. Plus, it's all dishwasher-safe when you're done, making for an easy kitchen cleanup. In an ideal world it'd have more choice of speeds or programmes, but as an affordable all-rounder you'd be hard pressed to find one that ticks as many boxes. And if you're debating a Nutribullet vs Vitamix, price is an important consideration.
See our full NutriBullet Blender Combo review
The best blender to give as a gift
Specifications
RRP: $249.99/£279
Speeds: Five
Programmes: Three
Guarantee: 5 years
Reasons to buy
+Range of 11 colours+Suitable for hot liquids
Reasons to avoid
-Glass jug is heavy-Limited capacity
If your idea of a great blender is one that works hard and looks stunning, the KitchenAid Artisan K400 is for you; it's available in a range of glossy colours, so it can take pride of place on the worktop. It looks impressive, which means it'll make for a great gift too. Beyond its good looks, this blender performs well too, delivering smooth smoothies and evenly crushed ice in seconds – making it one of the best blenders for smoothies, too. It also offers a whole host of functions and speeds so you can make soups, sauces, doughs and frozen desserts. While the weighty glass jug is more limited in capacity than some, this 1200W machine can be easily accessorised with extra containers, one of which is a lighter 1.6-litre plastic jug. As the heavier jug can also present problems when cleaning by hand, it's a good thing that there's a self-cleaning programme on the dial too. Overall, this blender works hard and looks fabulous in any kitchen.
See our full KitchenAid Artisan K400 blender review
The best ice crushing blender
Specifications
RRP: $49.99/£59.99
Speeds: Three
Programmes: None
Guarantee: 1 year
Reasons to buy
+Lightweight+Ice-crush button
Reasons to avoid
-Noisy-Basic build quality
Compact enough to tuck into a corner of a tiny kitchen, the Kenwood Blend-X Fresh is a neat, nimble blender that can handle everyday tasks, such as batter and milkshakes (or cocktails!) without any issues. There aren't any pre-set programmes, but this model does have a couple of neat tricks going for it. There's an ice-crush button that works well to turn cubes to snow, and detachable blades mean it's easy to wash by hand. Considering that the jug is tall, the capacity hasn't been reduced too much – there's still 1.5 litres of working space in the 2-litre pitcher. However, its 650W motor can be limiting, meaning you'll need to spend a bit more time chopping food into smaller pieces to circulate properly. It's also especially noisy, even when operating on the lower speeds. 
See our full Kenwood Blend-X Fresh blender review
6. Smeg 50's Style Blender
The best blender for making your space look good
Specifications
RRP: $259.95/£179.95
Speeds: Four
Programmes: Three
Guarantee: 2 year warranty
Reasons to buy
+Doesn't take up a lot of room+Lightweight jug+Ice-crush function+Pretty design+Lots of colors available
Reasons to avoid
-Limited speeds and functions-Jug is on the small side
There are kitchen appliances that come with all the technical bells and whistles and then there are the ones that make your space look almost catalogue worthy. And while the bells and whistles can be fun to play around with, most of us blender users usually end up falling back on the basic functions that our blender offers. So if you're one of those people then this fancy Smeg offering is well worth your attention – especially if you're on a crusade to make your kitchen look as beautiful as possible. A worthy contender against the rest, this retro-style blender crushes ice in seconds with its specialized function, while the smoothie function gives us the kind of silky drinks we'd expect from a Californian wellness bar. It does only come with four speeds but they do pack in a heap of power, though maybe not as much as the Vitamix option. We also found the pulse function handy for chopping up veg. Our only niggle is that the jug has a slightly smaller capacity than we're used to with other models, however, this does lend itself to a lovely lightweight but still sturdy feel, which makes it a lot more comfortable to use than some other blenders we've tested. And all of this wrapped up in a beautiful compact little package that won't take up much room on your countertop and will look good while it's doing it. We are obsessed with the pastel green option thanks to the current sage green interiors craze, but there are a number of other shades available including, black, cream, pastel pink and pastel blue.
7. Russell Hobbs Desire 3-in-1
Best hand blender
Specifications
Power: 500W
Dimensions: H39.5 x W6.3 x D6.3cm
Number of speed settings: 2
Dishwasher-safe parts: Yes
Removable blending arm: Yes
Attachments/extras: 3
Warranty: 2 years
Reasons to buy
+Extra attachments+Dishwasher-safe parts
Reasons to avoid
-Shiny power buttons look a bit tacky
The Desire 3-in-1 Hand Blender makes cooking quicker and easier by doing everything in one so that you don't need loads of appliances.
This 500W hand blender spins at 12,000rpm, so its stainless-steel blades can crush ice in just seconds. It has two speeds, comes with a mini chopper, whisk and a 700ml beaker, plus a detachable blending arm, which is a really useful feature. This versatile appliance will save you both time and storage space, at the same time as letting you create yummy dishes. We also like the black color of this, which makes it seem slightly sleeker than the more common white and metal looks. And the detachable parts are all dishwasher safe – win!