The best blenders in 2023 for smoothies, soups, sauces and desserts
We tested the best blenders currently on the market from top brands such as Vitamix, KitchenAid, and NutriBullet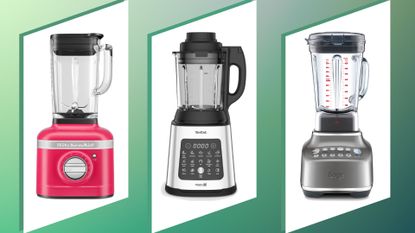 (Image credit: Future)
The best blenders offer a good mix of performance and programs as well as an assortment of extras you can buy later which allow you to increase the functionality of your machine.
We've selected and tested models at a range of price points to give you a better idea of which ones are worth the space in your kitchen. These machines help make light work of whizzing up ice, sauces, smoothies, and soups.
If you're looking for an appliance that performs a wider variety of food preparation tasks - such as grinding and mixing up coarser ingredients - you might want to see our guide to the best food processors, although several high-end blenders can also easily assume the role of a food processor.
To test the best blenders on the market, we used them to create everything from icy cocktails to vegetable-packed soups and even pancake batter. We looked at how quickly each model blended, how smooth the finished product was, and what kind of functions they had to make the task even easier.
Below are 17 of the best blenders to buy right now, ranging from budget-friendly smoothie machines to premium models with an abundance of functions and exciting accessories.
How we tested the best blenders
Why you can trust Woman & Home Our expert reviewers spend hours testing and comparing products and services so you can choose the best for you. Find out more about how we test.
Our team of experts has personally tested each of the blenders below, all within the last few months to ensure they are the best models on the market. To judge each of the blenders we compared how each model tackled blending ice and frozen and fresh fruit. We also looked at how smooth the final results were for smoothies and sauces and how long each model took.
These were the areas we looked at in particular:
Ease of use: How simple were they to set up and put together? We also looked at how easy each machine was to pack down and clean.
Functions: Pricier models tend to come with more attachments and modes. We evaluated how useful they actually were and whether or not they justified the higher price point.
Performance: Most importantly, we assessed how well each blender performed at blending brittle, hard ice, as well as soft fruits and smoothies, both in terms of the time taken and the final product. In addition, we looked at how noisy they were.
Value for money: We tested a range of blenders, spanning a range of price points. We examined whether or not the more expensive models were worth it.
Design: We looked at how much space the blenders required in the kitchen and how they actually looked.
The best blenders as reviewed by our experts
The best blender for doing it all
Specifications
RRP: $499.95 / £499
Speeds: 10
Programs: Soup only
Guarantee: 10 years
Reasons to buy
+
Heats soup to piping-hot temperatures
+
Built to last and easy to use
+
Capable of any blending task
Reasons to avoid
-
Heavy with a large footprint
-
No pre-programmed settings
The Vitamix Ascent A2300i (known as the A2300 in the U.S.) does it all - soup, smoothies, frozen desserts, and even grinding - making it one of the best blenders you can buy right now. It also has excellent capacity in its deceptively lightweight two-liter jug. We loved how quick it was to get blending, too. Simply drop the jug onto its 1400W base, clip on the lid, choose one of 10 speeds, and hit start.
In our tests, no task was too difficult for the Vitamix: it made faultless smoothies, piping-hot soup, and crushed ice without skipping a beat. There's even a recipe book to inspire you with frozen desserts, baby food, and nut butter ideas, which tells you which settings to use for which recipes.
Admittedly, there are no pre-programmed settings on this model but, as it's so easy to use, you may find you don't miss them. The Vitamix Ascent A2300i is our top pick for serving up fuss-free food, and also one of the best gifts for couples who are settling into a new home.
See our full Vitamix A2300i blender review
The best luxury blender
Specifications
RRP: $549.95 / £429.95
Speeds: 12
Programs: Five
Guarantee: 10 years
Reasons to buy
+
Broad range of settings
+
Powerful yet rather quiet operation
+
Includes personal blending cup
Reasons to avoid
-
More of a splurge buy
-
Accessories need to be stored
Sage (known as Breville in the States) is known for offering a range of the very best coffee machines on the market, and they have a stellar blender in their collection too. One of the priciest in our guide, the ultra-powerful two-liter 2400W Super Q justifies its cost by blitzing quickly and using noise-suppression technology. It's far from whisper-quiet, but the sounds it makes are less obtrusive than many other blenders with a larger motor.
The LCD display is a notable feature, allowing you to easily see what speed you've selected, set a timer or keep an eye on how long a program will be running for. The Super Q performed well on all our blending tasks, producing fiber-free smoothies, efficiently crushing ice, and blending soup that was heated to hot—if not quite as hot as in the Vitamix above.
See our full Sage the Super Q blender review
The best blender to give as a gift
Specifications
RRP: $289.99 / £299
Speeds: Five
Programs: Three
Guarantee: Five years
Reasons to buy
+
Stunning design with 11 colors
+
Suitable for hot liquids
+
Blends well in seconds
Reasons to avoid
-
Glass jug is heavy
-
Limited jug capacity for the price
Having a KitchenAid mixer has become something of a status symbol, but if you don't have much use for their stand mixer, you can still buy into the brand with the Artisan K400 blender. It's available in a range of glossy colors and looks impressive, which means it's one of the best engagement gifts or best wedding gifts you could give to a couple that love cooking.
Beyond its good looks, this blender performs well too, delivering smooth smoothies and evenly crushed ice in seconds. It also offers a whole host of functions and speeds so you can make soups, sauces, doughs, and frozen desserts. While the weighty glass jug is more limited in capacity than some (it's 1.6 liters), this 1200W machine can be easily accessorized with extra containers, one of which is a lighter plastic jug. The heavier jug can be tricky to clean by hand, but there's a self-cleaning program on the dial. Overall, this blender works hard and looks fabulous in any kitchen. It is on the pricey side but there are often KitchenAid deals to be found.
See our full KitchenAid Artisan K400 blender review
The best budget blender
Specifications
RRP: $127.50/ £149
Speeds: Three
Programs: One
Guarantee: One year
Reasons to buy
+
Good capacity for a budget model
+
Can blend hot soup
+
Brilliant value-for-money
Reasons to avoid
-
Only offers one program
-
Has three cups but only two lids
The NutriBullet Blender Combo delivers a lot in terms of value. It's got a full-sized 1.8-liter blender that can handle hot liquids; three cups that can be used for blending and storing; a tamper for making frozen desserts and a powerful 1200W motor. It's louder than some other models but delivered consistently in our tests, producing evenly blended smoothies, chunk-free soup and snowy ice which was perfect for cocktails.
For everything this NutriBullet is capable of making, you can rest easy knowing all components are dishwasher-safe, making for an easy kitchen clean-up. In an ideal world, it would have more choice of speeds or programs, but as an affordable all-rounder, you'd be hard-pressed to find one that ticks as many boxes. If you're debating a NutriBullet vs Vitamix, price is an important consideration. And if you opt for a NutriBullet, make the most of it by checking out our guide on how to use a NutriBullet.
See our full NutriBullet Blender Combo review
5. Cuisinart Cordless On The Go Blender / EvolutionX Cordless Compact Blender
Best wireless blender
Specifications
RRP: £100 / $79.95
Speeds: One
Programs: One, turns off automatically after 60 seconds
Guarantee: Two years
Reasons to buy
+
As it's cordless it's ideal for on-the-go or compact kitchens
+
USB compatible, making it easy to charge
Powerful
Reasons to avoid
-
Small volume, only really for a single person
-
Great for smoothies, but struggles blending small quantities of things without a liquid
-
Not suitable for hot liquids
Similar to the NutriBullet 600W Personal Blender this model has a small capacity and is only able to blend the contents of the single-serve jug. The Cuisinart Cordless On The Go Blender has a small blade and a single blending setting. If you're looking for an all-purpose blender then this probably isn't the model for you, however, if you are looking for a blender to regularly make drinks then this is a fab option.
The main benefit of this blender is that it's cordless and rechargeable so you can blitz up a smoothie wherever you fancy: at your desk, after the gym. It also comes with a lid so the blending chamber doubles up as a drinking bottle. We find that homemade smoothies split when left to sit, so being able to make a fresh smoothie with your own selection of ingredients is great. It's lightweight and could fit into a gym bag.
We put this model through its paces by making a drink containing harder-to-break-down ingredients, carrots, ginger, and ice. We were impressed that it made a smooth drink. This compact model would also be useful for making sauces or baby food. Although we found it was less effective when chopping small amounts of dry ingredients, such as toasted nuts. As there are no holes for steam this model shouldn't be used for hot liquids.
The rechargeable base is compatible with any USB as well as other Cuisineart chargers, such as the one that comes with the Cuisinart 1.9L Easy Pres Pro cordless food processor and the Cuisinart Power Hand Mixer, making it simple to recharge.
For the US market, Cuisinart also makes a range of larger capacity blenders, but these are not currently available in the UK. Comes with a blade cover.
6. NutriBullet 600W Personal Blender
The best blender for smoothies
Specifications
RRP: $62.50 / £69.99
Speeds: One
Programs: One
Guarantee: One year
Reasons to buy
+
Doesn't take up a lot of room
+
Powerful blades
+
Quick and easy to use
Reasons to avoid
-
Limited speeds and functions
-
Blades not very long-lasting
We couldn't help it. We've included another NutriBullet. But when it comes to personal blenders, there's no brand that does it better. If you're looking for something compact, reasonably-priced and the right size to make a smoothie for one, then this is it. Admittedly, there are no bells and whistles or nifty programs, but all the magic is in the blend.
The sturdy blades and high-speed blend function reduce even the toughest of fruits and vegetables to a smooth liquid in just seconds and with the push and blend and function it's quick and easy to use.
However, the lack of buttons does mean that you have to be present during the whole blending process, so it can cost you a few seconds and it's worth making sure when you twist the beaker off the base that you're not simply unscrewing the lid or you could be left in a bit of a mess. We'd also recommend changing your blades every year or so because they can become a bit stiff after long periods of repeated use.
This could make a great 18th birthday gift or Christmas gift for teenagers who are heading off to uni and want something compact for whizzing up cocktails.
7. Ninja Foodi Cold & Hot Blender (Ninja Foodi Blender & Soup Maker)
The best blender for soup
Specifications
RRP: $199.89 / £149
Speeds: Three
Programs: 10 automatic and three manual
Guarantee: One year
Reasons to buy
+
Variety of programs to choose from
+
Blends quickly
+
Self-cleaning function
Reasons to avoid
-
Glass pitcher is heavy to handle
-
Tends to be very loud
If you love your soup maker but want to save cupboard space, then find yourself a Ninja, which is one of the best hot and cold blenders. While many blenders can't cope with hot vegetables when cooking soup, this one has a built-in heating element so you can make all your favorite recipes without the worry that it will crack or overheat. Add your ingredients along with your choice of liquid and at the click of a button, your soup will be ready in minutes.
While some like to use the best hand blenders when cooking soup, we loved being able to do everything in one big jug. This made the silkiest soup we've ever cooked, despite having a top-of-the-range soup maker in our repertoire of kitchen essentials. And this is just one of its tricks.
There are several different programs that let us whizz up smoothies and cocktails (with a load of ice) in seconds. We even chopped up some onions and carrots using the Chop setting, following up with the Sauté program to start our cooking off. In addition, there's a frozen dessert section where you can make ice cream alternatives. But possibly our favorite part of this blender (other than the self-cleaning function), is the way that it just sits on top of the base without the need for any awkward twisting or clicking in.
And, if you love a Ninja blender, it's worth looking to find out where you can get Ninja blenders on sale throughout the year too.
8. Smeg 50's Style Blender
The best stylish blender
Specifications
RRP: $299.95 / £179.95
Speeds: Four
Programs: Three
Guarantee: Two years
Reasons to buy
+
Specialized ice crush function
+
Doesn't take up much space
+
Lots of fun colors available
Reasons to avoid
-
Limited speeds and functions
-
Jug is on the small side
There are kitchen appliances that come with all the technical bells and whistles and then there are the ones that make your space look smart. While the bells and whistles can be fun to play around with, most of us usually end up falling back on the basic functions our blender offers. Which makes this fancy Smeg offering well worth your attention.
This retro-style offering is one of the best blenders for crushing ice in seconds with its specialized function, while the smoothie function gave us the kind of silky drinks we'd expect from a Californian wellness bar. It only has four speeds but it still packs in a heap of power, though maybe not as much as the Vitamix option.
We also found the pulse function handy for chopping up veg. Our only niggle is that the jug has a slightly smaller capacity than we're used to with other models, however, this means it's lightweight but still sturdy, which makes it more comfortable to use than some of the other blenders we've tested.
It's a beautiful, compact package available in a number of lovely shades including, black, cream, and a trio of pastels: pink, blue, and green.
9. Ninja Foodi Smoothie Bowl Maker and Nutrient Extractor
The best blender for smoothie bowls
Specifications
RRP: $119.99 (US only)
Speeds: One
Programs: Four
Guarantee: One year
Reasons to buy
+
Various attachments for convenience
+
Strong motor and not too loud
+
Four versatile programs
Reasons to avoid
-
Not suitable for big quantities
-
Doesn't handle nut butters well
If you're someone who's constantly trying to prove how smoothies are good for you by making up smoothie bowls for breakfast in the morning, then this one's for you. In the last decade or so, smoothie bowls have become a big healthy breakfast trend—hence the Ninja Smoothie Bowl Maker was born.
This particular model from the popular brand is specifically designed to make smoothie bowls and comes with a personal bowl attachment for convenience and so that you can get your quantities exactly right. You can also make spreads and nut butters, as the different programs on the machine allow you to blend up your ingredients into a smooth liquid or a thick paste, so you can make the most out of your appliance.
10. Magic Bullet Blender
The best compact blender
Specifications
RRP: $39.98 / £49.99
Speeds: One
Programs: N/A
Guarantee: One year
Reasons to buy
+
Takes up minimal space
+
Includes multiple cups and lids
+
Great for protein shakes
+
Accessories are all dishwasher-safe
Reasons to avoid
-
Not great at crushing ice
-
Need storage for accessories
-
Only good for single portions
The Magic Bullet is the best blender for those who live solo and in small quarters. This 120V machine boasts an admirable 250W of power to help it blend, whip, chop, and dice. Although the Magic Bullet itself has a small footprint, it does come with multiple accessories you'll need to find storage for. It includes a tall cup, a short cup, a party mug, two lip rings, two resealable lids, and a to-go lid – all of which are dishwasher-safe.
If protein shakes are your forte, the Magic Bullet excels at whipping those up, no problem. It's also quite good for making baby food, although smoothies may present some issues as we found it wasn't as adept at chopping ice and frozen fruit to a fine consistency. Still, for a solo-use blender, you're getting fairly decent value here, especially if you like to take your drinks on the go.
Best blender for crushing ice
Specifications
RPP: $46.33 / £66.99
Speeds: Three
Programs: None
Guarantee: One year
Reasons to buy
+
Has an ice crush button
+
Detachable blades for easy cleanup
+
Lightweight and stylish build
Reasons to avoid
-
No presets included
-
Noisy, even on the lowest setting
Compact enough to tuck into a corner of a tiny kitchen, the Kenwood Blend-X Fresh is a neat, nimble blender that can handle everyday tasks, such as batter and milkshakes without any issues. There aren't any pre-set programs, but this model has some tricks up its sleeve. The ice-crush button works well, turning cubes to snow, and detachable blades mean it's easy to wash by hand.
As the jug is tall, the capacity hasn't been reduced too much despite its smaller footprint – there's still 1.5 liters of working space in the 2-liter pitcher. However, its 650W motor can be limited, meaning you'll need to spend a bit more time chopping food into smaller pieces to circulate correctly. We also found it to be quite noisy, even when operating at lower speeds.
See our full Kenwood Blend-X Fresh blender review
12. KitchenAid K150
Best blender for KitchenAid-fans on a budget
Specifications
RRP: $99.99 / £229
Speeds: Three
Programs: Three
Guarantee: Two years
Reasons to buy
+
Attractive choice of five colours
+
Effective ice-crushing setting
+
Lightweight BPA-free plastic jug
+
Easy to slot on and off the base
Reasons to avoid
-
Limited functionality (only three speeds)
-
No cord tidy under the blender base
-
Expensive considering limited functionality
This blender has a timeless modern design that would look attractive on your counter no matter the season. Its main function is as an ice blender or smoothie maker, so it's one of the most basic models we tested.
Compared to the KitchenAid K400 this blender only has three-speed settings but it still produces good results. Although it is less powerful than the K400, with only 650W, we were immensely impressed with the ice-crushing function. There are four blades angled in two directions which means ingredients are pulled and crushed into contact with the blades at different points. Ice was blitzed to an even snow-like consistency with no large pieces remaining in less than half the time of the others we tested. It was also one of the quietest models we tested.
The capacity of the K150 jar is the same as the more expensive K400 model but it is made of BPA-free plastic, not glass. We liked that it was lightweight and easy to slot on and off the base. Unlike the metal base of the K400 the base of this model is plastic which looks less premium but this is reflected in the price.
This model is cheaper than the K400 and would make a good option as a gift. It's also a good choice for those who love the KitchenAid brand and want to match other appliances in their kitchen but don't need a bulky blender and have a limited budget.
To maximize the use of the blender it's worth considering investing in some of the accessories you can buy to use with it. For example the 200ml small batch jars would be useful if making small portions of pesto, hummus or salsa. If you tend to drink smoothies on the go then the 500ml personal blender jar is a great option.
13. ZWILLING Enfinigy Power Blender
Best blender for a modern kitchen
Specifications
RRP: $400/£349
Speeds: 12
Programs: Six
Guarantee: Five years (if registered online)
Reasons to buy
+
Stylish design with attractive matte base and minimal branding
+
Lots of functions including pre-sets for cocktails, ice and smoothies
+
Suitable for hot liquids
+
Effective cleaning setting
+
Illuminated timer display is very useful
Reasons to avoid
-
Ridged design on jug makes it more difficult to see inside
-
Takes up more space compared to other models
Unlike other models we tested, the Zwilling Enfinigy power blender only has two blades. These stainless steel blades are specially designed with serrated piranha-like teeth to enable optimized blending. Despite only having two blades, we thought the results were some of the best.
It is one of the most powerful blenders we tested at 1600W but this also meant that while on the maximum speed setting it was rather loud. The extra power and noise come with capacity, though - this model has one of the largest capacity jugs at 1.8 liters which is good if you often make more than two servings.
The settings for ice, cocktails, ice creams, smoothies, and cleaning are programmed with pre-calculated timings which are shown on the digital display which was a unique and useful feature compared to other models - we found the smoothie setting, in particular, especially effective.
When the jug is on the base it stands 42.6cm (16.8in) tall, around 2cm (0.8in) taller than the KitchenAid K400, which might be an issue for those with low kitchen cabinets on the wall. We thought the design was very attractive and loved the matte black base and the illuminated dial. This also meant it was easier to clean as there is only one button on the base. Twinned with a cleaning setting that worked perfectly, this machine is a great choice for those that like to keep a clean and tidy kitchen. It had minimal branding which we thought looked premium and would blend in very well with modern, chic kitchen trends.
Unlike other models, the blender comes with a stamper which is useful to help safely move ingredients around in the jug, although questionably this is an expectation, given the price point.
14. Dualit VortecS® Blender & Smoothie Maker
Best blender for large jug capacity and small counter footprint
Specifications
RRP: $176.20 / £149
Speeds: Four
Programs: Seven
Guarantee: One year
Reasons to buy
+
Robust shatter-proof jar
+
Six blades for effective blitzing
+
Small footprint on counter surface, thin width but tall
+
Safety-tool provided to remove blade and allow thorough cleaning
Reasons to avoid
-
Shiny plastic base looks less modern
-
Not compatible with ingredients over 60C
-
No in-built cleaning setting
-
Ineffective ice setting
The Dualit VORTECs blender is more affordable compared to the KitchenAid models we tasted, more space efficient, and has more speed settings - but its design lets it down. So if you're short on space but less concerned with aesthetics this is the blender for you.
Compared to other models we tested, we felt the design of this blender looked outdated due to the blue-tinted jug and the very shiny silver base. The buttons also felt cheap and didn't have a satisfying click or mechanism.
Practically, though, the blender was good because it was more space-efficient on the counter side with a width of around 16cm (6.3in) compared to the much larger Zwilling Enfinigy which is 21.4cm (8.4in) wide. It has six blades, four of which have a unique design that targets the contents of the jug at different angles.
This blender uses a soft-start motion which reduces the amount the ingredients inside the jug bounce around and ensures a constant level of contact with the blades. However, we found the ice pre-set was not effective and that we had to instead use it on maximum speed for considerably longer than other blenders we tested for the same task.
Unlike other blenders, the VortecS uses a BPA-free Tritan jar instead of glass or plastic, which is safer and lighter than glass but with the convenience and peace of mind that plastic provides.
Overall this blender functioned well and was space efficient however we felt the design of this blender was less competitive in terms of both mechanism and aesthetics.
15. Tefal Perfectmix Cook Blender
Best value multifunctional blender
Specifications
Price: $237/£199.00
Speeds: One
Programs: Ten
Guarantee: One-two years (UK two years/USA one year)
Reasons to buy
+
Makes souper soups
+
Powerful and a pleasure to use
Reasons to avoid
-
Difficult to clean
-
The instructions are not clear
The Tefal Perfectmix Cook Blender is great at blitzing up a smoothie, but it can also do so much more. The base conceals a heating element, so whizzing up a soup using this blender is a breeze! The heating function can also be utilized to steam foods and for the cleaning preset.
The Tefal blender has eight preset cooking functions and ten programs in total, which is more than any of the other blenders that we have tested. But despite the additional functionality, it's not drastically more expensive than other models. This is why we awarded this blender the "Best value multifunctional blender".
We tested this blender first by making a soup: we simply added peeled and roughly chopped vegetables with a stock cube and liquid to the jug. Selected one of the preset soup functions and the machine did the rest. Half an hour later the blender automatically stopped the program and beeped to alert us that the soup was hot and ready to eat. The cooking time can also be manually adjusted.
We also tested the smoothie program. It was extremely effective at blitzing fruit and ice to make a velvety smooth smoothie. It was as good as the Ninja blender at creating a wonderfully smooth drink in no time.
Cleaning this blender is a little harder than others as the base of the jug can not be submerged in water, and the majority of parts are not dishwasher safe. However, it does have a cleaning setting. And for deep cleaning, the jug can be disassembled and the blades can be removed and cleaned with the cleaning brush that comes included.
If you frequently make soup this blender would be a valuable addition to your kitchen. We were really impressed with how easy it was to use. After the initial preparation of the ingredients, you can walk away while the machine works its magic. The capacity is large too (it can make up to 1400ml of soup or blend up to 1750ml of cold things at a time) enough soup to fill four bowls.
This blender is sturdy and well-made. But this also means it's rather chunky and heavy, so if you're not planning on using the heating capability we would suggest a more compact model.
16. Magimix Blender Power 4
Best quality blender
Specifications
RRP: £180 (UK ONLY)
Speeds: Four
Programs: Five
Guarantee: 30 year
Reasons to buy
+
Great quality - this is a blender for life
+
Quiet functionality
+
Classy minimal design
Reasons to avoid
-
Expensive, at £220 it's one of the more expensive models that we tested
-
Not as fast as others we tested at making a smooth smoothie
Magimix is a brand renowned for its great quality, and this blender is no exception. We tested the Magimix Blender Power 4 which has a 1.8-liter capacity. This would be a good size for most households. Magimix also makes a model with a smaller 1.2 liter as well as one with a larger 2-liter capacity.
The design is minimal and the blender is of fantastic quality. The jug is made from sturdy glass.
The great thing about this blender is straight out of the box it's clear how to use it. The dial turned to the right controls the intensity or to the left to select a preset program (Clean, Ice, Smoothie, Soups, Desserts). The three buttons start to pulse and stop the machine. It comes with a clear instruction manual and a hardbound recipe book for inspiration. The jug neatly clicks onto the base and can be used to blend hot or cold ingredients. Although, unlike the Tefal model, this blender does not heat.
The Magimix Blender Power 4 just comes with one jug in the box. Additional accessories such as a smoothie cup, mill attachment, and citrus press are available to buy separately.
This model stood out as it was the most satisfying to use, and even when blending at max was much quieter than the other models that we tested. Inspired by the recipe book that comes with this blender was tested it first by making a crepe batter. It was incredibly smooth and very easy to make. After using the cleaning setting, which was also very effective we tested making a smoothie using the smoothie program.
Unfortunately, this wasn't as smooth as it was in other blenders that we tested and had a slightly grainy texture. But the blender did easily break down ice and for an extra smooth smoothie, we found running the program twice worked well. If you are looking for a good quality blender that you'll probably have for years to come then this would be a reliable model to choose. The guarantee is valid for 30 years, much longer than most over models.
17. Ninja 2-in-1 Blender with Auto-IQ BN750UK
The fastest blender
Specifications
RRP: £129 (UK ONLY)
Speeds: Three and Pulse
Programs: Three
Guarantee: One year
Reasons to buy
+
Great value for money
+
A powerful blender with three sets of blades
Reasons to avoid
-
Can not blend hot ingredients
-
Plastic jug
You get a lot of bang for your buck with this blender from Ninja. The Ninja 2-in-1 Blender with Auto-IQ comes with a large jug with a 1.9 liter capacity as well as a smaller cup blender with a 700ml capacity. Both tops work on the same base.
We found this blender to be extremely effective and fast at blending. As with many Ninja appliances, this blender is slightly unconventional, but in a great way! Whereas most traditional blenders have one set of blades in the base of the jug, this model has three sets of blades at different levels. This helps to move the ingredients so everything is blended at the same time. We put an onion into the blender to see if it was possible to chop it and were impressed to find that in just a few seconds the blender was able to blitz it into even-sized pieces.
The entire blade column can also be removed, and all the attachments are dishwasher-safe, making cleaning a breeze.
The jug and lid are plastic and lightweight, meaning that it's easy to clean and maneuver. However, it also means that it can not be used to blend hot liquids. The lid is very secure, and there is no risk of liquids splattering everywhere.
The preset settings are effective and stop automatically. It comes with a recipe book that was helpful for knowing which settings to choose. We made pasta sauce. After blitzing on HIGH for 30 seconds the sauce was very smooth.
We tested the single-serve cup attachment by making a smoothie. We included carrots, ginger, and ice with fruit and orange juice. The auto program pulses the ingredients and the result is a perfectly smooth drink. There are three Auto IQ programs that stop automatically. On the manual setting, you can't set a timer, but the seconds count up on the digital display so you can see how long the blender has been running.
With both attachments, this blender was louder than the others we tested for this buying guide.
Why buy a blender over a hand blender?
A countertop blender is a good option if you often make soup or smoothies for more than one person and you've got the kitchen storage space.
A hand blender is convenient if you prefer minimal washing up. However, they often only have one setting and speed so those seeking silky perfection might be left disappointed.
The benefit of a stand blender is that many models have several useful settings like in the Vitamix Ascent A2300i which can heat soup, blend nuts, ice, and much more - so if you need it for multiple functions and will use it regularly, it could be a sage investment.
What to consider when buying a blender
There are various things you'll want to take into account before investing in a blender.
Programs and speeds: A few basic speeds are fine for most, but more expensive options will have more. Decide whether these are necessary for you. Some blenders have programs like a pulse mode, a puree mode, a soup mode, and a smoothie mode: dedicated programs provide convenience for these specific tasks, so can be very handy.
Capacity: Larger jugs are useful in family households, or for those who batch-cook, while smaller models are ideal for compact kitchens. As a specific guide, a 2-liter jug should be more than enough for all uses. The compact sizes available are also one of the reasons why the best blenders win in the food processors vs blenders debate, as food processors are less likely to be offered in smaller sizes.
Cleaning capabilities: Many (but not all) blenders come with self-cleaning functions - although learning how to clean a blender isn't too difficult without them. These self-cleaning functions use a high-speed mechanism to whisk away stubborn debris (when filled with water and washing-up liquid). Similarly, some blenders have dishwasher-safe parts, whereas others don't.
Power: Generally, the higher the wattage the better—it'll provide faster blending and reduce your food prep time. Do note, however, that while higher wattage gives a rough idea as to how powerful the motor is, it doesn't always equate to a blender being a better all-around model. 500 watts is generally powerful enough for a blender that's expected to do the typical tasks.
Blender material: Glass blenders are generally more scratch-resistant, and are less likely to become dulled or hold odors. However, they can be heavy to lift, and of course, more likely to break if dropped or knocked. Most good plastic blenders will use high-quality BPA-free plastic.
Any extras: Some come with additional accessories, such as cups, a tamper, or a feeder cap in the lid. Just like food processor attachments, these are all helpful extras for a blender so it's good to work if which, if any, are essential for you.
How much should I spend on a blender?
Your budget will depend on what you intend to use your blender for. If you need something quick and easy for smoothies or shakes, a budget model that costs $50 / £50 or below may suffice. However, these less expensive models don't always have the strongest motors or the most precise blades, so your smoothies or soups may not always have the consistency you want.
For more heavy-duty usage - like making soups, dips and cocktails for parties - consider graduating to a mid-range model starting from $100 / £100. Blenders in this range will usually have more powerful motors, more speeds and perhaps a few nifty presets. They'll also provide a greater capacity than most cheaper blenders so you can make large batches for friends and family to enjoy.
Consider a premium blender (like a Vitamix) if you'll be frequently making big quantities and/or working with dry ingredients like grains, coffee beans or spices. Top-of-the-line models feature the most powerful motors, excellent build quality (to drown out the noise of said motors), and an array of pre-programmed features. But unless you plan to use your blender regularly for a multitude of tasks, there's no reason to spend a lot of money for one.
Fortunately, major shopping holidays like Prime Day and Black Friday boast plenty of deals on small appliances, including blenders. If you have your eye on a top-tier blender, taking advantage of one of those sales could help you save a good chunk of change.
Are glass blenders better than plastic?
When it comes to glass versus plastic, it's all a matter of preference. Plastic blenders tend to be cheaper, so they're the budget-friendly choice. They're also more lightweight so if you like to take your smoothies with you to the office or gym, a plastic blender will be your best bet. Nowadays, most plastic blenders are BPA-free so they're not as harmful to your body or the environment.
Glass blenders are pricier and give off that "high-end" aesthetic. Since glass is heavier than plastic, glass blenders won't always be the easiest to handle — especially when it comes to cleaning. (And let's not forget how easy glass can shatter!) But glass blenders won't retain odors or stain as easily as their plastic counterparts. And if you intend to make soups, glass is the way to go since it's heat-resistant.
Which blender is best for smoothies?
We think the best blender for making smoothies is the NutriBullet Personal Blender, since it has a high-speed blend function plus sturdy blades that allow it to liquefy frozen fruits and veggies with relative ease. We're also fans of the Sage/Breville Super Q Blender for its efficient-yet-powerful ice crush program and dedicated green smoothie button that removes any trace of fiber and spinach specks.
Generally speaking, you'll want to find a smoothie blender with blades that can pulverize ice and frozen fruits and veg into silky smooth liquids with minimal grit. Also, seek a model with a travel cup and lid so you can take your drinks on the go. In the case of personal blenders, you should be able to remove the cup right from the base as soon as you're done blending. For larger-scale models, seek a container that doubles as a pitcher so you can pour your drinks straight away.
Need some insspiration for your healthy drinks? Here are some easy smoothie recipes that you can make in no time.
Rachel Ogden is a UK-based freelance journalist with more than 20 years' experience of writing, editing and sub-editing. For the last 13 years, she has worked exclusively in interiors, writing about everything from extending your home to kitchen worktops, flooring, storage and more.
She has worked for a huge swathe of brands, including Woman & Home, Ideal Home, Elle Decoration, Real Homes, Grand Designs, Living Etc25 Beautiful Homes, The Evening Standard, The Independent and many many more. She was also shortlisted for Lifestyle & Interiors Journalist of the Year in the 2018 Property Press Awards.