Food processors vs blenders—what is the difference and which one is best for you?
Kitchen kit can be expensive, so it's important to pick the right gadget for your needs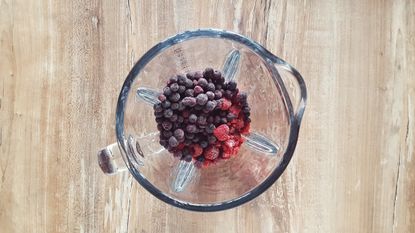 (Image credit: Getty Images)
It's the eternal question of any chef (novice or otherwise) - what is the difference between a food processor vs a blender? And which one do I actually need in my kitchen arsenal?
Let's be honest, anything that makes cooking less labour-intensive and saves time is a winner in our book. Cooking from scratch is made all the more pleasurable if you have an (electrical) helping hand – even avid cooks don't want to spend hours in the kitchen every day. And having the right gadgets can make cooking seem much less daunting.
While the best blenders and best food processors (opens in new tab) are similar in that they both have sharp blades powered by a motor inside a jug or bowl, they perform different functions. We're here to break down what each one does and help you decide which is best for you and your kitchen.
What is the difference between food processors and blenders?
There's no denying that blenders and food processors are similar machines in theory - they both have blades inside of them that can whizz up your ingredients in a matter of minutes. So what is the difference between them?
Put simply, a blender is designed to process liquids and soft fruits and veg, such as berries and tomatoes, and blitz them into fine, smooth drinks, soups and sauces with no lumps. However, blenders have become more powerful in recent years and can do a lot more than simply make smoothie recipes (opens in new tab) – they can now crush ice, make nut butters and pulverise frozen foods, too.
Food processors, on the other hand, are more all-rounders. They are designed to perform more labour-intensive tasks, such as slicing, shredding, dicing and mixing very quickly via a variety of attachments. Have you ever grated a mountain of carrots by hand on a box grater for a carrot cake? It takes ages, but a food processor can do it in seconds. Need breadcrumbs for dinner? A food processor will sort it no time at all. However, while it can also blitz food into soups and purées, it's nowhere near as good at it as a blender, mostly due to the size and shape of the bowl, and the way the blades work.
The pros and cons of blenders
Blenders are primarily used for smoothies and other drinks, but they have a whole host of benefits for their owner - so we examine the pros and cons to owning one.
Pros:
Blenders are more compact than food processors, but they are often just as powerful. So as well as taking up less space on worktops or in cupboards, their power is concentrated in a smaller area, so you can practically guarantee that smoothies, soups and sauces or dressings will be lump-free.
Almost all blenders are designed to blitz a smoothie in the cup it will be drunk from, for ultimate convenience and less washing-up - especially if you're still getting your head around how to clean a blender.
The most powerful blenders on the market can also make nut butters and even milk alternatives, such as almond milk, but it does need to be powerful – 1200W or more should do it.
Cons:
But despite their power, blenders still essentially only blend ingredients and can't perform the variety of tasks that a food processor can.
The pros and cons of food processors
And what are the pros and cons of a food processor, and its abilities in the kitchen?
Pros:
Food processors can slice, shred and grate in all manner of ways, but the fact that they can chop finely and evenly as well, as quickly and in large quantities, is one of many things that makes a food processor so great.
Another weapon in the food processor's arsenal is its ability to make dough and pastry. And some can even knead dough. Doing these tasks by hand is messy and time-consuming, and we're only too happy to let a gadget do the work for us.
Cons:
One major drawback of food processors is that they are fairly bulky and take up a lot of room. This isn't a problem if you have a large kitchen with lots of worktop space and plenty of cabinets, but if you don't, you could always consider a mini food processor, although they don't tend to come with attachments, so are more limited than their full-size counterparts.
Which one should I buy then?
Ultimately, it depends what type of cook you are as to whether you should choose a food processor vs a blender.
If you're a smoothie fiend (or partial to a frozen cocktail – we won't judge) or make a lot of soups, but wouldn't class yourself as a keen cook, we'd say a blender is the way to go – it'll do everything you need it to and won't sit unused at the back of a cupboard. But for avid bakers, adventurous cooks who make a lot of things from scratch and those who aren't afraid to experiment, you'll definitely appreciate the versatility of a food processor.
As an interior stylist and writer with a penchant for way too many vases and cushions, Laurie Davidson eats, sleeps, and breaths interiors. She's lucky enough to have been in the industry for over 20 years, working across TV and magazines, and alongside some of the top UK brands and names.

If Laurie isn't knee-deep in boxes for a shoot or preparing mood boards, you'll most likely find her testing appliances and accessories for buyer's guides. With a wealth of experience, features, and shoots under her (stylist's) belt, Laurie has become a much-called upon expert.