How to clean a blender quickly and easily—in five simple steps
With so many delicate moving parts, knowing how to clean a blender properly can be confusing. Thankfully, the method is actually pretty simple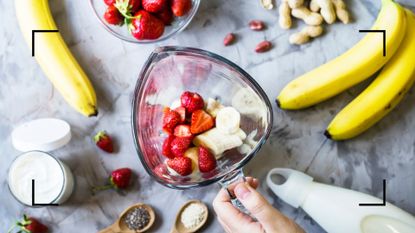 (Image credit: Future/Getty Images)
Learning how to clean a blender might not sound very fun, but it's essential to know how to do it properly, in order to keep yours in tip-top condition for years to come. Blenders are a household essential for many of us—they can blitz, puree, and pulse fruit and veg (amongst other ingredients) at the touch of a button and can transform your favorite ingredients into a delicious smoothie or soup in seconds. These time-saving devices are so simple to use, but often they're a little bit more challenging to clean, with so many different parts. As such, knowing how to clean yours properly to keep it working well for years to come is vital.
Luckily, there's no need for specialized cleaning styles to get your blender sparkling—just some straightforward methods that will take a matter of minutes, and some things to keep in mind to ensure you don't damage the blender. While every effort has been made to ensure this guide is universal, blenders do vary, so please check with the manufacturer guide if you're unsure about any of the cleaning actions. And if you're looking to upgrade your blender, why not peruse our guide to the best blenders, or the best hand blenders?
How to clean a blender in five simple steps
1. Disassemble the jug
Once you've worked out how to use your blender, you'll need to clean it in order to keep it in good condition. And the first step in doing this is to disassemble it, as you can't wash all of its parts in the same way. In most blender models, separating the two key removable blender components—the jug and lid—merely involves twisting the lid to unclip it. Once this is done, unclip the jug from the stand; on most models, this is done by twisting it anti-clockwise to release the mechanism. Finally, pull upwards to remove the jug. Make sure the blender is also unplugged from the wall, too.
2. Scrape away excess food/drink
Now that you've disassembled the blender, you can begin cleaning. Fully empty the jug you've been using and carefully scrape away any raw foodstuff into a compost caddy (if you have one), or any cooked scraps into a food waste bin. Use a small silicone spatula to get in around the blade—the trickiest part to clean—as well as to thoroughly scrape down the inside surface of the jug. Check the lid for excess waste too, and scrape that away also. Make sure that any bigger bits of food are dislodged and out of your blender.
3. Rinse thoroughly and repeat if needed
To remove the worst of the remaining bits of food and liquid, rinse the lid, jug, and blade under warm water. Once you have done this, gently wash them using warm soapy water and a sponge until completely clean. Be careful to avoid touching the blade—you don't want to damage it, or yourself. Rinse each part again to remove all soapy residue.
4. Try this trick for stuck-on food
Finding it difficult to scrub off stuck-on stubborn food from your blender recipes, in awkward parts of the machine that you just can't reach? Never fear, because there's actually an easy solution to removing it. If, after rinsing your blender, some food just isn't coming off, you can use a simple hack to tackle the problem. All you need to do is fill the jar/cup with equal parts water, and equal parts baking powder (or soda). Then, simply turn on your blender for just a few seconds (we'd suggest using the lowest power setting), which will help to dislodge the stubborn mixture. Then, pour out the water and baking powder solution and rinse again with warm water and soap and—voilà!
And, if you have leftover baking soda, you can also use it to clean other household items—see our guides on how to clean a showerhead, how to clean a glass stovetop, and how to clean marble with baking soda.
5. Dry it carefully
There's no special trick when it comes to drying your blender though—simply leave all the pieces of your blender jug on a draining rack or carefully dry them using a tea towel, before returning to its stand. We'd suggest leaving the blade(s) to air dry on the rack, to ensure you don't injure yourself whilst drying.
Important things to note when cleaning your blender
Rinse as soon as possible—it might sound obvious, but the easiest way to keep your blender clean is to rinse and wash it immediately after use. Leaving any food or liquid to dry onto the blade or bowl makes it much harder to wash. However, make sure to detach the blender from the main's electricity before rinsing.
Don't be too rough—while it's tempting to use abrasive cleaning tools, such as wire wool, to clean smoothie recipes off of your blender, it's actually detrimental to the product in the long run. Abrasive products will scratch plastic surfaces/jugs in particular, meaning they won't wear so well and potentially become susceptible to staining. As such, avoid this kind of cleaning where possible.
Never put the base in water—it's important not to miss out on the base when figuring out how to clean a blender. But remember, you can't give the full base a wash in the sink (there are far too many electrical elements in play to attempt that). But, you can easily keep it clean a different way. Simply wet a soft sponge cloth with warm water and a little washing-up liquid, then just buff around the base. Once finished, polish using a dry tea towel or cloth, using a firm touch to remove any last fingerprints or water marks.
Don't assume it can go in the dishwasher—although not technically advised by many brands, in some cases you can put your blender in the dishwasher. However, we'd absolutely recommend checking this with the manufacturer of your particular model before attempting this.
Sign up to our free daily email for the latest royal and entertainment news, interesting opinion, expert advice on styling and beauty trends, and no-nonsense guides to the health and wellness questions you want answered.
Rosie Conroy is a food and drinks journalist with over a decade of experience working for big-name titles in both print and online. Formerly the Digital Food Editor of woman&home, Rosie went on to head up the team at SquareMeal, reviewing the best London restaurants and hunting out emerging culinary trends. With previous experience in food styling and recipe development, Rosie knows what to look for in a good piece of kitchenware and has extensive experience testing consumer goods—from kitchen electricalz and cooking accouterments through to new foodie treats.