7 easy smoothie recipes that are quick and simple to make
These easy smoothie recipes take just a few minutes and are the perfect way to get your day off to a good start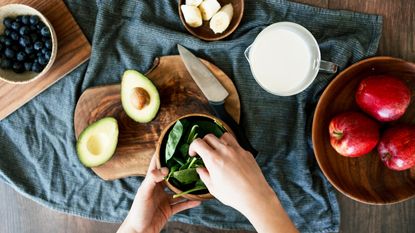 (Image credit: Getty Images)
These easy smoothie recipes are packed full of great ingredients and take just a few minutes to whizz up. Start your day off right with a few portions of your five-a-day in the form of a tasty smoothie.
Of course, if you're more of a tea-and-toast person in the morning, these recipes can also be a great snack or midday pick-me-up. A smoothie can sometimes be the difference between straying to the biscuit tin. A quick natural sugar fix can help to give you a boost of energy and can see you through to the next mealtime without the need for any unhealthy snacks.
But of course, to make these easy smoothie recipes, you need to make sure you have the right blender to hand for the job (If you need a new one or are looking to upgrade, take a look at our guide to the best blenders).
7 easy smoothie recipes
There are endless ways to spin a smoothie, and everyone has their own favoured flavour combinations. Here are a few of our top picks for the tastiest fruit smoothie recipes. Each recipe serves one, so simply multiply the ingredients if you're making for others too.
And if you're interested in any other recipes you can make with a blender—including soups, salsas, and ice creams—take a look at our collection of blender recipes.
1. Coconut and pineapple smoothie recipe
Fruit smoothie recipes don't come much more fun than this one. Get all the flavours of the tropics without even stepping foot on a plane. We love this mellow, creamy smoothie as a bit of an indulgent twist on a classic, with its almost piña colada-like flavours. Using frozen fruit ensures an ice-cold finish (via the slightly slushie-like texture it creates) that melts in the mouth and comes very close to convincing you you're on holiday.
Ingredients:
1 banana
100ml coconut milk
2tbsp coconut yoghurt
120g fresh (peeled and chopped) or frozen pineapple
Method:
Peel and chop the banana and add to a blender or NutriBullet (see our guide to how to use a Nutribullet here) along with the rest of the ingredients.
Blitz for thirty seconds or so until smooth and fully blended, adding a little more coconut milk or water if too thick.
Pour and serve.
2. Papaya and banana smoothie recipe
If you're a regular drinker of smoothies, you'll have noticed that many varieties contain bananas. The reason for this is that the soft fruit's flesh breaks down easily, and is naturally sweet enough to counterbalance any sharp notes in other ingredients. With this particular combination, both the papaya and banana are full of natural sugars, making it an ideal smoothie recipe for those with a sweet tooth.
Ingredients:
250ml apple juice
2tbsp Greek yoghurt
1 banana
½ small papaya
1tbsp ice cubes
Method:
Peel and chop the banana.
Peel and cut the papaya in half, remove the seeds and then roughly chop the flesh.
Add both fruits to your blender, food processor, NutriBullet, or Ninja blender (see our guide to finding Ninja blenders on sale here) and blend for a few seconds until smooth.
Pour and serve.
3. Pear and rhubarb smoothie recipe
Easy smoothie recipes don't have to solely be made from raw ingredients; making stewed fruits or cooked-through coulis can add a real hit of intense flavour. Rhubarb's slightly sherbety tang compliments sweet pears perfectly, creating a drink with autumnal crumble-like flavours.
Ingredients:
2tbsp stewed rhubarb
1 ripe pear
250ml apple juice
1 lime
Method:
Add the rhubarb, pear and apple juice to a blender or Nutribullet and squeeze in the juice of the lime.
Blitz until combined and smooth.
Pour and serve.
Tip: To make stewed rhubarb, simmer 250g of chopped rhubarb with 50g sugar and the zest and juice of an orange for around 10mins, until soft. As well as a smoothie ingredient, this is also a delicious topper on porridge.
4. Apple, berries and mint smoothie recipe
Fruit smoothie recipes don't come much more refreshing than this. The freshness of mint brings a gorgeous lightness to this smoothie, which is delicious when enjoyed on a summer's day. Adding oats can also make this easy smoothie recipe more filling; a substantial substitute for a solid breakfast when you're on the go. And if you're wondering, are smoothies good for you, this is a great healthy option.
Ingredients:
1 apple
30g frozen berries
2tbsp yoghurt
1tbsp porridge oats
100ml orange juice
1 sprig mint
Method:
Core, peel and chop the apple.
Add it to a blender or smoothie maker with the rest of your ingredients.
Blitz until smooth, adding a splash more juice if the texture is too thick for your liking.
Pour and serve.
5. Banana and peanut butter smoothie recipe
Nothing beats a classic ingredients combination, and they don't get more delicious than peanut butter and banana. Great when spread on piping hot toast, but just as tasty blended together into an almost milkshake-like drink. Rich and indulgent, this option is a real hit with kids and adults alike.
Ingredients:
1 banana
150ml milk
2tbsp peanut butter
1/2tbsp honey
A few ice cubes
Method:
Peel and chop your banana, before adding it to a blender along with the other ingredients.
Blitz until smooth, adding more honey to taste if you like.
Pour and serve.
6. Ultimate green smoothie recipe
If you're looking to improve your diet and increase your intake of nutrient-dense ingredients, look no further than this green smoothie. Avocado endows it with a smooth, creamy texture, while the addition of banana ensures there's a subtle sweetness amid the greens too.
Ingredients:
100ml water
50ml coconut milk
1 handful kale
1/2 avocado
1 banana
5cm chunk cucumber
Squeeze of lemon juice
Method:
Prepare and roughly chop your ingredients.
Add ingredients into a blender and blitz until reaching desired consistency.
Pour and serve!
7. Honey and strawberry smoothie
For a deliciously sweet treat, this is one of our best easy smoothie recipes. With just three ingredients and a one-step method, it couldn't be simpler or quicker! Plus, you could always mix it up by adding in more summer fruits if you have them to hand—think blueberries, grapes and watermelon.
Ingredients:
450g strawberries, hulled
450ml goats' milk
2tbsp clear honey
Method:
Halve any large strawberries and whizz in a blender or food processor (If you're unsure which is better, see our guide to choosing between food processors vs blenders) Then, add the milk and honey, and whizz until smooth.
Once you've finished with your delicious smoothie, you might also be interested in our guide to how to clean a blender, where we break down the process into five easy steps—because cleaning up after your smoothie should be as simple as making the drink itself...
Rosie Conroy is a food and drinks journalist with over a decade of experience working for big-name titles in both print and online. Formerly the Digital Food Editor of woman&home, Rosie went on to head up the team at SquareMeal, reviewing the best London restaurants and hunting out emerging culinary trends. With previous experience in food styling and recipe development, Rosie knows what to look for in a good piece of kitchenware and has extensive experience testing consumer goods—from kitchen electricalz and cooking accouterments through to new foodie treats.