Are smoothies good for you? We asked the experts
Delicious and nutritious, or sugar overload? We investigate—are smoothies good for you or not?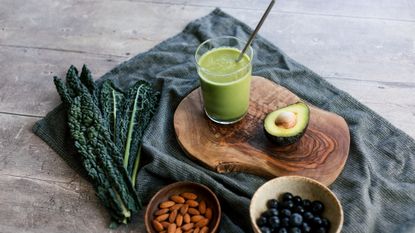 (Image credit: Getty Images)
woman&home newsletter
Sign up to our free daily email for the latest royal and entertainment news, interesting opinion, expert advice on styling and beauty trends, and no-nonsense guides to the health and wellness questions you want answered.
Thank you for signing up to Woman & Home. You will receive a verification email shortly.
There was a problem. Please refresh the page and try again.
Smoothies are commonly billed as nutritious—but are smoothies good for you? Or are they actually not as saintly as we perceive them to be.
Smoothies can be a great option for a quick-fix breakfast or snack alternative. Packed with fruit and veg, they contribute easily to our recommended five-a-day, and of course, you can make them in a huge range of flavors (if you're a smoothie fan, you might want to check out our guide to the best blenders or best immersion blenders while you are here).

That said—while they can make a great addition to a healthy diet—it's not as simple as them being a healthy snack or meal replacement option. Smoothies can also be brimming with sugar, making it easy to consume over our daily allowance. We investigate if smoothies are really good for you or not, and how best to enjoy them to make the most of their benefits.
Are smoothies good for you?
We often consider smoothies to be goodness-packed, filling drinks that can easily be enjoyed on the go. And convenience aside, there's actually a wide range of reasons why smoothies can make a great addition to your diet if consumed in moderation.
"Smoothies can be a great way to incorporate more healthy foods into your diet," says Kate Llewellyn-Waters, author of The Immunity Cookbook. "They may also promote your fruit and veg intake, as well as add some variety, which is very important for getting a diverse array of essential vitamins, minerals, fiber, and health-promoting antioxidants."
Smoothies can also offer a relatively fuss-free way to help us reach that all-important five-a-day fruit and veg goal. "The World Health Organisation recommends that adults consume at least five servings of fruit and veg a day," adds Kate. "But most people don't meet this requirement. This is where smoothies can play a really beneficial role, as you can easily consume at least three servings of plant-based foods in a smoothie."
So what can make smoothies unhealthy?
In a word—sugar.
Despite the fact that smoothies are a great way to boost our fruit and veg intake, they can contain a lot of the sweet stuff—which potentially isn't great for either our hearts or our waistlines.
"You need to be careful as smoothies can be packed with sugar," says Rosie Millen, author of Burnout's A B*tch!—a six-week recipe and lifestyle plan aimed at re-setting energy levels. "A portion or two of fruit in a smoothie—alongside some good fats and proteins—is great. But adding too much in the way of high-sugar fruit (for example, too much fruit like strawberries or bananas), as well as extra sugar on top (such as honey or agave syrup) can wreak havoc with your blood sugar levels." Kate agrees, adding, "Excess added sugar can also promote increased weight gain and up your risk of chronic disease."
As with anything, this means that moderation is key when it comes to enjoying smoothies. "Smoothies are great for getting nutrients into your diet and they can be tailored to your tastes—but you definitely don't want to be drinking them all day, every day," says Rosie. "The body needs other nutrients in a variety of different forms."
What are the healthiest ingredients to include in a smoothie?
The key to making a healthy smoothie is variety, as well as an awareness of the sugar content. Getting the fruit-and-veg balance is important to ensure your drink stays more on the healthy side.
So what should we be putting in our smoothies?
Healthy fats: "Avocados and yogurts can make great additions," says Rosie. "They're brilliant sources of healthy fats, as long as the yogurts are sugar-free."
Protein powder: "I'm also a big fan of using protein powders in smoothies to buffer the blood glucose hit from any fruit that might be used," Rosie said. "A high-quality protein powder is my go-to ingredient, for sure."
Different plant-based ingredients: "Make sure you include a variety of plant-based foods," suggests Kate. "So that's seeds, nuts, nut butter, veg. These things can be loaded with different vitamins, including A, C, and E, which are fundamental for supporting our immune system and overall health." If you are mixing nuts or seeds in your blender, remember that you can break them down a bit in a food processor first, if you wish.
If you're looking for some inspiration on what to make, see our guide to some delicious easy smoothie recipes here. There are also some great, healthy recipes in our guide to the 24-hour smoothie diet.
Are homemade smoothies better than shop-bought smoothies?
There's one obvious benefit to making a smoothie from scratch rather than buying it from the store—you know exactly what's gone into it. As well as allowing you to cater to any specific taste palette preferences, this also means you have complete control over how much sugar is included.
"I would always recommend a homemade smoothie over a shop-bought smoothie," says Kate. "Certain shop-bought smoothies contain huge quantities of added sugar, which significantly decreases the nutrient density of the smoothie."
Rosie agrees, adding, "Fresh is best. Shop-bought smoothies tend to be higher in fruits, as well as added sugars and preservatives. They also lack the proteins and fats, which are essential to a good diet."
Are smoothies healthy for children?
Smoothies can provide a great way to get nutrients into toddlers and children—especially if they've yet to show much interest in fruit and veg.
Due to the sugar content though, be cautious of going overboard with fruits when whipping up smoothies at home for children; instead, bulk them out with nutrient-rich veggies, such as spinach and kale. A good suggested ratio would be one portion of fruit to one portion of veg, with an optional protein or fiber extra, all mixed together with a milk product.
If you choose to include fruit in a homemade smoothie blender recipe, be mindful of how much you use—don't add in any more fruit than you would serve to your child whole.
And when you're done whipping up your smoothie, it might be helpful to peruse our guide to how to clean a blender, containing quick and simple tips for speeding the clean-up process.
Sign up to our free daily email for the latest royal and entertainment news, interesting opinion, expert advice on styling and beauty trends, and no-nonsense guides to the health and wellness questions you want answered.
Katie Byrne is a contributor to woman&home and a writer whose interests span everything from homes and interiors, to pop-culture, travel, business and self-development. A former digital editor, her freelance journalism has featured across a wide range of print and online titles, including Raconteur, Digital Spy and more. When she's not writing, she loves reading (and has the groaning bookshelves to prove it...), dreaming up new décor ideas for her flat and devouring Netflix's latest true-crime series with her husband. You can find her on Twitter: @katie_b123.