Best protein powders for women—including the best flavored options, vegan-friendly powders and more
There's something for everyone in our top picks of the best protein powders for women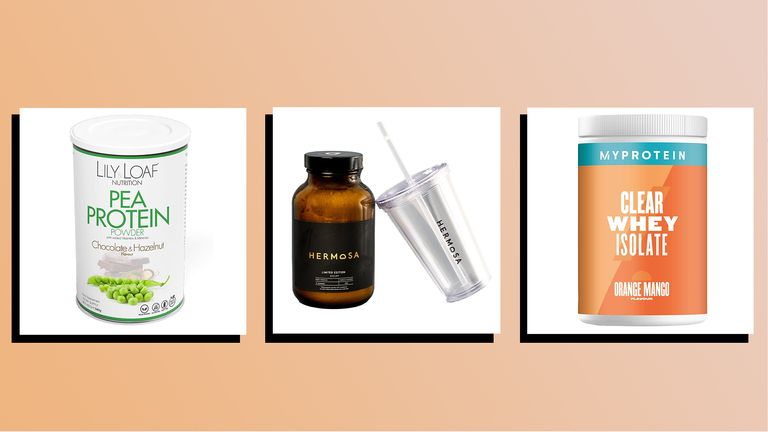 (Image credit: Future)
Our guide to the best protein powders for women has something for every dietary requirement and nutrition goal, whether you're looking for a high protein plant-based option or the best whey protein powder.
Meeting your protein target every day will help build strength and muscle, increase energy, kickstart metabolism and boost fat burning. There are plenty of benefits of protein powder, whether you're kicking off your couch to 5k journey, or are a seasoned gym-goer who enjoys strength training.
But, it's not just fitness lovers that need to prioritize their protein intake. "Everyone needs a source of protein in their diet to support a healthy bodily function," says Alex Glover, senior nutritionist at Holland & Barrett. "They are the building blocks of life as they work to break down into amino acids that then help your body grow and repair, and aid our hair, skin and muscle growth."
Upping your protein is a must if you want to boost energy levels for at-home workouts, build bone density and support your walking for weight loss plan by kick-starting your metabolism. But getting enough protein into our diets isn't always as easy as it sounds.
How much protein should we be eating every day?
Your recommended protein intake might be higher than you think. Adults should aim to eat around 0.75g of protein per kilogram of body weight every day. So, for example, a woman weighing 70kg should have a minimum daily protein intake of 52g.
"This amount equates to around two portions of meat, fish, nuts or tofu per day. As a rough guide, one portion of protein should fit into the palm of your hand," Alex adds. Some vegetables are also higher in protein than others—did you know that peas are actually a great source of daily protein, with 80g of cooked peas containing 5.4g?
Meat and fish are some of the most high-protein foods, which is why it can be tricky for the vegans and vegetarians among us to meet daily protein targets. This is where protein powder comes in.
How we tested and selected the best protein powders for women
We've tried and tested popular protein powders on the market, including fitness fan favorites like Hermosa, MyProtein, and SHREDDY, to bring you a round-up of five of the best protein powders for women—including both premium and affordable options.
To ensure there was something for everyone in our top picks, we tested all kinds of protein, including whey protein, pea protein, vegan-friendly protein, gluten-free protein and flavored and unflavored protein powders.
We taste-tested all the protein powders in this guide at least twice and assessed them on the following criteria:
How they tasted
How well they mixed with milk or water (depending on the guidance provided)
The protein intake
Calories per serving
What they were made of
Different types of protein powder
When it comes to shopping for protein powder and finding the right one for you, things can get a little confusing. There are so many different types, from whey protein and pea protein to name just a few! Whey protein powder is great for high-intensity workouts and kickstarting muscle growth and repair, but it's not vegan-friendly as it's made from animal product. If you're vegan, you'll want to look out for a plant-based alternative like pea protein instead. These are the most commonly used proteins, and who they are best for:
Whey protein: Whey protein is popular as it's easily soluble in water and contains all nine essential amino acids to promote muscle growth and repair. There are different types within the whey category, all containing different concentrations of protein.
Casein protein: Similar to whey, casein protein is derived from milk and contains all the essential amino acids for muscle growth and repair. It's a slow-release protein, leaving you fuller for longer. Research shows it's best consumed at night for post-workout recovery and aids muscle growth while you sleep.
Pea protein: A plant-based protein suitable for vegans, it's rich in iron, fiber, protein and amino acids—but, it's slightly lower in methionine so best consumed alongside a diet of brown rice or eggs and fish for non-vegans.
Hemp protein: Hemp protein also contains all nine essential amino acids and more. However, research is mixed on the quality of these amino acids, so it's best consumed alongside a diet full of other foods rich in amino acids. It's high in fiber and contains a good portion of unsaturated fat, which is great for heart health.
The best protein powder for women, as chosen by our experts
1. HERMOSA Protein Powder
Best protein powder overall
Specifications
Protein per serving : 20g
Servings per tub: 14 in 420g tub
Sizes available : 300g, 420g, 1kg
Protein type: Whey and Pea/Hemp mix
Flavors: Vanilla and Chocolate
RRP: $36 / £30
Reasons to buy
+Super smooth +Plant-based option available +Two delicious flavors
Reasons to avoid
-Expensive
It's been the official protein powder at the London location of the world-famous Barry's Bootcamp since 2014 and it's not hard to see why. The HERMOSA protein powder is easily one of the best protein powders for women because of its delicious taste and texture alone.
We were incredibly impressed by how smooth and easy-to-shake this powder was, mixed with 350ml of milk, 50ml of water and lots of ice—it was a refreshing post-workout drink. With no caffeine in the ingredient list, you can enjoy this protein powder at any time of the day without worrying it will keep you up after a late-night workout. Or, you can jump on one of the latest coffee trends and use your protein powder to make a delicious Proffee aka a protein powder-coffee combo.
The only downside to this protein powder is it's on the expensive side, with one jar of 14 servings costing $36 (£30). But, you can sign up for a subscription service to get a new jar every 4 weeks and save 15%.
Whether you choose the Whey Protein Powder or the Vegan Protein Powder made from a pea and hemp protein mix, each 30g serving of HERMOSA has 20g of protein and is available in vanilla or chocolate.
2. MyProtein Clear Whey Protein Isolate
Most affordable protein powder
Specifications
Protein per serving: 20g
Servings per tub: 20
Sizes available : 522g
Protein type: Whey Isolate and Pea Isolate
Flavors: 17 flavors
RRP: $29.99 / £21.99
Reasons to buy
+Easy-to-mix+Refreshing taste+Alternative to milky protein+Affordable
Reasons to avoid
-Might be too sweet for some
MyProtein's Clear Whey Protein Isolate is an award winner and for good reason. It's a great alternative for those who don't enjoy the taste and texture of milky protein shakes. Made of Whey Protein Hydrolysate, which is more rapidly absorbed in the gut than other whey proteins, this powder is available in 17 fruit flavors, including Pink Grapefruit and Lemonade.
It's high in protein with 20g per serving, but low in sugar and comes with a scoop to make mixing up your shake even easier. We think this is one of the best protein shakes for runners as it's light and refreshing, perfect for drinking pre-run. It's also super affordable as one tub of protein powder contains 20 servings and costs just $29.99 (£21.99)
We tried the Orange Mango flavor and loved the fruity taste, however, not all flavors of this protein powder are available worldwide, and some people may find them too sweet.
3. Lily Loaf Pea Protein Powder
Best pea protein
Specifications
Protein per serving: 16.5g
Servings per tub: 18
Sizes available : 540g
Protein type: Pea
Flavors: Chocolate & Hazelnut, Red Berry
RRP: $32.32 / £24.95
Reasons to buy
+Full of amino acids, vitamins and minerals+Delicious flavors+Plant-based
Reasons to avoid
-Not as much protein per serving as other brands-No measuring cup
Pea protein is a great option for those who are plant-based or dairy-free, and for us, the Lily Loaf Chocolate & Hazelnut powder ticks all the boxes when it comes to the best pea protein.
The low-carb powder contains 16.5g of protein per serving, with each tub containing enough servings for 18 shakes. As well as helping you increase your protein intake to boost energy and strengthen muscles, the powder is packed with all nine essential amino acids and vitamins B1, B2, and B6—all of which are essential in promoting healthy heart function and strengthening the immune system.
For those who aren't a fan of the chocolate taste, the Lily Loaf powder is also available in a fruity Red Berry flavor. The only downside to this pea protein powder is there is less protein per serving which might be a deal-breaker for some.
4. SHREDDY Chocolate Cookie Dough Protein Powder
Best tasting protein powder
Specifications
Protein per serving : 22g
Servings per tub: 17
Sizes available : 510g
Protein type : Pea
Flavors: Cookie Dough, French Vanilla, Salted Caramel Ice Cream
RRP: $26 / £20
Reasons to buy
+Lots of sweet flavors+Vegan-friendly+Low sugar, high protein per serving+Eco-friendly packaging
Reasons to avoid
-Only contains 17 servings-No measuring cup
The SHREDDY protein range is a must-have for those with a sweet tooth. Whether you mix the Salted Caramel Ice Cream powder with milk, or combine the Cookie Dough powder with your morning oats, it will give you the sweet-fix you're craving and boost your protein intake.
It's super high in protein, with one 30g scoop containing 22g of protein. As it's pea protein it's vegan-friendly, dairy-free and gluten-free with only all-natural sugars and flavorings.
The only downside is one pouch contains just 17 servings. However, the eco-conscious brand has ensured each bag is fully compostable and made of sustainably grown materials, so you can buy it time and time again while still being kind to the planet.
5. MyProtein Pancake Mix
Best protein powder for pancakes
Specifications
Protein per serving: 34g
Servings per tub: From 6 per 200g tub
Sizes available : 200g, 500g, 1kg
Protein type : Milk, Whey and Egg protein mix
Flavors: 9
RRP: From $19.99 / £5.99
Reasons to buy
+High in protein+Great alternative for those who don't like shakes+Easy-to-make
Reasons to avoid
-Not all flavors are available worldwide
Adding more protein to your diet doesn't always have to involve drinking a protein shake every day. If you want to mix up how you consume your protein powder, why not try protein pancakes? While most protein powders can be used to make pancakes, we particularly love the MyProtein Pancake Mix in Chocolate, which is available in eight sweet flavors and an unflavored option.
Rich in protein with 34g of protein in every serving, this mix makes a great breakfast or afternoon snack. It's low in sugar, fat and calories, but packed with milk, whey and egg proteins to fill you up, boost your energy and kickstart your metabolism.
Plus, pancake-making couldn't be simpler with this mix. Just add two scoops to 150ml-200ml of your choice of milk, add to a frying pan with a small amount of oil, cook for a few minutes on each side and when crispy, top with greek yogurt and berries, or your favorite spread.
Ciara is the health editor at woman&home.com, covering all things health & wellbeing from running to sleep to relationships. She's always on the lookout for new health trends, innovative fitness gadgets and must-read wellness books. Outside of her day-to-day, she's a qualified meditation teacher with the British School of Meditation, and all about bettering that mind-body connection. In her spare time, you'll find her trying out new fitness classes, hiking up a mountain, or in a beer garden because life is all about balance…