How to use a blender to make smoothies, soups - and even pancakes
Our expert guide on how to use a blender to get the very best results from your machine...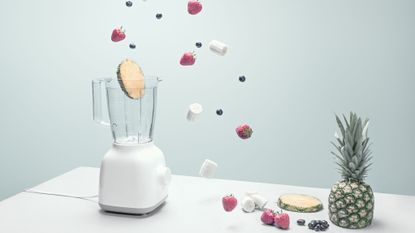 (Image credit: Getty Images)
Whether you're just starting to dabble in the world of kitchen gadgets, or need a quick refresher, here's our expert guide on how to use a blender.
You've worked your way through the list of must-have kitchen kit, listened to the experts' advice and selected the best blender to meet your needs. Now what? How do you get the best out of a blender anyway? Thankfully, the answer to this is a relatively simple one.
Since their invention in the 1920s, these compact kitchen-counter machines have grown in popularity to the point that, now, almost every kitchen requires one. Small but powerful, the blender is the ideal piece of kitchenware for all sorts of recipes. From soups and smoothies, to nut butters and milkshakes - this versatile machine can handle it all. And it's not that technical, either. Here we explain how to make the most of your new piece of kitchen kit.
How to use a blender
Before we get into the nitty gritty, we'll run through the basics for getting your blender set up and ready for action.
Hook your blender up to the mains
Unravel the cable
Plug into the socket in the kitchen that makes the most sense
Ensure both the plug and socket are clean and dry
Remove the lid of your blender (some lids click into place, others are locked in using a twisting motion)
Pour your ingredients and liquid in
Ensure you don't overfill the blender
Put the lid back on and secure it
Choose the setting you want to blend on (if this is an option)
Press the blend (or on) button
Blend to your desire consistency
Pour into a cup or bowl when done
Blender tips
1. Experiment with the buttons on your blender
When you first start using your blender, you'll want to start by checking out the different settings on your blender. Some blenders will just have an on-and-off function, which is usually either a dial or a push-button - while others may offer options to both blend and pulse. Blending will give you a smooth result more quickly, while pulsing can be a good call if you want to retain a bit of texture – in a chunky soup, for instance. Once you've started the blender, assess the contents of the jug; if the machine sounds like it's beginning to struggle a little, add a little more liquid (such as juice, milk, stock or water) to help it along.
2. Chop ingredients into small chunks
When everything is set up, it's time to get your ingredients in place for your recipe. It's important to remember that even if you are using a great, blender, you'll achieve the best results with your machine by chopping any large ingredients into bite-sized chunks before placing in the jug. This makes it easier for the blender to mix together your ingredients to the consistency you want - whether you're making a soup, milkshake, or anything else.
3. Never blend boiling hot liquids
It's best practise to not put boiling or hot-off-the-hob liquids into your blender. This is because, if the lid is not screwed on or fixed to the jug properly, it can come off. If there are hot liquids in the blender, this can result in painful and potentially dangerous burns. Plus, the hot mixture can potentially steam and expand inside the blender, also increasing the risk of accidents.
But to reduce the risk, allow your food to cool a little first, before placing it in your blender. Then, when you come to blending, add your ingredients in small batches, in order to stay in control of your mixture.
It's also worth bearing in mind if you pick one of the best hand blenders, they can also be a great option for making soup. You can simply pop one into your pot full of ingredients to whizz up a tasty lunch or dinner.
4. Get the liquid/solid ratio right
Most blender recipes require some liquid - especially if you're making soups, smoothies or milkshakes. But when you're blending, make sure that you get the ratio of ingredients/liquid correct. If you have too much liquid, the blades in your blender won't be able to properly slice and mix your ingredients, and if you have too little, your food/drink may come out too lumpy or thick. Thankfully however, most recipes for blenders will tell you how much liquid to put in.
It's also worth noting that you can add liquid whilst the machine is blending - but if you are doing so, you should slow the motor down and add it slowly, to avoid the mixture splashing outside of the blender.
How to use a blender to quickly prep your favourite recipes
How to make soups in a blender
There are a few ways to make soup recipes in a blender - but arguably the most popular way is to cook your ingredients - with some stock, milk, or other liquid - on the hob, and then pile them into your blender to mix them all together.
However, if you are doing this, be aware that you should let your mixture cool a little before putting it into your blender to create your soup. You should also mix your soup in batches, to ensure the blender is able to work at its optimum, and to allow it to properly blend your ingredients. And of course, make sure that your blender is on the right setting for soups - some prefer their soups chunky, while others like a more liquid soup.
You can also make soups with hand blenders, which will allow you to blend your ingredients in the pan.
How to make smoothies in a blender
Smoothies can be mixed straight in you blender, given that the ingredients are cold and don't need any advance preparation. Simply add in your liquid, add in any fruits and veggies (frozen or fresh is fine), and get blending! And if you're wondering—are smoothies good for you?—see our guide to making them the healthiest they can be.
As mentioned above, it helps if you chop your fruits and/or vegetables are bite sized, to help your machine blend them as efficiently as possible. And some people may find that their machine struggles a little more with frozen food over fresh foods - if this is the case with yours, simply allow your smoothie recipe ingredients to defrost a little before blending.
How to make pancakes in a blender
We know - who'd have thought you could make pancakes in a blender? But it's true! Using a blender is a great way to get that smooth, thick pancake mixture we all love.
Simply add all of your normal pancake ingredients (e.g eggs, flour, baking powder) in their normal quantities, into your blender (using a Nutribullet is a particularly good option for this type of recipe), and whiz them up. The blender is then the perfect pouring vessel, to allow you to tip your pancakes straight onto a hot frying pan.
Cleaning and storing your blender
Learning how to clean a blender is simpler than you think, and doing so will help to keep yours in tip-top shape for as long as possible. Generally, the easiest way to keep your blender clean is to rinse it immediately after each use, and scrub clean the separate components - avoiding any electrical sockets - before drying it thoroughly.
Once you're finished with your blender, and it's clean and dry, you can pack it away. There's no optimum storage solution – some people prefer to have their blender out on the countertop so it's within easy reach, while others prefer to keep it hidden away in a cupboard. Whatever works for you. That said, if you do house your blender on the worktop, we'd always recommend unplugging it from the wall and switching off the plug socket, for general safety.
Sign up to our free daily email for the latest royal and entertainment news, interesting opinion, expert advice on styling and beauty trends, and no-nonsense guides to the health and wellness questions you want answered.
Rosie Conroy is a food and drinks journalist with over a decade of experience working for big-name titles in both print and online. Formerly the Digital Food Editor of woman&home, Rosie went on to head up the team at SquareMeal, reviewing the best London restaurants and hunting out emerging culinary trends. With previous experience in food styling and recipe development, Rosie knows what to look for in a good piece of kitchenware and has extensive experience testing consumer goods—from kitchen electricalz and cooking accouterments through to new foodie treats.