How to use a NutriBullet: simple tips for making the most of your blender
Proud owner of a brand-new NutriBullet? Now to learn how to get the best out of it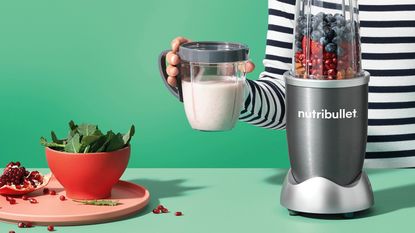 (Image credit: NutriBullet)
woman&home newsletter
Sign up to our free daily email for the latest royal and entertainment news, interesting opinion, expert advice on styling and beauty trends, and no-nonsense guides to the health and wellness questions you want answered.
Thank you for signing up to Woman & Home. You will receive a verification email shortly.
There was a problem. Please refresh the page and try again.
To keep your fruit and veg intake up there's no beating a NutriBullet - so see our expert guide on how to use a Nutribullet below.
These small but sturdy pieces of kit, which are deemed one of the best blenders on the market, can whip up a smoothie in minutes and blend even the toughest of ingredients. Better still, they do it in a way that enhances (rather than breaks down) the nutritional value you get from your fruit or veg. If that sounds ideal to you, and you're thinking about investing – or even have just purchased a new NutriBullet blender – you may well want to know how to use it to get the most out of it.
The NutriBullet's simple-to-master functionality, as well as its manageable size, means that for many people it's much easier to handle than a traditional blender, or even a hand blender. The jug is the perfect size for blending liquids for one or two people, and the base is compact enough to be unobtrusive in the kitchen. The options of what you can process in this blender go beyond the obvious smoothies too. You can make everything from from nut butters to ice creams, as well as sauces and dips. Want to stop with the theory behind this piece of kitchenware, and learn how to use the blender? Here's our foolproof guide.
How to use a Nutribullet: tips and tricks
1. Pick your jug and blade wisely
With most NutriBullet models there are a couple of options in terms of jug size and blade, enabling you to choose the best option to suit whatever you're making. The larger cups are great for soups, while the smaller ones are perfect to zhoosh up a smoothie for one. In terms of blades, the one you'll probably use most frequently is the standard cross blade – this blitzes and pulverises ingredients very effectively. Alternatively, the Milling Blade can be switched in to finely grind nuts and seeds for healthy toppings, or fresh herbs and spice mixes for all sorts of recipe bases.
2. Choose which cup you want
Each Nutribullet comes with two cups - a Tall Cup and a Short Cup. The Tall Cup on the NutriBullet has the capacity for 24 ounces (or 710ml) of mixture, while the Short Cup has capacity to hold and blender 18 ounces (or 532ml). So choose whichever is more appropriate for your blender recipe - you may need more or less liquid depending on what you are preparing.
The handy cup on this blender is why some people prefer the Nutribullet vs the Vitamix - you can take the cup on the go with you, limiting washing up and making the whole process easier overall.
3. Chop all your ingredients before blending
The Nutribullet is designed to extract the nutrients (e.g, the good stuff) from your fruit and vegetables, so you can rest assured that whatever you're mixing up - be it a smoothie recipe or a soup recipe - you'll be getting the healthiest meal or possible. Once you've got the blender set up, add your ingredients to the cup. We like to roughly chop everything first, fresh ingredients in particular, to get a nice even result without making our machine work too hard. But the Nutribullet is able to whizz up hardy ingredients, so don't worry too much about chopping your ingredients too small.
4. Add your desired liquid
You'll then need to add in your desired liquid to your mixture - be it milk, water, stock, or whatever matches your recipe. But remove, it is vital that you don't fill the cup over the fill line on the Nutribullet - this could mean the liquid overspills outside of the vessel.
Then, secure the blade lid into place with a clockwise, downwards motion and tighten well, adding a little bit of pressure until you're happy it's firmly fixed in place. This will ensure nothing leaks out while you're blending.
5. Remember the mixing works without buttons
There are no buttons to use on a NutriBullet as the blades begin to work when pressure is put onto the Power base in the right way. To do this, simply lock the cup into place, and press downwards on your secured cup. If you'd prefer to blend hands-free then you can lock the cup into place with a quick clockwise twist. When you're ready to stop blending, all you need to do is lift the cup up out of the blender, and the blades will cease mixing.
For most things, mixing will take just a few seconds - however, you may need to mix for a little longer if you are using particularly chunky or hardy ingredients.
6. Shake the blender to mix properly
Ingredients may get stuck in your Nutribullet - often times this happens if there is not enough liquid in the cup, which could very easily happen when making recipes with chunky fruit and veg.
To dislodge these bits, you can remove the base by twisting anti-clock wise to release the pressure. This will cause your cup to pop up and the motor will stop. Remove the cup and give all the ingredients a shake to move stubborn ingredients towards the blades before reattaching for a further few seconds of blending. If this doesn't work, try adding a little more liquid. You can also shake the entire machine - just be careful not to knock anything over whilst you do!
7. Wash your Nutribullet properly
To keep your NutriBullet in tip-top order we'd suggest always cleaning it as soon as you're finished using it. Once you've disassembled the parts you can rinse the blade and cup in warm soapy water. Then, with a soft cloth, carefully clean and leave to air dry or finish with a tea towel. If any mixture is stubborn, and can't be removed simply by washing, you can fill the jug halfway with warm soapy water, leave to soak for a few minutes, and then reattach to the base and blitz for a few seconds. Quite often the additional agitation will dislodge any last little bits. Learning how to clean your blender thoroughly will ensure it stays in perfect condition for years to come.
Sign up to our free daily email for the latest royal and entertainment news, interesting opinion, expert advice on styling and beauty trends, and no-nonsense guides to the health and wellness questions you want answered.
Rosie Conroy is a food and drinks journalist with over a decade of experience working for big-name titles in both print and online. Formerly the Digital Food Editor of woman&home, Rosie went on to head up the team at SquareMeal, reviewing the best London restaurants and hunting out emerging culinary trends. With previous experience in food styling and recipe development, Rosie knows what to look for in a good piece of kitchenware and has extensive experience testing consumer goods—from kitchen electricalz and cooking accouterments through to new foodie treats.