The best bullet vibrators for powerful stimulation and satisfaction
The best bullet vibrators for subtle thrills—perfect for those starting out with sex toys and taking on-the-go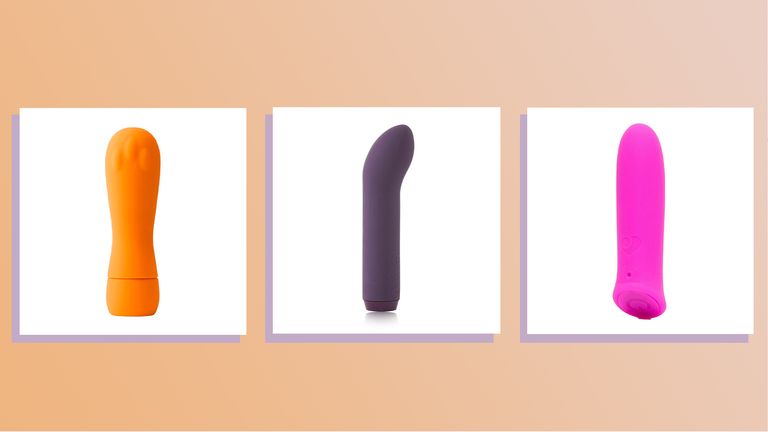 (Image credit: Future)
Choosing one of the best bullet vibrators is no mean feat—bullets are arguably one of the most saturated vibrator types on the market. And not all bullets are made the same, with special features from intense vibration modes to slanted or curved tips for extra pleasure. As we all have different needs in the bedroom, there might be a function that works for some, but others will find it jarring.
Bullet vibrators are popular with beginners who want to start exploring sex toys thanks to their small design and easy-to-use features. Mini but mighty, a bullet vibe can be used to stimulate the clitoris, G-spot, nipples, and anus for intense stimulation. Bullets are also some of the best vibrators for slipping into your overnight bag, or for anyone who's looking for a little elevation in the bedroom without all the bells and whistles of more complicated (and cumbersome!) sex toys.
How I tested and selected the best bullet vibrators
From small and efficient bullets with minimal settings to models that come with high-intensity levels and toys that boasted special shapes or extra features for heightened pleasure, I tested a range of the best bullet vibrators on the market from popular sex toy brands like Lovehoney, LELO, We-Vibe, and Smile Makers, to find out which ones are really worth spending your money—and only the very best made this list.
I used each vibrator several times and considered how easy, comfortable, and pleasurable each dalliance was. Anything that made for a smooth, satisfying, and thrilling experience every time I used it was worthy of a place in the line-up.
When testing the vibrators, I also considered:
Ease of setup—was it easy to change or insert batteries?
Ease of use—can you cycle through settings easily and comfortably while using?
Shape—was it comfortable and did it help to hit the spot?
Material—how comfortable it was to hold and use
How powerful the vibrations were
Whether it came with a travel lock
How the device turned off (because I don't think anyone wants to sit there scrolling through 17-speed settings in order to turn off after you've climaxed)
Packaging—all of the models mentioned below were delivered in discreet boxes—which definitely saved the awkward conversations with my post officer in the morning.
The best bullet vibrators as reviewed by our expert
1. We-Vibe Tango X
Best bullet vibrator overall
Specifications
RRP: $79/£79
Material: Silicone
Waterproof: Yes
Power: Rechargeable
Running time: Up to 2 hours
Intensity levels: 8
Vibration modes : 7
Travel lock: Yes
Reasons to buy
+Longer design for easy and comfortable use+Slanted tip for pleasure+Very strong vibrations +Quiet operation+Easy-to-use buttons+Sturdy and premium-feeling design
Reasons to avoid
-Not cheap
We-Vibe is a favorite over here at w&h HQ, with the We-Vibe Sync vibrator and The Wand by We-Vibe receiving rave reviews from our health editor. But this simple bullet has to be up there with, not only my front-runners from the brand, but among my top sex toys picks of all time. A sturdy bullet that boasts a slightly greater length than other bullet products, this vibrator is all about balancing pleasure with comfort, practicality with luxury—all while giving you a seamless experience that will leave you blissfully satisfied but at the same time eager to come back for more. At least, that's what it did for me.
To me, this is one vibrator that shows its consideration in every aspect. Firstly, the longer design means that this toy sports an obvious handle—unconventional for a bullet vibrator—meaning that you can easily grip and manipulate it while you're in the throes of passion without it sliding all over the place and out of your control. Still, my favorite design aspect has to be the tapered tip. Slanted on one side for both precision and stability, the tapered tip provides a larger surface area for stimulation than I've seen on any bullet, while the pointed end allows for another level of targeted clitoral stimulation. But perhaps the most impressive thing about the We-Vibe Tango X is that it manages to balance both strength and subtlety in its vibrations. It gives off a powerful rumble rather than a ferocious buzz, which means that you get the benefit of the intensity without having to accustom your sensitive clitoris to the almost uncomfortable level of vibration that can sometimes come with strong vibrators even on their lowest setting. I can honestly say that it was the most pleasure I've experienced with a simple bullet.
It also features all the fun of a range of different strengths and patterns, as well as the practical perks of its travel mode and the sleek magnetic charging port that adds to the premium look and feel of this vibrator. The buttons are easy to use—no stiffness insight—and their placement is thoughtful so that you can access them comfortably during use. It's even suitable for those who suffer from vaginal dryness, as the plastic surface slides around easily, unlike some other more premium vibrators that are coated in silicone. It's the kind of vibrator that has a mode or intensity for most people, with thoughtful and practical features as well as a high-end look and feel—and at less than $100/£100 (though not by a lot), it's one I would say is well worth the investment for anyone who can afford it.
2. Lovehoney Ignite Bullet Vibrator
Best bullet vibrator for beginners
Specifications
RRP: $34.99/£29.99
Material: Silicone
Waterproof: Yes
Power: Rechargeable
Running time: 100 minutes
Intensity levels: 3
Vibration modes : 17
Travel lock: Yes
Reasons to buy
+Very strong vibrations+Comfortable to hold and operate+Small and compact
Reasons to avoid
-Vibrations may be too strong depending on personal preferences
If you're new to bullet vibrators, or even just sex toys and vibrators in general, then this simple but powerful Lovehoney offering is a good place to start on your sex toy journey. The first thing that stands out about this model is the simple but satisfying shape with a rounded tip that can be used both to stimulate arousal on different erogenous zones or for more targeted clitoral stimulation. The slight curve around the button on the other end also means that it's comfortable to hold while operating the button at the same time—and this curve along with the soft silicone material allows for a sturdy grip throughout use. These factors alone make this is a great option for a beginner, as it's these little details that can make all the difference between a seamless or stressful overall experience.
But what really makes this a worthwhile investment for anyone making their first foray into vibrators is the amount of power and the number of modes that you get for your money. Three intensity levels are pretty standard when it comes to bullet vibrators, but what really made this a memorable pick for me was the ferocious buzz I was met with when turning this on to even the lowest setting. However, while this does mean that this vibrator has the capacity for some pretty earth-shattering sessions, it could be a little bit too much power for those who might prefer a softer vibration. That said, you can use just a light touch with this if you don't want so much power. The 17 vibration modes are one of the main features that make this the best bullet vibrator for beginners, as it gives you an opportunity to play around with different movements and feelings and really explore what works for you. Lovehoney is a favorite brand at w&h HQ, featured heavily in our guides on the best rabbit vibrators and discreet vibrators, too.
3. Ann Summers 3-speed bullet vibrator
Best affordable bullet vibrator
Specifications
RRP: $15/£10
Material: Plastic
Waterproof: Yes
Power: Battery
Running time: Unspecified
Intensity levels: 3
Vibration modes : 1
Travel lock: No
Reasons to buy
+Very affordable+Long-lasting+Tapered tip for pleasure+Small and compact to take on-the-go
Reasons to avoid
-Limited features-The button can be stiff
If you're looking for something that you can drain every penny's worth out of, then this would without a doubt be my top choice. A simple bullet that took me all the way from my first year of university to my mid-late 20s with the same power as day one, the resilience of this modest vibrator is not to be argued with. It comes with only one vibration mode and three intensity levels but if you're one who can work with just the increasing intensity and don't need a range of vibration patterns then it will do the job just fine. The tapered tip was also an improvement on the brand's previous baseline bullet vibrator, which had featured a more rounded end. But this tapered tip is what really gives this the wow factor for me, as it allows you to really target the vibrations wherever feels best and most stimulating for you.
One slightly annoying factor with this one, however, is that you have to cycle through the settings to turn it off. And as the button can be quite stiff, it can be quite uncomfortable on the pads of your fingers when you have to cycle through. It also doesn't come with the premium feel that our other best bullet vibrators do, with quite a hollow plastic material. But at such an affordable price and with such long-lasting power, these small grievances are totally acceptable.
4. Dame Pom
Best premium bullet vibrator
Specifications
RRP: $95/£95
Material: Silicone
Waterproof: Yes
Power: Rechargeable
Running time: 60 minutes
Intensity levels: 5
Vibration modes : 5
Travel lock: No
Reasons to buy
+Soft, smooth material+Comfortable vibrations+Flexible+Hugs the clitoris for stimulation
Reasons to avoid
-Expensive-Gathers lint easily
Just like the treat factor of a fancy hotel injects a little thrill into a dalliance, there's always that frisson of excitement when getting out a luxury vibrator for a solo night in. And the Dame Pom piques that sensation before you've even taken it out of the embroidered cloth storage bag. Now while this isn't a typical bullet-shaped vibrator, it gives you everything a bullet would with its convenient functions and compact silhouette—in fact, it's even smaller than some bullets I've tried. But the design of the tip introduces another level of clitoral stimulation, which is why I opted for this model over the brand's traditional bullet vibrator, the Zee. And that extra level of clitoral stimulation is thanks to the quite-clever pinched tip that nestles itself against your clitoris while the rest of the device hugs your vulva for all-around pleasure. It doesn't have quite the precision as something with a pointed tip, so if you prefer that kind of style this might not be for you, but it does stimulate the area well. The distinctive shape also means that the other side of the device almost molds to your hand so that you can simply press this onto your body, rather than having to try and find a good grip. The simple buttons also sit in a way that is comfortable to access during use, so that you can build up to a climax without interruption.
When it comes to the vibrations, the Pom emits a soft but strong rumble that, like with the We-Vibe Tango X, isn't too harsh on the sensitive clitoral area. The initial vibrations aren't as powerful as with the Tango X, but with five intensities that are more than made up for when you hit the higher settings. As for the premium factor, everything from the fancy storage bag, to the interiors-worthy hues, the elegant shape, smooth material, and the slick magnetic charging port all speak to the luxuriousness of this quite unpretentious-looking vibrator. Even the grace of its movement and how it bends so seamlessly to allow for personalized stimulation and satisfaction is a high-end feature that I've not seen in any other small vibrator.
The only niggle I had with this—and it really is just a small niggle—is that the soft silicone material meant that this vibrator collected lint quite easily. Even when taking it out of the storage bag, it manages to attract little fibers that are seemingly impossible to get off without using a wipe or liquid. Of course, it's always important to know how to clean sex toys safely after use, but I wasn't expecting to have to do it beforehand too. Still, on my not-so-lazy days, it's one I definitely don't mind having a pre-session spritz for a little high-end thrill.
5. Smile Makers The Surfer
Best silent bullet vibrator
Specifications
RRP: $27.60/£19.95
Material: Silicone
Waterproof: Yes
Power: Battery
Running time: 4 hours
Intensity levels: 3
Vibration modes : One
Travel lock: No
Reasons to buy
+Super quiet+Affordable price+Comfortable grip+Small 'fins' for extra stimulation
Reasons to avoid
-Not very slippery (while I liked this, it could be an issue with anyone who suffers from dryness)
Smile Makers is known for their colorful and out-of-the-box thinking when it comes to sex toy design—and they've once again managed to bring that element of playfulness and innovation to what could otherwise be just a simple (yet pretty powerful) bullet vibrator. Aside from the eye-catching color and thoughtful contouring which makes for a comfortable grip, what stands out most about this model is the addition of the 'fins' that sit on the rounded head. Their inconspicuous size could almost pass for a cosmetic design feature but these simple little bumps really elevate the pleasure factor by adding another level of clitoral stimulation.
And the strong vibrations that this toy boasts go hand-in-hand with the 'fins' to make this a great bullet vibrator pick. Even the lowest setting will give you an impressive rumble (which isn't quite as alarming as the buzz from the Lovehoney Ignite) and the fact that it does this at a truly whisper-quiet volume is admirable and something I haven't seen in any other toy I've used. This is definitely one to keep by your bed if you share a house! As for moving through the settings, it's a smooth transition from one speed to another, which makes for a pleasant and uninterrupted experience. And unlike some other small vibrators which leave you to laboriously scroll through speeds and patterns to turn off, it features a 'hold down to turn off' function—an underrated but much-appreciated capability when you're ready to finish your session.
I really liked the premium feel of the smooth surface, however, it's not the most slippery of materials so if you struggle with dryness, this toy might be best paired with one of the best lubes on the market. And while it does give a good climax, I personally didn't find that it quite gave the earth-shattering feels of a clitoral stimulator or something with a slightly pointier tip. However, if you prefer something without the precision of a pointy tip then you can't go wrong with this simultaneously fun, but considerately practical, model.
6. Je Joue G-Spot bullet vibrator
Most versatile bullet vibrator
Specifications
RRP: $59/£45
Material: Silicone
Waterproof: Yes
Power: Rechargeable
Running time: Unspecified
Intensity levels: 5
Vibration modes : 7
Travel lock: No
Reasons to buy
+Can be used in different ways+Quiet operation+Tapered tip for pleasure+Strong vibrations
Reasons to avoid
-No travel lock
A bullet vibrator that can give you similar sensations to both a clitoral stimulator and some of the best body wand vibrators out there while also reaching your G-spot—this vibrator is a beacon of versatility. Now I'm not saying that this one device will do all three of those jobs, as well as a specialized toy, would, but it does have a finger in every pie and it pulls off each of them to a good enough degree. It gives off a strong buzz even on the lowest setting and with five intensity levels, that gives you a good spectrum of power to play around with—whether it's for precise clitoral stimulation, a rumble against your G-spot or to create titillating sensations elsewhere on your body.
The versatility of this modest-looking bullet vibrator also means that you can use this for much more than a quickie—it gives you the scope to really draw out your session for the ultimate pleasure. Not only can you ramp up from teasing vibrations to G-spot and clitoral stimulation, but you can also switch between the device's seven different vibration patterns for an extra level of excitement. I also really appreciated the shape of the tip, as the slight point allowed for more precise clitoral stimulation.
As for the practicalities of using this model, the buttons sit in a really convenient place so it's easy and comfortable to use. And the premium-feeling material makes for a smooth feel that allows for a little more movement than the silicone in the Smile Makers Surfer. It's on the quiet side and has the handy 'hold down to turn off' function so you don't have to cycle through all the settings when you're done—very convenient when a toy comes with this many modes. One negative for me is that there is no travel lock on this vibrator, which makes for a slightly elevated heart rate (for the wrong reasons) every time I put this away under my bed. I just imagine my cleaner's face if the vacuum ever nudges the box...
7. LELO Mia 2
Best bullet vibrator for travelling
Specifications
RRP: $84.99/£69
Material: Plastic/silicone
Waterproof: Yes
Power: USB rechargable
Running time: 90 minutes
Intensity levels: 3
Vibration modes : 6
Travel lock: Yes
Reasons to buy
+Easy to use+Smooth surface+Conical tip for pleasure
Reasons to avoid
-Not as powerful as others-Expensive
For satisfying and reliable sex toys that boast a premium feel and a touch of innovation, LELO has to be my go-to brand. Their Sona 2 Cruise clitoral stimulator is second-to-none and even the LELO Smart Wand has seen rave reviews from our health editor. So of course, the brand has a pretty impressive bullet vibrator to offer. And while it's by no means my favorite LELO product (that crown sits with the Enigma, which has been reviewed in our best vibrators piece), it's definitely up there with my top bullet vibrator picks. A traditional lipstick bullet vibrator, this could almost pass for a MAC bestseller, so it should tick the box for anyone after the more conventional bullet shape. While the vibrations aren't out-of-this-world, this does boast a pretty satisfying buzz that you can steadily increase as you build up to a climax. And the addition of the multiple pattern modes does make for another level of pleasure and means that you can draw out your session if you want to have a bit more fun. What does inject another layer of stimulation is the rounded conical shape of the tip that really allows you to be precise with your movements and direct the vibrations wherever feels best for you.
The plastic material of this vibrator means that this model slides around easily, making it a good option for anyone on the drier side. And what's even better is that the plastic casing doesn't come with the hollow feel of the Ann Summers bullet vibrator, meaning that the device maintains its higher-end feel, despite the lack of silicone (which is only used on the button area). When it comes to the practicality of the buttons, they are easy to use, without any stiffness, and sit on a convenient area of the vibrator so you can play around with settings during use without any discomfort. What really makes this my top pick for traveling is the super convenient charging port that you can simply plug into any USB charger—no wire required. Overall, the LELO MIA 2 provides a pleasant and satisfying experience that is convenient to take on the road with you thanks to its practical features and even more practical shape and size. It probably won't give you the most mind-blowing orgasms (at least it didn't for me), but it's a good addition to your weekend bag if you want to have a bit of fun on a night away.
8. Svakom Phoenix Neo Interactive
Best app-controlled bullet vibrator
Specifications
RRP: $129/£79.99
Material: Silicone
Waterproof: Yes
Power: Rechargeable via magnetic port within 1 hour
Running time: 60 minutes
Intensity levels: Unspecified
Vibration modes : 11
Travel lock: Unspecified
Reasons to buy
+Great design+11 different vibrations
Reasons to avoid
-Reduced run time-Some elements of the app are a bit "buggy"
At w&h we've also been testing out the best app-controlled vibrators, and our tester picked out the Svakom Phoenix Neo Interactive as the best app-controlled bullet vibrator. In her review, our tester picked out the design elements as one the first impressive aspects about the device, with its "slick and stylish" silhouette and the handy drawstring bag for storage. However, "not just a pretty face", the Svakom Phoenix Neo Interactive is said by our reviewer to be "built with sophisticated technology that packs in 11 different vibrations, scaling from juicy foreplay to mind-blowing stimulation."
While it might look intimidating, our reviewer said that the unique shape of this toy helps to both stimulate the vagina internally and stimulate the clitoris at the same, as the bigger "ridged bulb" sits inside the vagina (quite comfortably, our reviewer adds), while the "flexible neck means it's easy to manipulate the smaller end into position for perfect clitoral placement". It also boasts a "snug fit" meaning that you're able to completely hands-free without worrying about to slipping out or sliding around, helped by the soft silicone material I'm sure, which tends to be a comfortable surface to work with.
In terms of the controls, our reviewer noted that they were easy to use on the device itself but that the the app function is also an addition that is "great for solo play or living out your sexual fantasies and handing power to your partner," as you can cycle through patterns and intensities or even set the vibration to react to and echo sounds and music from your phone. "It can even be used together with sex video sites to really hit the sweet spot," advises our reviewer, so if you fancy going down this route our guides on porn for women and sex stories are full of inspiration. However, one niggle that our reviewer did note was that the app would freeze or crash when syncing up with her phone iTunes library, but found that this was remedies by streaming to the app from a computer using Wi-Fi.
How to choose the best bullet vibrator for you
If you're still not sure which model to go for, these considerations should help you work out which from our list of best bullet vibrators is right for you. To figure out which bullet vibe will suit your needs, it's important to think about:
What kind of shape do you want—we all have different needs, so while some may prefer a smooth rounded shape, others might want something a bit more pointed for more targeted pleasure to the G-spot or clitoris and some may be satisfied with a wider device that can be used in more general areas (you might want to check out our guide to how to have an orgasm and female masturbation if you're still discovering what works for you in the bedroom).
How many modes and intensities you'd prefer—this is a totally personal choice as some may just like steady vibrations and not need much power while others might want something a bit more exciting.
What material is comfortable for you—some may enjoy using plastic for a smooth experience, while others might prefer silicone for a more luxurious experience.
Where you'll be using it—if you want to use your toy in the bath or shower then something with a waterproof feature is a must.
If you'll be using it alone—while most of the best bullet vibrators are designed to use in whatever way you want—either alone or with a partner—there are some that come with remote controls, apps, or Bluetooth functions so that you can be stimulated by a partner—even if they're halfway across the world from you.
Whether you want to take it traveling with you—if so, a travel lock is a must so that you don't have any suitcase mishaps. Alternatively, you could opt for a battery-powered model so that you can just remove the batteries while traveling.
Once you've invested in a new bullet, you might want to check out our guide on how to use a vibrator to make the most out of your new toy.
Aleesha is digital shopping writer at woman&home—so whether you're looking for beauty, fashion, health or home buys, she knows all the best places to splash your cash. She earned an MA in Magazine Journalism from City, University of London in 2017 after graduating from University of Leeds in 2014 with a BA in English and Spanish (which took her to Madrid for a Rioja- and tapas-packed year). Aleesha has worked for woman&home since 2019, when she joined the team as their digital news writer. A year on the news team gained her quick and reactive writing skills and a love for breaking stories, invaluable insight into where to get the best lifestyle releases first, an AOP awards nomination and the nickname 'crazy watch lady' after she stalked the royals via breaking news alerts on her Apple Watch.


Before joining the woman&home team, Aleesha wrote for their sister site GoodtoKnow, where she covered celebrity news, health advice and where to snap up the cheapest lifestyle buys. With a background in beauty, Aleesha has also written for Stylist and Women's Health where she developed an understanding into what makes a stellar product and which brands are worth paying attention to. She never leaves the house without a good slathering of SPF and is always on the hunt for new lipsticks to add to her 'Lipstick of the Day' Instagram story highlight (and color-coordinated collection).


But it's not just beauty buys Aleesha can help you with. Social media savviness, strong PR relationships and a need to stay in the know mean she's all about the latest fashions, clever gadgets and reliable lifestyle buys too. She loves indulging in an interior craze (with a bedroom drowned in prints, plants and pink), is a regular visitor to the Missoma and Edge of Ember 'New In' pages and can't resist the allure of a kitchen gadget—just ask her three coffee machines. Being a product specialist on a brand for bold women (and living the single life) means that Aleesha also knows a thing or two about the must-buy sex toys, so she relishes in unleashing her inner Carrie Bradshaw on our sex & relationships pages.


When she's not playing around with new products and testing anything she can get her hands on, Aleesha spends most of her time with her head in a current bestseller, catching up on the latest Netflix craze with her sister, trying out new recipes, drinking wine with her bestie and (in non-COVID times) has been known to be a bit of a jetsetter amongst her friendship group.


Follow her latest shopping & lifestyle advice, beauty insights and social antics on Instagram at @aleeshabadkar.


Twitter: @aleeshabadkar
LinkedIn: aleesha-badkar
Email: aleesha.badkar@futurenet.com