27 best sex toys to help you reach a mind-blowing orgasm in no time
We've tried, tested, and reviewed the best sex toys for every skill level and budget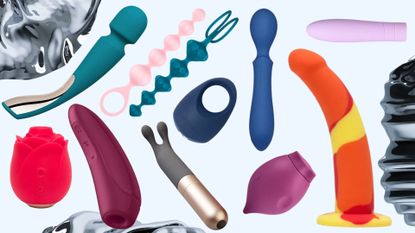 (Image credit: Lovehoney/LELO/Satisfyer/Ohhcean/Smile Makers)
Building up your collection of the best sex toys is a great self-care investment you can enjoy over and over again. Not everyone will enjoy the same type of stimulation though, so it's important to consider the many different types of toys available, from vibrators and dildos to stimulators and other innovative new toys from the likes of LELO, We-Vibe and Lovehoney when curating your pick of the bunch.
With so many developments in sex tech in recent years, the pleasure sector has seen a boom in innovation and there are some incredible new designs and brands worth getting excited about too. With sleek aesthetics, high-tech extras, and pleasure-enhancing features like gentle suction and stimulating textures, sex toys have entered a new era.
Finding the best sex toy for you is so important, as your needs and your body will be different from another's when it comes to enhancing your solo and partnered sex life. Whether you want the best vibrator your budget allows for or a classic dildo, we've tried and tested some of the best sex toys on the market and ranked our favorites according to their best features.
How we tested and selected the best sex toys
Why you can trust Woman & Home Our expert reviewers spend hours testing and comparing products and services so you can choose the best for you. Find out more about how we test.
We spoke with experts to determine the best sex toys available for beginners, for the more practiced, for solo sex and partnered sex. Taking cost and practicality into account, we looked at the best budget sex toys, high-end thrills, innovative sex tech, hands-free, and miniature devices. Once we explored the collection and consulted the experts on what makes a great sex toy, the woman&home health team tested every toy ourselves using a matrix of key factors to consider.
Shape and size: How big was the toy and was it comfortable to use? We tested the ergonomics and accessibility of the best sex toys as potentially the most significant points of consideration. When a toy is created with a particular use, scenario, or body in mind, it makes all the difference.
Design: From weight and hand-feel to texture, handles, and the spacing of buttons, we considered the design of the toys to see what makes them so elite.
Number and strength of function: We love secret functions and hidden features that can add that special something to a sex toy. Powerful vibrations and robotic movements, as well as speeds and patterns, when applied in isolation or blended, can take your experiences to new and thrilling heights and help you to learn what works best for you.
Battery life: As another key factor, we tested each toy to see how long their battery life really was. If you've ever been seconds away from orgasm and had your vibrator die, you'll know how significant this can be. Charging type and time was also a factor in this.
Appearance: Today we're fortunate that what's available to us not only feels good but looks good, too. The aesthetic of the sex industry is catered far more to women than it ever has been before, and we have female entrepreneurs to thank for that. Gone are the days in which the only devices on offer would be packaged in a garish box with a terrible pun stamped across the front. But still, we noted the appearance of each of the toys to test whether we'd really like to have them in our bedrooms.
Sustainability: Much like everything we shop for, where and how our sex toys are made and by whom matters. We took materials, packaging, and the ripple effect of buying a toy into account when we assess its star quality.
The best sex toys as tested by us
Best sex toys for clitoral stimulation
We often think of the best bullet vibrators or best wand vibrators when it comes to clitoral stimulation, and we have some of the top picks on our list to choose from, but sex toys that focus on the clitoris come in all shapes and sizes.
1. Satisfyer The Curvy 1+
Best overall for a clitoral orgasm
Specifications
Dimensions: 12 x 7.5 x 19 cm; 143.8 Grams
With vibration: Yes
Waterproof: Yes
Charging: Magnetic USB
Materials: ABS plastic, Silicone
Compatible with app: Yes
Battery life: 8 hours
Functions: 11 vibrations and 11 pressure waves
RRP: $49.95 / £44.95
Reasons to buy
+
Offers air suction and vibrations
+
Ergonomic and easy to hold
+
Wider suction point
+
Connects to Satisfyer app
+
Very quiet
Reasons to avoid
-
Not ideal for pinpoint stimulation
-
Gentler suction than other toys
According to a 2016 study from the Archives of Sexual Behavior (opens in new tab), just over 18% of women in the US reported orgasming from penetration alone. We know clitoral stimulation really matters when it comes to female pleasure, so it's no surprise that suction toys have really had a moment in the last few years. The Curvy 1+ by Satisfyer is a great example of how pleasure brands have innovated in line with consumer demand, offering different styles and sizes to suit different body types.
Winner of 287 international design awards, this powerful little suction toy uses air pressure technology to provide focused, rather than pinpointed, stimulation. This particular edition boasts a range of functions for vibration as well as air pressure, from gentle buzzing to deep rumbling, and offers a larger suction nozzle than other devices of this type. This is great for anyone who prefers a broader area of the vulva to be stimulated, rather than a highly focused - direct clitoral stimulation to the glans can be uncomfortable for some.
For those who might feel sensitivity or even discomfort from pinpointed stimulation, the wider nozzle is a winner, says our tester. "I love clitoral stimulators and I really enjoyed how this one's wider mouth allowed for more stimulation over all, rather than targeted, which can sometimes be too intense. This one is definitely less intense. Satisfyer's The Curvy 1+ is great for a slow build, offering gentle air pressure that increases with the addition of vibrations for mixed stimulation," she says.
If you want something with a little more targeted stimulation, opt for the EVA II by Dame with its hands-free stimulation or the Ina Wave rabbit vibrator by LELO for dual action.
If you find pressing buttons to increase power and speed distracting, this device comes with the added benefit of an app. The Satisfyer Connect app has four main screens, Close Range, Remote Partner, Community Share, and Alarms. Depending on how brave you're feeling, you can either hand control over to a partner, set functions for yourself, or give up control to a stranger using the app.
"My favorite mode was Music Vibes. All you have to do is connect the toy to Spotify and have it function in sync with your favorite playlist. I found something slow and gentle was a great way to start, building into songs with a heavy beat. You can just lie back and enjoy the variation of pulse and vibrations in time with the sexiest jams."
2. Lovehoney Rose Toy Clitoral Suction Stimulator
Best unique sex toy
Specifications
Dimensions: 7 x 3 inches
With vibration: Yes
Waterproof: Yes
Charging: USB
Materials : Silicone
Compatible with app: No
Battery life: 65 minutes
Functions: Speeds and patterns
RRP: $59.99 / £49.99
Reasons to buy
+
Unique shape with aesthetic design
+
Soft silicone texture
+
Easy to charge with multi-use USB cable
+
Alternative stimulation with powerful air puffs rather than vibrations
Reasons to avoid
-
Charging point requires solid surface
The rose sex toy is one of 2022's biggest finds in the toy world, thanks to Tiktok. We tested out Lovehoney's Rose Toy Clitoral Suction Stimulator and it did not disappoint. Made from soft silicone, it feels smooth to the touch, is easy to charge with a simple magnetic USB cable that can be used to charge other Lovehoney devices with similar points (like the remote-controlled Flex Machine), and doesn't make too much noise despite its function.
When in use, the Rose pushes out puffs of air to stimulate the clitoris, rather than using traditional vibration methods. You can also use the bulb of the toy but we found this only really works on higher settings when the vibration is strong enough to make an impact. There are 10 different modes for this clitoral suction vibrator in all, so you can definitely find the best one for you with multiple speeds and suction styles to choose from.
"This was my pick of the bunch thanks to the shape," our tester said. "It's a red rose with a bulbous bottom shaping up into petals and the clitoral suction stem in the middle. I do enjoy bullets but find the constant phallic shape of sex toys to be quite boring. This rose made for a really nice change without being confusing or just totally impractical to use."
However, she does warn, "The only thing to be aware of with the Rose is when charging, you should turn the rose on its head [petal side to the floor] on a flat surface and attach the charger to the magnetic points in this position, otherwise you might find the charger falls away and your toy stops charging without you noticing."
3. The Billionaire by Smile Makers
Best sex toy for beginners
Specifications
Dimensions: 5.6 x 1.3 x 1.3 inches
With vibration: Yes
Waterproof: Yes
Charging: 1 x AA battery
Materials: Body-safe silicone
Compatible with app: No
Battery life: 4 hours
Functions: 4 speeds and 2 vibrations
RRP : $60 / £44.95
Reasons to buy
+
Super silent
+
Internal and external use
+
Optimized rotational diameter
+
Good size for beginners
Reasons to avoid
-
Limited functions
-
Firm and not flexible
If you've never used one before, want to learn how to use sex toys, and aren't sure where to start, it's always best to begin with a high-quality device with only a few functions. The Billionaire by Smile Makers is just that. Created by a female entrepreneur who sought to refresh the sex toy market with beautiful designs and shapes crafted to compliment the body, The Billionaire is just one of a collection of good-looking silicone toys with great battery life. Smile Makers toys are cool, colorful, and design-led. There's nothing too complex or intimidating about them. In fact, they look a little like stylish design objects that certainly wouldn't look out of place on a bookshelf or a nightstand.
The Billionaire is an upgrade from The Millionaire - the previous iteration of this toy. The creators took user feedback on board and made the device slightly larger, weightier, and more powerful. However, The Billionaire is still one of the top picks for beginners, especially compared to more intense toys like the Curvey+1. Slim, and smooth with a simple function button at the base, it's so easy to use.
"The smooth club shape means you can experiment with rolling, pressing, or dragging it across your vulva or other sensitive areas," our tester says. "If you're inserting this toy for the first time, I'd recommend using a water-based lube and taking your time as it is pretty firm. I found using slow circular motions around the entrance to the vagina and stimulating the clitoral nerve endings within the first third of the vaginal canal is a good place to start. But if penetration isn't for you, use The Billionaire to tease and stimulate your vulva and inner thighs, nipples, and neck for varied sensations. I love this toy and I'll definitely be using it again."
4. LELO Smart Wand 2
Best wand sex toy
Specifications
Dimensions: 304mm
With vibration: Yes
Waterproof: Yes
Charging: USB
Materials: Body-safe silicone
Compatible with app: No
Battery life: No limit
Functions: 10 settings
RRP: $140 / £101
Reasons to buy
+
Rolls and rumbles instead of buzzing
+
Can be used over the whole body
+
Steady, fluid speed increase
This is best wand vibrator on our list and also one of the best vibrators to buy from Amazon - and all for good reason. This ultra-powerful sex toy will provide endless fun for you and your partner. The stylish toy is available in black, dark pink, and aqua, and in two different sizes (we tried the medium size for testing). It has a sleek gold handle that makes it easy to hold as well. The wand can be used to massage any area of the body pretty effectively and can take partnered sex to new heights.
"Don't just think of this sex toy as a vibrator," suggests our tester. "I use it on myself and my partner all over our bodies during foreplay as it starts on a gentle low level that feels amazing on the different erogenous zones like the nipples and inner thighs."
The soft silicone material is body-safe, with an extra-long shaft making self-pleasure easier than ever. There are 10 super-intense vibrator settings and you can easily tell the difference between each of the settings. It's charged using a USB cable and has around four hours of battery life. While it rumbles rather than buzzes, it can still be quite noisy - so keep this in mind if you live with other people.
Use it during penetrative sex or slowly tease your partner's body with deep rumbles for hours at a time during slow and sensual sex. If you're looking for a high-powered wand vibrator that never gives up, this is your best option.
Read our full review on the LELO Smart Wand 2 (opens in new tab).
5. The Vesper from CRAVE
Best premium sex toy
Specifications
Dimensions: 3.8 x 0.5 inches, chain length 26 inches
With vibration: Yes
Waterproof: Yes
Charging: USB
Materials: Stainless steel, 24K gold
Compatible with app: No
Battery life: 40 minutes
Functions: Four speeds
RRP: $84 / £65
Reasons to buy
+
Discreet in appearance
+
Wearable with included neck chain
+
Stylish as available in two colors of choice
The Vesper is now so iconic that it's not exactly the 'vibrator in disguise' it once was. This sleek wearable toy is a slim stainless steel bullet vibrator finished in 24K gold. Waterproof with four speeds and USB chargeable, this really is the crème de la crème of vibrators. The aesthetic says high-end and delicate, but this little bullet is surprisingly powerful. Lightweight and basically the perfect accompaniment to any outfit, the Vesper really shows how far sextech has come and how far it could still go.
"I can admit to wearing mine in front of my in-laws," says Ellen of Ellen Terrie (opens in new tab), who also tried and tested the Vesper for woman&home, alongside other members of the team. "Bold move, I know. But I love how it sparked some honest conversation about sex, pleasure, and the development of sex tech in recent years. There has been and still is shame and stigma associated with feminine pleasure, and the Vesper helps to make the experience of pleasure more accessible and approachable. You can leave it out on your nightstand and enjoy it being a part of your everyday life, which is a big step forward in the world of sex toys."
The Vesper has the added benefit of stimulating your mind as well as your body. Just wearing one is an exciting activity that can get you in the mood and set the tone. It can be layered with other pieces of jewelry and dressed up or down. High-grade gold makes this device skin safe, plus it quickly warms to your skin's temperature.
A special piece of sextech that represents liberation and luxe style in equal measure, The Vesper is perfect as a gift to yourself or your play partner.
6. The EVA II by Dame
Best hands-free sex toy
Specifications
Dimensions: 1.3 (2.4 inches with wings) x 1.7 inches x 1.1 inches
With vibration: Yes
Waterproof: Yes
Charging: Inductive charging case
Materials: Body-safe silicone
Compatible with app: No
Battery life: 1 hour
Functions: 3 speeds
RRP : $135 / £135
Reasons to buy
+
Hands-free wearable
+
Small and easy to use
+
Innovative ergonomic design
Reasons to avoid
-
Not suitable for those without a vulva
At first glance, the EVA II might not look like a sex toy but that's because this little wearable is unique in its design. Two small arms hook over the outer labia allowing hands-free clitoral orgasms. The main body of this small toy stays fixed over the clitoris, leaving you free to touch yourself or your partner, to add penetration, or to simply sit back and relax.
Made from smooth silicone with three intensity levels controlled by a small button on top of the device, the EVA II has a battery life of five hours - unless you're running it on the highest setting, then it may only last an hour. Sexologist Alexandra Fine and engineer Janet Lieberman of Dame developed this toy with practical pleasure in mind so it's waterproof and comes with a neat little charging case too.
"I think the real magic of Eva is in the thoughtful engineering. Holding a toy in place can sometimes be distracting and even counterproductive, but a hands-free toy can leave your hands free to support your weight, move around, use another toy at the same time, and focus on intimacy and pleasure. You can literally just leave it there to do its thing," says our tester Terrie.
Dame toys are engineered according to testing by Dame Labs - a community of more than 10K real humans. The brand tests every detail with real people to ensure they're providing actual solutions. The Dame team comprises a wide range of ages, genders, ethnicities, backgrounds, and lifestyles. Helping them to develop products that address the needs of as many humans as possible, the team makes sexual wellness and pleasure far more accessible.
Due to its unique shape, the EVA II may take a little maneuvering the first time you use it. But once you have it comfortably in place, it can take solo or partnered sex to new heights. Providing consistent, targeted stimulation to the clitoris while the small arms hold it in place.
7. The DiGiT by Hot Octopuss
Best mini sex toy and best inclusive sex toy
Specifications
Dimensions: 3.4 x 1.8 x 1.2 inches
With vibration: Yes
Waterproof: Yes
Charging: USB cord
Materials: Body-safe silicone
Compatible with app: No
Battery life: 40 minutes
Functions: 5 speeds and 5 vibrations
RRP: $69.95 / £55.95
Reasons to buy
+
Finger loop for easy use
+
Accessible ergonomic design
+
Intense vibrations
Reasons to avoid
-
Wider round tip does not offer highly pinpointed stimulation
The DiGiT looks a little different from other sex toys, but don't let it deceive you. This device is a small but mighty toy created as an extension of the wearer's hand. Curving to the contour of your fingers, it's discreet, elegant and it packs a punch when it comes to delivering an amazing orgasm.
"For me, finger rings are one of the best sex toys out there and I've tried quite a few over the years," says our tester. "I find I can enjoy the toy without having to worry about holding it in the right position constantly, like you do with a bullet vibrator. I also have limited dexterity so I loved testing out this toy in particular because you can clip the ring to your hand and not think about holding the toy at all. I found it was great for clitoral stimulation during partnered sex as well as when I was using it on my own. It's also waterproof, another great feature, so we took it into the bath and shower on a couple of occasions."
An elevated bullet vibrator offering multiple speeds and functions as well as the finger ring, the small tapered shape of The DiGiT is great for all kinds of stimulation. It can also be rolled or pressed on any area of the body such as nipples and inner thighs to heat things up, as well as over the clitoris. It's nifty toy that's super easy to use so if find that handheld toys like The Billionaire to be a bit awkward to hold in the heat of the moment, this is a great alternative.
8. The Slim Vibrator by My Viv
Best budget sex toy
Specifications
Dimensions: 5 inches x 0.6 inches
With vibration: Yes
Waterproof: Yes
Charging : 2 x AAA batteries
Materials: Body-safe silicone
Compatible with app: No
Battery life: 1 hour
Functions: 3 speeds 7 pulses
RRP: $21 / £18
Reasons to buy
+
Ideal for vaginismus sufferers
+
10% to Breast Cancer Now charity
+
Can be used all over the body
+
Affordable
Sleek, beautifully designed, and affordable, the Slim Vibrator by My Viv is ideal for shoppers on a budget. Its slim shape makes it incredibly versatile and accessible, especially for those who experience pelvic floor issues like painful sex or vaginismus. In fact, using pressure and vibration just inside the entrance to the vagina can help with relaxing the pelvic muscles and increasing pleasure sensations, almost as well as some of the best pelvic floor trainers. With three speeds and seven pulse settings, the Slim Vibrator can be used all over the body, for targeted clitoral stimulation and, with a length of five inches, for a comfortable internal massage.
"I really liked how easy the Slim Vibrator was to use," our tester says. "It's battery powered so you never have to think about where you left the charging cable and it's powered by a simple button on one end that controls both the speed and pulse settings. I found this makes it super easy to step things up a notch and it seems to ensure the device has a longer battery life than most other affordable toys. I also found the smooth tapered tip makes pinpointed stimulation very easy, allowing you to experiment with manual pressure."
The Slim Vibrator also makes a great introduction to sex toys, particularly if the likes of devices like The Billionaire by Smile Makers are a little too costly. Use sweeping motions and slow circular moves around the vulva and the entrance to the vagina to stimulate the clitoral nerve endings and get used to the sensation of a vibrating toy, our tester suggests.
9. The Poet by Smile Makers
Best for authentic oral sex replication
Specifications
Dimensions: 3.3 x 2.3 x 2.3 inches
With vibration: Yes
Waterproof: No
Charging: USB
Materials: Silicone
Compatible with app: No
Battery life: 90 minutes
Functions: 3 interchangeable heads
RRP: $131.40 / £95.20
Reasons to buy
+
Interchangeable mouths
+
Ergonomic shape
+
Both air and vibrations
Smile Makers makes it into this list twice but with two very different toys. The Poet is a relatively new addition to the beloved brand's line up, putting a signature spin on the aesthetics of the pleasure tech scene. Smile Makers is well known for transforming the aesthetic of sex toys, turning them into chic art objects you'd be proud to showcase on your nightstand. Part of this refashioning is down to the desire to create toys that cater to the female gaze but part of the brand's approach to design is ergonomics and accessibility.
Marrying body-friendly ergonomics and authentic sensations akin to real oral sex, The Poet is an air tech device that mimics suction while stimulating with vibration. With three interchangeable mouths to experiment with pinpointed stimulation or a wider area, this toy is made of silky smooth silicone.
"The Poet is unlike any other sex toy I've used before," our tester says. "As well as just being brilliant for clitoral stimulation, it's so easy to use and really feels premium. It's shaped like an orb for starters and it sits comfortably in the palm of my hand, meaning I didn't have to grapple with the shape of a bullet when I was trying to use it quickly. The buttons are perfectly placed in line with my thumb and there's even finger dips around the toy to make sure you can have a good grip on it during use."
10. The LASKA by Love Not War
Best for customization
Specifications
Dimensions: 6.2 inches
With vibration: Yes
Waterproof: Yes
Charging: USB
Materials: Silicone, recycled aluminium
Compatible with app: No
Battery life: 1 hour
Functions: 4 speeds and patterns
RRP: $90.98 / £69.99
Reasons to buy
+
Sustainable materials and packaging
+
Interchangeable heads
+
Travel size
+
Powerful despite the size
+
USB charging
A new contender on the scene, Love Not War is a sustainable sex toy brand that minimizes waste and makes it easy to switch up your self love routine depending on your mood. There's just one sleek sustainable handle in a luxe gold finish with multiple interchangeable heads for different uses and body types, Love Not War blends tech, sex and sustainability seamlessly.
"I chose the LASKA as my pick of the best sex toys because it has two pinpoints for use anywhere on the body. There's Laska, Liebe, Miele, Koi, Gra, Amore, Kama heads included with your original wand handle. Made from recycled and recyclable materials, right down to the packaging which includes a canvas storage bag, these vibrator heads can be used in all different ways. To me, it really felt like I had several different sex toys in one. I found it also very easy to use the vibrator both internally and externally, depending on which head I chose."
Ideally, you'd never need to buy another vibrator once you had the entire collection of pieces, however, the slim handle isn't to everyone's taste. Perfect for travelling – due to a travel lock which means it won't go off in your case – this toy is a compact and elegant size with a satisfying weight to it, but some users prefer a lighter or larger toy so this should be a consideration before you make a purchase.
Love Not War also works with One Tree Planted to ensure that for every product sold, a new tree will be planted. They're really thinking of solutions – short term pleasure for you, and long term, creating a better future for you, your community and generations to come.
Best sex toys for G-spot stimulation
If you're looking for the best sex toys for G-spot stimulation, we've got a range of excellent, diverse toys to choose from. So whether you're in the market for one of the best rabbit vibrators, or something a little traditional, we've got you covered.
11. The Ina Wave by LELO
Best toy for a G-spot orgasm
Specifications
Dimensions: 2.3 x 7.6 inches / 2.36 x 7.69 inches
With vibration: Yes
Waterproof: Yes
Charging: USB jack cord
Materials: Body-safe silicone
Compatible with app: No
Battery life: 2 hours
Functions: 10 vibrations and 10 movements
RRP: $179.99 / £149.99
Reasons to buy
+
Clitoral and G-spot stimulation
+
Internal movement
+
Ergonomic and easy to hold
Reasons to avoid
-
Too intense for some
-
Noisy
A G-spot orgasm is not always the easiest to achieve as it requires a particular combination of angle, depth, and motion. At least that was the case before toys like the Ina Wave hit the scene. This smooth silicone device by luxury pleasure brand LELO looks like a classic rabbit but doesn't behave like one. With a rounded shaft and a smaller arm for clitoral stimulation, both arms move independently with added functions for vibration.
"The sensation that the Ina Wave offers is completely unique due to its WaveMotion technology, and with 10 vibration and wave settings, there are lots of options to choose from, meaning it can take a little time to discover what works best for you and your body. For that reason, I often recommend the Ina Wave for the more experienced sex toy user," says Terrie, one of our testers. The rounded shaft, once inserted into the vagina, curves up and round to put pressure on the vaginal wall where the G-spot is located. It then mimics a 'come hither' motion while the clitoral arm moves independently for stimulation in both areas. Finding the right combination of settings can move you to achieve incredible blended orgasms in record time.
However, this toy does feel a little robotic. It's been created to do a job and it will get that job done. The mechanism is loud and mechanical and it does feel a little like your vagina is being gripped by an efficient orgasm robot. This may be a little too intense for some, or the feeling might be strange or inauthentic. But it must be said, LELO has really excelled in function with the Ina Wave. "WaveMotion is LELO's very own technology replicating the caress of a partner's fingers," says Ellen. "Also, unlike other rabbit vibrators, the internal arm is flexible and angled at 30 degrees, while the external arm is also flexible and curved, ensuring that the Ina Wave complements all body shapes and hits all your pleasure points with perfect aim."
Use plenty of the lube with this toy (our guide to the best lube might be useful here). Its design means the broad curved shaft is perfect for hitting all the right spots inside the vagina, however, unlike other rabbit vibrators the tip isn't a tapered penis replica. Make sure you are relaxed when inserting it and keep it turned off until it's fully inside the vagina to avoid the movement of the shaft putting pressure anywhere uncomfortable on entry. Once it's in position, experiment with the settings and let this little robot do its thing.
12. The Lioness
Best for tech lovers
Specifications
Dimensions: 8 x 1.25 inches
With vibration: Yes
Waterproof: Yes
Charging: USB
Materials: Silicone
Compatible with app: No
Battery life: 2 hours
Functions: 100 intensities
RRP: $229
Reasons to buy
+
Biofeedback device with app makes it easy to monitor your orgasms
+
Great for solo use
+
Classic rabbit shape
Lioness is the first and only smart vibrator and app that uses biofeedback. For some, this is wildly exciting and provides users with the power to track, assess and improve their orgasms, for others, this is another element of distraction that gets in the way of achieving climax.
Built by the creators of the best Femtech apps, Lioness uses built-in sensors and a mobile app to enable you to visualize your arousal and orgasms. The toy itself is a traditional rabbit shape, with a smooth shaft and a separate arm for clitoral stimulation. It's also very easy to use, despite all the focus on technology, and set-up process is a breeze with simple instructions to follow and only two buttons to navigate .
"The idea is to use the toy as you usually would, but inside it there's a gyroscope and accelerometer that records exactly where you move the vibrator when it's inside you and there are sensors that track pelvic floor movements," explains our tester. "Afterward, you look at the data gathered by the sensors and the app offers some intel on your orgasm pattern which can be a Volcano, Ocean Wave, or an Avalanche."
While it might not be a device for everyone - if you don't use a smartwatch to track your steps, why would you use a smart vibe to track your orgasms? - our tester does say that it's really useful for anyone like her who has issues with climaxing. "I'd say that this sex toy would be great if you struggle with having an orgasm or with maintaining pleasurable sensations, like me, as it can be a great way to focus, train and reconnect with your sexuality."
13. OhMyG by Ioba Toys
Best for deep G-spot stimulation
Specifications
Dimensions: 6 x 3 x 2 inches
With vibration: Yes
Waterproof: No
Charging: USB
Materials: Silicone
Compatible with app: No
Battery life: 1 hour
Functions: 3 speeds
RRP: $169.00 / £75
Reasons to buy
+
Pinpointed G-spot stimulation
+
Curved shaft
+
Silent when in use
Reasons to avoid
-
Low battery life
-
Firm shaft
One of many newly developed innovations built to stimulate the G-spot specifically, the OhMyG is a sex toy meant for internal use. Created by Ioba Toys, the large C-shaped shaft has a unique pearl which moves up and down, massaging the G-spot. The G-spot is the soft, spongy area at the front of the vaginal canal, behind the pubic bone.
The OhMyG doesn't vibrate. Instead, it mimics the 'come hither' motion that a partner might use their fingers for, or that you might feel with a very curved toy. The massaging pearl meets your G-spot area and then offers three intensity modes so you can find the pace and position that suits you.
This toy is beloved by many, including our tester who said it was one of the best she'd ever used. However, she also said the size is off-putting. "The large curved shaft is thick and not easy to insert without lube, unless you're already very wet and even then, it can sometimes be a challenge. The shaft is also quite firm with not much flexibility. This of course, is to ensure that the curve follows the shape of the body and the pearl makes contact with the correct area, however, this firmness can feel a little uncomfortable if you're changing positions while using the toy."
G-spot stimulation can be quite intense and while some people enjoy direct pressure on that spot, for others, it can be overwhelming. One thing that helps the user to relax with this one is the distinct lack of rumbly motor noise. "The OhMG is virtually silent and packs a punch with no distractions," she adds.
14. Evolved Thump & Thrust Dual Vibrator by Lovers
Best for inclusive thrusting technology
Specifications
Dimensions: 9.5 inches x 3.1 inches x 2 inches
With vibrations: Yes
Waterproof: Yes
Charging: USB
Materials: Body-safe silicone
Compatible with app: No
Battery life: 1 hour
Functions: 7 thrusting speeds, 3 intensities
RRP: $96.99
Reasons to buy
+
Multiple thrusting functions and vibration patterns to choose from
+
Unique external head shape for clitoral stimulation
+
Offer dual stimulation
+
Larger in size compared to others
If the idea of a toy that thrusts sounds a little intimidating, the Evolved Thump & Thrust Dual Vibrator by Lovers is a great starting point. It's not one for the faint-hearted though as the Thump & Thrust is a dual stimulating sex toy, ideal for creating a blended orgasm, with both a shaft and vibrating rabbit-style ears. It's also an impressive 9.5 inches, making it one of the biggest G-spot stimulators on our list.
It's a multi-purpose toy that can be used by any body, regardless of gender and can be used vaginally or anally with plenty of water-based lubricant. However, because this sex toy contains magnets it's not suitable for anyone with a pacemaker.
The textured, ultr