How to clean sex toys the body-safe way
Wondering how to clean sex toys? Here are the best products for each type of toy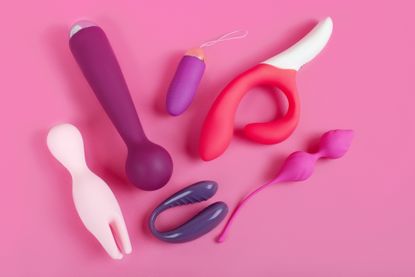 (Image credit: Getty)
woman&home newsletter
Sign up to our free daily email for the latest royal and entertainment news, interesting opinion, expert advice on styling and beauty trends, and no-nonsense guides to the health and wellness questions you want answered.
Thank you for signing up to . You will receive a verification email shortly.
There was a problem. Please refresh the page and try again.
Knowing how to clean sex toys is incredibly important to avoid putting yourself at risk of STIs, fungal infections and bacterial infections, like thrush, UTIs and bacterial vaginosis (BV). You should make sure you're cleaning your sex toys regularly and with body-safe cleaning products that are right for your particular toy.
Research by Adam & Eve found 70% of women cleaned their sex toys regularly, while a shocking 19% said they never did, and 11% only cleaned them every few uses. If you're going to invest in the best vibrator or sex toy of your choice, it's important you clean it properly, both for your health and the lifespan of your toy.
Whether you use sex toys solo for masturbation or with your partner, you should always clean them before and after every use, and while it isn't a complicated process it does take a bit of planning.
If you're looking to buy a new sex toy, you should try to find a toy with seam-free molds, and you'll already be making the cleaning process a whole lot easier for yourself.
For Bathmate (opens in new tab)'s intimate product developer Kerri Middleton, toys that have seam-free molds are the gold standard for easy-to-clean sex toys.
"They're made from one mold where you pour the silicone in, rather than two that are then sealed with seam," she says. "From a hygiene point of view, when a toy is seamless and smooth, there are no hard-to-reach nooks and crannies for bacteria to sit in and breed."
How to clean sex toys by material
How to clean sex toys will depend on the material it's made of. So, always check the box or brand's website to find out exactly what it's made of before you start cleaning.
Silicone, glass, metal
Sex toy production isn't regulated by an official body, which can make it trickier to spot ones that might be difficult to sanitize properly or are not as long-lasting. If your dildo, butt plug, or other penetrative sex toy is made from silicone, glass, metal, or wood with a special veneer, washing them thoroughly with warm water and unscented soap is one of the cheapest ways to keep them germ-free.
Once washed, make sure to rinse thoroughly and allow them to air-dry. When clean, storing your toy correctly is as important as the cleaning process according to Kerri.
"All your sex toys should be stored separately so they don't have any chance of crossing over and picking up bacteria from each other," Kerri says.
"They should also all be stored in their own individual pouches so they can't pick up bacteria from surfaces like your bedside drawer, and stay dust-free. Even just regular clean socks could work for this."
PVC, TPE and jelly rubber
Lovehoney's (opens in new tab) sex expert, Annabelle Knight says people should be wary of sex toys made from PVC (polyvinyl chloride) and TPE (thermoplastic elastomer) plastics, as well as jelly rubber. These materials can't be adequately sanitized because they absorb bodily fluids and bacteria.
"I'd just steer clear from sex toys made from these materials altogether," says Annabelle. "The risk of you re-infecting yourself from them after treatment from an STI or other vaginal infection isn't worth it. It's a big no for me. These toys are often cheaper than alternatives, but you're potentially putting something toxic in your body."
If stored together, toys made from these materials can also stick and start to fuse together. Alternatively, because medical grade silicone is non-porous, bacteria is less likely to cling to it.
Leather
Sex gear made from vegan or real leather, which you're likely to see more with bondage play, requires a different approach.
"It's very unlikely you'd have an insertable leather toy. But, genuine leather sex gear just requires a bit more care and a gentler approach," Kerri says
If not cared for correctly, leather is likely to lose its suppleness and degrade more quickly or crack if it's left wet to dry naturally. Kerri points out these cracks are an opportunity for bacteria to settle and multiply which is why investing in a specialist leather sex toy cleaner is the best option.
If you don't have a specific sex toy cleaner, use a damp cloth to clean down your leather gear, or a mild soapy solution for toys that are not being put inside your body.
"Make sure to wipe your sex toys with a separate cloth to remove residue and dry your leather with a clean cloth or paper towels," Kerri says.
Wood
It can be confusing to know how to clean sex toys made of wood. Wooden toys that haven't been varnished with a special veneer should be cleaned the same way as leather toys, but with a specialist wood cleaner or a sex toy cleaning solution instead.
"If a wooden toy has been specially varnished with a field finish, or has been sanded in a special backward technique, like braided wood, it can be washed the same way as silicone, glass, or metal toys," explains Kerri.
Toys with motors
Clitoral stimulators, rabbit vibrators, and other sex toys with motors and electrical components that give them their buzzing, sucking, and in and out motions can't be cleaned in the exact same way as static toys. But, you should be aware that fully submerging these types of toys in soapy water will inevitably damage their motorized parts.
For how to clean sex toys with motors, a specific sex toy cleaning solution is so important. Though Lelo's (opens in new tab) sex and relationships expert, Kate Moyle, says motorized toys can also be wiped down with unscented soap and water, and then dried. Just take care to avoid getting any water near the charging points on your toys.
Some motorized silicone toys have special 'O-rings' encasing their charging points. Kerri describes them as "a special type of self-healing silicone with an air function that seals itself every time you pull a charger out, making it waterproof". These magical silicone toys with motors can actually be fully submerged in soapy water for cleaning, but are an exception to the rule.
Will I get irritation from sex toy cleaning products?
While soapy water and sex toy cleaning solutions are both designed to be fully rinsed or wiped off after use, if you've suffered from vaginal infections in the past you might worry about any residue upsetting your vaginal pH balance. This can be especially concerning if you're prone to thrush or BV, which are often triggered when vaginal pH is out of whack.
When considering how to clean sex toys, some sex toy cleaners are pH balanced to be vagina-friendly for this reason. For example, the Lelo sex toy cleaning spray is alcohol-free and pH balanced, proven to kill 99% of bacteria, and designed to be friendly to vaginal flora while zapping harmful germs at the same time.
Sex toy cleaning sprays are touted as the best and easiest way to clean almost all types of sex toys. They can live on your bedside table making giving your toys a quick wipe down before and after each use super easy. They're also easy to travel with, make storing your sex toys easier, and typically kill almost all types of bacteria and fungus. Lovehoney's sex toy wipes are perfect if you're traveling light on the liquid front, with a fast-acting antibacterial formula and soothing aloe vera extract. What's more, they are biodegradable for environmentally friendly points.
Kate suggests avoiding oil or silicone-based cleaning products for most types of toys, sticking with paraben-free, water-based cleansers is best if you're worried about irritation. It's also important to note silicone-based cleaners can break down silicone toys, degrading them and creating opportunities for bacteria to settle in.
Bathmate's anal toy cleaning solution is also a good alcohol-free and paraben-free with a gentle but powerful formula that will still eliminate bacteria while keeping your genital skin happy.
Can you put your sex toys through the dishwasher?
When you think about how your sexual fantasies play out, they probably don't end with you popping your sex toy in the dishwasher. But, Annabelle swears by boiling glass sex toys. This can be done by submerging them in boiling water for ten minutes and then letting them air dry or dry with clean paper towels once they've completely cooled down. According to the sex and relationships expert, it's the best chemical-free way to thoroughly sterilize glass sex toys and it doesn't require an additional product.
Any static (without motors) sex toy made from metal, glass or silicone is typically dishwasher safe, though you should always check the box label or instructions.
"Some people don't like the idea of running their sex toys through the dishwasher with their dishes," Annabelle says. "It's completely safe and sanitary to do if the brand says the toy is dishwasher safe, but if this bothers you, put your toys on a cycle by themselves."
Rachel Mantock is a health, lifestyle and culture journalist with a focus on women's reproductive health, safe abortion rights, and barriers to healthcare access faced by minority groups. She uses data to inform health features and identify gaps in research and treatment for groups with worse health outcomes, particularly Black women. Rachel aims to break down sexuality taboos and stigma with information and new narratives.