Bondage for beginners—and how to introduce the idea to your partner
Curious about bondage, but not sure if it's right for you? Here's everything you need to know about bondage for beginners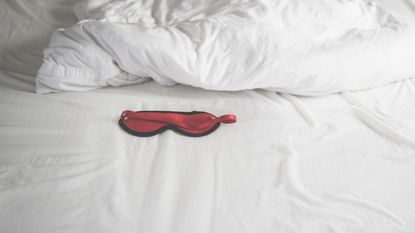 (Image credit: Getty Images / Westend61)
Bondage: one of the biggest buzzwords in the world of sex. But, is bondage for beginners really all whips, chains and latex wearing dominatrix's in dungeons?
For those who haven't delved into the world of bondage before, the thought of it may seem daunting, considering pornographic depictions tend to involve some pretty extreme acts. However, since the Fifty Shades of Grey phenomenon, public interest in bondage has been on the rise and it seems more couples than ever are engaging in everything from restraints and blindfolds to full-time dominant/submissive relationships.
Just like introducing your best vibrator into the bedroom, approaching the conversation of even trying bondage for beginners with your partner can seem overwhelming. But, having an open and honest conversation about your sexual fantasies and how you both can bring them to life is easier than you might think. Plus, it could reignite the spark in a sexless marriage or help you bond with your other half.
To help you explore this type of sex play, we spoke to the experts. They hared everything you need to know about bondage for beginners, with top tips for introducing the idea to your sex partner, whether they're a fling you've just met on a sex app or a long-term love.
What is bondage?
Sex-positive relationships therapist, Sarah Berry, describes bondage as "consensually tying, binding or restraining someone. It's anything that can restrict movement, whether it's a dressing gown belt tying limbs to bedposts, handcuffs, a corset or a vacbed".
Jess Wilde, bondage expert at Lovehoney (opens in new tab), adds that bondage falls under the umbrella term Power Play where one partner takes on a dominant role while the other becomes the submissive.
Jess stresses that bondage and rough sex are totally different, and in fact, bondage can be very romantic. "Lots of bondage play is not rough at all and is often extremely slow and sensual. The only similarities between bondage and rough sex are that both acts should be explicitly discussed with clear boundaries agreed upon before play, and you should always settle upon a safe word before either type of sex," Jess says.
Why is bondage so popular?
While bondage has been around for centuries, thanks to mainstream film, TV and books, bondage is more popular than ever. Research (opens in new tab) by Durex found that 53% of us see the benefits of experimenting through role-play, sensual massage or bondage.
There are lots of reasons people enjoy bondage, from the general feel-good factor of restriction to the element of power exchange.
"It might be because the restriction feels good in itself, for aesthetic reasons, to carry out a certain action or for power exchange," says Sarah.
Some people who engage in BDSM for beginners might be more involved in the kink community and enjoy going to sex clubs or being flogged in a Christian Grey-style Red Room. But, for many, it's seen as a fun way to experiment with their sexual partners and strengthen their bond.
What's more, for many, bondage is about much more than sex. Sex play can be a way to process trauma, reconnect with your body and sensuality, and find a sense of order and purpose in a world that can be chaotic and confusing.
What are the rules of bondage?
There is really only one universal rule—bondage should always be safe and consensual.
While bondage is a great way to explore your boundaries and discover new realms of pleasure, it's essential this is done safely and that you and your partner communicate about what you do and don't feel comfortable trying.
"A safe word is something the submissive partner (the one who's restrained) can use at any time to stop play immediately and tells the Dominant partner (the one doing the tying) that they want to be released," Jess explains. "Your safe word can be anything you like as long as you've both agreed on it before play. The best ones are short, easy to say, and easy to remember. It should stand out like a sore thumb in the middle of sex. A personal favorite is "GANDALF!""
When it comes to boundaries, you and your partner should discuss anything you don't want to happen so they know exactly what is off the table during play.
The restrained person should never be left unattended, even if the Dominant is just leaving the room for a few moments. And restraints should never be too tight that they end up cutting off circulation.
Sarah also advises against drinking alcohol when experimenting with bondage, and as a safety precaution, have medical scissors on hand for a quick way to release restraints if necessary.
It's also incredibly important to follow up with aftercare when play ends.
"During bondage play, one partner dominates the other, which is super arousing and exciting in that moment but can leave one or both of you feeling uncertain after it's all over," Jess explains.
This is known as the sub-drop and can happen when the submissive partner feels the endorphins wear off when playtime has finished and they start to feel lonely or sad.
"Bondage aftercare is the process of reassuring your partner that you care for them. Lots of hugs, loving touches and an open chat about the experience you've just shared are great ways to do this," Jess advises.
How do I talk to my partner about bondage?
Keen to give bondage and try but not sure how to approach the idea with your partner? Sometimes it's easier to show rather than tell. If your partner is comfortable with it, you could show them videos of the different bondage play you'd like to try out.
Porn for women is a great way to introduce your partner to different types of play for female pleasure, there are also hundreds of YouTube videos explaining the different aspects of bondage that will help open up the conversation with your partner. You can then discuss what you're both interested in trying and encourage them to share their fantasies with you too.
Once you've talked about what you're both interested in trying, discussed your boundaries and agreed on a safe word, the fun can really begin.
What do I need for bondage for beginners?
You can start bondage play using household items like a tie or a dressing gown waist tie as restraints. But if you want to invest in play you won't be short of sex toys to buy (see our guide to the best sex toys for inspiration).
The market is full of toys for bondage play, from rabbit vibrators to handcuffs and blindfolds. Brands like Adam & Eve and Love Honey sell bondage sets for beginners which include the basics such as, blindfolds, handcuffs, ballgags and whips.
While you don't need a kit to get started, it does remove the pressure of deciding what type of restraint to try out first. Handcuffs and blindfolds are a great place to start as they're easily removed and not too restrictive. Ideal for first-times who may be a little apprehensive about getting stuck in the restraints.
To begin with, Jess advises avoiding rope or bondage tape which can damage the skin if not used correctly. "Instead, opt for soft, Velcro-fastened wrist cuffs that offer comfy, reliable restraint, and can be removed in a jiffy if required," she says.
"Start small, and focus restraint on one area of the body to begin with (eg wrists OR ankles)," Jess adds. "And, if you both like that, then you can build to more advanced restraint where arms and legs are cuffed at the same time."
Once you get to grips with the basics and discover what you like, you can explore bondage sex toys further. For instance, if you or your partner are particularly keen on being handcuffed, you can look into other types of restraints such as rope, collars or hog ties.
Feeling comfortable and confident is a sure-fire way to boost your enjoyment, so treat yourself to some new lingerie to get you in the mood, too. It doesn't have to be leather or latex—choose something that makes you feel sexy, comfortable and ready to experiment.
How do I choose submissive and dominant?
Once you and your partner have decided to explore bondage together, your next thought might be which one of you should play as submissive and which as dominant. But, the brilliant thing about bondage, is you don't have to be one of the other. Play is for everyone who consents and there are so many ways you can explore bondage, domination and submission.
Don't let the stereotypical, heteronormative depictions of BDSM put you off from what could open up a whole new world of excitement and self-discovery. It can be fun to switch things up with your partner and play different roles every time.
The world of BDSM is for all sexualities and gender identities, and bondage can even provide a unique sensory experience for those who don't want to engage in penetrative sex itself.
"How you play is a matter of personal preference. To figure this out, talk with your partner before play and remember: the sub is the one who's actually in control at all times. Although the dom may guide play, the sub calls the shots, and decides when play is over," Jess says.
What's next for your sex life after bondage?
If you've enjoyed bondage and want to take things to the next level, Jess suggests adding sensory play into the mix with spanking.
"Spanking can be enjoyed with or without bondage (in the same way bondage can be enjoyed without spanking). Because spanking is still a form of Power Play, it has many of the same rules as bondage in order to keep play fun and safe," Jess says.
"For couples who've agreed they'd like to try spanking, it's important that you build intensity slowly," Jess adds. "Start with a light tap, and build how hard you hit to find the right sensation for your sub. Some people like their spanking with some pain, but for many, spanking isn't painful at all. Lots of people enjoy spanking for the psychological thrill of being dominated or dominating someone."
Start with your hand first before bringing any toys into the bedroom. "Using your hand enables you to control how hard you spank as you can feel the impact too. If you're both happy with this and decide you'd like to try using a spanking tool, a beginner-friendly spanking paddle is the best place to start," Jess says.
When you're new to bondage the most important thing to remember is that it should be fun! Bondage is play that should be enjoyed by both you and your partner. It should bring a new level of excitement to the bedroom and be a positive sexual experience for you both.
So get those cuffs out, and explore everything bondage and the wider BDSM world has to offer.
Rachel Badham is a writer specializing in LGBTQ+ topics and is passionate about championing LGBTQ+ perspectives. As well as writing for woman&home, Rachel writes for Scene Magazine, Diva, Unicorn Magazine, and various other titles.
Prior to becoming a journalist, Rachel honed her writing skills at the University of Sussex, where she studied English and Media. In addition to writing freelance features and copywriting, Rachel has a regular column in GScene magazine, based in Brighton and Hove.