The best rabbit vibrators for first-timers, couples, and those on a budget
Our round-up of the best rabbit vibrators has something to suit everyone
Included in this guide:
1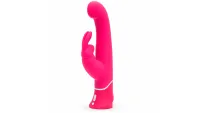 Happy
Rabbit G-Spot Rechargeable Rabbit Vibrator
2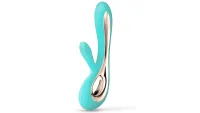 Lelo
Soraya 2
3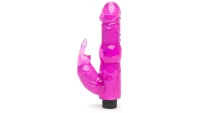 Lovehoney
Basics Beginner's Rabbit Vibrator
4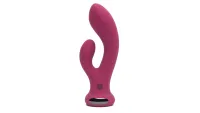 Lovehoney
Mantric Rechargeable Rabbit Vibrator
5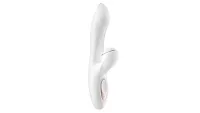 Satisfyer
Pro + G-Spot
6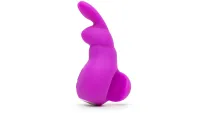 Happy
Rabbit Mini Ears Rechargeable Clitoral Vibrator
7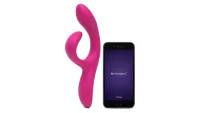 We-Vibe
Nova 2 App Controlled Rechargeable Rabbit Vibrator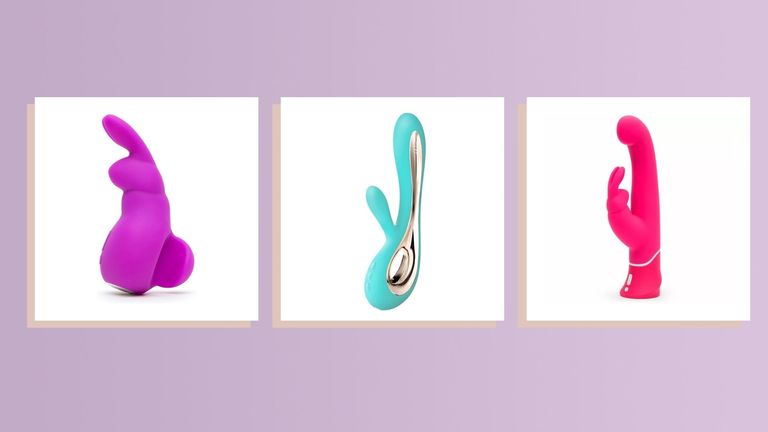 (Image credit: Future)
Whether you're having solo fun or looking for a toy to use with a partner, our round-up of the best rabbit vibrators has something for everyone—no matter your budget or experience, you can get your hands on one of these bestselling toys.
Among the world's best vibrators, rabbit vibrators are dual-actioned sex toys that will take your pleasure to the next level. If you've only heard about them from the hit TV show Sex And The City, you're not alone. "Rabbit vibrators have been popular since the 1990s and were developed in response to the growing female demand for more pleasurable sex toys," says Annabelle Knight, sex and relationship expert for sexual wellness brand Lovehoney. "Their popularity was boosted after an episode of HBO's Sex And The City ("The Turtle and the Hare") featured a rabbit vibrator, making it a bestseller."
The reason they're still so popular with women today? Rabbit vibrators target both the G-spot and clitoris at the same time for explosive, blended orgasms. There are so many on the market, so we've done all the hard work to bring you a round-up of the best. You can thank us later.
How we tested the best rabbit vibrators
When it comes to finding the right rabbit vibrator for you, as a first-timer there are a few things to consider. "Rabbit vibrators are an entire category, describing anything designed to stimulate both internally and externally at the same time," explains Knight.
"The best ones are versatile and adjustable to fit a range of different body types and made of high-quality, non-porous materials," Knight adds. "And, like a lot of the other vibrators, most of them are now waterproof, rechargeable, and offer multiple speeds and vibration patterns to help you find the sensations that work best for you. Rabbits are great for women who love penetration during sex and also look for G-spot stimulation."
While testing the vibrators, we considered:
Design—finding a well-designed toy that's easy to hold, easy to use, and lightweight is key. Hard-to-reach buttons and handles with no grip are a total mood-killer.
Size—some people prefer smaller toys while others opt for the largest option. This is very much a personal choice, so we tested lots of different sized options to bring you a variety.
Volume—all near-silent vibrators have quiet motors that create a muffled, rather than a buzzy, sound. Look out for decibels and note: anything 40db or below is very quiet. For context, a whisper is around 20db-30db.
Packaging—discreet packaging may be incredibly important to shoppers who don't want others in their household or their neighbors getting a peak of their delivery.
Battery life—there's nothing worse than a sex toy running out just before you hit your climax. Rechargeable vibrators with long-lasting running time are the way to go.
Price—rabbit vibrators are anywhere between $30/£30-$100/£100. While you can easily find affordable options, pricier options are typically more advanced and tech-savvy. If you're a beginner, start with a basic affordable option before investing.
Extra accessories—cleaning products and storage pouches are an added bonus when sex toy shopping. These convenient perks will eliminate the need for additional (and pricier) purchases.
The best rabbit vibrators as chosen by our experts
1. Happy Rabbit G-Spot Rechargeable Rabbit Vibrator
Best rabbit vibrator overall
Specifications
RRP: $99.99/£59.99
Length: 240mm
Waterproof: Yes
Battery: Rechargeable via USB
Reasons to buy
+
Very powerful
+
Curved design for targeted stimulation
+
Quiet
+
Waterproof
Reasons to avoid
-
Slightly pricier than some other models
Our top rabbit vibrator pick is the Happy Rabbit G-Spot Vibrator. While it's a little bit of an investment buy, its versatility means you'll use it again and again. Not only do the shaft and bunny ears move independently, but the specially shaped G-spot curve ensures it hits the right spot every time. If that's not enough, it's also fully waterproof allowing for lots of fun sex in the shower.
With two very strong motors that power a choice of three ear speeds and three shaft speeds, plus nine vibration patterns to choose from, the choice of pleasure is endless with this pick. Yet, despite its impressive size (and it is BIG!) this rabbit vibrator is relatively quiet and won't wake the neighbors.
Once fully charged the battery lasts for two hours. What's more, the handy travel lock makes it ideal to take away on a mini-break. While it's not the cheapest buy, this rabbit vibrator will last a long time, however regularly you use it.
See our full Happy Rabbit G-Spot Vibrator review
2. Lelo Soraya 2
Best premium rabbit vibrator
Specifications
RRP: $219.99/£199.99
Length: 220mm
Waterproof: Yes
Battery: Rechargeable via USB
Reasons to buy
+
Great shape
+
Ultra soft to touch
+
Quiet
+
Sleek design
There's no denying this is a pricey piece of kit but, with the Soraya 2, the extra money you're spending can be clearly seen in the quality of the product. Firstly, the silicone is super soft, which means it feels amazing on your skin and against all erogenous zones.
Secondly, with most rabbit vibrators, a big complaint from women is that the standard one-fits-all size doesn't always work for them, meaning that while the G-spot shaft is in the right position, things don't quite line up for the bunny ears and vice versa. However, the extra money you are spending here goes a long way to help reduce that problem because the angle of the clitoral stimulator has been changed by 10° to ensure the right spots are hit at the right time.
This toy is also quiet, looks stunning, comes in luxurious packaging, and has an extensive range of 12 different vibrations to choose from. If you make the investment, you won't be disappointed.
3. Lovehoney Basics Beginner's Rabbit Vibrator
Best budget rabbit vibrator for beginners
Specifications
RRP: $24.99/£19.99
Length: 203mm
Waterproof: Yes
Battery: 2 x AA
Reasons to avoid
-
Batteries not included
-
Can be noisy
When it comes to female masturbation, what one woman loves may be the very thing someone else can't stand. While you don't want to spend a fortune on a vibrator you might only use once, you also want something that's decent quality and won't fall apart or break after a couple of uses. Step forward—the Basics Beginner's Rabbit Vibrator. At this price, it's an ideal beginner's buy for any woman who would like to try out a rabbit vibrator.
Bright purple and semi-transparent, and with a phallus-shaped shaft, there is no denying what this is. And, yes, you may be missing out on the ability to select from multiple different types of pulsations, but there are plenty of speeds on offer – all you have to do is twist the black nozzle on the base.
While it's just as powerful as some of the more expensive rabbits available, just watch out, as it does get a little loud on the highest settings.
4. Lovehoney Mantric Rechargeable Rabbit Vibrator
Best rabbit vibrator for travelling
Specifications
RRP: $74.99/£59.99
Length: 177.8mm
Waterproof: Yes
Battery: Charging cable
Reasons to buy
+
100% waterproof
+
USB rechargeable
+
Travel lock
Reasons to avoid
-
Buttons can be tricky to manipulate
If you're looking for a discreet but power-packed rabbit vibrator to take on the road with you, then this is the one. Not only is it USB-rechargeable so that you can conveniently refuel it using the same charging plug as your phone, but it also boasts a travel lock to stop it from powering up at any inopportune times where it might just be nudged by something packed next to it in your overnight bag.
This might also be one of the nicest-looking rabbit vibrators we've come across, with its sleek silhouette and pretty color—and it has a snazzy color-changing panel that helps you remember your favorite setting.
5. Satisfyer Pro + G-Spot
Best rabbit vibrator for sensitivity
Specifications
RRP: $76.29 approx/£53.95
Length: 225mm
Waterproof: Yes
Battery: USB magnetic charging cable
Reasons to buy
+
Won't bruise the clitoris
+
Plenty of vibe combinations
Tried a rabbit vibrator before and found it left you feeling extra sensitive down below? The fierce vibrations can definitely be too much for some women, but the Satisfyer Pro + G-Spot is a great (and addictive!) alternative. While G-spot penetration is still the same as a traditional rabbit (there are 10 vibrations to choose from) this one replaces the typical bunny ears with a pressure-wave head to place over the clitoris.
There are 11 different pressure waves to enjoy and you don't have to worry about anything actually pressing directly onto you. Not only does the sleek white and rose gold design look stylish, but this rabbit vibrator has also been carefully ergonomically shaped so your hand won't cramp up when using it for long periods. Plus, the buttons are easy to reach at all times.
6. Happy Rabbit Mini Ears Rechargeable Clitoral Vibrator
Best mini rabbit vibrator
Specifications
RRP: $49.99/£39.99
Length: 115mm
Waterproof: Yes
Battery: Rechargeable via USB
Reasons to avoid
-
Limited use
-
Not for penetration
Rabbit vibrators can be a little intimidating at times—and not just for you, as wielding one about can be off-putting for your partner if you don't only want to use it solo. That's where the Happy Rabbit Mini Ears Clitoral Vibrator really comes into its own.
Unlike other rabbits, this one is all about the ears—there isn't a giant shaft for G-spot penetration. Yet with nine different vibrating patterns and three speeds to choose from, you still get just as much power and variation as the larger models where you need it most. What makes this mini rabbit even better is that it's easy to pinpoint exactly where you want those buzzing ears to go.
Plus, not only can you use it in the bath or shower, it also has a handy travel lock, so you don't have to worry about unwanted vibrations coming from your bag.
7. We-Vibe Nova 2 App Controlled Rechargeable Rabbit Vibrator
The most innovative rabbit vibrator
Specifications
RRP: $149.99/£129
Length: 215.9mm
Waterproof: Yes
Battery: Rechargeable via USB
Reasons to buy
+
Unique technology that allows for customization
+
Quiet in use
+
Excellent for G-spot and clitoris stimulation
Reasons to avoid
-
Could be too advanced for beginners
For those in long-distance relationships seeking pleasure or looking to mix things up in a sexless marriage, look no further. We-Connect's Nova Rabbit Vibrator can be controlled by the brand's specialized app, which enables users to adjust and customize the power from virtually any location.
Tech aside, this option integrates top-tier design elements for stimulation: an arched, clit-kissing arm that stays in place while you thrust, plus an internal arm and bulbed end for G-spot stimulation. Sleek and ergonomic, it's made of smooth, waterproof silicone, and incorporates easy-to-use buttons for alternating between vibration modes. Ultimately, this nifty gadget excels in delivering pleasure at all angles and in all the best sex positions: second to absolutely none.
How to clean your rabbit vibrator
Knowing how to clean sex toys properly is mandatory. Without proper maintenance, your rabbit vibrator will become a petri dish of bacteria that may cause infection. This is especially important if you've used your toy with another person, or switched between vaginal and anal play. More notably, cleaning will help to preserve your toy's quality and lifespan.
Always wash your device before and after every single use—remove surface debris and fluids, use unscented, antibacterial soap, warm water, and a damp cloth. Fragranced soaps and cleaners may irritate the vaginal area.
Avoid submerging the entire toy in water—this can damage the motor and tarnish the overall quality of your sex toy.
Store your toy in a storage kit or repurposed bag—this will keep your toy squeaky clean for longer. You don't want your vibrator to recollect dust and other grime lingering around your house.
w&h thanks Annabelle Knight, sex and relationship expert for sexual wellness brand Lovehoney for their time and expertise.
Faye M Smith is an award-winning journalist with over 15 years experience in the magazine industry. Her continued work in the area of natural health won her the coveted title of theHealth Food Manufacturers' Association (HFMA) Journalist of the Year Award 2021.
Currently Acting Health Editor across several brands including woman&home, Woman and Woman's Own, Faye specialises in writing about mental health, the menopause, and sex and relationships. In fact, having previously been the go-to sex columnist for Now magazine, there isn't much she won't discuss when it comes to women's health. This makes her the best person to review must-buy sex toys, describe how to have a mind-blowing orgasm or explain how to navigate sex in the shower without it ending in a medical emergency.
While not anti-gym, Faye's fitness routine is more focussed on finding inner balance rather than burning excess calories. An advocate of mindfulness, she loves power breathing, yoga and plenty of walking in nearby woodlands rather than a sweaty HIIT class. Follow her @fayetuned