The best rabbit vibrators for first-timers, couples, and those on a budget
These are the best rabbit vibrators, handpicked by experts and tested by us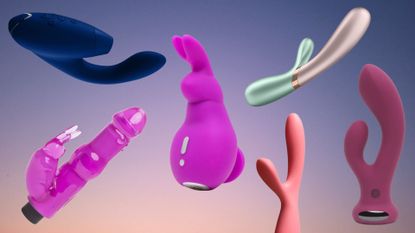 (Image credit: Future)
Our round-up of the best rabbit vibrators has something for everyone, whether you're trying to spice up your solo fun or you're looking for a great new toy to use with a partner. No matter your budget or experience with these classic vibes, you can enjoy all the benefits of these bestselling sex toys from the likes of Lovehoney and LELO.
Rabbit vibrators offer the best of both worlds: G-spot stimulation with deep penetration and targeted clitoral vibration for explosive, blended orgasms. They've been around since the early 80s but it was shows like Sex And The City in the 90s and early 2000s that really bought the rabbit into the mainstream.
Now they're among the world's best vibrators, and are top of the list when it comes to toys to buy with all the top brands counting them among their bestsellers. Here's what you need to know when looking for your perfect pick and the best rabbit vibrators to shop now.
How we tested the best rabbit vibrators
When it comes to testing rabbit vibrators, there are a few key points we considered:
Design: Finding a well-designed toy that's easy to hold, easy to use, and lightweight is key. Hard-to-reach buttons and handles with no grip are a total mood-killer.
Size: Some people prefer smaller toys while others opt for the largest option. This is very much a personal choice, so we tested lots of different sized options to bring you a variety.
Volume: All near-silent vibrators have quiet motors that create a muffled, rather than a buzzy, sound. We looked out for decibels when it came to testing, noting that anything 40db or below was very quiet. For context, a whisper is around 20db-30db.
Battery life: We noted battery life for each toy and found that rechargeable vibrators with long-lasting running time were the way to go.
Price: Rabbit vibrators are anywhere between $30 / £30 to $100+ / £100+. While you can easily find affordable options, pricier toys were typically more advanced and tech-savvy. If you're a beginner though, start with a basic affordable option before investing.
Extra accessories: Cleaning products and storage pouches are an added bonus when sex toy shopping. These convenient perks eliminate the need for additional (and pricier) purchases.
Packaging: Discreet packaging may be incredibly important to shoppers who don't want others in their household or their neighbors getting a peak of their delivery.
The best rabbit vibrators as chosen by our experts
(opens in new tab)
1. Happy Rabbit G-Spot Rechargeable Rabbit Vibrator
Best rabbit vibrator overall
Specifications
RRP: $99.99 / £59.99
Length: 240mm
Waterproof: Yes
Battery: Rechargeable via USB
Reasons to buy
+
Very powerful
+
Curved design for targeted stimulation
+
Quiet
+
Waterproof
Reasons to avoid
-
Slightly pricier than some other models
Our top rabbit vibrator pick is the Happy Rabbit G-Spot Vibrator. While it's a little bit of an investment buy, its versatility means you'll use it again and again. Not only do the shaft and bunny ears move independently, but our tester also found the specially shaped G-spot curve ensures it hits the right spot every time. If that's not enough, it's also fully waterproof allowing for lots of fun sex in the shower.
With two very strong motors that power a choice of three ear speeds and three shaft speeds, plus nine vibration patterns to choose from, the choice of pleasure is endless with this pick. Yet, despite its impressive size (and it is BIG!) this rabbit vibrator is relatively quiet and won't wake the neighbors.
Once fully charged, our tester found the battery lasts for about two hours. What's more, the handy travel lock makes it ideal to take away on a mini-break. While it's not the cheapest buy, this rabbit vibrator will last a long time and it's well worth the investment, however regularly you use it.
For more details, see our full Happy Rabbit G-Spot Vibrator review
(opens in new tab)
2. Lelo Soraya 2
Best premium rabbit vibrator
Specifications
RRP: $219.99 / £199.99
Length: 220mm
Waterproof: Yes
Battery: Rechargeable via USB
Reasons to buy
+
Great shape
+
Ultra soft to touch
+
Quiet when in use
+
Sleek design
There's no denying this is a pricey piece of kit but with the Soraya 2, the extra money you're spending can be clearly seen in the quality of the product. Firstly, the silicone is super soft, which means it feels amazing on your skin and as our tester discovered, you can use it on all the erogenous zones without difficulty.
Secondly, a big complaint with most rabbit vibrators is that the standard one-fits-all size doesn't always work for them, meaning that while the G-spot shaft is in the right position, things don't quite line up for the bunny ears and vice versa. However, the extra money you are spending here goes a long way to help reduce that problem, our tester discovered, because the angle of the clitoral stimulator has been changed by 10° to ensure the right spots are hit at the right time.
This toy is also quiet, looks stunning, comes in luxurious packaging, and has an extensive range of 12 different vibrations to choose from. If you make the investment, you won't be disappointed.
(opens in new tab)
3. Lovehoney Basics Beginner's Rabbit Vibrator
Best budget rabbit vibrator for beginners
Specifications
RRP: $24.99 / £19.99
Length: 203mm
Waterproof: Yes
Battery: 2 x AA
Reasons to buy
+
Great value
+
Waterproof
+
Classic rabbit design
+
Just as powerful as more premium options
Reasons to avoid
-
Batteries not included
-
Can be noisy
-
Not rechargeable
When it comes to female masturbation, what one woman loves may be the very thing someone else can't stand. While you don't want to spend a fortune on a vibrator you might only use once, you also want something that's decent quality and won't fall apart or break after a couple of uses. Step forward - the Basics Beginner's Rabbit Vibrator. At this price, it's an ideal beginner's buy for any woman who would like to try out a rabbit vibrator.
Bright purple and semi-transparent, and with a phallus-shaped shaft, there is no denying what this is. And, yes, you may be missing out on the ability to select from multiple different types of pulsations, but there are plenty of speeds on offer. Our tester for this toy was a complete newcomer to rabbit vibrators but she found it easy to use. All you have to do is twist the black nozzle on the base to get this vibrator going.
While it's just as powerful as some of the more expensive rabbits available, just watch out, our tester noted it gets a little loud on the highest settings.
4. Lovehoney Mantric Rechargeable Rabbit Vibrator
Best rabbit vibrator for travelling
Specifications
RRP: $74.99 / £59.99
Length: 177.8mm
Waterproof: Yes
Battery: Charging cable
Reasons to buy
+
100% waterproof
+
USB rechargeable
+
Travel lock
Reasons to avoid
-
Buttons can be tricky to manipulate
If you're looking for a discreet but power-packed rabbit vibrator to take on the road with you, then our tester rated this as number one. Not only is it USB-rechargeable so that you can conveniently refuel it using the same charging plug as your phone, but it boasts a travel lock to stop it from going off at any inopportune times where it might be nudged by something packed next to it in your overnight bag.
This might also be one of the nicest-looking rabbit vibrators we've come across, with its sleek silhouette and pretty color. It also has a snazzy color-changing panel that helps you remember your favorite setting.
(opens in new tab)
5. Satisfyer Pro + G-Spot
Best rabbit vibrator for sensitivity
Specifications
RRP: $76.29 approx / £53.95
Length: 225mm
Waterproof: Yes
Battery: USB magnetic charging cable
Reasons to buy
+
More rounded clitoral stimulation makes it great for those with a sensitive clitoris
+
Plenty of vibe combinations
Tried a rabbit vibrator before and found it left you feeling extra sensitive down below? The fierce vibrations can definitely be too much for some users, but the Satisfyer Pro + G-Spot is a great (and addictive!) alternative, our tester found. While G-spot penetration is still the same as a traditional rabbit with 10 vibrations to choose from, this one replaces the typical bunny ears with a pressure-wave head to place over the clitoris.
There are 11 different pressure waves to enjoy and you don't have to worry about anything actually pressing directly onto you. Our tester noted their favorite part of the toy was the sleek white and rose gold design look stylish, but also how this rabbit vibrator has been carefully ergonomically shaped so your hand won't cramp up when using it for long periods. Plus, the buttons are easy to reach at all times.
(opens in new tab)
6. Happy Rabbit Mini Ears Rechargeable Clitoral Vibrator
Best mini rabbit vibrator
Specifications
RRP: $49.99 / £39.99
Length: 115mm
Waterproof: Yes
Battery: Rechargeable via USB
Reasons to buy
+
Smaller than other rabbit vibrators
+
Discreet
+
Easy to hold
Reasons to avoid
-
Limited use
-
Not for penetration
Rabbit vibrators can be a little intimidating at times - and not just for you, as wielding one about can be off-putting for your partner if you don't only want to use it solo. That's where the Happy Rabbit Mini Ears Clitoral Vibrator really comes into its own.
Unlike other rabbits, this one is all about the ears, so it's great for those who love a bit of focused clitoral stimulation, our tester found. There isn't a giant shaft for G-spot penetration, yet with nine different vibrating patterns and three speeds to choose from, you still get just as much power and variation as the larger models where you need it most. What makes this mini rabbit even better is that it's easy to pinpoint exactly where you want those buzzing ears to go.
For those who love using a vibrator in the bath or shower, our tester also recommended it as the Happy Rabbit is waterproof. It also has a travel lock, so you don't have to worry about unwanted vibrations coming from your bag if you want to take it away from home.
7. We-Vibe Nova 2 App Controlled Rechargeable Rabbit Vibrator
The most innovative rabbit vibrator
Specifications
RRP: $149.99 / £129
Length: 215.9mm
Waterproof: Yes
Battery: Rechargeable via USB
Reasons to buy
+
Unique technology that allows for customization
+
Quiet in use
+
Excellent for G-spot and clitoris stimulation
Reasons to avoid
-
Could be too advanced for beginners
When it comes to our top pick of the best app-controlled vibrators, this one comes up trumps. For those in long-distance relationships seeking pleasure or looking to mix things up, look no further. We-Connect's Nova Rabbit Vibrator can be controlled by the brand's specialized app, which enables users to adjust and customize the power from virtually any location.
Tech aside, our tester found that this option integrates top-tier design elements for all-over stimulation: an arched, clit-kissing arm that stays in place while you thrust, plus an internal arm and bulbed end for G-spot stimulation. Sleek and ergonomic, it's made of smooth, waterproof silicone, and incorporates easy-to-use buttons for alternating between vibration modes. Ultimately, this nifty gadget excels in delivering pleasure at all angles and having tried the toy in plenty of the best sex positions, our tester said that this toy was second to none.
8. Smile Makers The Artist
The best personalised rabbit vibrators
Specifications
RRP: $/£119.95
Length: 115mm
Waterproof: Yes
Battery: Rechargeable via USB
Reasons to buy
+
Totally customizable
+
Ergonomic design
+
Easy-to-use raised silicone buttons
Reasons to avoid
-
Range of settings might be overwhelming to some
Smile Makers' first dual vibrator, The Artist, really prioritises clitoral stimulation with two motors of equal power offering an even broader sensation. The ergonomic design made it easy for our tester to adjust the position of the two heads to find the perfect fit, and they appreciated the raised buttons on the smooth silicone, making it easier to cycle through the modes. Although, the noted the insertable length was shorter than others in this round-up and therefore might not be suitable for some.
With nine pre-set pulsating modes, The Artist offers a lot of room for creativity and personalisation (hence the name). You can very easily control both heads of the vibe independently and adjust intensity with the squeeze sensor technology. You'll never get bored of using this vibe, and our tester loved how they could have a totally different experience every time they used this toy. Although they did think the wide range of settings and customisation options of the Artist could be overwhelming for some, and would be best suited to experienced rabbit vibrator users who want to experiment a little more.
9. Womanizer Duo
Best rabbit vibrator with clitoral suction
Specifications
RRP: $219/£179
Length: 203mm
Waterproof: Yes
Battery: Rechargeable via USB
Reasons to buy
+
Smart Silence technology
+
Pleasure Air suction design for intense clitoral stimulation
Reasons to avoid
-
Not a traditional rabbit
Womanizer's take on the classic rabbit vibrator is not one to sleep on. And, thanks to its innovative design, you'll no longer have to weigh up rabbit vibrators vs clitoral stimulators because you can have the best of both worlds with this pick. Using its signature Pleasure Air Technology, it stimulates the clitoris with waves of air pressure, all while massaging the G-Spot via the ergonomic length. If there's one rabbit to try from our list, this is it.
Our tester rated the 12 intensities and 10 vibration modes, which offered a mix of gentle and intense stimulation with something to suit everyone and every desire. They also appreciated the Smart Silence technology - something you'll find in Womanizer vibes that is really worth shouting about. It not only makes the toy quieter than most vibrators, but it also means the toy only starts to vibrate when it makes contact with the skin.
The Duo comes with a rechargeable USB magnetic cable, and an extra stimulator head so you can find the best size to suit your body. You'll want to lap up every minute of using this toy, so we suggested putting aside lots of me time for your first go (and adding the best lube into the mix).
The only downside for some is that it's not a traditional rabbit. So, if you prefer clitoral vibrations over suction, this isn't the toy for you.
10. LELO Ina Wave 2
Best luxury rabbit vibrator
Specifications
RRP: $ / £179
Length: 110mm
Waterproof: Yes
Battery: Rechargeable via USB
Reasons to buy
+
Premium-feel
+
100% waterproof
+
12 intensity levels
+
Updated model
Reasons to avoid
-
Shorter insertable length than others on our list
-
Expensive
LELO is an award-winning luxury sexual wellness brand for a reason - its sex toys never disappoint. You'll find it in our other sex toy edits, including our round-up of the best bullet vibrators. LELO is always innovating, improving its offering with new, updated models for even more pleasurable experiences.
The latest Ina Wave model from LELO offers 30% more power for all-encompassing vibrations and our tester really felt it. Impressed by the wide range of settings (12 in total), the LELO has everything from a soft, deep rumble to a quick pulsing pattern for intense stimulation, while the flexible shaft mimics a stroking motion to stimulate the G-spot. Like with most rabbits, it takes a little bit of manoeuvring to get it hitting all the right places, but you won't be disappointed when it does.
Another waterproof design, it can be used in the bath or shower, and comes with a satin storage pouch and rechargeable USB cable so you can take it with you on-the-go. This premium toy is set to last you years to come.
11. Hot Octopuss Kurve
The best G-spot vibrator
Specifications
RRP: $129.95 / £99.95
Length: 194mm
Waterproof: Yes
Battery: Rechargeable via USB
Reasons to buy
+
Huge range of modes
+
Two hours running time
+
Targeting G-spot stimulation
Reasons to avoid
-
Not a traditional rabbit
Hot Octopuss' Kurve isn't a traditional rabbit, but its Treble and Bass technology makes it worth mentioning here. With a large, soft insertable length and dual motor, it balances high-frequency waves and deep rumbly vibrations to create an all-encompassing sensation that stimulates the G-spot for a more targeted orgasm.
Our tester was seriously impressed by the range of settings on offer - with 25 speed modes and 5 vibration patterns. This is an incredibly powerful vibrator that applies pressure to all the right places, with so many speed and vibration combinations that you could never get bored. While it doesn't offer direct clitoral stimulation, thanks to its large insertable length and ergonomic design it easily hits the right spot and you won't have to worry about trying to find the position with a clitoral vibrator limiting movement.
Under 40db it's a quiet toy that charges quickly and runs for up to two hours at a time. If you really rate G-spot stimulation, this is the toy for you.
12. Satisfyer Hot Lover Connect
The best rabbit vibrator for a totally new experience
Specifications
RRP: $ / £58.95
Length: 119.5mm
Waterproof: Yes
Battery: Rechargeable via USB
Reasons to buy
+
Connects to free app that offers customisable programs
+
Heated mode for a body-like experience
+
Can be used in water for more fun
Reasons to avoid
-
Not worth investing if you don't want to use the heat function
Satisfyer Hot Lover Connect rabbit really is something. Totally different than any of the other toys on our list, the Hot Lover Connect has a heated shaft that can be warmed up to 39 degrees to mimic a realistic body-like experience. A new sex toy experience for our tester who was fully converted to the Hot Lover Connect in moments.
Satifyer's take on the rabbit has 12 pre-set vibration modes, but this toy is totally customizable via the free Connect App that allows you to create new pulsing programmes and even sync your orgasms with your favourite songs via Spotify for an extra playful touch. Although the toy can be used without the heating function and without the app, too.
Made from body-safe silicone it feels soft and gentle on skin, and it's easy to clean (see our guide to how to clean a vibrator if you need a recap). It has a pleasant premium feel for a toy under £100/$100, however, unless you're intrigued by the heating function and plan to use it often, you might want to stick with a non-heated rabbit at a more affordable price tag.
What are the benefits of a rabbit vibrator?
If you want a blended orgasm (that comes from stimulating both the G-spot and clitoris), a rabbit vibrator is a must-have in your sex toy collection. "Blended orgasms are often more intense and often viscerally felt," explains Megwyn White (opens in new tab), director of education at Satisfyer. This is because rabbit vibrators have two motors that offer a variety of stimulation to both the G-spot and clitoris at the same time for an all-encompassing, tailored-made climax.
Rabbits are especially great for those who love penetration during sex and look for G-spot stimulation," says Annabelle Knight (opens in new tab), sex and relationship expert for sexual wellness brand Lovehoney. For clitoral-focused stimulation only, a bullet vibrator or clitoral stimulator would be a better pick.
"[Rabbits] are also great for releasing tension and even pain via the endorphins released, according to a study by the University of Hawaii (opens in new tab). As we age and hormones fluctuate, vaginal walls can become weaker and thinner. Using a rabbit vibe along with your favorite lubricant can help to support blood flow, lubrication, as well as hormonal balance which can impact vaginal elasticity, another study by Indiana University (opens in new tab) reveals," Megwyn adds.
What you need to know if you're buying a rabbit vibrator for the first time
If you're a first-time rabbit user, there are a few key factors to consider according to Megwyn and Annabelle.
Insertable length: "The best rabbit vibes feel comfortable inside the body. Having some give at the base is not always necessary but can be nice to allow for movement of the pelvis as you explore different angles of pleasure." explains Megwyn. An ergonomic design with an insertable length that fits your body is a must-have.
Shape of clitoral stimulator: "Be sure that clit stimulators are easy to use and also are flexible to the touch. Consider also the surface area that is covered by the clitoral stimulator and where you like stimulation most. For instance whether you prefer direct or indirect stimulation," adds Megwyn.
Material used: "You'll want a toy that's made of high-quality, non-porous materials," Annabelle tells us. If you want to use your toy in the bath, shower or hot tub you should also look for a rabbit that is 100% waterproof.
Variety of settings: "[Look for a vibrator that] offers multiple speeds and vibration patterns to help you find the sensations that work best for you," adds Annabelle.
Any extras: Toys that are rechargeable, feature a travel lock or come with storage pouches are a nice touch and ideal if you plan to take your new toy on your travels.