The best lubes for using with a partner or your favorite sex toy, tried and tested by us
Our tried and tested roundup of the best lubes has water-based and silicone buys for everyone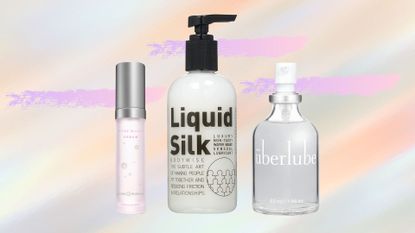 (Image credit: Smile Makers/Lovehoney/Uberlube)
Finding your perfect pick of the best lubes can be a real game changer in the bedroom by making intimacy a little easier, so you can continue to experience real pleasure. Here, we lay out everything you need to know about finding the right one, with tried and tested recommendations to help along the way.
When it comes to lube, there really is a gel for everyone. Those who prefer something lightweight and condom-friendly may want a water-based lube, as easy to apply as it is to wash off. Anyone looking to try anal sex or sex in the shower will likely opt for silicone-based, which offers a little more support for intimate areas. And those who've tried both of the above may be looking for an oil-based lube, just to try something different if nothing else.
But not all lubes were created equal; some types will be at odds with your best vibrator and wear down the silicone, others may irritate your skin, and some just won't be suitable for the type of sex you want to have. We've laid out the details of our testing process so you can make the best decision for your body and find the perfect lube for you, whatever variety and brand you're looking for.
How we tested and selected the best lubes
Why you can trust Woman & Home Our expert reviewers spend hours testing and comparing products and services so you can choose the best for you. Find out more about how we test.
To bring you the round-up of the best lubes, I asked the experts to reveal what makes a safe and effective lubricant. Then, members of woman&home's expert health team put a range of products to the test from the likes of Durex and Smile Makers, alongside some newcomers to the sexual wellness market, to find out which ones are worth buying.
"There are different types of lubricant couples can try and it's common to try different lubricants until you find the one that suits you together. Whether it's your first time or you're looking to expand your collection, there will be one that will suit you and your partner," says Sunny Dhain, superintendent pharmacist at The Family Clinic, and one of the experts we consulted before trialing the lubes ourselves.
"Everyone is individual when it comes to sexual health though, so it's important to consider key safety factors and personal preference," he adds. With this in mind, we got down to the finer details of each lube, testing and reviewing each of them to ensure the ones we recommend will help reduce chafing, dryness, sensitivity and really heighten your sexual experience. And that's regardless of whether you're flying solo, experimenting with sex toys, or having sex with a partner.
All the lubricants featured on this list have been tried and tested in the last six months, following the initial review. We can confirm these are still the very best lubes to buy online and from stores in 2023.
To test the best lubes, we considered:
Effectiveness: We tested whether each lube actually offered the glide it promised. Whether you're using the lubricant with a partner or on your own with a sex toy, you want your lube to be long-lasting.
Base: Water-based, oil, or silicone? We noted the base of each of the lubes so you know whether they're suited for use during vaginal, anal, and/or oral sex, and whether you can use them with condoms or sex toys.
Appearance, taste, and smell: While these may not impact how well the lube works, they're certainly very important factors that'll contribute to your overall enjoyment. We noted whether the lubes had an odd appearance, taste, and/or smell either before or during use.
Dispensing method: You don't want to be stuck trying to open a bottle of lubricant during the throws of passion, so we tested how easy each of the lubes was to open and what kind of bottle it came in.
Compatibility with sex toys: Was the lube compatible with silicone and glass sex toys? Many people use their best lubes with their favorite sex toys but not all lubes are suitable for these, and some of them definitely work better than others.
Best lubes, tried and tested by us
1. Durex Naturals Water Based Moisture Lubricant Gel
Best lube overall
Specifications
Condom/Sex toy friendly: Yes, natural rubber latex and polyisoprene materials only
Base: Water
Flavoured: No
pH balanced: Yes
Dispenser type: Squeezy tube
Vegan: Yes
RRP: $14 / £9.99
Reasons to buy
+
Great all-rounder
+
Feels natural
+
Compatible with sex toys and most condom types
Reasons to avoid
-
Tricky to dispense a small amount
The Durex Naturals Water-Based Moisture Lubricant Gel is the perfect all-rounder lubricant gel. If you're new to the world of lubricant and wondering, 'what is lube?' then this is an ideal one to start with. It's a lightweight and water-based formula, meaning you can use it during all types of sex, with or without condoms, and you can use it with sex toys. We loved this lightweight formula the most as just a small amount from the squeezy bottle spread so easily, without being too light on coverage, and it lasted significantly longer than many of the other lubes we tried.
However, if you're looking for the best lube for anal sex, in particular, the silicone-based lube on our list may be a better option as this is a thicker formula that will last for longer and provide even more glide.
The gentle, pH-friendly formula is also kind to all parts of the body as it's made with 100% natural ingredients, as revealed by the simple ingredients label. Our tester also didn't experience any problems with the appearance, taste, or smell of the lube as it's a simple clear gel free of any artificial fragrances with no noticeable aromas. And because of this, we also found it was easy to wash away the lube after use.
The only downside, if we had to pick one, is how quickly it comes out of the bottle. When using it for the first time, be careful not to squeeze the plastic tube too hard as the gel is fairly runny and will come flying out of the bottle if you're too heavy-handed with it.
2. Smile Makers Stay Silky Serum
Best water based lube
Specifications
Condom/Sex toy friendly: Yes
Base: Water
Flavoured: No
pH balanced: Yes
Dispenser type: Pump with lid
Vegan: Yes
RRP: $16 / £12.95
Reasons to buy
+
Super stylish bottle
+
Good for sensitive vaginas
+
Silky feel
Reasons to avoid
-
Runny consistency
-
Fiddly dispenser
Smile Makers create some of the best sex toys out there (and feature on our list of best bullet vibrators pretty heavily), so it should come as no surprise that they've also made one of the best lubes. First of all, the bottle is super stylish and while this isn't one of the main criteria we're looking for, it certainly doesn't hurt to have a sleek and discreet bottle in your bedside drawer.
We found the Silky lube to be super-skin friendly and our tester didn't experience any reactions after using it during sex and with a vibrator, which is hardly surprising considering that there are seven pharma-grade ingredients in this lube. This means it exceeds 99% purity of the listed active ingredients, making it ideal for those who want something a little more sensitive. Plus, it's fragrance and paraben-free, meaning there are no odd tastes or aromas that come from this lube.
However, we found it can be a little runny so you may need a couple of applications if you're using the lube either during sex or for a longer session with a sex toy. And it's much harder to open comparatively to the Swede Original lube, as the bottle comes with a capped pump dispenser.
3. Swede Original Woman Sensitive Lubricant
Best lube for vaginal dryness
Specifications
Condom/sex toy friendly: Yes, safe to use with latex condoms
Base: Water
Flavored: No
pH balanced: Yes
Dispenser type: Squeezy bottle with disc top lid
Vegan: Yes
RRP: $14.99 / £10
Reasons to buy
+
Glycerin free
+
Easy to rinse off with water
+
Discreet packaging
Reasons to avoid
-
Smaller volume for the same price as other products
We've whittled down Swede Original's Woman Sensitive Lubricant as the best for vaginal dryness because it's a moisturizing formula and, importantly, it doesn't contain glycerin. As pharmacist Dhain says, "Avoid glycerin lubes if you're suffering from vaginal dryness as they don't last as long and can increase the risk of yeast infections."
For many people, especially those looking for a singular lube that will stand the test of a sexy session, glycerin will be an ingredient to look out for as it essentially allows lube to stay wet for longer. However, it can also draw moisture out of the cells within the vagina and cause irritation - which is not ideal if you're already prone to dryness.
We love the Swede Original lubricant for more reasons than this though, after testing the product during sex and using a sex toy. It doesn't last for as long as the Durex Moisture gel, especially when using it with someone else, but we found it offered an easy glide and we only needed to top up once during use. Plus, we found the application from the bottle is a smoother process than many of the other lubes on the list as the bottle has a disc top cap, meaning you can open it with one hand just like a pump, and it offers the perfect amount in a small blob with minimal squeezing.
4. Liquid Silk
Best lube for sex toys
Specifications
Condom/Sex toy friendly: Yes
Base: Water
Flavoured: No
pH balanced: No
Dispenser type: Pump
Vegan: Yes
RRP: £12.99
Reasons to buy
+
Thick enough for sex toys
+
Discreet
+
Pump dispenser
Reasons to avoid
-
Off-putting color
-
Contains parabens
If you're looking for a lube to use with your best rabbit vibrators, then Liquid Silk is definitely the one for you. Not only is it completely safe to use with your silicone sex toys, but we found the water-based lube to be silky smooth on application and it stayed that way during use. It also didn't dry out easily and lasted for ages, which is often not the case with other water-based lubes. But because it was tested using a vibrator, we wonder how long it would stay during partnered sex.
This is a lube designed with sex toys in mind though, evident by its position pride of place on the Lovehoney website and the bottle's dispenser. The pump is so useful as it meant we could use it with one hand, holding the toy in the other, rather than having to put the toy down on a surface.
One downside, unfortunately, is the color of Liquid Silk. While there's no identifiable smell or taste to the lubricant, it is a slightly off-putting milky white color. However, the positives of this lube far outweigh this one negative.
5. Sliquid Sassy Water-Based Anal Lubricant
Best anal lube
Specifications
Condom/Sex toy friendly: Yes
Base: Water
Flavoured: No
pH balanced: Yes
Dispenser type: Squeezy bottle
Vegan: Yes
RRP : $22 / £19.99
Reasons to buy
+
Extra thick lube
+
Paraben-free
+
Only need a small amount
Reasons to avoid
-
Non-discreet packaging
-
Not ideal for oral sex
Despite what many people think, you don't always need to use silicone lube if you're having anal sex. Sliquid's Sassy Water-Based Anal Lubricant is an all-purpose lube that contains natural plant cellulose, which makes the formulation extra thick to provide ample cushioning in an area that doesn't produce its own lubrication.
We found that the formula was thick but it still felt light and it spread out evenly across the surface. Even just a little bit went a long way, which is good as the bottle is significantly smaller than the others at 4.2 ounces per bottle.
While it's great for anal and vaginal sex because of the cellulose thickening agent, meaning that yeast infections are much less likely, the thicker texture did taste and feel a little strange so it's best avoided if you're looking for a lube to use during oral sex. Instead, opt for the candy-floss-flavored Sensuva or something a little lighter like the Durex Naturals Moisture.
Any downsides? We found it a little hard to open during the heat of the moment so a pump dispenser would make it a lot easier to get the lube out of the bottle. Plus, it's not exactly discreet. It's pretty hard to miss the shocking pink logo and "Sassy" name tag. But aside from having a home in your bedside drawer rather than the bedside table, it's really the best lube for anal sex on our list.
6. Überlube Silicone Lubricant
Best silicone lube
Specifications
Condom/Sex toy friendly: Yes/Maybe
Flavoured: No
pH balanced: Yes
Dispenser type: Pump
Vegan : No
RRP : $19.99 / £19
Reasons to buy
+
Premium quality
+
Pump dispenser
+
Discreet bottle
Reasons to avoid
-
More expensive per 100ml
Silicone lube is a game changer in the bedroom, allowing you to try out all of the best sex positions with a little extra glide, and taking things to the next level with the potential for shower sex. The main reason this particular silicone lube has made it into the top spot on our list, however, is that you may be able to use it with silicone sex toys. The standard line is that silicone vibes should never come into contact with silicone lube and it's always worth doing a patch test before using Überlube on your favorite silicone vibrator. However, we tested the lube ourselves on a 100% silicone vibrator after reading the reviews from other users and found it was absolutely fine - even after a couple of weeks of use.
It's also a great one for those with sensitive skin, we found, as the lube eventually absorbs rather than lying on top of it and it isn't sticky or tacky after use. However, for the same reasons, we also found you need to use soap to wash off this lube as water on its own won't really work.
Another feature we love about the Überlube is its handy pump dispenser, perfectly designed to offer the best amount of lube in a single push, meaning you can be sure (even in the dark) that you're getting what you need without using too much of the 55ml bottle. This is a small bottle size compared to others at a cheaper price, so if you prefer a substantial splash of lube during sex then we suggest opting for the Sensuva lubricant or the Durex Naturals Moisture lubricant.
7. Sensuva Natural Water-Based Personal Lubricant
Best flavored lube
Specifications
Condom/Sex toy friendly: Yes
Base: Water
Flavoured: Yes, cotton candy
pH balanced: Yes
Dispenser type: Pump
Vegan : Yes
RRP: $15 / £22
Reasons to buy
+
Authentic juicy taste
+
Travel-friendly bottle
+
Flavored
Reasons to avoid
-
Very sticky
-
Need to use a lot
Flavored lube isn't for everyone but if you want to give it a try, the Sensuva lubricant in cotton candy is our favorite of the bunch. It's very sweet, but that's exactly what you'd want from a cotton candy-flavored liquid, and there's no chemical aftertaste thanks to the natural stevia rebaudiana, which is used as a sweetener.
Aside from the flavor, the Sensuva lubricant is a lightweight and water-based formula. We found it was ideal for vaginal and oral sex, allowing you to switch between the two with an easy glide and sweet taste throughout. It's also totally condom safe too, regardless of the material, which makes a big difference from many other lubricants that only allow for latex condoms.
What's more, if you do get a taste for it, there are other flavors to try out - including unique picks like Butter Rum and Cherry pop - as well as an unflavored lube, which may be better for those without a sweet tooth.
How to choose the best lube for you
Consider how you'll be using it: If you're planning to bring a vibrator into the mix more often than not, as noted, be sure to opt for a water-based one wherever possible. And if you're using it during sex with a partner, you've got the choice between water or silicone-based but your partner may prefer to use one over the other, so it's worth asking them about their preferences too.
And how much you want to spend: Much like everything in the world of sex toys, you can spend anywhere between a few dollars and hundreds on lubricant. Yes, really. So consider your budget and if you want more for your money, you'll probably find lube in one of the many sex toy kits available online, so it's worth buying these.
Watch out for ingredients: "Avoid ingredients which may contain glycerin, parabens, nonoxynol-9, propylene glycol, chlorhexidine gluconate, or petroleum-based ingredients as they can all increase irritation, sensitivity, and risk of infections. Also, look out for lubricants that contain spermicide if you're looking to conceive."
Reduce the risk of irritation: "Choose lubricants that contain hypoallergenic on their packaging to help reduce the risk of irritation. Try limiting the use of lubricants with flavor or fragrance as these can also increase the risk of vaginal irritation."
Consider where you'll be using your lube: "Look out for silicone-based lubricants if you want to have steamy sex in a shower, hot tub, swimming pool, or the sea," says Dhain.
Can you use lube with condoms?
Yes, you can use water-based and silicone lube with condoms but never oil-based lubricant, as studies by the Mariposa Foundation have shown that oil can degrade the latex in as little as 60 seconds. This can lead to breakages, tears, and holes, which will render the condom ineffective in preventing pregnancy or sexually transmitted infections (STIs).
"Water based lubricants are the most commonly used lubricants and provide short term relief from vaginal dryness. They're generally well priced, easy to use, and they can also be applied to a condom," confirms pharmacist Sunny Dhain. "While many silicone-based lubricants aren't to be used with silicone sex toys, they can be used with latex condoms. Avoid using oil-based lubricants on condoms as they can damage the condom and make it ineffective."
Natalia Lubomirski is a health journalist with 14 years experience in the publishing industry. She has worked for a number of well-known magazines and websites including Marie Claire, marieclaire.co.uk, woman&home, Top Sante, Boots and The Telegraph.
She likes to think she practices what she preaches when it comes to health and fitness. She loves the great outdoors and you'll often find her up a mountain somewhere. She's climbed eight major mountain ranges across four continents and hit the summit of Half Dome (in Yosemite) during her honeymoon.