Best lubes—great buys for sex toys, the menopause and sensitive skin
Our round-up of the best lubes really has something for everyone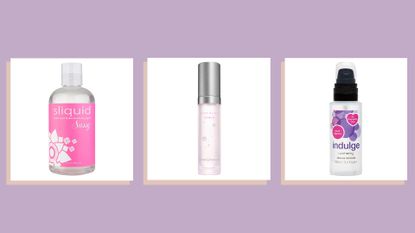 (Image credit: Future)
Choosing the best lube can be overwhelming. There are so many different types, ingredients, and flavors, the options are seemingly endless. While it may make us blush in the pharmacy, it can banish serious chafing and make sex fun again.
Lubes are great to use with your partner or with sex toys (speaking of which, read our guide to the best vibrators) for a pleasurable experience. "Lube is a great bedroom addition for anyone sexually active—they increase pleasure and boost intimate sensation," says Stephanie Taylor, managing director of Kegel8. "Introducing extra lubrication to your sex life can make the process far slicker and seamless and can actually make sex safer, too. Condom friction is minimized, meaning they're less likely to split and result in unwanted STIs and pregnancies."
Adding lube into the mix can not only make good sex even better but is also great for female masturbation and makes solo play even more pleasurable. It's also helpful if you're experiencing common vagina problems post-menopause.
How we tested and selected the best lubes
To bring you this round-up of the best lubes, we tested some well-known brands, such as Durex and Smile Makers, as well as some lesser-known brands including Liquid Silk and Deodoc.
Every vagina is individual, so we got our testers to get down to the finer details of each lube to ensure the ones we recommend will help reduce chafing, dryness, sensitivity and really heighten your sexual experience, whether you're flying solo, experimenting with sex toys, or having intimate slow and leisurely tantric sex with your partner.
We assessed the pros and cons of each lube considering:
How well they worked on skin and with sex toys
The overall feel
How easy they were to dispense in the throes of passion
If they are compatible with sex toys
What should I consider before buying lube?
Not all lubes are created equal. There's more to picking the lube than just grabbing the first bottle you see next to the condoms on the shop shelf. Lubes are often designed for a specific activity (think anal sex) or a certain type of vagina (for example a sensitive one).
Most lubes will contain oil, water, or silicone as their main ingredient. It's key to choose the right formulation for you. For example, if you're using it with sex toys or condoms, a water-based lubricant might be your best bet, as it's unlikely to react with either of them.
Oil-based lubes last longer and can be great for a shower session, but can react badly with condoms by breaking them down. "Only use oil-based lubes for masturbating or in unprotected sex with a trusted partner," says Stephanie (opens in new tab). And definitely avoid silicone lube if you're using silicone sex toys. This may sound odd, but silicone reacts with itself and could damage your best rabbit vibrator.
You should look for a pH-balanced lube, otherwise, you could risk disrupting the natural bacteria in your vagina. Look out for ones with a pH of between 3.8 and 4.5. There are also lubes designed for sensitive or dry vaginas, those who enjoy sex in the shower, and even flavored options for some extra zing in the bedroom.
The best lubes as chosen by our experts
1. Durex Natural Extra Sensitive Intimate Gel
Best lube overall
Specifications
Condom/Sex toy friendly: Yes (not compatible with polyurethane condoms)
Flavoured: No
pH balanced: Yes
Dispenser type: Squeezy tube
Vegan: Yes
RRP: £9.99
Reasons to buy
+
Great all-rounder
+
Feels natural
+
Compatible with sex toys and most condom types
Reasons to avoid
-
May need to reapply
-
Tricky to dispense a small amount
New to lubes? Durex Natural Extra Sensitive Intimate Gel could be the perfect introduction. This extra sensitive option works with your body to moisturize even the most delicate skin and soothe any discomfort.
The gentle water-based formula is also pH-friendly (so won't upset the delicate balance in your vagina), is dermatologically tested, free from artificial fragrances, colors and parabens, and is made from 100% natural ingredients. Plus, as it's water-based it's almost like your natural wetness, but like other water-based options, you may need to reapply, as it can dry out.
It's pretty easy to use too. Just flick the cap open and squeeze gently to apply, as it can come out pretty fast. You'll be glad to hear it's fine to use for vaginal, anal and oral sex, as well as with natural rubber latex and polyisoprene condoms and sex toys. Truly, a great all-rounder.
2. YES Organic Water Based Lubricant
Best lube for menopausal dryness
Specifications
Condom/Sex toy friendly: Yes
Flavoured: No
pH balanced: Yes
Dispenser type: Squeezy tube
Vegan: Yes
RRP: $8.49 / £9.99
Reasons to buy
+
Great for menopausal dryness
+
Certified organic
+
Feels silky
Reasons to avoid
-
Quite expensive for the size
-
Thin texture
If the menopause means your sex life is going through a bit of a dry spell, then this organic lubricant could be for you. According to Women's Health Concern (opens in new tab), around 17% of women aged 18-50 experience problems with vaginal dryness, even before the menopause takes place. However, once the big M hits, these stats soar.
Organic intimacy company Yes has revealed that 80% of women entering the menopause are affected by vaginal dryness and 50% of women post-menopause continue to suffer. It happens as a result of falling oestrogen levels during the menopause. This causes vaginal tissues to produce less natural lubricant, meaning the vagina becomes dry and the tissues lose their elasticity and strength.
This certified organic water-based lube is made from organic aloe vera and organic flaxseed extract, which is beneficial for mucous membranes. It has a realistic texture that feels cool and silky, and while you may need to reapply once, it's not greasy and there's no nasty sticky residue left behind. It's also unscented and flavourless, which helps it feel natural, and it's hypoallergenic and good for sensitive skin too.
3. Liquid Silk
Best lube for sex toys
Specifications
Condom/Sex toy friendly: Yes
Flavoured: No
pH balanced: No – but at 4.7 it is only outside of the 3.8-4.5 range
Dispenser type: Pump
Vegan: Yes
RRP: $ / £12.99
Reasons to buy
+
Thick enough for sex toys
+
Discreet
+
Pump dispenser
Reasons to avoid
-
Off-putting color
-
Contains parabens
If sexy time means playtime and you want to introduce some toys (either for a solo session or with your partner), this could be the best lube for you. Not only is it completely safe to use with your silicone sex toys, but the water-based lube is silky smooth, non-tacky and it doesn't dry out easily, which can often be the case with other water-based lubes. This means you're less likely to have to reapply and can really get your glide on in the best sex positions, with no interruptions.
The pump means you can lather up with just one hand—ideal if your other hand is engaged elsewhere! And, you only need a little to go a long way. Plus, the removable label means it's discreet too. One downside is the color. It's milky white, rather than colorless, which may be off-putting for some. But, the other positives shouldn't stop you from snapping this up.
4. Smile Makers Stay Silky Serum
Best water based lube
Specifications
Condom/Sex toy friendly: Yes
Flavoured: No
pH balanced: Yes
Dispenser type: Pump (with lid)
Vegan: Yes
RRP: $25 / £12.95
Reasons to buy
+
Super stylish bottle
+
Good for sensitive vaginas
+
Silky feel
Reasons to avoid
-
Runny consistency
-
Fiddly dispenser
There's no doubt about it—this bottle is super stylish. It will look good on your bedside table and it could easily pass as a perfume bottle so you won't feel embarrassed if this slips out of your handbag.
This silky lube is also super skin-friendly, using just seven pharma-grade ingredients (that means it exceeds 99% purity of the listed active ingredient) that are skin-regenerating and anti-irritant. Plus, it's fragrance and paraben-free, so it will make even sensitive vaginas happy.
However, it can be a little runny, which may mean you need a few applications to keep things running smoothly, and your sheets may need to hit the washing machine after your session. What's more, as it's a pump dispenser combined with a cap on top, it's not the easiest of lubes to get into. So there might be a lot of fumbling involved and it could be distracting during sex.
5. Sliquid Sassy Water-Based Anal Lubricant
Best anal lube
Specifications
Condom/Sex toy friendly: Yes
Flavoured: No
pH balanced: Yes
Dispenser type: Squeezy bottle
Vegan: Yes
RRP : $19 / £10
Reasons to buy
+
Extra thick lube
+
Paraben-free
+
Only need a small amount
Reasons to avoid
-
Non-discreet packaging
-
Not ideal for oral sex
Having anal sex without lube can be painful rather than pleasurable. Slathering up before slipping anything in really is a must. This all-purpose lube contains natural plant cellulose, which makes this water-based formulation extra thick to provide ample cushioning in an area that doesn't produce its own lubrication.
Even though it's thick, it feels light and still spreads out evenly. And a little bit really does go a long way. However, it's probably best avoided for oral sex, as the thicker texture can feel strange in your mouth. It's not just about anal either. It's kind to vaginas, too. It uses cellulose as the thickening agent, instead of glycerin or other sugar derivatives, which are more likely to cause yeast infections.
Any downsides? A pump dispenser would make this easier to get out of the bottle. Plus, it's not exactly discreet. It's pretty hard to miss the shocking pink logo and "Sassy" name tag. But if you're bold and adventurous in the bedroom, this is definitely one to give a go.
6. Skyn All Night Long Lubricant
Best silicone lube
Specifications
Condom/Sex toy friendly: Yes/No
Flavoured: No
pH balanced: Yes
Dispenser type: Pump
Vegan : No
RRP : $7.95 / £15.49
Reasons to buy
+
Ultra-durable
+
Minimal drips or mess
+
Clear formula
Reasons to avoid
-
Not sex toy-friendly
-
Small bottle
Got a very active sex life? Then you need a maximum performance lube to keep things feeling comfortable as you fire up your erogenous zones. The Skyn All Night Long Silicone Lubricant delivers on durability, with a smooth, ultra-velvety feel that doesn't disappear when the sex tempo picks up. Plus, there's none of the grease or gloop that you sometimes get in the aftermath when using some other silicone lubricants. A clear formulation also reduces mess on the sheets. What's more, it's fragrance-free and doesn't contain preservatives which help to combat irritation after sex and can be used with condoms. Just remember to keep it away from your silicone toys.
When judging the pump nozzle on Skyn All Night Long, you'll find that even in the dark it dispenses perfectly with little spill. You'll also discover that just a bit of this slippery liquid goes a long way—so there's no need to stop the action to reapply. One of the downsides is the size. It's only available in 80ml, so if you are regularly getting down to it in the bedroom, you may run out sooner than you wish.
7. Lovehoney Indulge Silicone Lubricant
Best lube for shower sex
Specifications
Condom/Sex toy friendly: Yes/No
Flavoured: No
pH balanced: No
Dispenser type: Pump
Vegan: Yes
RRP: £12.99
Reasons to buy
+
Withstands wet play
+
Neutral taste and smell
+
Suitable for shower sex
Reasons to avoid
-
Has a slight gluey feel
-
Have to wash well to remove
Are you a fan of intimate fun in the bathroom? Then it's worth remembering that not all lubes are suitable for shower sex or steamy sessions in the tub. Water-based lubricants will quickly wash away, but the Lovehoney Indulge Silicone Lubricant is the perfect option for wet play.
This lube has a thicker-than-most consistency which helps hugely to reduce friction in the water and the durable, long-lasting feel means you don't need to reapply when splashing around. If you like neutral lubricants, this one is both unflavoured and odorless. A big bonus is that it has a handy pump-action nozzle that makes one-handed dispensing easy when it's propped on the shower tray or side of the bath.
Back on dry land, the sensation during sex is slick and soft, plus, it doesn't dry tacky on the skin. The only downside is that it does take a bit more effort to soap off than water-based lubricants. You can use this lube with condoms and glass or metal toys, but like other silicone liquids, it's best to keep it away from your vibrator if it is also made of silicone.
8. ID Frutopia Mango Flavoured Lube
Best flavored lube
Specifications
Condom/Sex toy friendly: Yes
Flavoured: Yes
pH balanced: Yes
Dispenser type: Pump
Vegan : Yes
RRP: $9.79 / £7.99
Reasons to buy
+
Authentic juicy taste
+
Travel-friendly bottle
+
Flavored
Reasons to avoid
-
Very sticky
-
Need to use a lot
If you've got a sweet tooth then you'll love the juicy ID Frutopia Mango Flavoured Lube—this mouthwatering treat tastes just like the real deal. It's a water-based lubricant that is not only ideal for oral sex, but also provides great glide for all kinds of antics from foreplay and toy fun, to regular sex and anal. It's also condom safe and great for traveling as it fits nicely into a handbag or wash bag.
The ingredients are extracted from vegetable sources so it's vegan-friendly, and is naturally sweetened with no artificial coloring or sugar. Some flavored lubricants can taste a little plasticky, but this one stands out as being authentically from the fruit bowl—which is just what you want when doing lots of licking and nibbling.
What's more, if you do get a taste for it there are another six flavors to have fun with. The banana, raspberry, cherry, strawberry, watermelon and mint lubes are all equally delicious.
9. Sylk Intimate Lubricant Moisturiser
Best natural lube
Specifications
Condom/Sex toy friendly: Yes
Flavoured: No
pH balanced: Yes
Dispenser type: Squeezy bottle
Vegan : Yes
RRP: $11.99 / £9.99
Reasons to buy
+
Subtle packaging
+
Recommended by medical professionals
+
Natural ingredients
Reasons to avoid
-
Could be easier to dispense
-
Not that slippery
The Sylk Natural Intimate Lubricant Moisturiser is a natural way to hydrate and moisturize your intimate bits for better sex, and it comes highly recommended by medical practitioners. It's a water-based liquid without nasties—meaning it's totally free from parabens, hormones and harmful chemicals, and by matching pH levels in the vagina, it also helps to keep bacteria at bay.
This is a safe lube to play with if you're on hormone replacement therapy (HRT) and can be used with condoms and sex toys too. It's made with kiwi vine gum extract which gives a pleasant, silky texture, and although it's not particularly slippery or long-lasting it is surprisingly similar to your own lubrication. A few drops onto your fingertips and you're good to go. The natural, non-greasy feel is enhanced by its being completely scent-free, colorless and tasteless, so there are no sensory distractions from your lube as you're getting down to business. We also loved that this bottle is very discreet on the bathroom shelf as the subtle packaging disguises it as an everyday moisturizer.
Any negatives? Sylk is perhaps not the most durable lube for adventurous play or lengthy sessions, but it does tick a lot of boxes as a natural option to improve sex or masturbation and to help avoid pain during sex.
10. Deodoc Intimate Drops Lubricant
Best lube for sensitive skin
Specifications
Condom/Sex toy friendly: Yes/No
Flavoured: No
pH balanced: Yes
Dispenser type: Pump
Vegan: Yes
RRP: $18.50 / £29.95
Reasons to buy
+
Maintains "good" vaginal bacteria
+
Smooth, silky feel
Reasons to avoid
-
Not to be used with sex toys
-
Pricey for a small bottle
Deodoc Intimate Drops Lubricant has such stylish packaging, you could easily mistake it for a luxe beauty product. But that's not the only reason why this lube is highly rated. The pH-balanced, silicone formula has been created by a team of female gynecologists and so it gets a big thumbs up for prioritizing self-care "down there".
Unlike many water-based lubes, it's free from the parabens and preservatives that can upset "good" bacteria (Lactobacillus) in the vagina and lead to discomfort. We all know that a happy vagina = a happy sex life. So, for anyone with sensitive skin, this is a great one to combat dryness and irritation.
We loved that there's zero stickiness or greasiness. In fact, this liquid mimics natural lubrication and the silky, soft feel lasts through passionate quickies or marathon sessions. A pump-action bottle makes it easy to dispense the right amount and you actually only need a few drops to do the job.
Because it's silicone-based, this lube is one that's totally safe to use with condoms. However, it should be avoided when you add silicone sex toys to the fun.
Do I need to use lube?
If you've never tried introducing lube into the bedroom, you could be missing out. Lube is a sensitive subject, and people can be shy about admitting to using it. But a good lube has the potential to transform your sex life, could help avoid injury, tearing or discomfort and could ramp up your pleasure dial.
If you don't produce enough natural lubrication, it doesn't mean you're not excited or your partner isn't performing the right moves. Natural lubrication can vary massively, depending on stress, medication, and hormones—during the menopause a drop in oestrogen can cause issues with vaginal dryness. And remember if you're thinking about indulging in a spot of anal sex, that area provides no natural lubrication so you'll definitely need some help. It could even help your partner too—yes penile dryness is a thing!
However, lube can't fix everything. "If either of you is using lube to offset chronic pain, health issues or lack of desire, it's best to find a solution rather than mask the issue with lube," says relationship expert Susan Quilliam (opens in new tab). "Book a visit to your doctor or local sexual health clinic."
How to get the most out of your lube
"Do a taste test," says Susan. "Apply lube to other sensitive parts of your body—perhaps nipples, buttocks or toes—then lick off."
Try flavored ones for oral sex or varieties that add warmth or produce a tingling effect "for an extra kick", she says. Just be aware that any additive may irritate or increase the chance of genital infection. "So have a practice run before you use them in a full sex session," she suggests.
Chill your lube in the fridge. "Then trickle the icy results over each other, to really take your breath away," says Susan.
Choose a lube that can double up as a massage oil, recommends Stephanie, and engage in a little foreplay before the main event.
Senior Health Writer Ali Horsfall has almost 15 years experience as a journalist and has written for national print titles and women's lifestyle brands including woman&home, Woman, Woman's Own, BBC magazines, Mothercare, Grazia and The Independent. She currently specialises in health and fitness content and loves sharing the best expert advice on staying well.