The best mattress protectors to defend your bed against spills, stains and more
Our guide to the best mattress protectors will help save your bed from dust, moisture damage and more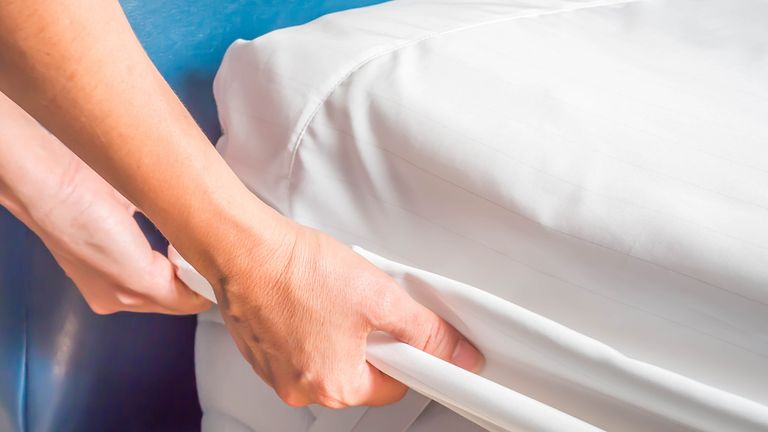 (Image credit: Getty Images/penkanya)
Investing in one of the best mattress protectors will help to keep your mattress in top condition for longer, ensuring it's safe against accidents and spillages. Mattress protectors are also a must-have for hygiene, too, helping to defend your bed against everything from sweat to bed bugs.
An essential addition to all the the best mattresses, mattress protectors are not only beneficial for your health, but also for creating an environment that encourages rest and relaxation.
In our guide to how to clean a mattress every expert we spoke to recommends investing in a mattress protector, even if you plan on cleaning your mattress regularly.
Our round-up of the best mattress protectors encompasses everything from luxe to practical, eco to hypoallergenic, and we made sure to look at products from a broad range of price points, beginning at just £8/$11.
How we tested the best mattress protectors
We tested a range of mattress protectors, giving careful consideration to a range of factors to ensure only the most accurate reviews. They were tested in a real-life home, allowing us to see exactly how they performed under the pressures of everyday life. Factors that influenced our views on each mattress protector included:
Stand-out qualities, such as temperature control, eco credentials or impressive tech.
Whether or not it made any rustling or squeaking sounds when laid on.
The aesthetics of the product, including design and texture.
How easy it was to care for in terms of washing and drying.
The value-for-money of each mattress protector to ensure they offer good return on investment.
The best mattress protectors: tried and tested
The prices shown throughout our guide are starting prices, typically for a single-sized mattress protector.
1. The White Company Luxury Cotton-Rich Quilted Waterproof Mattress Protector
Best overall mattress protector
Specifications
RRP: From £30
Made from: Cotton
Sizes available: Cot bed, single, double, king, super king, queen and emperor
Reasons to buy
+
Great all-rounder
+
Quilted and waterproof
The White Company might well be famed for its gorgeous candles, high thread count bed sheets and luxe homeware—but did you know it has also got your bedding requirements sorted, too? The brand's Luxury Cotton-Rich Quilted Waterproof Mattress Protector sits around the middle on our list in terms of price, which, combined with its all-round great quality, makes it a worthy winner of our 'best overall mattress protector' title.
This mattress protector is super-soft: it's got a 100% cotton exterior, and a 90% cotton (and 10% other fibers) fill. Available in sizes from cot bed to emperor, it can suit any member of the family. We tested it for a king and found that its skirt was ideal for stretching onto the bed with minimal fuss. Due to its cotton-rich design, there was none of the 'rustling' that can go hand-in-hand with more synthetic mattress protectors and, if anything, we barely even noticed it was there.
An accidental splash of coffee—the perils of breakfast in bed!—that had soaked through the bed's top sheet was effortlessly dealt with by this protector, with the mattress unscathed and the topper perfectly refreshed after a spin in the washing machine. One other thing we liked: its neat presentation. It arrived in a small zip-up case that'd be great for storage.
2. John Lewis & Partners ANYDAY Quilted Microfibre Mattress Protector
Best budget mattress protector
Specifications
RRP: From £8
Made from: Microfiber
Available in: Single, double and king
Reasons to buy
+
Amazing price point
+
Easy to care for
Reasons to avoid
-
Doesn't offer same level of protection as others
Since its launch in April 2021, John Lewis's budget-friendly ANYDAY range has received rave reviews thanks to its broad selection of great-quality products at jaw-droppingly low prices. This mattress protector is no exception to the rule. Starting from just £8 for a single, these are the kind of prices you simply wouldn't expect from the upmarket department store.
Whilst it's quilted, it's worth noting that this mattress protector isn't really waterproof; you'll have to pay a bit more if you want that kind of care. However, don't let that throw you. For what you pay, this mattress protector is fantastic value. It doesn't make any extravagant claims and offers a sold level of basic protection. It can be looked after, too; it can be washed and tumble-dried with minimal fuss, and seemed to endure both well.
3. Simba Performance Mattress Protector
Best luxury mattress protector
Specifications
RRP: From £90
Made from: Cotton
Sizes available : Single, double, king, super king, small double, EU single, EU double and EU queen
Reasons to buy
+
Odor-eliminating Bi-Ome® technology
+
Soft and very comfortable
Simba is renowned for its tech-forward approach to all things related to the bedroom, with everything from its bestselling Simba mattress to the best pillows crafted with carefully-considered genius at their core. So naturally, the brand's Performance Mattress Protector is pretty exceptional, too.
Its inbuilt Bi-Ome® protection means that as well as protecting the mattress from spills and stains, it's also shielded from odors, making it a great choice for a bed that regularly sees kids and pets jumping in and out of it. According to the Simba website, it 'attracts microorganisms and deactivates them on contact, preventing growth and spread'.
As well as its clever design, this mattress protector also feels luxurious, too, with its quality evident to the naked eye. Thanks to its generous skirt, it's simple to fit on to the bed, and nestled all the way around our non-Simba mattress without the frustration of it rolling up or pinging off in the middle of the night. It certainly kept the bed feeling comfortable and cool, and all-in-all felt like a seriously sophisticated take on the humble mattress protector.
4. Dormeo Evercomfy Anti-Allergy Mattress Protector
Best hypoallergenic mattress protector
Specifications
RRP: From £19.99
Made from: 100% polyester
Sizes available: Single, double and king
Reasons to buy
+
Protects against dust, bed bugs and more
+
Great for sensitive skin
Reasons to avoid
-
Not as waterproof as others
For sensitive sleepers, hypoallergenic bedding can play a crucial role in keeping sensitive skin safe from the threat of aggravation or discomfort. Dormeo's Evercomfy Anti-Allergy Mattress Protector promises to do exactly that, offering as much protection to irritable skin as it does to the mattress.
Whether it's dust mites and bed bugs or dust particles and bacteria, it keeps it all at bay, allowing skin to breathe. We found it super-easy to fit on to the mattress thanks to its elasticated skirt—if anything, it was fractionally too big, which was handy as it meant we didn't need to worry about shrinkage when we washed it. (And it survived a spin in the tumble dryer unscathed, too.)
Extra-quilted, it's as much designed for comfort as it is for practicality, and was soft to lie on; it serves as a mattress enhancer, if anything, rather than a stereotypical squeaky protector. The perfect bedding accompaniment to soft sheets.
5. Panda London Bamboo Mattress Protector
Best eco-friendly mattress protector
Specifications
RRP: From £19.95
Made from: 70% bamboo and 30% cotton
Sizes available: Single, small double, UK double, kng, super king, EU single, EU double, EU king, EU emperor
Reasons to buy
+
Good choice for sensitive skin
+
Great eco option
Constructed from 70% sustainable bamboo and 30% cotton, Panda London's take on the bedroom must-have is a great choice for anyone who is try to live more sustainably. Even its packaging is spot-on, with minimal waste: it arrives tightly rolled up inside a bamboo drawstring pouch, and we loved the on-brand panda-patterned ribbon. Cute and eco-conscious—we approve.
Far from being 'just' the material it's made from, the bamboo is a key selling point that influences every detail of this mattress protector. Bamboo is a natural repellant to unwanted bed-based baddies—such as bed bugs and dust mites—and it also boasts hypoallergenic properties, meaning it's a great match for sensitive skin. Bamboo is also naturally great at temperature regulation, meaning the mattress protector will keep your bed at a 'just right' temperature that even Goldilocks would be impressed by.
We tested it on a king-size bed and found it was easy to apply. The first thing we wanted to explore was Panda London's claim that the mattress protector was totally silent (it was—there wasn't a single rustle to be heard), while the second was its waterproof credentials. The protector is designed with a layer of Panda London's very own Nano TPU™ technology, which keeps the product waterproof—a claim that stood up even when we poured a splash of water on to it. Panda London claim you can wash the mattress protector as many times as you like and the technology will stay perfectly intact. After (admittedly only) one wash, we can confirm that seems to be the case.
6. Eve The Temperature Balancing Mattress Protector
Best mattress protector for hot sleepers
Specifications
RRP: From £119
Made from: 100% cotton fabric
Sizes available: Double, king and super king
Reasons to buy
+
Ideal for temperature regulation
+
Designed with scientific backing
The priciest mattress protector on our list, Eve's The Temperature Balancing Mattress Protector promises to help temperature-sensitive sleepers enjoy the shut-eye they deserve. The price tags on Eve products tend to be high (the Eve Premium Hybrid mattress is £978 for a double) but that aside, the reason for this mattress protector's hefty price tag lies in the impressive technology behind it: its Outlast® fabric was developed by scientists for none other than NASA.
Constructed from 100% cotton, it's designed to capture and release heat as and when required - ideal for restless sleepers who find themselves waking up during the night due to feeling too hot or too cold. The temperature regulation worked: after a night of testing, we woke up feeling just-right. It's also comfortable to lie on, and there were no rustling sounds.
It can be machine-washed but Eve advise doing this no more than once a month (and no tumble-drying—let it air out naturally before putting it back on your bed. This took us a couple of days).
It arrived in a bulky cardboard box, which felt excessive compared to the delivery options presented by other brands. That said, the cardboard box can, obviously, still be recycled. It also has one of the more limited size ranges available; it fitted on to a king-sized bed perfectly but if you're looking to find a mattress protector for a single bed, this isn't one for you.
7. Tempur-Fit™ Mattress Protector
Best waterproof mattress protector
Specifications
RRP: From £59.99
Made from: Lyocell
Sizes available: Small single, single, double, king and super king
Reasons to buy
+
Can be tumble-dried
+
Great for tackling dust mites
Reasons to avoid
-
Thinner design than other options
Eve isn't the only brand to have incorporated some intergalactic qualities into their mattress protector. If you're lucky enough to own one of Tempur's mattresses, you might be interested to know that the NASA-approved brand also sells mattress protectors, too. While they're designed to best fit Tempur mattresses, they can be used on non-Tempur mattresses, too.
Designed to keep both spillages and dust mites at bay, this deceptively thin mattress protector is more than capable of keeping your bed in tip-top condition. We tested it by pouring a glass of water directly on to it and were impressed to discover that the mattress underneath remained bone dry.
Thanks to its 'intelligent membrane' design, it claims to be one of the thinnest mattress protectors available to buy today. On the downside, that means for the price you're paying, it doesn't quite compete with that quilted comfort that other mattress protectors can offer; however, on the upside, we didn't even notice we were lying on it, which can only be a good thing.
It can be washed an estimated 100 times, meaning you can keep it clean should any accidents occur, and it can also be tumble-dried, too. We only washed it once, admittedly, but found the mattress protector retained its stretch with zero negative impact.
The Tempur-Fit™ Mattress Protector was supplied by Bensons For Beds for this review.
8. Soak & Sleep Anti Bed Bug Mattress Encasement
Best anti-allergy mattress protector
Specifications
RRP: From £35
Made from: Polyester jersey
Sizes available: Single, small double, double, king and superking
Reasons to buy
+
Great for guest bedrooms
+
Tackles pollen
Reasons to avoid
-
Occasional rustling noises
Whilst '...don't let the bed bugs bite!' is a saying so familiar that it's arguably lost all meaning, the reality is that bed bugs can be a very real problem. No one wants to share their home (let alone their bed...) with the microscopic creatures, and if you've encountered them before, you'll know that their rash-inducing bites are no laughing matter. They're not indicative of poor hygiene but can be easily spread via travel, and are commonly found in mattresses that have been used by multiple people (such as in rented accommodation or guest bedrooms).
If bed bugs are your worst nightmare, play it safe by choosing a mattress protector that guarantees to keep them at bay. Soak & Sleep's Anti Bed Bug Mattress Encasement promises to do exactly that, as well as keep dust mites, mold and pollen —which can all build up in bedding over time—under control, too. Pillow encasements are also available if you want to extend the protection.
Distinctly thinner than some of the other protectors on the list, we found this mattress protector straightforward to fit. It held its own during a splash test, thanks to its jersey-and-TPU composition. The only slight downside? An occasional faint rustle when turning in bed—but that's a small price to pay to keep those pesky bugs at bay, right?
What should you consider when buying a mattress protector?
There are a range of different factors to consider when investing in a mattress protector. These include:
Is it waterproof?
Of course, the best mattress protector is the one that will defend your mattress against leaks and spillages—so choosing a mattress protector that can do exactly that is critical.
Is it breathable?
Any waterproof mattress protector needs to be breathable, too. This means it can regulate the temperature in your bed, meaning you're less likely to feel uncomfortably hot.
How can you clean it?
Of course, if your mattress protector gets dirty, you're going to want to clean it. Knowing that it can be popped in the washing machine (and in some cases, the tumble dryer, if you have one) will makes things a lot easier.
Other factors to consider include:
Whether or not it's anti-allergy
What it's made from (in terms of exterior and filling)
How 'deep' it is
"We would always recommend checking that the mattress protector will be deep enough for your mattress," adds Simon Johnson, Director at MyNextMattress. "Some mattresses are now over 30cm deep, and the average depth is now 24cm, some 3cm deeper than the average from only a few short years ago. Another important thing to consider is the fabric used. We'd recommend natural, breathable fibres such as cotton, as this will allow air to move freely through the mattress, preventing moisture from building up over time."
What types of mattress protector are available to buy?
There is a wide range of mattress protectors available to buy, with options to suit almost every type of requirement and lifestyle. These can include:
Eco-friendly mattress protectors, made from materials like bamboo or natural cotton
Anti-allergy mattress protectors, which can defend against dust mites and bacteria
Temperature-sensitive mattress protectors, which are ideal for warmer sleepers
Mattress protectors are also available at a wide range of price points, too, meaning you can almost certainly find the perfect option to match your requirements.
With mattress protectors a must-have for everyone from young babies and party-hard teens to busy professionals and the elderly, they're an investment that can save you a headache down the line.
Looking after your mattress protector is important for ensuring your mattress stays in top condition, and it can be useful to have two in rotation to ensure a clean one is always available.
"Most modern mattress protectors are very versatile and can be machine washed," says Johnson. "We'd recommend treating your protector as you would any other type of bedding; regular washing and following the washing and drying instructions. It can also be beneficial to have two protectors, so you can rotate between the two when washing one."
Is it worth getting a mattress protector?
In a word—yes! Mattress protectors might seem like an unnecessary extra layer of bedding but the reality is that they're essential to keep your mattress clean and clear of leaks, spillages, sweat and more. Mattress protectors are crucial for keeping your sleep environment hygienic, and will help extend how long your mattress lasts.
Hygiene benefits aside, using a mattress protector is also critical if you've recently purchased a new mattress.
"As well as ensuring your mattress will remain fresh throughout its life, a mattress protector is something that many mattress manufacturers insist upon in their care guides," explains Johnson. "With many suppliers, if a mattress protector wasn't used, you could void your guarantee!"
Katie Byrne is a contributor to woman&home and a writer whose interests span everything from homes and interiors, to pop-culture, travel, business and self-development. A former digital editor, her freelance journalism has featured across a wide range of print and online titles, including Raconteur, Digital Spy and more. When she's not writing, she loves reading (and has the groaning bookshelves to prove it...), dreaming up new décor ideas for her flat and devouring Netflix's latest true-crime series with her husband. You can find her on Twitter: @katie_b123.