This is how often you should wash your mattress protector, according to the experts - and it might surprise you
Find out how often you should wash your mattress protector to ensure better bed hygiene and general wellbeing...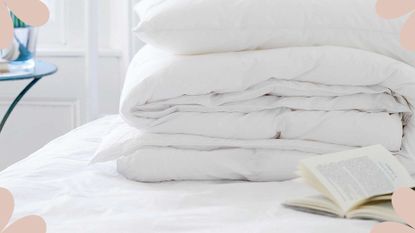 (Image credit: Future)
It's easy to forget, hidden under the flat sheet but just how often should you wash your mattress protector? We ask a team of experts to find out.
First things first let's clear up the difference between the best mattress protector and a mattress topper. A mattress protector resembles a sheet that adds a layer of protection against skin-on-skin contact to the mattress beneath, while a topper adds a substantial layer of cushioning to improve the support and comfort of the mattress. We know that experts advise washing sheets on a weekly basis, but does that include the protector as well?
We asked the experts to give their professional opinion on how often you should wash a mattress protector - and it's more often than you might think.
How often should you wash your mattress protector?
When it comes to washing bedding there's a different timeframe for washing all the elements that make up the bed, meaning how often you wash your sheets will differ from how often you wash your pillows or duvet.
So how often is recommended for washing your mattress protector? "Your mattress protector should be washed every two months to maintain hygienic upkeep whilst minimizing wear," advises James Higgins, CEO and sleep expert of Ethical Bedding (opens in new tab). "Your mattress protector isn't going to be a direct skin content material, therefore, you shouldn't need to wash it as regularly as your bed sheets. However, if you have spillages or allow pets on the bed you may need to wash it more regularly."
"Generally speaking, you should wash your mattress protector every other month," states Emma Rowlinson, product development manager at bedding specialists Christy (opens in new tab). "However, there are exceptions to this rule. People who suffer from allergies should wash their mattress protectors more regularly, around once a month, to prevent any reactions.
"Thankfully, you can buy anti-allergy mattress protectors that do a better job of protecting against dust,' Emma goes on to say. "One thing to be particularly strict with is washing your mattress protector after someone has suffered from a cold, flu, or any transmissible illness, as not doing so could make other members of your household ill."
Why is it important to wash your mattress protector so often?
When we asked Dr. Hana Patel (opens in new tab), a general practitioner and resident sleep expert at Time4Sleep (opens in new tab) to explain the possible health impact of not washing your mattress protector within this time frame she told us, "It can lead to a build-up of fungus and bacteria, such as ringworm to acne and to pneumonia, that can lead to many fungal and bacterial infections from sleeping on unwashed sheets.
"If there is moisture that is not removed by washing the mattress protector regularly, this can lead to dust mites and bacteria growing. Dust mites cause allergic reactions, and their droppings can cause eczema and rhinitis.
"It's therefore important to wash your mattress protector regularly if you suffer from particular allergies, as dead skin cells and dust mites can gather in the fibers over time. Regularly washing your bed linens and mattress covers can help to keep them at bay."
Not washing your mattress protector frequently enough will lead to you seeking advice on how to clean a mattress, because the dirt will eventually affect the mattress below.
How to wash your mattress protector
"To avoid spoiling the quality of your mattress protector, it's important to check the laundry care label for the instructions on the exact temperature it should be washed at," advises Aaron Spivak, co-founder, and chief happiness officer of bedding emporium Hush (opens in new tab). "It also isn't recommended for them to be dry cleaned due to the heat that can ruin the waterproof material."
Wash with similar materials: "Washing a mattress protector is easy," says James, "start by ensuring you wash it with other similar colors and bedsheets, and avoid adding it to the wash with other clothes. This is because there is a plastic coating on some mattress protectors, which you don't want to transfer to other materials."
Choose a cooler temperature: "Generally speaking, mattress protectors should be washed with cold or lukewarm water," advises Aaron.
Use a mild detergent: "A mild laundry detergent is preferable and avoid adding any bleach or chlorine," warns James. "Ensuring you only add the right amount for your washing load weight, as overusing detergent can cause leftover residue in the mattress protector and cause mold or mildew to develop"
Can you put a mattress protector in the dryer?
We all know the dilemma of drying clothes indoors, so it's only natural to ask whether you can put a mattress protector in the dryer to speed up the process.
"While you can put mattress protectors in the dryer if you keep it to a low temperature," suggests Emma. " Although I suggest air drying them as heat can cause damage to the protective qualities. Because of this they should also never be ironed or dry cleaned. A top tip is to have an extra mattress protector so that you will always have a clean one on hand to swap out with."
How long does a mattress protector last?
Investing in a high-quality mattress protector is the first step in making sure that it lasts you a long time, but it's also important to carry out the proper maintenance.
"A good mattress protector should last you around one to two years, and you can ensure this by making sure you take care of it correctly," says Emma. "Not looking after your mattress protector by not washing them regularly enough or in the wrong conditions will inevitably shorten its lifespan."
"A mattress protector lasts around one to two years," says Aaron, "but there are some visible signs to look out for that will indicate it's time to replace it, such as a build-up of stains, open seams, an unusual smell, or your allergies start acting up."
When should I change my  mattress  protector?
Even when you've followed the guidance for looking after your mattress protector, as well as you possibly, can, there may still be signs that it's time to change it.
"Damage to your mattress protector isn't always visible so you should change it every one to two years," suggests Aaron. "Doing so will keep your mattress fully protected from dirt which can cause further problems, such as skin infections and having to replace your mattress early."
Tamara is a highly experienced homes and interiors journalist, with a career spanning 19 years. Now the Lifestyle Editor of womanandhome.com, she has spent the last 16 years working with the style teams at Country Homes & Interiors and Ideal Home, and it's with these award-winning interiors teams that she gained a wealth of knowledge and honed her skills and passion for shopping, styling and writing about every aspect of lifestyle and interiors.
With a keen eye for the latest interior trends, there's not a lot she doesn't know about home decor – whether it's what colour we should be painting our living rooms next season, or if the latest 'must-have' buys are actually worth investing in.
A true homes and interiors expert, Tamara has served as an ambassador for leading interior brands on multiple occasions, including appearing on Matalan's The Show and presenting at top interiors trend events such as the Autumn Fair and Spring Fair.