How to clean outdoor cushions to remove dirt, mold and mildew
Keep your outdoor furnishings fresh with these simple steps for cleaning outdoor cushions by hand or in the washing machine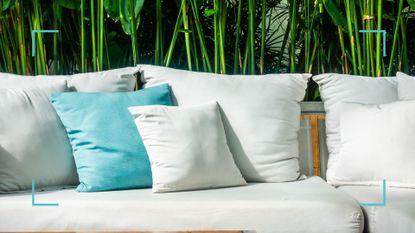 (Image credit: Getty Images | Siraphol Siricharattakul | EyeEm)
Knowing how to clean outdoor cushions properly ensures your outdoor furnishings are in perfect working order to add comfort to garden furniture all summer long.
Whether hosting a BBQ, throwing a garden party, or simply enjoying some downtime in the backyard clean outdoor cushions and pillows are a must – after all, no one wants to take a seat on a stained or mildew-covered cushion.
Our expert guide explains how to clean outdoor cushions to remove mud, stains, mold, and mildew – including outdoor cushions with removable covers, and fixed cover cushions that you have to clean by hand to cover all bases to ensure every piece of your best outdoor furniture looks pristine at all times.
How to clean outdoor cushions without removable covers
Similar to when looking to clean patio slabs without a pressure washer, a soft approach is always best for cleaning outdoor cushions – to avoid causing any potential damage.
"Firstly, check the cleaning label on your cushions," advises Heather Nixon, regulatory, NPD, and sustainability manager, at green cleaning company Bio-D. "Following this guide will point you in the right direction on how best to clean your cushions. If there isn't a label, you can't take the cover off, or there's a stain you can't seem to get rid of then the following tips should help in every case."
"It's also important to remember that this is a cleaning task to save for a warm sunny day," reveals Sue Caldwell, a cleaning expert from an eco-friendly cleaning brand, Clean Living International. "You should always start the process first thing in the morning so that the cushions have as much time in the sunshine to air dry as possible."
Now you know when to start and how to start the process here's what you will need to begin cleaning:
Vacuum cleaner - with fabric cleaning attachment
Dish soap
Spray bottle
Soft bristle scrubbing brush/sponge
Microfiber cloth
(optional) White vinegar and bicarbonate of soda
1. Remove surface dirt
Begin by removing any particles of dust, dirt, and general garden debris from the surface to avoid rubbing these into the fabric and ingraining them deeper into the material. Give the cushions a good shake initially and then vacuum them if necessary.
"If your cushions have been stored in the garage over winter you may need to give them a quick vacuum with a handheld device first to remove any debris or cobwebs," suggests Sue.
If the cushions in question are already out in the garden and in use the same principle applies: "Start by vacuuming the cushions to remove any crumbs, debris, or dust, using the crevice tool," suggests Heather. Take the cushions off the base of the furniture to vacuum underneath and ensure you clean every angle - because crumbs and dust can fall down into nooks and creases where it stays undetected.
2. Prepare a gentle cleaning solution
If your outdoor cushions only need a gentle cleaning it's always best to avoid using anything on them except a gentle cleaning solution. If mold or mildew is present then you will need to resort to something strong (more on that later).
For general all-purpose cleaning, a gentle solution of dish soap and lukewarm water will do the trick. "When it comes to cleaning outdoor cushions, a simple solution that always works is warm soapy water," says Holly Jones at trusted garden furniture supplier Garden Street.
Simply mix just enough dish soap with lukewarm water to form a foamy solution, but don't go overboard with the soap because removing the suds left on the cushions will be a harder task.
3. Apply and scrub with care
To begin the washing step simply apply your soapy solution to the cushion cover using a soft brush or sprong. Do so with diligence to avoid saturating the cushions and the filling inside.
"Give the cushion a good scrub on all sides and then rinse the soapy water with a sponge and warm water," advises Holly. "Try not to use too much water when rinsing the soap off though as you want to avoid the water seeping into the actual cushion."
4. Remove tougher stains with vinegar
While a gentle clean should suffice in most cases, there may well be a food or drink stain that needs a little extra TLC. To avoid using harsh chemicals the experts suggest taking a more natural approach by cleaning with vinegar.
"White distilled vinegar and bicarbonate of soda are two of nature's greatest natural cleaning tools, as they neutralize odors and remove stains, and can freshen up virtually any fabric or upholstery," explains Sue.
To spot-clean the stained area Sue advises the following: "Create a mixture of equal parts white distilled vinegar and bicarbonate soda and add to a spray bottle with warm water. Simply spritz generously to eliminate odors and remove marks, using a damp cloth to apply more of the solution directly to any stains. "
"If cushions are heavily soiled, you can create more of the mixture and add to a bucket to give a more thorough wash, rinsing with warm water once clean," Sue advises, before adding: "Just ensure excess water is squeezed out or absorbed using a towel." But more on that next.
5. Allow to air dry thoroughly
As when washing your towels or washing your sheets, it's preferable to air dry for the best results. "To finish, pat the cushions down with a towel and leave to air dry in a sunny and well-ventilated area," says Helen.
This might mean laying a clean towel down on the lawn or on another area on the patio as you follow the sun around the yard to make the most of the drying potential. "Make sure each cushion is completely dry before placing it back in your seating area."
It's not advisable to tumble dry your outdoor cushion covers as this may shrink them or change their shape, rendering them unfit for purpose.
Tips for keeping outdoor cushions cleaner throughout summer
Your outdoor furniture is an investment that requires a little TLC to keep it in tip-top condition. Francesca shares some top tips for preserving outdoor cushions...
Wipe down after each use: The best way to keep your outdoor cushions clean for longer is to prevent any build-ups of dirt and crumbles after each use. Simply take them off the furniture at the end of each day and give them a gentle shake to remove any traces of lingering debris.
Keep them covered: "Although our premium garden furniture collections are fully weatherproof, we still recommend purchasing covers to keep your set looking its best aesthetically, if not for protection against the elements themselves."
Ensure cushions are dry before storing: "Although a common problem for outdoor furniture owners, mold and mildew build-up is actually easily preventable. Simply ensure that all of your cushions are dry before you store them under a cover to prevent mold from forming."
Allow air to circulate: "It's important to find a cover with air vents to ensure breathability, reduce condensation and prevent the build-up of damp or mold."
Tamara is a highly experienced homes and interiors journalist, with a career spanning 19 years. Now the Lifestyle Editor of womanandhome.com, she has spent the last 16 years working with the style teams at Country Homes & Interiors and Ideal Home, and it's with these award-winning interiors teams that she gained a wealth of knowledge and honed her skills and passion for shopping, styling and writing about every aspect of lifestyle and interiors.
With a keen eye for the latest interior trends, there's not a lot she doesn't know about home decor – whether it's what colour we should be painting our living rooms next season, or if the latest 'must-have' buys are actually worth investing in.
A true homes and interiors expert, Tamara has served as an ambassador for leading interior brands on multiple occasions, including appearing on Matalan's The Show and presenting at top interiors trend events such as the Autumn Fair and Spring Fair.