How to clean a living room in 10 minutes: A step-by-step guide from the pros
Wondering how to clean a living room when you're tight on time? Experts reveal how to get the space spick and span in no time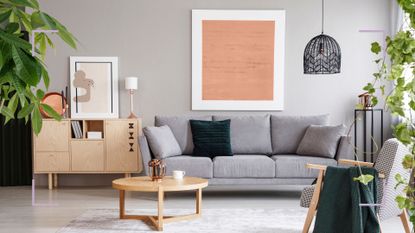 (Image credit: Getty Images/Future)
woman&home newsletter
Sign up to our free daily email for the latest royal and entertainment news, interesting opinion, expert advice on styling and beauty trends, and no-nonsense guides to the health and wellness questions you want answered.
Thank you for signing up to Woman & Home. You will receive a verification email shortly.
There was a problem. Please refresh the page and try again.
Figuring out how to clean a living room in 10 minutes (or less) might seem stressful, but with the right method, it's easy to accomplish. A speed clean of your living space is all about focusing on a smaller number of simple tasks that will give the room an (almost) instant refresh.
Oftentimes, a quick cleaning routine is all we have time for in our busy lives, and that's true whether we're cleaning the kitchen or our living space. As such, a 10-minute living room clean should focus only on the main areas - surfaces, floors, and textiles such as sofas or rugs. During this speed clean, the key isn't to get caught up in deep cleaning. Instead, the objective is to make the room functional and comfortable for use once again.
So what are the steps to follow if you're looking to achieve a clean living room in only 10 minutes? To figure out only the most essential tasks, we spoke to decluttering, organizing and cleaning experts – and this is their checklist for efficiently putting your living room back in order.
How to clean a living room in 10 minutes
Cleaning your living room in less than a quarter of an hour requires precision and focus – as well as an understanding that you're not going to be able to tackle every task you'd like.
Olivia Parks, owner of Professional Organizer New Orleans, explains, "It is definitely possible to clean a living room in 10 minutes, but the key is establishing the right expectations. You can make a noticeable difference in that time frame with effort."
So if you've got guests coming round at short-notice or only have ten minutes to spare and need to restore some order to your space, follow our quick checklist below.
1. Set a timer
This first step for planning how to clean a living room in 10 minutes may sound obvious, but it's essential for keeping you on track. Shantae Duckworth, professional organizer and founder of Shantaeize Your Space, explains that setting a timer will help to ensure you don't lose focus, or get distracted by other tasks.
"I like to set a timer, and I even have music playlists that run for 10 minutes, so I know I can turn on some music and jam out and clean for 10 minutes straight without thinking about it.
"I also recommend putting your phone down so it's not distracting," she adds.
2. Declutter miscellaneous items
To kick off your 10-minute clean, start by sorting out and putting away any random items that may be scattered around your living room – be it books, magazines, empty coffee cups, or kids toys.
Jane Stoller of Organized Jane, productivity and organizing expert and author of Decluttering for Dummies tells us, "Start by removing any visible clutter and put away items that don't belong in the living room. This will instantly make the place feel more organized."
And this is two-fold; scoop items off the floor and your surfaces. Of your living room floor, Olivia explained, "It's surprising how much difference this quick step can make; a clear floor makes the room look more spacious and inviting."
If you're struggling to find the best way to do this quickly, Emily Barron, cleaning expert, at Property Rescue suggests grabbing a laundry basket or other type of (clean) bin.
"I recommend that you grab a laundry basket, or even a bin bag, and chuck everything in. Get rid of all the clutter including yesterday's newspaper, toys, books and even pens/pencils. Anything that needs to be binned should be, and the rest, in your basket, can be taken upstairs to sort later." Of course, it's worth noting that this tip doesn't really get rid of the clutter as such, but it makes it a problem you can deal with when you have a bit more time to spare.
3. Dust and clean surfaces
With all excess items now away, the first key cleaning step is removing dust from the room. "Once the surfaces are clear from clutter, I suggest running around with the duster. To help refresh your room, open the windows and patio doors, if you have them," advises Emily.
Given the smaller cleaning timeframe, your dusting needn't be precise or hugely thorough; simply grab your duster or microfiber cloth and, with a single swipe, tackle any windowsills, TV stands and coffee tables.
4. Address your sofa – quickly
Cleaning expert Matt Connelly, founder and CEO of ihateironing explained that, while dealing with your sofa during a 10-minute clean may feel like too much work, it can indeed be done speedily, and in a way that makes a big difference to the feel of the room.
"For your sofa, I'd advise a very quick dust & vacuum of the upholstery, and fluffing up your cushions," he says. "Giving your sofa cover a full clean isn't doable in 10 minutes – however, getting rid of dust particles that can be caught in the fabric will give your sofa covers a brighter look, and make your room smell better generally."
5. Vacuum and mop floors (if necessary)
Next on the 10-minute, living room cleaning checklist is your floors. Though it may feel like a big job, this needn't be overly thorough. This isn't the time deep clean your carpets!
"Finish off with a quick vacuum; this speedy clean is a great way to rejuvenate your room until you have time to do a deeper clean," Emily says. This is where your best cordless vacuum can really shine.
If you are cleaning hardwood floors, you might also want to give high-traffic areas (such as the floor directly in front of your sofa) a quick mop, too. However, this isn't essential, and maybe something you want to save for longer, deep cleans.
You might need to skip this step if you're sitting on the 7-minute mark on your timer by this point.
6. Ensure everything is presented neatly
One of the final steps for how to clean a living room is to ensure that the remaining items and accessories out on display are arranged as neatly as possible. This will ensure that your room looks polished and put-together.
"Fold any blankets and fix any pillows," Shantae advised. "This will automatically make the room feel cleaner. Then, go ahead and stack any books or magazines – even stacks are more clean looking than books or magazines strewn about the room."
"I also like to have a fancy basket that fits the aesthetic of the space, and throw everything else in there, be it electronics, extra throws or papers."
Finish off by lighting your favorite scented candle (as long as you're not heading straight to bed), and relax in your newly clean living room.
Should you vacuum or mop your floor first?
Whether you have time for a longer deep clean, or you're completing your 10-minute cleaning checklist, the experts we spoke to were all in agreement that the correct way to clean your (hardwood) floors is to vacuum them first, then mop them.
This will ensure you aren't simply moving dirt around as you mop, Emily explains. "Hard floors always need to be vacuumed first. You'd be amazed at how much hair, dust and pet fur can accumulate.
"If you go straight in with a mop, you'll just be moving all of this dirt and grime around, and actually be making the job harder for yourself."
Jane agreed, explaining that mopping should always be your very final step. "For hardwood floors, start with sweeping and dusting. Then, spot clean with a rag and warm water, to remove the larger stuck debris.
"Mopping should be done after all the loose dirt and dust are removed. When mopping, use warm water and a suitable soap/cleaner for your specific hardwood floor."
So if you only have ten minutes to spare, it's better to prioritize vacuuming your floor; the mopping can wait.
How often should you clean your living room?
Knowing how often you should clean your house can be a minefield! However, for most of us who use our living rooms daily, it's advised that a 10-minute clean daily, or every couple of days, along with a fortnightly or monthly deep clean depending on your circumstances, is ideal.
Olivia tells woman&home, "If it's an area you and your family use often, I recommend a quick tidy-up every few days to maintain its cleanliness.
"However, deeper cleaning might be necessary every two weeks, or once a month. Ultimately, the frequency of cleaning will depend on your lifestyle, how often you and your family use the living room, and whether it's a priority compared to other areas in your home."
In fact, a 10-minute clean every day is one of those daily cleaning habits you'll probably thank yourself for later. "I know this may sound overwhelming, but I do recommend cleaning your living room daily – and I mean a 10-minute cleanup," Shantae advises.
"Once you set yourself up for success by taking ten minutes a day to clean up the living room - the room will feel so much better, and it'll be easier to deep clean, too."
Living room cleaning tips from the pros
Ensure everything has a space: Cleaning your living space in 10 short minutes is clearly possible – but in order to make this sort of speed cleaning easier in the future, Shantae suggests ensuring the room is organized properly. "The whole theory with quickly cleaning any space is setting yourself up for success in the first place - and this can take some time and thought. For example, do you have storage space for your items? Does everything have a home? Once you can provide an answer to these questions, you can clean your living room in 10 minutes anytime and any day."
Reduce clutter in your living room generally: Olivia also noted that fewer items will make cleaning quicker and easier, whether you want to know how to clean a bedroom fast, or a living room. "The fewer items in your living room, the more organized it will feel. Additionally, having less clutter reduces the amount of cleaning needed, simplifying the maintenance of order over time."
Be ready to donate items: If you're constantly tidying up items that you don't love, or know you won't be keeping in the future, Jane suggests that you "keep a donation bin handy in your living room." This may be as simple as an old laundry basket – but having it nearby will mean that you aren't tidying around items you don't even especially want.
Ensure you are prepared: Matt also says that a great way to save time in a living room clean is to ensure you have everything you need before you get started. "Get your tools ready ahead of time - the last thing you want to do is scramble around searching for the right vacuum attachment, or a microfiber cloth when you're in a time crunch!"
Sign up to our free daily email for the latest royal and entertainment news, interesting opinion, expert advice on styling and beauty trends, and no-nonsense guides to the health and wellness questions you want answered.
Amy Hunt is an experienced digital journalist specialising in homes, interiors and hobbies. She began her career working as the features assistant at woman&home magazine, before moving over to the digital side of the brand where she eventually became the Lifestyle Editor up until January 2022. Amy won the Digital Journalist of the Year award at the AOP Awards in 2019 for her work on womanandhome.com.