The best scented candles to fill your home with delicious aromas
Discover the best scented candles recommended by experts, from luxury brands to independent sellers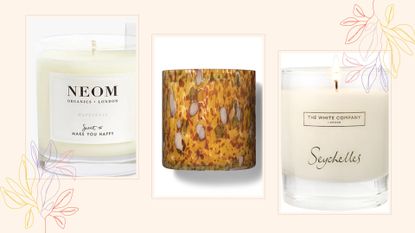 (Image credit: Future | Neom | LAFCO | The White Company)
From classic brands including Diptyque, Jo Malone, and Neom, to newer modern fragrances brands such as Boy Smells and Aerangis, our carefully curated list of the best scented candles will ensure your home smells wonderful.
Our round-up of the best-scented candles is a mix of favored fragrances our in-house team of experts personally buys and recommends; new season scents which we've intentionally reached out for samples to test in our own homes and recommendations from industry experts on best-selling fragrances.
This is our curation of the most long-lasting, luxurious, and deliciously fragranced candles on the market. While you're here, you might also want to take a look at our guides to the best essential oils and best essential oil diffusers to fragrance your home.
The best scented candle brands
How we tested the best scented candles
Why you can trust Woman & Home Our expert reviewers spend hours testing and comparing products and services so you can choose the best for you. Find out more about how we test.
In order to truly determine the best-scented candles, our in-house team of experts shares their personal recommendations of favorite scents as well as sourcing and trialing best-selling fragrances in their own homes.
In order to test each candle we assessed the following criteria:
Strength of scent: Was it detectable without even burning? How long does the scent last after burning for 2-4 hours, this is what many experts recommend to truly test the scent.
Burn time: An all-important factor when buying any scented candle is how long the approximate burn time is. We tested if we felt the times stated by the retailer are a true reflection of how long we burnt each for.
Value for money: Because scented candles can prove costly we assessed if each was worth its price tag, this depended on the burn time to weigh up the cost per use and whether the scent was powerful enough.
In absence of being able to physically test the best-selling fragrances recommended by industry experts, we've assessed online customer reviews to ensure they live up to the hype.
The best scented candles as chosen by our experts
From Neom to Jo Malone, we've rounded up the most beautifully scented candles to make your house smell amazing.
Best strong smelling candles
1. Malin + Goetz Dark Rum Candle
Specifications
RRP: $62 / £50
Weight: 8.9oz / 255g
Burn Time: 60 Hours
Wax: Vegetable wax blend
Fragrance Notes: Bergamot, Plum, Anise, Leather, Rum, Vanilla, Patchouli, Amber, Milk
"You are welcomed by the richness of this Dark Rum scent the minute you enter the room, well before lighting," says our lifestyle editor, Tamara Kelly. "And while the scent is strong it doesn't feel overpowering."
The deliciously fragrant candle offers a dark and spicy aroma, sweetened by the notes of plum and crisp bergamot. "This candle burnt at a noticeably slow pace, meaning the wax looked fairly untouched even after three hours of burning." A well-worthy candle for our 'best of' round-up.
2. Neom Real Luxury Scented Candle
Specifications
RRP: $55 / £50
Weight: 14.8oz / 420g
Burn Time: Up to 50 Hours
Wax: 100% natural wax
Fragrance Notes: Lavender, Brazilian rosewood and jasmine
Neom make some of the best aromatherapy candles around. Their Real Luxury fragrance blends delectable essential oils, including English lavender, Brazilian rosewood, and jasmine. Neom candles can really fill a room and the scent lingers long after the flame is extinguished.
3. Diptyque Feu de Bois Scented Candle
Specifications
RRP: $43 / £35
Weight: 2.5oz / 70g
Burn Time: 30 Hours
Wax: Not specified
Fragrance Notes: Woods, Lapsang tea
One of the very best Diptyque candles, Feu de Bois is packed full of bold smoky wood notes with an equally smoky, but also sharp, hit of Lapsang tea.
"Is it ever ok to call a scented candle sexy? If so, this is it," says w&h beauty editor Fiona Mckim. "The ultra-distinctive smoky and woody scent fills a room like no other, giving off decadent Big Evening Energy (even if it's 11 am on a Monday). Like everything by Diptyque, it also looks very aspirational on your mantle, and burns beautifully, cleanly, and evenly."
4. Beauty Pie Bahia De Miel
Specifications
RRP: £20 for members, £60 for non-members (UK only)
Weight: 240g
Burn Time: 60 Hours
Wax: Mineral wax
Fragrance Notes: Green Basil, Liquorice Milk, Balsam Fir, Guaiac Wood, Honey, Vanilla Musk
Beauty Pie is already a favorite for serious beauty aficionados, making some of the best skincare products in the industry, and they have amazing candle offerings too. The Bahia de Miel candle wows with honey, vanilla, sharp basil, wintry fir, wood, and musk notes. The five-star reviews of this product speak for themselves.
5. Aldi No.3 Pomegranate Candle
Specifications
RRP: £3.49 (UK only)
Weight: 310g
Burn Time: Not specified
Wax: Not specified
Fragrance Notes: Pomegranate
After lighting this Aldi candle, you may well smell some strong similarities to Jo Malone's best-selling Pomegranate Noir. It's also not the only candle offered by the discount supermarket, so look out for the whole range.
"Aldi's famous Jo Malone dupes are the best on the market, the scents are incredibly well matched," says Tamara. "Although, as expected with a budget version they don't last for as long as the original – however, it's a small price to pay when you're making a saving of £51.51."
Best Citrus candles
6. Acqua di Parma Aperitivo in Terrazza Candle
Specifications
RRP: $72.28 / £59
Weight: 7.oz / 200g
Burn Time: 50 Hours
Wax: Not specified
Fragrance Notes: Lime, Blood orange, Grapefruit, Gentian absolute and Cinnamon
This is the scent of warm Italian summer evenings, with lime, blood orange, and grapefruit mixing with a bitter hit of gentian and warm spicy cinnamon.
"Aside from looking the absolute business in its ADP-signature egg yolk yellow glass, this is basically Italy in a jar," says Fiona. "It's rammed with tart citrus - blood orange, lime, grapefruit - with a balmy backnote of cinnamon, so naturally lends itself to bright days (or manifesting blue skies on moody ones) It's not cheap, but 50 hours of escapism is a pretty nice return on the investment."
7. Cire Trudon Salta Candle
Specifications
RRP: $99 / £92
Weight: 9.5.oz / 270g
Burn Time: 55 to 60 Hours
Wax: Not specified
Fragrance Notes: Verbena, Grapefruit and Hyacinth
Another ode to Italian citrus, this candle blends soft Calabrese mandarin essential oil with sharp grapefruit and a warm base of golden mimosa.
8. Jo Malone Lime Basil & Mandarin Home Candle
Specifications
RRP: $68 / £55
Weight: 7.oz / 200g
Burn Time: 45 Hours
Wax: Unique blend of qualitative waxes
Fragrance Notes: Basil, White Thyme and Lime
Counted as one of the best Jo Malone fragrances by loyal customers, this iconic offering from the luxury London fragrance house blends peppery basil and aromatic white thyme with sharp lime and sweet and juicy mandarin.
"Lime Basil & Mandarin is arguably this brand's most iconic scent, and definitely one of the best Jo Malone fragrances to bring zingy spring vibes to your home," Fiona explains. "Mouthwatering citrus is perfectly cut through by green, peppery basil, and thanks to those edible notes."
"This is one of the only scented candles I think it's acceptable, or even preferable, to burn when you've got friends around for dinner."
Best woody candles
9. LAFCO Labdanum Signature Candle
Specifications
RRP: $115 (US only)
Weight : 15.5oz
Burn Time: 90 hours
Wax: Soy wax
Fragrance Notes : Labdanum absolute, Patchouli, Vanilla
"From its gorgeous glass vessel to its long-lasting woodsy and sweet scent, the LAFCO Labdanum candle has become my favorite home fragrance," says w&h shopping writer Kenedee Fowler. "This is definitely a luxury candle from how it comes packaged to its richness in scent. I'm usually not one to spend more than $20 on a candle, and although I was sent this candle for a thorough review, I would definitely invest my own money into this candle when it's time to restock."
This candle will make the perfect Christmas gift for her and the best Christmas gift for men with its gender-neutral woodsy and vanilla fragrance notes.
10. Cacao & Vanilla Candle
Specifications
RRP: £28 (UK only)
Weight: 220g
Burn Time: 40 hours
Wax: Soya, Coconut, Canola and Beeswax
Fragrance Notes: Cacao, Vanilla, Cedar Wood, Musk, Amber
This signature scent from the masters of chocolate omits a gentle but distinctive smell of raw cacao fused with vanilla, giving a sweeter side to this woody fragrance. The cedar wood undertone ensures the aroma feels grounded and strong without feeling sickly – a balance that needs to be met when emulating the scent of confectionery.
11. Boy Smells Cedar Stack candle
Specifications
RRP: $32 / £36
Weight: 1.4oz / 240g
Burn Time: Not Specified
Wax: Coconut and beeswax
Fragrance Notes: Juniper Berry, Orange PeelBlack Peppercorn, Ginger, Sawdust, Cedarwood Virgina, Cinnamon Leaf, Tobacco, White Musk, Labdanum, Patchouli
As the name suggests, this gorgeous candle is just like a big bundle of wood wrapped up in a chic black jar with the brand's signature pink sticker on the front. That said, it's particularly good-smelling wood and augmented with ginger, peppercorns, orange peel, cinnamon and juniper berry.
12. Miller Harris Santal scented candle
Specifications
RRP: $58 / £50
Weight: 7.7oz / 220g
Burn time: 50 Hours
Wax: Soy and rapeseed
Fragrance Notes: Sandalwood, Pink Pepper, Olibanum
Known for creating beautifully-blended perfumes, Miller Harris have a perfect collection of scented candles too. Their Santal candle has a rich sandalwood scent ever-so slightly sweetened by a touch if pink pepper and enhanced by the smoky aroma of frankincense.
13. Trish McEvoy 9 Oud
Specifications
RRP: $80 / £65
Weight: 7.oz / 198g
Burn Time: 50 Hours
Wax: Soy
Fragrance Notes: Blackberry, Lavender, Jasmine Sambac, Honeycomb, Tonka Bean, Oud Wood, Vanilla Extract, Olibanum, Rich Patchouli, Sandalwood, Musk, Amber
We love the soft Eastern fragrance of this soy-blended candle and the enchanting black and gold jar speaks to the quality of the product inside. The presentation of this candle also makes it a great gift, whether you're shopping for a milestone birthday or want a generous thank you gift to show your gratitude.
14. Maison Francis Kurkdjian Baccarat Rouge 540
Specifications
RRP: $104 / £90
Weight: 9.9.oz/ 280g
Burn Time: Not specified
Wax: Not specified
Fragrance Notes: Jasmine, Ambroxan, Virginian Cedar, Saffron
This collaboration between perfumer Maison Francis Kurkdjian and crystal house Baccarat Rouge 540 has become a cult fragrance. It combines woody notes with a heady dose of amber and elements of jasmine and cedar.
15. Ormonde Jayne Montabaco Large Candle
Specifications
RRP : $78 / £70
Weight : 10.oz / 290g
Burn Time: 55 Hours
Wax: Not specified
Fragrance Notes: Black hemlock, cardamom and cedar wood
Topped with a gold-tone lid and neatly packed in a stylish box, this hand-poured scented candle will make a statement on any mantlepiece. The woody scent fills the room and lingers after the candle is blown out.
Beautifully presented in a simple but stylish pot, this scented candle would make a good present, because as well as a long-lasting scent, it should burn for around 55 hours, meaning it's truly a gift that keeps on giving.
Best floral candles
16. Aerangis No.1 The Beginning
Specifications
RRP: $78 (US only)
Weight: 8.Oz
Burn Time: 50 hours
Wax: Natural wax
Fragrance: Aerangis orchid, bergamot and jasmine
With notes of white flowers, aerangis orchid, jasmine, sandalwood, and more floral and clean scents, Aerangis' No.1 The Beginning candle gives you all the spring feels.
"You might mistake this candle for the best floral fragrances," says Kenedee. "I've been testing this candle for over two months and light it at least once a week for several hours, and it's safe to say this is a long-lasting 8oz candle. The brand also prides itself on being eco-conscious. Only producing plant-based waxes and lead-free wicks. It's definitely a luxury fragrance brand, which you can tell from its sleek and minimal packaging and its powerful scent that fills up the whole room."
"So, although this candle has a hefty price tag of $78, it's definitely worth the splurge. But, if you can't wrap your mind around spending over $50 for a candle, the brand also offers a mini 3.5oz size for $38.
17. William West Windsor Rose Candle
Specifications
RRP: $34.29 / £27.99
Weight: 10.5.oz / 300g
Burn Time: 65 Hours
Wax: Soy wax
Fragrance Notes: Rose
Inspired by the English rose gardens at Windsor Castle, this is one of the best scented candles if you want to capture the fragrance of a summer garden in bloom.
"I was pleasantly surprised by the sweetness of the rose aroma in this candle, a refreshing departure from the more earthy floral notes of traditional rose fragrances," says Tamara. "The burn time is slow meaning that even after a month of using this candle it still felt untouched in terms of burnout."
18. Diptyque Roses Candle
Specifications
RRP: $35.97 / £31
Weight: 2.4.oz / 70g
Burn Time: 30 Hours
Wax: Vegetable and paraffin wax
Fragrance Notes: Rose
If you're always on the hunt for the best rose perfume, then you'll love the top-rated Diptyque Roses candle that uses a blend of different roses to give you the scent of a bouquet even in the dead of winter.
"This intoxicating scent offers a strong rose smell that is more real to life," says Tamara "rather than a synthetic 'granny' floral scent, an element that can often deter from choosing a floral scent. The strong fragrance means you don't have to burn this candle for long to really enjoy the scent, which in turn makes it last longer."
19. Floris Hyacinth & Bluebell candle
Specifications
RRP: $36.67 / £31.68
Weight: 6.oz / 175g
Burn Time: 35 Hours
Wax: Not specified
Fragrance Notes: Hyacinth, Bluebell, Carnation and Ylang Ylang
Fresh, floral and leafy, this candle is the scent of the woods in spring. Classic British perfumers Floris add high concentrations of essential oils to make sure you get a rich scent and each candle should burn for around 35 hours.
20. Jo Malone Velvet Rose & Oud Candle
Specifications
RRP: $71.95 / £62
Weight: 7.oz / 200g
Burn Time: 40 Hours
Wax: Not specified
Fragrance Notes: Damask Rose, Oud Wood, Clove and Praline
One of the best Jo Malone candles, the brand describes this one as a "Damask rose in full bloom", but the rose is tempered by the dark, woody scent of the oud.
Best herbal candles
21. Scent & Fire Safe Space Candle
Specifications
RRP: $26.69 / £23
Weight: 9.oz / 255g
Burn Time: 40-50 Hours
Wax: Soy wax
Fragrance Notes: White tea, Thyme, Jasmin and Bergamot
"This herbal-infused scent is a beautiful fusion of White Tea, Thyme, Jasmin, and Bergamot to create a light yet distinctive herbal aroma," explains Tamara. "The heady scent is fresh, just strong enough to instantly transport your senses to a herb garden filled with greenery. The simple screw top is ideal for keeping it dust-free when it's not in use."
It not only smells divine but part of the proceeds of this scented candle go to Gem City Selfie Museum to promote color therapy and phototherapy for social and mental wellness.
22. Woodwick Wild Berry & Beets Candle
Specifications
RRP: $32.48 / £27.99
Weight: 609g
Burn Time: Not specified
Wax: Not specified
Fragrance Notes: Mint, Wild strawberry, Wild raspberry, Beets, Orange and Patchouli
This sweet-scented candle awakens the senses, it's strong and fruity with a hint of mint. "When testing this candle I notice immediately that the aroma was deliciously fresh and ideal if you like a statement scent," says Tamara.
In addition to its pleasing scent, this candle offers a multi-sensory experience thanks to the patented innovation 'Pluswick Technology', designed to recreate a gentle crackle reminiscent of a wood-burning fire – and it really does. "I loved the subtle crackling emitting from this candle, it adds just enough to appeal to the senses without causing too much distraction."
23. Acqua di Parma Profumi Dell'orto Candle
Specifications
RRP: $75 / £55
Weight: 7.oz / 200g
Burn Time: 50 Hours
Wax: Not specified
Fragrance Notes: Tomato leaves, Thyme, Mint, Verbena, Basil, Pimento
A gorgeous, green blend with aromatic herb notes and the idea of crisp tomato leaves and warm and spicy pimento berries.
24. Jo Loves Fig Trees
Specifications
RRP: $75 / £55
Weight: 6.5.oz / 185g
Burn Time: 37.5 Hours
Wax: Not specified
Fragrance Notes: Amber, Fig Trees, Cassis and Cedar
Jo Loves is the brand created by Jo Malone the person after she parted ways with Jo Malone the brand. This fig scent brings a touch of green to the indoors, also bringing warm amber for depth and cassis for sweetness.
25. Polkra x Katie Scott Candle Collection - Circe
Specifications
RRP: $68 / £55
Weight: 21.oz / 600g
Burn Time: 45 Hours
Wax: Ethically sourced coconut & rapeseed wax
Fragrance Notes: Black Pepper, Basil and Cedar Wood
London-based Polkra makes creative and colorful homewares and their candles are no exception. This one mixes basil and pepper notes with warm cedarwood. The jar is noteworthy too, moving away from the neutral elegance of most candle packaging and into bolder territory.
26. ESPA Energising Candle
Specifications
RRP: $36 / £37
Weight: 7.oz / 200g
Burn Time: Not Specified
Wax: Natural soy wax
Fragrance Notes: Peppermint, Eucalyptus and Rosemary
If you love a refreshing scent in the mornings this ESPA candle is a for you. It's a mix between a calming spa aroma and sherbet lemon sweets with dashes of peppermint and eucalyptus.
Summer scents
27. The White Company Seychelles Signature Candle
Specifications
RRP: $26/£22
Weight: 4.9oz/140g
Burn time: 35 hours
Wax: Mineral wax
Fragrance notes: Bergamot, Amber and Vanilla
For those who are looking to be transported to summer climates, this is the ideal candle for a touch of escapism. It's one of The White Company's best-selling scents and it's easy to see why, we will be eternal fans of this summery scent.
"A blend of evocative bergamot, bright orange, and fresh coconut, plus a hint of jasmine, warming amber, and buttery vanilla this loaded fragrance is a delightful assault on the senses," says Tamara. "I find this scent ideal for lighting after a long day's work, to sit back and close my eyes to and escape."
28. Neom Happiness Scented Candle
Specifications
RRP: $62 / £50
Weight : 16.oz / 420g
Burn Time: 50 hours
Wax: 100% Natural wax
Fragrance Notes: White neroli, woody and powdery mimosa and zingy lemon
What could be more reminiscent of summer than the feeling of happiness, a sentiment this best-selling fragrance perfectly encapsulates. "This is a super fresh, warming scent that reminds me of summer," says our health editor Grace Walsh. "I buy it every year when the sun starts to come out and it immediately makes me smile."
"The three-wick candle is my go-to as it lasts for ages, at least two months, burning it a couple of times a week."
Sleep-inducing scents
29. Anatomé Recovery + Sleep Candle
Specifications
RRP: £45 (UK only)
Weight: 300g
Burn Time: 60 hours
Wax: Vegetable waxes
Fragrance Notes: Lavender, Frankincense and Myrrh
"This is my go-to sleep candle whenever I'm looking to revitalize my sleep routine," says Grace. "It lasts for ages as you only need to burn it for about 20 minutes before you get into bed to have the scent in your bedroom for the whole night, and the smell is really unique in that it's soft and flowery, promoting total relaxation, without being overpowering.
As a result of testing Grace also now buys the sleep spray often, "which has a more intense smell and is perfect for a quick spritz."
30. This Works Deep Sleep Heavenly Scented Candle
Specifications
RRP: $31 / £26
Weight: 220g
Burn Time: 40 Hours
Wax: Not specified
Fragrance Notes: Lavender, Camomile and Vetivert
A cult favorite amongst troubled sleepers, this updated blend has notes of lavender, camomile, and vetiver. Light this just before you begin your bedtime routine and breathe in the calming scents.
What is the best-scented candle brand according to our editors?
While the best scented candles come from a variety of brands, our editors each have their favourite brands for certain scents that they go to time and again.
Best budget candle brand: In the US Bath and body works is a go-to for affordable home fragrances – "they are known for their strong scents that can fill up the entire house, "says Kenedee "That's why I love them. They rotate scents depending on the season." For the UK Aldi is reputed for high-quality scented candles under £5, proving that luxury doesn't have to cost a fortune.
Best luxury candle brand: Creed Aventus, known as a leader in men's fragrances, Creed Aventus also curates unisex candles infused with rich scents.
Best long-lasting candle brand: Yankee Candle boasts an enduring 110-150 burn time for each option. The brand also uses premium-grade paraffin wax and wicks made of 100% natural fibers.
Best candle brand for sweet and spicy scents: Diptyque reconciles sweet, soft, and floral notes with spicy, more intense aromas. In other words, shoppers truly get the best of both worlds at their fingertips.
Best candle brand for fresh and clean scents: The White Company is hailed for crafting great-smelling candles with fresh scents and earthy tones. The brand also makes top-rated seasonal-scented candles.
Best candle brand for woody and musky scents: Maison Francis Kurdijan creates candles with warm, winter-inspired scents. Think balsam fir fragrance, along with notes of anise, nutmeg, and tobacco.
Best candle brand for citrus scents: Acqua Di Parma is a brand renowned for strong citrus scents. Its Blu Mediterraneo candle line embodies sparkling citruses, rich fruity scents, and tropical coastlines.
Image 1 of 2
What is the correct way to burn a candle?
We asked candle expert Jo Malone, founder of the Jo Malone brand and owner of Jo Loves, to share her tips for getting the most out of your best-scented candles by burning them correctly every time.
Jo says, "For the best possible burn and to prolong the life of a candle, it's best to burn the candle for long enough so that the whole surface becomes molten, this usually takes around two hours. Candles have memory, so if you blow out a half-melted candle it's less likely to burn down evenly the next time."
"Avoid burning any candle for more than three to four hours at a time and once you have put it out, leave the candle to completely cool before relighting it. To get the best longevity out of your candle, it is important to trim the wick each time before relighting it. Trim the wick to between 4mm and 5mm as this allows the candle to burn evenly and also prevents smoking. Avoid burning the candle in a draft too, as this may cause it to smoke."
How do I choose a candle fragrance?
Offering some help with the buying journey of determining what scent is best for you Daniel Dutton, trade marketing manager at Diptyque suggests: "Ask yourself how you like to feel in your home or the room you are choosing a scent for?"
"You may also find it useful to consider when you like to light a candle so it is most appropriate for when you will be experiencing the fragrance. For example, if you are looking for a scent to relax on an evening think of which fragrances recall other times you have felt relaxed as fragrance and memory are so intrinsically lined."
"Taking this route light florals, you associate with being at one with nature or perhaps a fragrance associated with childhood may reveal itself to you that will create the mood you are looking for when you light your candle each evening."
Daniel adds: "Other factors worth considering are your choice of candle size and this will depend on the size of the room to be perfumed. It is, of course, also possible to increase the number of candles for a more intense olfactory effect as well as add drama from the increased luminosity of multiple flickering flames."