I've tried all of the Sol de Janeiro scents and these are the ones worth investing in
All Sol de Janeiro scents smell like summer in a bottle, but if you're wondering which of their fragrances are worth investing in, these are our Beauty Editor's absolute favourites...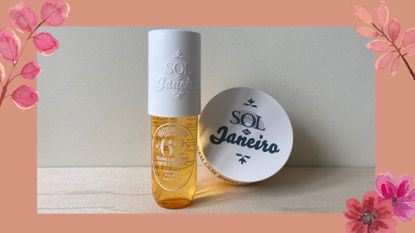 (Image credit: Future)
woman&home newsletter
Sign up to our free daily email for the latest royal and entertainment news, interesting opinion, expert advice on styling and beauty trends, and no-nonsense guides to the health and wellness questions you want answered.
Thank you for signing up to Woman & Home. You will receive a verification email shortly.
There was a problem. Please refresh the page and try again.
My obsession with Sol de Janeiro scents started with the (now very much cult) Bum Bum Cream. Which, as a side note, I've recently learnt is actually pronounced "Boom Boom" rather than the slightly less elegant "Bum Bum".
When it first launched in 2015, the Brazilian-inspired Bum Bum Cream had all the makings of a great beauty product. It has bright, dopamine-inducing packaging, a cheeky name (and you've only got to look at Nars Iconic Orgasm Blush and Two Faced Better Than Sex Mascara to know that's often a winner), as well as being a brilliant body moisturiser. One of the best-smelling body lotions around, it's fast-absorbing, intensely nourishing and promises to firm skin – especially on your thighs and bum.
Sol de Janeiro's popularity has boomed (sorry) since then with an expansion across body creams, as well as other body care products like body oils and washes, but most notably with Sol de Janeiro fragrances.
There are now five different signature scents (with matching Perfume Mists) in the line – the original Cheirosa 62, Cheirosa 40, Cheirosa 68, Cheirosa 71 and Cheirosa 87. Sol de Janeiro translates as "Sun of January", which is the time of year when the sun is at its highest in Brazil, so it makes sense that all of the scents evoke a celebratory Brazilian spirit and an enduring summery feel. They're still distinctly different though, and would be quite easy to tell apart in a blind sniff test. Some are fruity perfumes, some are floral fragrances and some are more gourmand – which is a big fragrance trend for 2023. I've tried them all and these are my favourite Sol de Janeiro summer scents ranked from most loved to least used...
Our favourite Sol de Janeiro scents
1. Cheirosa 62
What the brand says: This is the scent that started it all. It's irresistible, sunny, warm and the ultimate expression of Sol de Janeiro's Brazilian spirit. With notes of pistachio, salted caramel and vanilla, it feels like summer all year round. It's inspired by the year 1962 when we first heard the song 'Girl from Ipanema'.
What we think: I can be quite fussy when it comes to fragrance, and normally I gravitate towards scents that are crisp, clean and citrusy rather than overly sweet. It's the same whether I'm shopping for the best cheap perfume or blowing my monthly budget. I think what makes an exception here is the fact I fell for this Sol de Janeiro fragrance via the Bum Bum Cream rather than a traditional perfume.
The first thing to note is that in all forms (it comes in a moisturiser, oil, hand cream and haircare, among others) this scent is impressively long-lasting. If I apply the Bum Bum Cream or Body Firmeza Oil as a Sunday night pamper treat, I'll still be able to smell it on my sheets by mid-week. And, when I've used the Brazilian Joia Milky Leave-In Conditioner (which is one of the best heat protection sprays by the way) it lingers in my lengths for a good few days. What I love most about the scent itself is that it's warm and comforting rather than sickly. To me, the salted caramel is the overwhelming note and feels snug and summery all at once - but it is worth noting that the perfume scent doesn't last as long as the fragrance from the body or hair products.
2. Cheirosa 87 Rio Radiance
What the brand says: A solar floral with top notes of leite de coco (coconut milk) and warm sand, middle notes of solar tuberose and ylang-ylang, finished with base notes of creamy vanilla and amber essence. It's inspired by 1987's "Summer of the Cans", a highly influential event that prompted parties, music and art.
What we think: I'm all about holiday nostalgia, to the point that when Nivea launched a shower gel that smelt like their sun lotions, I unashamedly once bought five bottles in a single trip to Wilko. When I smelt Cheirosa 87, it was a very similar reaction, and there is something about this floral fragrance that made me feel like my Out of Office was on, my hair was salty and my toes were in the sand. I'm also an absolute sucker for anything that smells of tuberose (Tubéreuse is my all-time favourite, only-burn-on-very-special occasions best Diptyque candle). This, combined with a touch of coconut and amber, for me, evokes the feeling of a warm summer evening.
The fragrance itself isn't too strong, which does impact the staying power, but I like the fact that it's more low-key as I can find intense scents quite headache-inducing when the temperatures heat up. The Rio Radiance Cream, which was infused with hydrating squalane and shimmering mica as the ultimate post-sun bathing treat, is, unfortunately, a limited edition product. But, I'm hoping that thanks to the popularity of the perfume mist, it might make a comeback to see us through a gloomy winter.
3. Cheirosa 68 Beija Flor
What the brand says: Immerse yourself in vibrant notes of Brazilian jasmine, pink dragonfruit and sheer vanilla. Blooming and bright, this fruity fragrance will remind you of a garden in Rio. It's inspired by 1968 was the Tropicalia Movement marked an exciting musical and cultural shift in Brazil.
What we think: If I asked you to imagine what you think a summery body lotion would smell like, I don't think you'd land far from Cheirosa 68. That's not to say it's obvious though, and I think that's down to the choice of fruity notes, which are pink dragonfruit and lychee essence. They're more exotic and unexpected than your average pineapple or coconut summer blend, which feels in keeping with the brand's far-flung feel. I'd agree with Sol de Janeiro that this fragrance is bright and energising, but it is sweeter than I'd normally go for. That being said, the sugariness does fade the fastest, leaving behind a musky fruity floral. You can find Cheirosa 68 in a perfume mist, deodorant, body wash and rich, skin-plumping body cream.
4. Cheirosa 71
What the brand says: Decadent like cashmere, this amber gourmand fragrance has rich notes of caramelised vanilla, toasted macadamia and tonka bean. It's inspired by Brazilian muse Leila Diniz who, in 1971, celebrated her bikini body at eight months pregnant on the beaches of Rio.
What we think: Counting down the days to spooky season, crispy leaves and cosy fire-side roast dinners? Summer isn't for everyone, and I'd say that this Sol de Janeiro scent is the most autumnal of the bunch. At first sniff, it's the original Cheirosa 62 but on steroids. It's got the same caramel and vanilla notes, but with the intensity dialled up to max. The closest thing I can liken it to is caramelising sugar when it's just starting to catch on the bottom of the pan, or when someone's taken a blow torch to a crème brulée in a fancy restaurant. There are more dessert-worthy gourmand notes too, with toasted macadamia nut and tonka bean, while coconut blossom and sea salt add a sprinkle of the beachy feel you'd expect from the brand. At the moment, Cheirosa 71 is only available in a perfume mist, which is indulgent, cocooning and intoxicating in just one spritz, but is more of a fall fragrance than what I'm looking for day to day.
5. Cheirosa 40 Bom Dia Bright
What the brand says: Sultry and delicate, this warm floral fragrance pulls you in with a sheer touch of sophisticated sensuality. With alluring notes of black amber plum, jasmine blooms and vanilla woods. It's inspired by 1840 when Rio debuted their legendary bailes Carnaval Ball.
What we think: I don't know if it's just the bright red colour of the Bom Dia Bright range, but to me, it feels like the youngest of the Sol de Janeiro scents. That's not to say I dislike it – the mix of fruity and florals is certainly uplifting, and vanilla gives it a dash of extra sweetness, but I wouldn't say I get the sultriness that the brand describes. Personally, it wouldn't be one I'd want to douse myself in spritzes of.
However, if I'm looking for something to put a bit of spring in my step at the start of the day, for example, a body wash, a body scrub or a deodorant, then Cheirosa 40 is definitely something I would choose. In fact, thanks to the addition of exfoliating AHAs which work wonders on the chicken skin on my arms and the bumpy backs of my thighs, the Bom Dia Bright Cream is one of my favourite Sol de Janeiro products because it's a brilliant body exfoliator.
Are Sol de Janeiro scents worth investing in?
Sol de Janeiro scents are all quite unique, with unexpected notes that set them apart from your average affordable fragrances. With the exception of Cheirosa 71, I'd say they're all very summery, which will either appeal to you all year round or not. For me, I'll be drenching myself in my favourites (Cheirosa 62 and 87) as I optimistically wait to see whether British summertime will make an appearance this year.
Sol de Janeiro's Perfume Mists are popular for good reason. Mainly, as they're not super expensive (£22 for 90ml or £35 for a generously sized 200ml), especially when you consider that 100ml of Jo Malone's popular perfume Pomegranate Noir is over £100, and 100ml of Le Labo Santal 33 will set you back over £200. Price is a key consideration when choosing the best perfume for you.
While these perfumes are well priced, because they're mists rather than an Eau de Parfum they don't have the same intensity as long-lasting perfumes and we found they do tend to fade quicker than other scents. However, the benefit of the mist formula is that they can be used on your body, as well as your hair, without leaving it dry and straw-like.
What's brilliant about the Sol de Janeiro collection as a whole is that as it works in fragrance families, so you can layer fragrances from different products that have the same scent, such as a body lotion and a body mist, which will increase their potency and staying power. It's one of the oldest tricks in the book for how to make perfume last longer.
If you're strapped for cash and can only afford to invest in one product from Sol de Janeiro, I personally would choose one of their scented body lotions over a mist, just because the lotion is essentially a two-in-one and will leave you deliciously fragranced at the same time as caring for your skin.
Sign up to our free daily email for the latest royal and entertainment news, interesting opinion, expert advice on styling and beauty trends, and no-nonsense guides to the health and wellness questions you want answered.
Jess Beech is an experienced fashion and beauty editor, with more than eight years experience in the publishing industry. She has written for woman&home, GoodtoKnow, Now, Woman, Woman's Weekly, Woman's Own and Chat, and is a former Deputy Fashion & Beauty Editor at Future PLC. A beauty obsessive, Jess has tried everything from cryotherapy to chemical peels (minus the Samantha in Sex and The City-worthy redness) and interviewed experts including Jo Malone and Trinny Woodall.