10 grown-up fruity perfumes that smell truly delicious
Our selection of fruity perfumes that are fresh, elegant, and not at all sickly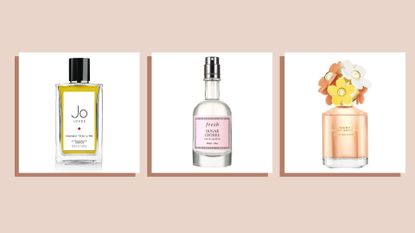 (Image credit: Future)
The best fruity perfume will lighten your mood, slice through Monday morning brain fog and transport your mind to sunnier climes (even when it's anything but balmy outside)
If you're anything like me, your first foray into fragrance probably began with a fruity little number. Like most 90s teens, I would douse myself in a can of sickly-sweet Impulse. This was succeeded by my first proper perfume - Ralph by Ralph Lauren, a fruity juice whose ingredient list read like the menu of a smoothie bar. Like hair mascara and Tamagotchis, I outgrew this fragrance fad, moving on to the best perfumes for women with headier aromatics, the best Chanel perfumes and even unisex fragrance. So it's no surprise many of us see fruity fragrances as 'young'.
"Fruity notes explode at the start of a fragrance, so for a young person who wants a powerful hit of fragrance, they are very attractive," explains Master perfumer Ruth Mastenbroek (opens in new tab). But newer iterations are not all sickly-sweet. "I personally love using fruity notes as they're so versatile," agrees perfumer Nic Mastenbroek. "I'm seeing them used more in high-end fragrances. It's about how these notes are combined that creates the actual fragrance and tells the story." Want to know how to choose a perfume that's fruity but not sugary? Find your fruit-forward forever fragrance from our edit of the best fruity perfume, from cult classics to brand new olfactory offerings.
How to choose fruity perfume
This all comes down to personal preference. But if you're in the market for a new fruity fragrance, whether you're hitting the department store or want to learn how to buy fragrance online, our experts have some great advice:
Fruity doesn't always mean sweet: "Just because a fragrance says it has strawberry in it, doesn't necessarily mean the fragrance will smell of strawberries," explains Nic. "It may be using the qualities and characteristics of strawberries to add a dose of green freshness and mouth-watering sweetness."
Break the rules: "My approach is to combine ingredients to create something unexpected," says Jo Loves (opens in new tab) founder, Jo Malone CBE. "For example, with Mango Thai Lime I cut through the sweetness of mango with sharp lime and punchy pepper taking it in a completely different direction."
Give it time: "Fruity notes don't often last long, so if you're choosing a new fragrance, I would always suggest wearing it for an hour or so to make sure you still like it once the top notes have faded," says Ruth.
Choose the right notes: "Fruity notes can be off-putting as we get older because when combined with sweet notes like vanilla, they can feel childish or unsophisticated," admits Ruth. "Some elegant fruity notes are citrus, especially grapefruit, combined with floral notes like orange blossom, or as part of a cologne. These combinations can provide a good balance to the comfort and freshness that fruity notes offer."
Have fun: "Be creative and remember to have fun," says Jo. "Fragrance can be taken seriously but picking your scent for the day should be joyful - and fruity fragrances are the perfect way to embrace summer too."
10 fruity perfumes, chosen by our beauty editor
1. Jimmy Choo Eau de Parfum
Best fruity perfume for most people
Specifications
RRP: $102.64/£75 100ml
Top notes: Pear nectar, Sweet Italian orange
Middle notes: Tiger orchid
Base notes: Toffee, Patchouli
Reasons to buy
+
Long-lasting
+
Reasonable price point
+
Good projection
Reasons to avoid
-
Popularity may put people off
Launched in 2011, Jimmy Choo's debut fragrance has redefined the fruity fragrance category. This isn't overtly sweet or girlish. It's sensual, addictive, and insanely glamorous. Plus, it's a really long-lasting perfume. It somehow manages to transcend age, season, and a person's typical fragrance taste. You might usually turn your nose up at – and away from – fruity, editable notes, but you will likely still be as captivated by this as I am.
The juice is rich and creamy, with notes of exotic tiger orchid, patchouli, and sweet toffee. It's the perfect example of how the right counter ingredients (in this case warm, woody Tiger orchid and patchouli) can ground fruity notes, and deliver a modern, sensual interpretation.
2. Fresh Sugar Lychee Eau de Parfum
Best mood-boosting fruity perfume
Specifications
RRP: $95/£76 100ml
Top notes: Grapefruit, Lime blossom, Amalfi lemon
Middle notes: Lychee, Freesia, Lotus
Base notes: Amber, Sandalwood, Tonka bean
Reasons to buy
+
Uplifting
+
Instantly refreshing
+
Cult brand
Reasons to avoid
-
Not as long-lasting
-
Citrus may be too strong for some
Feeling a bit, well, bleurgh? Try this sherbert-y scent with a citrus twist. The grapefruit punches in first, then after a few seconds it's the lemon that comes to the fore, creating a crisp and fresh element.
This cult fragrance was created in 2007, and the idea behind it was to evoke the sweet and addictive essence of sugar. It's definitely sweet, but the zing that comes with the citrus notes means it avoids saccharine territory. This is a real mood-booster scent. Citrus notes cut through the air like a knife, so when you're feeling tired, stagnant and a bit run down, this will certainly lift your spirits.
3. Jo Malone English Pear & Freesia Cologne
Best timeless fruity perfume
Specifications
RRP: $145/£108 100ml
Top notes: King William Pear
Middle notes: Freesia
Base notes: Patchouli
Reasons to buy
+
Good staying power
+
Elegant blend
+
Very classy - great for gifting
Reasons to avoid
-
Less projection than others
If you prefer your fragrances to be less fruit salad, more fruit consommé, this is your gal. This soft, understated interpretation of an English orchard is such a hit it pipped the likes of Pomegranate Noir and Lime, Basil, and Mandarin to the number one spot in our list of the best Jo Malone fragrances, as voted for by customers.
The first impression is all juicy pears, fresh and faintly sweet, trailed by white freesias and woody patchouli. We love this because, for a fruity fragrance, it's not at all loud and overbearing. Everything about it is subtle, which makes it a great day-to-day scent.
4. Dolce & Gabbana Dolce Lily Eau de Toilette
Best floral fruity perfume
Specifications
RRP: $71/£83 75ml
Top notes: Passionfruit, Lemon, Bergamot
Middle notes: Lily, Rose
Base notes: Musk, Vanilla, Sandalwood
Reasons to buy
+
Beautiful bottle
+
Long-lasting
+
Great projection
A pretty bottle to hold a pretty juice! This is a very likable, extremely wearable fruity-floral fragrance. It's the sort of perfume you could blindly buy for someone and be fairly confident it would be gratefully received.
Italian bergamot and passion fruit give the fragrance its initial frothy sweetness but it's subtle and over in a flash. This is where the floral notes kick in. Lily and rose are the key players and are underpinned by a backdrop of soft musks and sandalwood, which give the fragrance impressive longevity. I misted it on first thing and could still smell it on my skin by the evening.
5. Marc Jacobs Daisy Ever So Fresh Eau de Parfum
Best long-lasting fruity perfume
Specifications
RRP: $104.24/£85 75ml
Top notes: Mandarin essence, Mango & Pineapple Smell-the-TasteTM
Middle notes: Rosewater firad, Orange blossom essence
Base notes: Cashmere woods
Reasons to buy
+
Daisy-inspired bottle
+
Impressive projection
+
Long-lasting
Reasons to avoid
-
May be too punchy for some
This is a real rollercoaster of a fragrance, and it's certainly not your run-of-the-mill fruity scent. The different layers are distinct and clearly marked - the sharp burst of mandarin and pineapple softens into orange blossom essence after a few seconds, before mellowing into its warm, woody (but still fruity) base.
Despite both having fruity accords, Daisy Ever So Fresh is bolder and more full-bodied than the original Daisy. Think of the two as distant cousins rather than tight-knit sisters. By the dry down, there are definitely soft and sweet similarities between the two. In Daisy Ever So Fresh, the juicy citrus notes left me feeling energized and ready to face the day, but if softer, more delicate scents are your bag, this might be a little bit too punchy.
6. Calvin Klein Eternity Summer Daze Eau de Parfum
Best fruity perfume for summer
Specifications
RRP: $99/£74 100ml
Top notes: Red berries granita
Middle notes: Rosewater
Base notes: Jasmine sambac
Reasons to buy
+
Good staying power
+
Uplifting fragrance
+
Evocative of holidays
This perfume is meant to conjure up the feeling of a summer holiday - specifically, time spent relaxing in a floral garden in a coastal village. In terms of fruity appeal, it's not shy. This is a sweet scent laced with red berries.
There's something watery or rather, aquatic about the juice, perhaps coming from the addition of refreshing berry granita, an icy dessert. Because of this, the scent does stay quite close to the skin. However, what it lacks in projection it makes up for in staying power. I could still smell this scent hours after applying.
7. Jo Loves Mango Thai Lime A Fragrance Perfume
Best luxury fruity perfume
Specifications
RRP: $115/£115 for 100ml
Top notes: Mango, Lime, Black pepper
Middle notes: Mint, Freesia
Base notes: Vetiver, Thyme
Reasons to buy
+
Uplifting scent
+
Unisex
+
Long-lasting
Jo Loves is a real 'does what it says on the tin' fragrance brand. Reading the label of this particular scent, I could already envisage the fresh, zingy flavors I was about to experience. And it certainly delivered on those. Taking inspiration from Thailand, it hits with a slurp of sweet mango, laced with sharp lime (my mind goes to a poolside mojito) and then swerves with the spice from black pepper.
As it dries down, the mint comes through, which gives the fragrance a herbal quality. I can see how this would appeal as a women's fragrance and as one of the best men's colognes. It's pure happiness in a bottle. A real galvanizing, ready-for-the-day fragrance with staying power, which Jo Malone suggests enhancing with a spot of fragrance layering, "I always layer products for optimum lasting power," explains Malone. "Using a bath & shower gel, body lotion, and a fragrance in the same scent will help it last longer." Do that, and it will keep up the invigorating momentum through a whole work day.
8. Burberry Her Eau de Toilette
Best fresh and fruity perfume
Specifications
RRP: $97/£90 for 100ml
Top notes: Pear, Strawberry, Blackcurrant, Pink pepper
Middle notes: Peony, Honeysuckle, Lily-of-the-Valley, Rose
Base notes: Musk, Cedar
Reasons to buy
+
Surprising staying power
+
Super fresh
+
Easy to wear
Reasons to avoid
-
More suited to summertime
This makes me crave an ice-cold glass of rosé in the garden. It's soft, delicate, and easy to love, with a fruity freshness that comes from green pear, enhanced by the translucent pistachio-green juice in the bottle.
As the fragrance wears on, you'll get a hint of rose and then a lingering woody base. But this really is all about the pear. It stays present throughout, from the first spritz to the lingering dry down. For me, it's a scent for summer, no question. But that's not to say that spraying this in the depths of a miserable winter wouldn't bring joy or perk up the senses. In fact, that might be rather lovely.
9. Zarko Perfume Youth Eau de Parfum
Best unique fruity perfume
Specifications
RRP: $116.48/£95 100ml
Top notes: Peach, Melon, Apple
Middle notes: Jasmine, Rose, White flowers, Plum
Base notes: Sandalwood, Powdery musk accord, Vanilla
Reasons to buy
+
Good projection
+
Unique to everyone
+
Instantly uplifting
Reasons to avoid
-
May be too sweet for some
While many perfumes that fall under the fruity umbrella have made a concerted effort to shed those adolescent connotations, Zarkoperfume's Youth leans into it. The idea is that the light, effervescent notes take your mind back to your youth. The first spritz fizzes with sweet peach and apple, and it definitely sparked something nostalgic in me. It brings to mind brightly-colored bubble bath or those little bath pearls you'd receive from an auntie at Christmas – in a really good way.
This is a molecular scent, which means it's formulated in a way that works with your natural body chemistry, so it will smell different from person to person. On me, the peach lingered for hours, with a subtle trail of jasmine and vanilla. The more I sprayed this, the more I grew to love it. If you tend to choose fruity flavors of hand wash and body lotion or your best shampoo and conditioner are fruitily fragranced, chances are you will love this vivacious, uplifting scent.
10. Marks & Spencer Discover Intense Nectar & Passionfruit Eau de Toilette
Best budget fruity perfume
Specifications
RRP: $15.32/£12.50 100ml
Top notes: Mandarin, Lemon, Passionfruit, Red berries
Middle notes: Rose, Green notes, Violet, Jasmine
Base notes: Patchouli, Amber, Musk
Reasons to buy
+
Great value
+
Long-lasting
+
Very alluring
Reasons to avoid
-
Less overtly fruity than others
Proof that you don't need to remortgage your house to enjoy a beautiful scent that is complex and long-lasting. This is part of a new perfume range from M&S, with clearly defined olfactory categories, from citrus to chypre and of course, fruity.
The first spritz opens with a juicy burst of mandarin and sweet passion fruit. Lovely rose perfume notes comes through next, which sits really nicely with the passion fruit and gives it a creamy aroma that lasts for hours. It really is a beautiful, warm and elegant scent, but perhaps less outwardly fruity than others on the list. I love the jade green opaque bottle (although might not be to everyone's taste) Overall, this is a great everyday fragrance.
Stephanie Maylor is a Beauty Editor working across five national magazine titles, with almost 15 years' experience in the industry. She has written for many brands, including woman&home, Grazia, Now, More!, Fabulous, NW, Woman, Woman's Own, Woman's Weekly, Essentials, Best, Chat, and OK! online.
In 2010 she launched her own beauty blog, which was shortlisted for Best Beauty Blog in the 2011 and 2012 Johnson & Johnson Beauty Journalism Awards. She has interviewed many high profile industry experts and celebrities including Alesha Dixon, Twiggy and Christina Hendricks.