9 perfect scents for summer, as picked by our beauty editor
These uplifting scents for summer cheat a vacation feel wherever you are in the world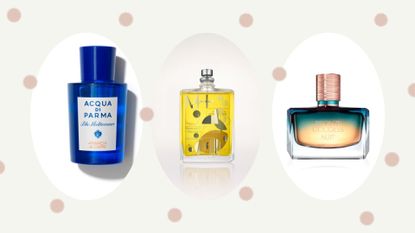 (Image credit: Future/Canva)
woman&home newsletter
Sign up to our free daily email for the latest royal and entertainment news, interesting opinion, expert advice on styling and beauty trends, and no-nonsense guides to the health and wellness questions you want answered.
Thank you for signing up to . You will receive a verification email shortly.
There was a problem. Please refresh the page and try again.
Scents for summer have the power to shift your mindset to sunnier, brighter times ahead. Even if you're applying them on the gloomiest of days, these fragrances will lift your spirits, transport you to hotter climates, and remind you of happy vacation memories.
Picking the best perfume for women is an incredibly subjective task. Do you prefer fruity perfume notes, or tend to go for more masculine, woody options? Do zesty scents turn you on or off? These things are especially important when you're considering how to buy fragrance online, so it's worth narrowing down what you like in a scent before shopping. Or, try getting hold of a handful of samples to spritz and spray before committing to buying a full size.
If you're more of a 'signature scent' person, you may not see the need to swap your fragrance with the seasons, but expert parfumier Emilie Bouge (opens in new tab) explains why having a few different summer perfume options makes perfect sense (pun intended).
How to pick the best scents for summer, according to an expert perfumer
Why you can trust Woman & Home Our expert reviewers spend hours testing and comparing products and services so you can choose the best for you. Find out more about how we test.
Curate a scent wardrobe: "This is a personal choice, and not at all a necessity—but scent wardrobes have become more and more common. The change in seasons is one of the key definitions that people use to differentiate between fragrances, as well as having different options for days and evenings."
Pick sunny notes: "Summer perfume has always had an association with the citrus family and specific combinations of this family with florals, aquatic and aromatic notes. Think bergamot, mandarin, gardenia, and crisp woods. The neroli flower is a real summer favorite of mine."
Make it last: "Citrus scents often have a light molecular structure, so sometimes these fresher scents are quicker to dissipate. Look for Eau de Parfum as these have a higher level of scent concentration. Or, apply a matching body lotion before application, to boost the scent for longer."
Layer up: "Layer a fresher scent with another slightly darker scent underneath to get a longer trail, and create your own bespoke fragrance."
The best scents for summer, as picked by our beauty editor
1. Estee Lauder Limited Edition Bronze Goddess Nuit eau de parfum
Best classic scent for summer
Specifications
RRP: $80/£60
Formulation: Eau de Parfum
Top note: Bergamot
Heart note: Jasmine
Base note: Tonka bean
Reasons to buy
+
Global bestseller
+
Warm, sultry scent
+
Blend of florals and warm notes
I can't talk about the best scents for summer without mentioning this cult classic. I always get excited about using this the moment the sun starts to make an appearance, It's almost Pavlovian at this point—the sun hits, the best sandals come out of the cupboard, and so does a bottle of Bronze Goddess.
It just smells like holidays, thanks to the blend of tropical plants like ylang ylang and bergamot with a fruity perfume note of coconut plus warm pepper. It's had a new limited edition reformulation for 2022, now combining their signature warm amber and spicy florals with jasmine and orchid for a moodier, sultry new note. I'm stockpiling.
Feels like: You're at a five star resort on a Greek island, coconut water in hand.
2. Acqua Di Parma Fico di Capri eau de toilette
Best citrus scent for summer
Specifications
RRP: $140/£88
Formulation: Eau de toilette
Top note: Sweet orange
Heart note: Cardamom
Base note: Caramel
Reasons to buy
+
Zesty and fresh
+
Luxurious brand
+
Unisex
Reasons to avoid
-
Not the most long-lasting
This Italian brand are known for their luxe scents inspired by the country's coastline. To this day, every product, including their fragrances, are made in Italy. I always get excited to test anything by Acqua Di Parma—there's that sense of everyday luxury that I just can't resist. It's luxe without feeling intimidating or unnecessarily swish—the perfect touch of fanciness to elevate your day.
They're all quite dreamy scents for summer, but Arancia Di Capri is my favourite. It sits in the citrus family, but without feeling overpoweringly zesty. Fresh, vibrant, and wearable, it's not too feminine or floral, making it a great unisex option—that's also thanks to the blend of orange, lemon, caramel and musk. It's ideal for adding a touch of freshness to your winter perfume, if you want to experiment with fragrance layering.
Feels like: You're on a yacht in Capri breathing in fresh sea air, a dish of citrus fruit on the table.
3. Molton Brown Delicious Rhubarb & Rose eau de toilette
Best fruity scent for summer
Specifications
RRP: $120/£85
Formulation: Eau de Toilette
Top note: Grapefruit
Heart note: Rhubarb leaf
Base note: Musk
Reasons to buy
+
Unique summer scent
+
Sweet without being sickly
+
Fresh and bright
Some fruity scents can be a bit sickly sweet but that's not the case with Molton Brown's summer perfume launch. It combines tart rhubarb with zingy grapefruit, and is balanced with delicate rose. Delicious is the perfect word to describe it—it smells just like British summer. Minus the rain.
I'm not normally a fruity perfume fan (as boring as it sounds, I tend to stick to florals), but I really love this. It's uplifting and bright, and really refreshing. I think I especially like it because I enjoy sours, in general—whether that's a big squeeze of lemon on a pasta dish, or (to be honest and less chic about it)—sour candy. The sharp rhubarb taps into that, while still having that classic rose in there. If I had to pick one favourite scent for summer from the bunch, this would be it.
Feels like: A dessert table in a stately home on a warm July day.
4. MAISON FRANCIS KURKDJIAN Aqua Vitae Cologne Forte
Best luxury scent for summer
Specifications
RRP: $235/£165
Formulation: Eau de Parfum
Top note: Mandarin
Heart note: Solar
Base note: Musk
Reasons to buy
+
Sunny, warm scent
+
Total luxury
+
Cheats a summer feel
For serious luxury, you can't go wrong with Maison Francis Kurkdjian. Their scents feel rich (and to be fair, so they should at these price tags). They're also a brilliant brand for creating long lasting perfume. If you're looking for some 40th birthday gift ideas for women, I can think of nothing better.
This golden buy starts off floral, opening up with elements of jasmine and lily of the valley. Then as it settles it becomes warm and musky, making it one of the most gorgeous scents for summer. Luminous and warm, it will transport you to far-flung vacation destinations, without having to step foot on a plane.
Feels like: A hot summer's evening in a Spanish meadow.
5. Jo Malone Crystal Campion Cologne
Best fresh scent for summer
Specifications
RRP: $75/£56
Formulation: Cologne
Top note: Blackcurrant
Heart note: Campion flower
Base note: Woody Iso E
Reasons to buy
+
Unique option
+
Refreshing
+
Unisex
You always know you're in safe hands with Jo Malone. The brand is so iconic within the world of perfumery, so it was a no brainer to include one of their best scents for summer. If anything it was hard to narrow down which of the best Jo Malone fragrances to feature.
The brands' 2022 summer collection is inspired by wild swimming, so you can get invigorated by the scent of the sea—without having to put a wetsuit on, which is a non-negotiable for me. I particularly loved Crystal Campion, which felt ocean-fresh and softly floral with touches of violet and blackcurrant. It's gorgeous.
Feels like: Fresh from a dip in the Ocean, on vacation in Cornwall.
6. Escentric Molecule 01 + Mandarin
Best personalised scent for summer
Specifications
RRP: $145/£95
Formulation: Eau de Toilette
Top notes: Iso E Super, Mandarin
Reasons to buy
+
Works with your skin
+
Addition of mandarin gives a zesty twist
+
Unique scent
Reasons to avoid
-
Hard to predict how it will smell on you
Many perfumes end up smelling different on each wearer. That could be down to a few things, like what your best body moisturizer smells like, or what kind of environment you live in. Or, even the more scientific stuff like your skins' pH levels. Escentric Molecules lean into this fact, creating unique, hard-to-describe scents. So, forgive me in advance for this somewhat vague description.
The brand uses a unique formulation note called Iso E, which sounds elusive but is generally regarded as a warming, velvety note. Each of their perfumes feature different levels of this mysterious note, and smell totally unique on every person. Their newest options blend their classic Molecule 01 scent with new elements mandarin, iris and patchouli. My pick of the bunch is mandarin, which is light, bright and juicy, It's a whole new take on scents for summer.
Feels like: The world is your oyster. With a hint of orange.
7. Sol De Janeiro Brazillian Crush Body Fragrance Mist
Best body spray for summer
Specifications
RRP: $35/£32
Formulation: Body spray
Top note: Pistachio
Heart note: Jasmine
Base note: Vanilla
Reasons to buy
+
A more affordable way to buy perfume
+
Smells just like their bestselling Bum Bum cream
+
Works for body and hair
Generally regarded as one of the best-smelling beauty products ever, Sol De Janerio's iconic Bum Bum cream is my favorite body moisturizer for summer. The mix of coconut and orchid makes it a truly delicious scent, that works as a gorgeous treat for your whole body, not just your bum (bum).
It was only a matter of time until they bottled the iconic scents for summer into a fragrance. They have a traditional Eau de Parfum but I prefer the body spray, for a more wearable, affordable everyday spritz. I keep it in my best tote bags in the summer, for a quick refresh after the long, sticky commute. This one can also be used on your hair to give it a bit of a zhuzh and refresh. The only downfall is that everyone else seems to love it too, so it's often sold out. If you can get your hands on it it's definitely worth putting in your shopping basket. Sunny and tropical without being sickly, you'll be complimented left right, and center.
Feels like: A sultry day in Rio De Janeiro, pina colada in hand.
8. Miller Harris Coeur De Jardin Eau de Parfum
Best floral scent for summer
Specifications
RRP: $170/£115
Formulation: Eau de Parfum
Top note: Bergamot
Heart note: Rose
Base note: Patchouli
Reasons to buy
+
For floral fans
+
British heritage brand
+
Vegan
As I said, I'm a big floral fragrances fan, so I was always going to love this. Miller Harris is a classic British heritage brand, with some gorgeous options for scents for summer, but this blooming beautiful buy is my favorite.
Florals can sometimes feel old-fashioned (as a 30-year-old with the mindset of an OAP, that doesn't bother me) but this feels modern, green, and vibrant. It's designed to remind you of the smell of summer rain in a country garden. Notes of pears, peaches, and moss are balanced with jasmine, tuberose, and amber for an earthy, inviting fragrance. It's fresh and fragrant, and a real crowd-pleaser. It's also the perfect option to wear to any fancy events or pair with wedding hairstyles.
Feels like: A petal-packed country garden, on a bright breezy day after the rain.
9. Nivea Sun Eau de Toilette
Best affordable scent for summer
Specifications
RRP: $39.50/£21
Formulation: Eau de Toilette
Top note: Solar
Heart note: Floral
Base note: Powdery
Reasons to buy
+
Brilliant price
+
Nostalgic scent
+
A warm, sunny fragrance
Reasons to avoid
-
Bottle not the most glamorous
Nivea is such a classic heritage brand that feels so familiar—even Kate Middleton's go-to drugstore cream is one of theirs. I was hugely surprised by their foray into fragrance, but I've been so impressed by this product.
Sun worshippers will love this perfume, which smells exactly like the classic Nivea sun cream. It instantly transported me to a sunny poolside at a vacation hotspot, a cocktail or three down. The power of scent never fails to take me by surprise, and this nostalgic sunny scent had the most evocative effect on me. I love it. It's strangely comforting and nostalgic but in the best way. It's definitely now become one of the key scents for summer in my book. The price is brilliant too.
Feels like: You're on a girls' vacation, sunning it up on a sun lounger.
---
Woman and Home thanks Emilie Bouge for their time and expertise.
Rhiannon Derbyshire is the Senior Beauty Editor for Woman & Home and other publications.
She started interning for glossy magazines while working alongside her Fashion Journalism degree. There, she was lured to the beauty desk, seduced by matte lipsticks, posh shampoos, and every skincare product imaginable. 10+ years into her career, she can confidently tell you why the best mascaras are always high street, and why SPF is a non-negotiable all year round. Ask her about her curly hair routine, skincare minimalism, and how to find the exact right red lipstick