These are the best Jo Malone fragrances of all time, ranked by our beauty team
Does your best Jo Malone fragrance make the best-sellers leaderboard or our beauty editor's top picks?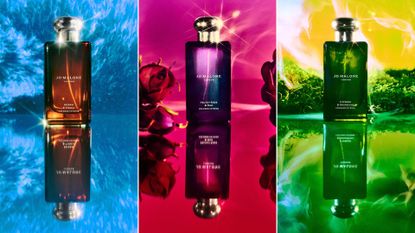 (Image credit: Future/Jo Malone London)
woman&home newsletter
Sign up to our free daily email for the latest royal and entertainment news, interesting opinion, expert advice on styling and beauty trends, and no-nonsense guides to the health and wellness questions you want answered.
Thank you for signing up to . You will receive a verification email shortly.
There was a problem. Please refresh the page and try again.
You might already have thoughts on what the best Jo Malone fragrance is. But if you fancy trying something new, or want to treat a loved one to their first Jo Malone perfume, wouldn't it be handy to know which of the brand's scents are the most-loved, biggest sellers of all time?
Luckily for you, we have all the intel you need. It's no secret that Jo Malone London makes some of the best perfume for women and best scented candles of all time. Whether you're partial to sexy Pomegranate Noir or pretty Orange Blossom (reportedly Duchess Catherine aka Kate Middleton's perfume of choice) the British fragrance house knocks out hit scents like Adele does hit songs and has revealed its top-selling colognes to woman&home.
What's more, our beauty editor has topped off the list with her personal pick of the best Jo Malone scents right now. So whether you want to know how to choose a perfume that's a crowd-pleasing classic or want a niche scent tip-off by a beauty insider, consider this your definitive list of the very best Jo Malone fragrances money can buy.
The best Jo Malone fragrances of all time
Why you can trust Woman & Home Our expert reviewers spend hours testing and comparing products and services so you can choose the best for you. Find out more about how we test.
1. Jo Malone London English Pear and Freesia Cologne
The best Jo Malone fragrance of all time
Specifications
RRP: $74/£52 for 30ml
Top note: King William Pear
Heart note: Freesia
Base note: Patchouli
Taking the crown for the most popular Jo Malone fragrance is English Pear & Freesia – a light and fresh scent that combines the two aforementioned notes on a base of patchouli. At the risk of stating the obvious, it really does smell how a freshly cut pear should – crisp, fresh, and uplifting.
"When you smell English Pear & Freesia, you're instantly transported to an orchard where juicy fruit mingles with blooming flowers. There's something unexpected about the combination of key ingredients and it's got that freshness and elegance we're known for," says Celine Roux (opens in new tab), Global Head of Fragrance for Jo Malone London.
We're inclined to agree. This fruity perfume sums up everything we love about jo Malone London as a brand, who are masters of creating modern and surprising blends out of quintessentially English ingredients. It's no surprise that this scent also bagged a top-five position in the most popular Jo Malone candles – who wouldn't want their house to smell like this?
2. Jo Malone London Myrrh & Tonka Cologne Intense
The second most popular Jo Malone scent
Specifications
RRP: $138/£86 for 50ml
Top note: Lavender
Heart note: Omumbiri Myrrh
Base note: Tonka Bean
Taking second place in the best Jo Malone fragrance lineup is Myrrh and Tonka. This scent is one of the brand's Cologne Intense offerings – richer, deeper perfumes created using precious ingredients. The prices tend to be a bit steeper in this particular line (for those looking for the best cheap perfumes, the search won't stop here) But due to that intensity, they also last longer on the skin and need topping up less. So if you were wondering which perfume lasts longest in this list, here's your answer.
Myrrh and Tonka may not have the household recognition of some of the other most popular Jo Malone scents, but we are not surprised it's a big seller. This fragrance is rich, velvety, and ever-so-slightly sweet, with warming notes of vanilla, almond, and lavender. Due to its warming nature, we would traditionally think of this as one of the best Jo Malone fragrances for winter. With that said, it is a popular buy all year round, which proves fragrance rules are made to be broken.
3. Jo Malone London Pomegranate Noir Cologne
The third best Jo Malone fragrance
Specifications
RRP: $74/£52 for 30ml
Top note: Pomegranate
Heart note: Casablanca Lily
Base note: Guaiacwood
If there's one Jo Malone scent you've heard of through friends, family, or co-workers, it's likely to be this fan favorite. With top notes of fruity pomegranate and plum paired with pink pepper and spicy woods, this warming, nighttime classic somehow still has the crisp, freshness to hold its own on sunny days.
"This fragrance is really original as fruity scents tend to be sweet and gourmand but Pomegranate Noir is woody, sensual, and dark," says Jo Malone London Fragrance and Lifestyle Expert, Emma South. (opens in new tab) "A lot of heady flowers and woods were used to create this enigmatic, sensual scent."
A truly iconic scent that most of us will have come across at some point, this classic option also comes in a cute solid duo (one of the best solid perfumes we've seen) and would make an impressive 40th birthday gift idea or 50th birthday gift idea if you want a guaranteed hit present for your loved one's special milestone.
4. Jo Malone London Lime Basil & Mandarin Cologne
The fourth most popular Jo Malone scent
Specifications
RRP: $74/£52 for 30ml
Top note: Lime, mandarin
Heart note: Basil
Base note: Amberwood
In all honesty, we'd have put our money on this cologne taking the top spot – but we'll settle for it being in the top five. It is completely unique and unlike any other fragrance we've smelled (well, except all the copycat dupes it has spawned over the years, which still can't hold a candle to the real deal)

Mouthwatering notes of lime and green, herbaceous basil are the first thing you will smell. Later, they dry down to a warm, woody base that lingers on the skin for hours. It is clean yet also highly aromatic and loved by men and women alike, including none other than supermodel Rosie Huntington-Whiteley.
"You never forget your first love – and ours was Lime Basil & Mandarin," agrees Emma. "A modern classic that proves even the most unconventional marriages can stand the test of time, where peppery basil and aromatic white thyme bring an unexpected twist to the scent of limes on a Caribbean breeze."
5. Jo Malone London Peony & Blush Suede Cologne
The fifth most popular Jo Malone fragrance
Specifications
RRP : $74/£52 for 30ml
Top note: Red Apple
Heart notes: Peony
Base note: Suede
Coming in at number five in our list of the best Jo Malone fragrance is the beautiful Peony & Blush Suede. Instantly recognizable (especially if you have been to a wedding recently) The blooming heart of peony and unexpectedly soft, leathery suede base are topped off with red apple for a crisp, fresh finish.
"Peony and Blush Suede is the most popular wedding scent for brides," says Emma. "It bottles abundant, unfurling peony petals in every shade of pink accompanied by the flirtatious bite of juicy red apple." We're not surprised brides love this mixture of femininity and modernity, but you don't have to be walking down the aisle to wear it. Peony & Blush Suede's inherent softness makes it a perfect daytime scent, offering a nice mood boost without overwhelming whoever sits next to you on the train.
It also looks great on a dressing table, as with all Jo Malone London perfumes, so you needn't hide it away in a drawer then panic-Google do perfumes expire when you find it months later (hint: they do) Take care of your best Jo Malone fragrance and it'll take care of you.
---
Our beauty editor's favorite Jo Malone fragrances
---
6. Jo Malone London Cypress & Grapevine Cologne Intense
The best Jo Malone perfume for winter
Specifications
RRP : $2050/£150 for 100ml
Top note: Cypress
Heart notes: Cedarwood, vetiver, amber
Base note: Moss
A lot of scents designed to be worn in winter go down the super-rich floral or 'whack you around the chops with spice' route, but this is different. It's incredibly fresh, but not in a zesty summery way, more like a 'bracing walk through a frosty Nordic forest' way. It's crisp and green and feels just right for the point of the year when you can still see your breath in the air but want to shake off indulgent OTT excess. This is – as the name suggests – intense, but it never feels too much.
This has, as well as cozy, resinous amber, a great herbal hit of cypress at the top and a musty, mossy botanical base. It's a little punchier than you might expect and really lasts the distance, which is handy as it works just as well for day as it does for night. The notes sound traditionally masculine, and this will certainly appeal to men, but I strongly believe fragrance has no gender and absolutely love wearing this.
7. Jo Malone London Wood Sage & Sea Salt Cologne
The most evocative Jo Malone fragrance
Specifications
RRP : $74/£54 for 30ml
Top note: Ambrette
Heart notes: Sea salt
Base note: Sage
Picture the scene: You're on a staycation, and this year you were organized enough to book a seafront cottage in that pretty coastal town that's an easy drive from home. You head out for an afternoon walk, the wind is blowing up the dunes, pulling salty sea air into your lungs, and with it, a whoosh of green, herbaceousness into your nose. This, you think, is living. You Google house prices in the area, get a shock, put your phone away and keep on walking and breathing.
Are you still reading? Good, because this is that. As in, that's the smell of this Jo Malone fragrance. Fresh and breezy with a slightly mossy chypre hum. It doesn't smell like anything else, it's not fruity or floral and it also makes one of the best men's colognes. Spray this on and other people will ask what you're wearing, you may not want to tell them so they don't copy you, and I won't blame you for that.
8. Jo Malone London Velvet Rose & Oud Cologne Intense
The sexiest Jo Malone fragrance
Specifications
RRP : $205/£150 for 100ml
Top note: Clove
Heart notes: Damask rose
Base note: Oud
In contrast to its Cypress & Grapevine cousin, this is as rich, and luscious as we expect wintry scents to be. If you are familiar with any of the best oud perfumes, you'll know this precious ingredient is very, very distinctive. Fans can recognize it a mile off and that's a very good thing indeed because lovers of oud know one thing – this stuff smells expensive. That's because it actually is expensive as an ingredient, but also because there's an opulent energy about oud that is simply undeniable.
Back to this specific oud perfume, Jo Malone has cleverly blended it with lots of rose, which does great things for both ingredients. It tempers and feminizes oud's smokiness and it elevates the rose from prim and proper floral to something a bit naughtier. It's a match made in heaven. It would be fair to say this is more of an evening perfume due to its power and headiness. But then again, if you want to smell rich and sexy during the day who am I to argue with that?
---
Why is Jo Malone so popular?
Like many great fragrance brands, Jo Malone London is hugely popular not for one big reason but a multitude of smaller ones. The first – and most obvious –explanation for this brand's popularity is that the perfumes are just really lovely.
As well as nailed-on classics like Pomegranate Noir and Lime, Basil & Mandarin, this brand consistently releases excellent new fragrances that fit within its fundamental principles – gender-neutral, luxurious, ingredient-focused, quintessentially British. These are not generic fruity-floral blends that smell like everything else, Jo Malone perfume is willfully distinctive. That means you won't love everything, but there's something here that everyone will love.
That aside, Jo Malone London's branding is also incredibly strong – that recognizable, chic packaging makes it desirable and very giftable. This is also a brand that maintains popularity by releasing just the right amount of newness on a drip feed throughout the year. Seasonal limited editions, artist collaborations, and one of the most covetable Christmas collections of the year, every year, keep customers coming back for more.
How long does Jo Malone scent last?
Jo Malone scents come in two strengths, cologne and cologne intense, with different lasting powers. Cologne or eau de cologne is one of the lightest styles of fragrance available, typically they contain between 2-5% pure perfume oils and last a few hours before needing to be topped up. This can also vary depending on what perfume notes are included in the cologne, for example, citrus dissipates quickly, while woods and musks tend to last longer on the skin. Jo Malone's Cologne Intense range ramps up the lasting power by using precious heady ingredients in higher concentrations. So you can expect to get right through the day with a lingering fragrance when you select one of these scents.
Which Jo Malone perfume is the lightest?
Some of the lightest Jo Malone perfumes in simple terms – eg how they smell – are Earl Grey & Cucumber, Basil & Neroli, and Fig & Lotus Flower. If you are looking for a light, fresh Jo Malone perfume (or from any brand truth be told) it's best to seek out either citrus, green or aquatic compositions. Typical citrus notes used in perfumery are fruits like lemon and lime as well as zesty botanicals like neroli and or bergamot. Or seek out green herbal notes such as basil, cypress, and violet leaf or splashy blends designed to replicate the ocean.
Beauty Editor, womanandhome.com
As woman&home's Beauty Channel Editor, Fiona Mckim has tried more products than she's had hot dinners and nothing makes her happier than raving about brilliant finds on womanandhome.com or her instagram grid (@fionamckim if you like hair experiments and cute shih-tzus). Fiona joined woman&home as Assistant Beauty Editor in 2013 under industry legend Jo GB, who taught her everything she needed to know (learn about ingredients and employ extreme cynicism). She has since covered every corner of the industry, from interviewing dermatologists and celebrities to reporting backstage at Fashion Week and judging the w&h Beauty Awards.
With contributions from