8 perfect wedding perfumes worn by beauty insiders on their big days
Look no further than these wedding perfumes, worn by beauty and fragrance experts, to inspire your own big day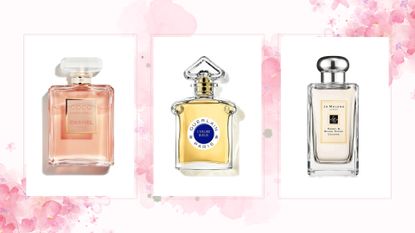 (Image credit: Chanel, Guerlain, and Jo Malone London / Future)
woman&home newsletter
Sign up to our free daily email for the latest royal and entertainment news, interesting opinion, expert advice on styling and beauty trends, and no-nonsense guides to the health and wellness questions you want answered.
Thank you for signing up to Woman & Home. You will receive a verification email shortly.
There was a problem. Please refresh the page and try again.
We probably don't need to tell you that fragrance is very personal; a spritz at the fragrance counter, or a person wafting past us in the street wearing a certain fragrance can nudge our brains right back to a certain time, place, or feeling. And so it goes that whichever bottle you reach for on your wedding day will always remind you of that very special occasion.
While the best perfumes for women make a good starting point, only you can decide if a fragrance goes with your wedding, suits your personality, and smells "right" on your own skin. But that isn't to say that you can't take inspiration from beauty experts who have also had to choose a very special spritzer for their own big day.
We asked a range of industry insiders, from retail experts to beauty editors, to share their wedding fragrances and why they chose them – as well as some advice for selecting your own, should your own nuptials be on the cards. Between them they've covered off long-lasting perfumes, classic floral numbers, and intense and unique scents, so there's something for everyone...
8 wedding perfumes worn by real beauty industry insiders on their big days
Why you can trust Woman & Home Our expert reviewers spend hours testing and comparing products and services so you can choose the best for you. Find out more about how we test.
1. Guerlain L'Huere Bleue
Worn by Alice Du Parcq, fragrance writer & presenter and host of Desert Island Spritz
Specifications
RRP : $125 / £102 for 75ml
Top notes: Aniseed, bergamot
Middle notes: Neroli, carnation accord
Base notes: Iris, vanilla, benzoin, tonka bean
Fragrance expert Alice DuParcq wore Guerlain's L'Heure Blueue on her wedding day in 2007. "I wanted a scent that blended with the jasmines in my bouquet, that lasted all day without needing to re-spritz, by a brand that felt special and treasured, and that matched the laid-back summer evening garden party atmosphere," she tells us.
"I had a fantastic consultation at the Guerlain counter in Harrods; we went through all sorts of questions and they narrowed it down to three choices. I loved them all! But L'Heure Bleue felt regal and glamorous, and different to my usual everyday perfumes so I could associate it back to my wedding in the future. On the day I felt grown-up, elegant, and confident, and there's a hint of naughtiness about L'Heure Bleue that helped to bring out my inner Joan Collins and own the room!" Alice is full of brilliant tips on how to choose a perfume for your wedding, which you'll find toward the end of our guide.
2. Frédéric Malle Eau de Magnolia
Worn by Margaret Mitchell, Chief Commercial Officer at Space NK
Specifications
RRP : $225 / £148 for 50ml
Top notes : Bergamot
Middle notes : Magnolia, patchouli, vetiver
Base notes : Cedar, amber, moss
"I wanted something that was pretty niche and rare for the day, and something special that I wouldn't wear every day," says Margaret Mitchell, Chief Commercial Officer for Space NK, who wore Frederic Malle's Eau de Magnolia. "Specifically, I was looking for an opulent floral fragrance – something that would last for the whole day but was still flowery and feminine, rather than being woody or dark."
"For me, selecting the fragrance was as important as any other accessory for the day," she continues. "Many women have photos putting on their jewelry or shoes; I have photos putting on my fragrance. I also selected my husband's fragrance, Byredo Sunday Cologne, and he has photos putting this on, too. I love having these scents that link us back to the memory of such a special day."
Her advice for choosing a wedding perfume? "Use the opportunity of your wedding to find a special scent. The sense of smell is most closely linked to your memory of any of the five senses, so ensuring you have a signature scent will evoke those special memories forever."
3. L'Artisan Parfumeur La Chasse Aux Papillon
Worn by Ateh Jewel, founder of Ateh Jewel Beauty, beauty journalist, broadcaster, and diversity advocate
Specifications
RRP : $185 / £135 for 100ml
Top notes: Apricot, pink pepper
Middle notes : Tuberose, jasmine, lime & orange blossom
Base notes: Ylang Ylang
Beauty journalist and broadcaster Ateh Jewel took inspiration from floral fragrances for her wedding perfume. "I love big, warm, sensual and bosomy white flowers," she explains. "They make me so happy and this fragrance is filled with my favorites – tuberose, jasmine, and ylang-ylang. I knew it had to be white flowers, something that I felt was mine and off the beaten fragrance track and that I wouldn't smell everywhere. I knew it was this fragrance when I first smelt it – a little like I knew my husband was the one when I first met him. On the day, I felt like it was a piece of jewelry and an accessory as much as the pearls I was wearing. Fragrance means so much to me and this made my wedding feel like it was in 3D."
Ateh recommends taking the timeless route with your wedding perfume. "Choose something that you will wear in 20 years' time and will make you smile," she says. "Don't go for a trendy fragrance, go for something that encapsulates your soul and how you feel. When I wear this fragrance it's like whipping out an old photo and smiling."
4. Maison Francis Kurkdjian Oud Satin Mood
Worn by Hannah Collingwood-English, beauty scientist, author, and content creator
Specifications
RRP : $250 / £225 for 70ml
Top notes : Bulgarian rose, violet, strawberry
Middle notes: Turkish rose
Base notes: Vanilla, amber, cedar, caramel
For beauty scientist, author and content creator Hannah Collingwood-English it was one of the best oud perfumes, while her husband wore État Libre D'Orange Spice Must Flow. "I chose Oud Satin Mood because I hadn't worn it before and it smells like a rich Turkish Delight — the hint of rose felt very wedding appropriate," she tells us. "I had an evening wedding in the late summer and this fragrance didn't feel too heavy; it projects a little but not so much that it fills the room. There's rose in my husband's scent too, so they fit together in a way."
A long-time fragrance fan, Hannah knew that she wanted to find something new for her big day that she would love forever. "It felt like quite the task, but it didn't take long at all once I settled on the idea of a rose scent. The final two were Oud Satin Mood and Tom Ford Rose Prick, but Oud Satin Mood felt more like 'me'. I found it through a friend — he and I have similar tastes and favorite fragrances. He posted one day that he was wearing it, I happened to have a sample on hand, and that was that! On the day there was so much going on, and taking the time to apply my fragrance felt like a really special, quiet moment to myself."
Her advice for selecting a wedding perfume? Allow yourself a lot of time, get hold of sample kits, and speak to fragrance-loving friends. "Sales associates in fragrance boutiques are also a wealth of knowledge and can point you in the right direction. Even if you don't like a recommendation, it gives you a picture of what you don't want, so that's still helpful!"
5. Aromatherapy Associates Rose Body Cream
Worn by Ruby Hammer MBE, makeup artist and brand founder
Specifications
RRP : $62.50 £44 for 200ml
Notes: Alpine rose, geranium, palmarosa
Of course, not everybody is a perfume wearer, and you don't have to wear one on your wedding day – just ask legendary makeup artist Ruby Hammer, who wore one of the best body creams instead. "I didn't actually wear a perfume as such, I wore my favorite body cream from Aromatherapy Associates, Renewing Rose," she tells us. "I was fragranced from head to toe! I knew how I wanted to smell so it was always the one. My future husband was/is fussy and he loves how I smell when I wear this body cream. It made me feel confident but also familiar… no surprises here!"
Ruby's words of wisdom for choosing a wedding scent are: "It's your personal choice and it's totally up to you, but make sure that, if you're going for a new scent, you've tried it out beforehand. Ask a trusted person how it smells on you, as things can smell different on everybody."
6. Jo Malone London Peony & Blush Suede
Worn by Adie Dewhurst, Head of Communications & Advocacy at L'Oréal Group
Specifications
RRP : $155 / £110 for 100ml
Top notes : Red apple
Middle notes: Peony
Base notes : Suede
"Fragrance is so emotive and I wanted something unique so I could smell the scent in the future and be taken back to my wedding day," says Adie Dewhurst, Head of Comms & Advocacy within the L'Oréal Group. She opted for one of the best Jo Malone perfumes paired with Zarkoperfume Ménage à Trois. "The latter was my 'something borrowed' from my maid of honor, who happens to be a beauty editor and fragrance expert. I got married in April and I loved how the light floral notes of Peony & Blush Suede perfume worked with the more aromatic Zarkoperfume fragrance. I topped up the latter in the evening as it's a bit sexier.
"I was very fortunate that my maid of honor is so knowledgeable about fragrance and knows my taste, so she helped me with the layering process. We had the base of Peony & Blush Suede confirmed and she invited me to borrow one from her collection to layer and create something unique. We had a play around with how much of each until we got the combination right. On the day I felt feminine, confident, and empowered; like a more elevated and elegant version of myself.
Adie's tips for future brides? "Don't be afraid to ask for help and to go for something a bit different from what you would usually wear. The perfume world can be a bit overwhelming – I was lucky to have a friend I could ask for guidance, [but] if I hadn't I would have headed to the Liberty fragrance hall as they have an amazing selection of perfumes and the staff are always so helpful."
7. Thierry Mugler Angel
Worn by Donna Francis, award winning beauty editor and founder of @thebeautyed
Specifications
RRP:: $150 / £92 for 50ml
Top notes: Bergamot
Middle notes: Caramel, praline
Base notes: Vanilla, patchouli, musk
"I'd been wearing Thierry Mugler Angel ever since I'd met my husband 10 years earlier, so it seemed only right to wear it on my wedding day, too," says award-winning beauty editor Donna Francis. "Angel was my signature scent at the time so I didn't even consider wearing anything else. I have been married nearly 21 years and Angel was quite the fragrance then. It was considered unusual, but now we have so much more choice! I don't wear it anymore but it always takes me back to that time and that day. It made me feel content and authentic, as it was my favorite perfume of the time. It's quite a distinct scent, too, so it made me feel empowered and noticed!"
Donna stresses the importance of choosing your fragrance yourself, and is another of our experts to recommend heading to a fragrance hall like Liberty London. "Ask for a few perfume blotters and spray your favorites on them," she advises. "Then, whittle it down to your favorite and then wear the perfume on your skin for the day before buying it. What perfume smells like on our skin can slightly alter how it smells in the bottle. Try and buy the matching body lotion, too. I layered my wedding perfume with the matching lotion to help it last all day and it really worked."
8. Chanel Coco Mademoiselle
Worn by Laura Wilkinson, Head of Digital at The Perfume Shop
Specifications
RRP : $160 / £136 for 100ml
Top notes : Orange
Middle notes : Jasmine, rose
Base notes: Patchouli, vetiver
For Laura Wilkinson, The Perfume Shop's Head of Digital, her wedding fragrance - one of the best Chanel perfumes - was a very sentimental one. "It was my Grandma's scent; sadly she passed away a few years ago, so I wore her scent so that she was with me on the day. I knew that this would be my scent of choice for a while. It's always stuck in my mind and I've worn it as my 'lucky' special occasion fragrance for a long time now – it was also the perfume that I was wearing the day I got engaged! Coco Mademoiselle is a gorgeous perfume that always makes you feel special. I got so many compliments – not only on my dress but on my scent as well!"
Her advice? "Choose something that is special to you – whether it reminds you of a special memory or a special someone, you will remember your wedding scent and your guest will notice, so it's definitely something that's worth putting thought into. I'd also make sure that you have a beautiful bottle, as you'll get some lovely shots when you are getting ready to remind you of the perfume. Plus top up throughout the day so that it stays fresh for you and your guests."
Do you need a wedding perfume?
"As a perfume stylist and as a huge perfume lover I would say, of course!" says perfume stylist Isabelle Langlois, who regularly helps brides and grooms find their signature wedding scent. "It's the hugest day of your life so, if you have an amazing outfit for your big day, wonderful flowers, a huge list of guests, you must have a gorgeous perfume for your wedding day.
"But everyone is different, and if you don't want to wear perfume on your wedding day, that's absolutely fine," she adds. "Perhaps you're not a person who wears perfume on a daily basis, you just might have a [scented] body lotion and that's it. "
What type of perfume is best for a wedding?
Isabelle says that, first and foremost, this comes down to personal taste and the plan for your day. The following factors will all affect which perfume you decide is "best" for your wedding day.
Personal taste: Think about the scents that you are usually drawn to. "I truly believe that we always need to follow our instincts, because it's always about personal taste," she says. "So [ask yourself] 'what do I like?' first."
Time of year: "That is so important because if it's during the summer [and hot], I don't think you want to wear a heavy, woody, spicy fragrance or something too sweet or ambery because it might be too overwhelming or heavy. You might need something fresher, a bit more crisp or green with beautiful floral notes, or something aromatic and citrusy." For some seasonal inspiration, check out our guides on the perfect scents for summer and the best perfumes for winter.
Venue and overall theme: "Is it something tropical on a sandy beach, or is it more foresty forest, a bit magical and mystical wedding theme? Or is it super springtime, with a lot of flowers, or very luxurious?"
If you need a starting point, Isabelle notes that women tend to love floral perfumes, particularly bright or fresh, while aromatic or woody scents are more typical masculine fragrances. "But it really depends on the personality, the season, and on the theme of the wedding," she stresses. "This is where I step in and really help the future brides or grooms, to really help them find their signature scents for the big day."
How do I find my wedding day fragrance?
"Go scent shopping alone – it's the only bridal purchase no one gets to interfere in or bombard you with their opinions!" says Alice. "Have a clear visual and emotional image of the day in your head: the mood, the atmosphere, the time of day, and temperature. Head to your favorite brand(s) – make it fabulous! – and tell them your wedding style and, most importantly, how you want to feel."
Then, it's time to get spritzing and smelling. "Don't worry too much about the ingredients; smell the scent as if it were a piece of a puzzle fitting into you," Alice advises. "Does it feel right? Does it smell special enough to complete your wedding picture? Does it make you feel complete? Does it glue your worries together and help you feel more secure and steady? A great perfume will do that for you."
And if you need some starting points for perfume browsing: "Some ultra-special brand suggestions that I would definitely head to if I were getting married again are: Chanel, Guerlain, Diptyque, Matière Première, Penhaligon's, Serge Lutens, and Jo Malone London."
Sign up to our free daily email for the latest royal and entertainment news, interesting opinion, expert advice on styling and beauty trends, and no-nonsense guides to the health and wellness questions you want answered.
Lucy is a UK-based beauty journalist who has written for the likes of Marie Claire, Cosmopolitan, OK!, Women's Health and more, as well as contributing to woman&home. Her work covers everything from expert skin and haircare tips to the latest product launches and the show-stopping beauty looks spotted backstage at London Fashion Week. During her career she's interviewed some seriously famous faces, from Little Mix to Drag Race royalty The Vivienne, as well as chatting to the industry's leading hairdressers, dermatologists and make-up artists.