Picking a perfume for winter? Here are our 12 favorite buys
Embrace the season and swap your perfume for winter with our beauty editor's favorite buys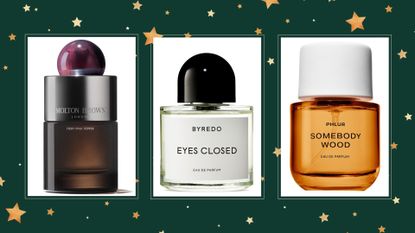 (Image credit: Future)
There's no rule that says you should wear a different perfume for winter than you would the rest of the year. But when the temperature drops, you might want to swap your scent along with your wardrobe.
When it comes to picking the best perfume for women, the choice can be a bit of a minefield. If you're happy with your signature scent, there's obviously nothing wrong with that. But, you may enjoy changing things up to help bookmark that seasonal switch. I'm a wholeheartedly happier person in the winter, and all those wintery elements just add to the joy. Sure, I love sunny scents for summer, but as soon as the temperature drops I'm only too thrilled to dig out some spicier, moodier options.
But where to start? Consider your preferences. Would you prioritize long-lasting perfume over a lighter, subtler option? Are you a fan of fragrance layering, or do you prefer sticking to straightforward scents? I've enlisted the help of Emilie Bouge (opens in new tab), expert perfumer for Miller Harris, and Iember Gordon (opens in new tab), Head of Marketing at The Fragrance Shop for their insider advice.
How to pick a new perfume for winter
Why you can trust Woman & Home Our expert reviewers spend hours testing and comparing products and services so you can choose the best for you. Find out more about how we test.
Think deep and rich: According to Gordon, "When we think of winter fragrances, we go to scents with deep, earthy, cashmere notes such as spicy vanilla, musk, sandalwood, and leather. This gives us the chance to explore vibrantly rich fragrances that differ from summertime scents, which are often fruitier and lighter."
Pick notes that conjure memories: "Winter perfume notes tend to be ones that conjure warmth and the comforts we seek during this season", explains Bouge. "Warm and woody notes such as sandalwood and oud, spicy notes like nutmeg, cardamom and pink pepper, and gourmand notes such as caramel and vanilla that nod to the treats that the festive months tend to offer."
Consider spice vs warmth: "It's natural for our senses to associate spicy fragrance notes with warmth. Think nutmeg, cloves, cinnamon, ginger, and cardamom – the kitchen spices shelf," says Gordon. But, spice doesn't automatically mean warmth, she explains. "Spicy notes can be both warm and cool. Some use spices to enhance the top, middle and base notes for a warmer experience."
How weather affects scent: "Not only can scents mirror the feeling of a season, but the weather impacts how you experience scent." Bouge says. "In hot temperatures, the fragrance molecules heat up and evaporate quicker, meaning the notes are intensified. In colder temperatures, the evaporation rate is slowed down so you might find that your fragrance doesn't project as much in the winter."
The 12 best perfume options for winter, as picked by our beauty editor
1. Jo Malone White Moss & Snowdrop Cologne
The best new perfume for winter
Specifications
RRP: $162/£116
Top notes: Cardamom
Middle notes: Snowdrop
Base notes: White moss
Reasons to buy
+
Wintery without being heavy
+
Uplifting scent
+
Fun bottle
Reasons to avoid
-
If you're looking for something smoky and woodsy, this isn't it
Jo Malone, arguably one of the most iconic scent houses out there, has countless winter perfume options but this new launch has taken the top spot for me. I find that a lot of perfumes for winter can be a bit heavy, too smoky, or so aggressively woody that even a hardened lumberjack might be put off.
This is still warm, but bright, light, and uplifting – just the thing for those dark winter mornings. In a shocking twist, they've also opted for a different bottle than the iconic cologne bottle shapes we all recognize from our best Jo Malone fragrances. Instead, we get this fun circular bottle. It's surely the chicest snowball of all time.
2. Phlur Somebody Wood Eau de Parfum
Best woody perfume for winter
Specifications
RRP: $96/£96
Top notes: Bergamot, lemon
Middle notes: Jasmine, saffron, cyclamen
Base notes: Sandalwood, vanilla musk, amber, moss, cedarwood
Reasons to buy
+
A wearable woody scent
+
Less obvious than the brand's famous Missing Person scent
+
Stylish bottle
Phlur's 'Missing Person' went so viral on TikTok that it caused a global shortage. I can see why – the scent is lovely – soft, subtle (some may say too subtle), and warm, but I'd argue that Somebody Wood is a much more suitable perfume for winter.
As the name suggests it's woody, but without being overwhelmingly so. That's thanks to the brighter notes like lemon and bergamot, which give it a bit of a lift. Some wood scents can be a bit of an attack on the senses – this isn't one of them. It's just a lovely all-rounder, that will gather endless compliments. Even better, you no longer have to grapple with how to buy perfume online without smelling it first – this cool, cult brand is now available at Selfridges.
3. Byredo Eyes Closed Eau de Parfum
Best spicy perfume for winter
Specifications
RRP: $200/£130
Top notes: Cardamom, cinnamon
Middle notes: Carrot, ginger, orris butter
Base notes: Papyrus, patchouli
Reasons to buy
+
Uplifting and warm
+
Stylish bottle
+
A little under the radar for the brand
You definitely don't need to spend a lot of money to get a new perfume for winter, but if your budget affords it, this gorgeous buy is seriously worth the spend. Plus, if you ask me, any Byredo scent is one of the ultimate beauty gift ideas, so start dropping some hints to your nearest and dearest.
The first thought that came to mind when I tested this was a ginger shot – but in a good way. That revitalizing, zingy lift – just the thing to your mood instant 'oomph'. This works like a charm to do just that, thanks to the mix of ginger, cinnamon, and cardamom. If you're a fan of unisex fragrance, this is a great option.
4. Molton Brown Fiery Pink Pepper Eau de Parfum
Best spicy perfume for winter
Specifications
RRP: $160/£120
Top notes: Pink pepper
Middle notes: Lily of the valley
Base notes: Patchouli
Reasons to buy
+
Good mix of floral and spice
+
Warm and spicy
+
Luxurious-looking bottle
Reasons to avoid
-
Might be a bit pepper-heavy for some
This timeless English fragrance brand's rhubarb option is one of the best fruity perfumes, so it makes sense that its moodier, spicier sister would be the perfect accompaniment to the colder season.
Warm pepper adds extra interest to the traditional notes of patchouli and lily of the valley. It smells nicely balanced – spicy and peppery without feeling like a cacio e pepe. The result is luxurious, warm, and unique. For a lighter (and cheaper) option, it's also available as an EDT.
5. L'Occitane Néroli & Orchidée Eau Intense Eau de Parfum
Best affordable perfume for winter
Specifications
RRP: £55 (UK only, at the moment)
Top notes: Mandarin, Bitter Orange Flower, Lime
Middle notes: Neroli, Fig Milk, Green Vanilla Accord
Base notes: Vanilla Infusion, Vanilla Oil
Reasons to buy
+
Smells more expensive than it is
+
Also available as an EDT, shower gel, body cream, and hand cream
+
Warm and lightly floral
Reasons to avoid
-
Some may find it too sweet
L'Occitane is best known for body care, specifically its cult hand cream tubes which are often referred to as the best hand creams on the market. I always keep a small stash as emergency beauty gifts. But don't underestimate this brand's scent offerings, they're great crowd-pleasers at affordable prices.
This smells much more expensive than it is – like posh hand soap in a 5-star hotel. The combination of neroli and orchid is warmed up by three layers of vanilla. If the idea of the best vanilla perfume gives you a toothache, you're not alone. A lot of people find that note a bit too sweet, but I think it balances just right in this instance thanks to the inclusion of zingy lime and orange flower to brighten things up.
6. Diptyque Orphéon Eau de Parfum
Best winter perfume for layering
Specifications
RRP: $138/£140
Top notes: Juniper berry
Middle notes: Jasmine
Base notes: Cedar, Tonka bean
Reasons to buy
+
Refreshing scent
+
Lightly spiced and easy to layer
+
An eco-friendly solid formulation, plus a refill is available
Similar to L'Occitane, this brand's best-known product has the potential to overshadow all the other absolute gems in the range. Obviously, the best Diptyque candles are always going to be in demand. Speaking personally (as a famously difficult person to buy gifts for), all I ever want is a Diptyque candle. That, and a dining table-sized bar of Cadbury chocolate.
Anyway, all of this is to say, don't just think of Diptyque as a candle brand – their scents are exciting and luxurious. If you're a floral fan, you'll love this glowing take on traditional notes. If had to pick one perfume for winter, it'd be this – it's fresh, bright, and warm. For the eco-conscious, it's also available as a solid formulation, with a refill to prevent plastic waste. I don't see anyone not liking this.
7. Floral Street Ylang Ylang Espresso eau de parfum
Best vegan perfume for winter
Specifications
RRP: $84/£64
Top notes: ylang ylang, and jasmine
Middle notes: red rose
Base notes: coffee, fresh cream, and Sichuan pepper
Reasons to buy
+
Unique formulation
+
Vegan-friendly
+
High concentration of scent so it lingers
+
Sustainably made in the UK
Reasons to avoid
-
You'll either love it, or not
I'm a huge fan of Floral street perfumes, they feel really modern, with each one totally different from the last. This would be my pick from the brand as an ideal perfume for winter.
The list of notes feels vast. Red rose, ylang-ylang, and jasmine – so far, so traditional – but then it's blended with coffee, fresh cream, and Sichuan pepper. It's one of those combinations that shouldn't work, but it just does. From the first spritz, it may feel a little overpowering, but once it settles in, it's a unique, strangely addictive aroma.
8. Giorgio Armani My Way Eau De Parfum
Best big-label perfume for winter
Specifications
RRP: $102/£83
Top notes: Bergamot, Orange Blossom
Middle notes: Tuberose, Jasmine
Base notes: Cedarwood, Vanilla, White Musks
Reasons to buy
+
Crowd-pleasing scent
+
Available as a refill
+
Great for floral fans
Reasons to avoid
-
A little bit sweet, which some won't like
Almost every time I've worn this scent so far, I've been asked what it is. I know this doesn't sound true, but I promise it is. At least five times, usually in a crowded elevator, or if I was going in for a hug with a friend.
This scent is a great crowd-pleaser – not all perfumes for winter have to be moody and mysterious. This is quite simply, an all-around lovely buy, thanks to the pretty, wearable notes of orange blossom, tuberose, and musks. I also love the bottle, I'm a sucker for any combination of pink and navy blue.
9. Laura Mercier Almond Coconut Milk eau de toilette
Best sweet perfume for winter
Specifications
RRP: $75/£55
Top notes: Almond
Middle notes: Coconut milk
Base notes: Vanilla
Reasons to buy
+
Smells just like their iconic bubble bath
+
Affordable
+
Sweet and warm
If you've ever tried what has to be one of the best bubble baths of all time from Laura Mercier, you'll be pleased to know that that iconic so-good-you-could-almost-eat-it scent is also available as an EDT. So now you can get that feeling even when you're too busy for a full-blown pampering soak.
When it comes to the question of eau de toilette vs parfum, toilettes tend to be lighter and may not last as long as a strong parfum. This probably works in this scent's favor – you don't want to smell too sweet for the entirety of a day. This EDT takes the notes from that bubble bath – almond, coconut milk and vanilla, and blends it with ylang-ylang, jasmine and musk for a pretty, warm scent. Quite simply, it's lovely.
10. Dries Van Noten Raving Rose Eau De Parfum
Best rose perfume for winter
Specifications
RRP: $280/£195
Top notes: Pink pepper, black pepper
Middle notes: Rose water, rose absolute
Base notes: Cashmeran, musk
Reasons to buy
+
A new twist on rose scents
+
Striking bottle
+
Available as a refill
You don't have to pack away your favorite rose perfume just because the weather's changed. If you're looking for a new take on the classic scent, consider this option which blends the traditional note with warm black and pink pepper.
Although rose has an (unjust) old-fashioned reputation, I'll always be drawn to scents that include it, and the addition of pepper is inspired – it just whacks it up a notch, making it feel zingier. The combination of pink and red will always delight me, so this striking, heavy bottle is also incredibly pleasing. What's better it's also a refillable perfume, which you can use to make the product a bit more affordable, and eco-friendly.
11. Acqua Di Parma Oud & Spice Eau De Parfum
Best oud perfume for winter
Specifications
RRP: $201/£150
Top notes: Leather accord, Patchouli oil, Sandalwood, Musk
Middle notes: Haitian amyris oil, Coriander, Agarwood oil
Base notes: Bergamot, Orange
Reasons to buy
+
Luxurious and rich
+
From an iconic brand
+
Very strong scent
Reasons to avoid
-
Some may find it overpowering
If you're looking for a seriously intense perfume for winter, this could be your winner. Oud is pretty much the fundamental warm note, and this is one of the best oud perfumes on the market.
Acqua Di Parma doesn't mess around when it comes to scents – these aren't polite, gentle buys that sink into the background. These are powerhouse perfumes, and this scent in particular commands attention. Heavy, smoky oud is blended with coriander, leather, and sandalwood for a dense, intense aroma. This won't be for everyone – it was a serious opinion divider amongst the beauty team. But, if you're looking for something dark and impactful, look no further.
12. Miller Harris Leather Rouge
Best balanced perfume for winter
Specifications
RRP: $240/£170
Top notes: Black Pepper, Raspberry, Saffron
Middle notes: Red Rose, Orris, Violet Petals
Base notes: Patchouli Fraction, Leather, Liquid Amber
Reasons to buy
+
Rich but not heavy
+
Spicy but still wearable
+
A unique blend
If you're looking for something dark but not too dark, and the Acqua Di Parma sounds a bit much – this could be the perfect in-between. Leather, black pepper, and saffron add that enveloping, spicy element but it's brightened up with notes of raspberry and violet.
I was surprised by how much I liked this, but it's down to the balance – it's floral enough to not feel totally out there, but it still has those alluring darker notes like leather and amber. While it's not a cheap perfume by any stretch of the imagination, it's a unique, wearable buy that you'll reach for through winter and beyond.
---
How do I know if my perfume is for summer or winter?
Of course, the obvious thing is that you can wear any perfume you want all year round - there's no set rule that says you have to wear certain notes in certain months. But, if you're specifically looking to extend your scent repertoire and explore perfumes for winter, there's a simple answer. According to Bouge, "Look for the words, warm, woody, spicy, and smoky."
Is vanilla a winter scent?
It's certainly one of the go-to notes in perfumes for winter, but it's not the only time of year you can wear it. Gordon explains, "It falls under the gourmand notes category, which is super diverse and instrumental in a lot of fragrances." She continues, "As it's used in a lot of scents, winter fragrances with Vanilla may be accompanied by more intense top notes to contrast it, with less of the airy-lightweight scent Vanilla may be more known for."
There's another bonus of wearing vanilla, according to Gordon. "Vanilla is also known to be a mood enhancer, making it great for de-stressing and relaxing which is perfect for winter months." Win-win.