Best oud perfumes for an opulent, spicy new-season scent
Looking for a distinctive new perfume? Consider adding one of our best oud perfume picks to your collection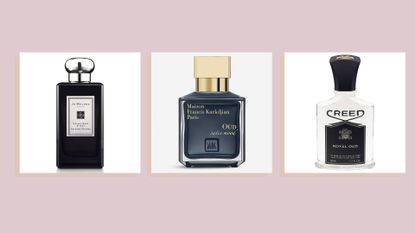 (Image credit: Future)
The best oud perfumes demand to be noticed. Heady, opulent and sensual – oud falls into the woody fragrance family. But depending on what its paired with, oud can create various different moods. It can be heavy and smoky or light and earthy.
Instantly recognizable, oud has a dark and smoky scent that features in many of the best perfumes for women. "Oud is a precious oil that's extracted from the Aquilaria tree, native to Southeast Asia," explains Eva Carlo (opens in new tab), Brand Perfume Expert for Creed, "it is extremely rare and very expensive." That explains why the best oud perfumes are almost never the best cheap perfumes, the raw material is simply too costly. Often associated with the Middle East, oud is culturally linked to liturgy and tradition, not perfume trends. "In other parts of the world, it has been linked to spiritual ceremonies like the Jinko incense in Japan," adds Carlo.
As with all perfume notes, oud can be expressed differently, depending on what it's paired with. "Oud perfumes today have infinite variety," says Carlo, "many replicate the captivating Arabian scent of oud which is rich, leathery, smoky, and animalic." Other perfumes use oud as a subtle base note to add depth and opulence. Intrigued? Discover our curated edit of the best oud perfumes that make excellent fall fragrances plus the experts answer your oud fragrance questions.
The best oud perfumes, as tested by our beauty team
1. Cartier Oud & Musc
Best overall oud perfume
Specifications
RRP: $365/£320 for 25ml
Top notes: Sandalwood
Base notes: Oud wood
Reasons to buy
+
Unique scent
+
Impressive sillage
+
Iconic packaging
This is opulence, bottled. Smooth and intoxicating, Cartier's fragrance combines creamy sandalwood with rich, high-quality oud. Totally unique, this scent stands out from all the others that we've tried and it's safe to say - we're completely hooked. Sandalwood initially steals the show before oud gradually makes an appearance, adding depth and richness. The lasting impression is smooth, earthy, and sensual, definitely one for cosy evenings in (or glam nights out alongside fall makeup looks)
While it's not listed on the notes, we detected a slight sweetness that conjures up a fruity perfume note. This pleasant addition cuts through the otherwise earthy, woodsy, warming scent. Overall, it's a heady, decadent number that we can imagine saving for special occasions like weddings and holidays. Expect lots of "you smell incredible" compliments while wearing this. It's a crowd-pleaser.
2. Jo Malone Velvet Rose & Oud Cologne Intense
Best floral oud perfume
Specifications
RRP: $150/£145 for 100ml
Top notes: Clove
Middle notes: Damask rose
Base notes: Praline, oud
Reasons to buy
+
Good longevity
+
Uncomplicated and elegant
+
Great for everyday wear
Reasons to avoid
-
May be too cloying for some
If you're new to the world of oud and want to give it a whirl, we'd highly recommend opting for this Cologne from Jo Malone. It's a great 'entry level' oud that's not overpowering yet still captures the depth of this note. Paired with a realistic rose, this fragrance is a classic oud and rose combination that's addictive from the first sniff. So much so, we've been wearing this one every day since that first spritz.
Alongside oud and rose, the fragrance has a sweetness courtesy of praline. Together, you get a moreish, beautiful scent that will have people asking, "what perfume are you wearing?" Compared to some of the other best Jo Malone fragrances that we've tried (and there's been quite a few), this one boasts impressive longevity and will stick around all day and night long. If, however, you are looking for a more intense oud-rose concoction, we'd recommend opting for Dior's Oud Isaphan.
3. Maison Francis Kurkdjian Oud Satin Mood EDP
Best sweet oud perfume
Specifications
RRP: $300/£215 for 75ml
Top notes: Violet accord
Middle notes: Turkish rose absolute, Bulgarian rose essence
Base notes: Laotian oud, Siamese benzoin, vanilla, amber accord
Reasons to buy
+
Impressive staying power
+
Good sillage
+
Mysterious and seductive scent
Reasons to avoid
-
May be too sweet for some
Oud is a versatile note that can smell rich, earthy, sweet or light – depending on what it's paired with. If, when it comes to fragrance, you have a sweet tooth – let us introduce you to this pick from luxury French fragrance brand, Maison Francis Kurkdjian. Laced with sweet vanilla and light florals, this oud perfume smells powdery, sweet, and fresh, all at the same time.
A complete contrast to traditional oud perfumes associated with the Middle East, this fragrance offers a fresher take on oud that's extremely wearable. And although it's lighter than others, it is still a long-lasting perfume that will stick around from dusk until dawn. Overall, we'd describe this fragrance as smooth, sensual, and powdery (it actually reminds us a little of Dior Addict, if that's one of your favorites too).
4. Dior Oud Ispahan
Best luxurious oud perfume
Specifications
RRP: $310/£225 for 125ml
Top notes: Labdanum
Middle notes: Rose, patchouli and saffron
Base notes: Agarwood (oud), sandalwood and cedar
Reasons to buy
+
Strong sillage
+
Not overpowering
+
Complex scent
Up there with one of the best Dior perfumes we've tried, Oud Ispahan is an opulent fragrance that's extremely complex. On the first sniff, we were struck by the delicate, soft rose that soon dries down to a rich and warm oud base. While rose makes the initial impression, it's the oud and woodsy base that really lingers on the skin – long after spritzing (we're talking 12 hours or more).
Not for the faint-hearted, this luxurious blend demands to be noticed with its floral and oud concoction that smells sexy and musky. While it may be too strong be a scent for summer (if you prefer your scent to be seasonal), it's the perfect pick for autumn and winter when you want a warm, cocooning perfume that's essentially a cashmere blanket in fragrance form. Of course, it's worth noting the price point – while it is expensive, it also smells expensive and the impressive staying power makes the price tag slightly more palatable.
5. Zara Vibrant Leather Oud
Best affordable oud perfume
Specifications
RRP: $35.90/£22.99 for 100ml
Top notes: Bergamot
Middle notes: Incense, woody notes
Base notes: Agarwood (oud), amber
Reasons to buy
+
Affordable
+
Sophisticated scent
+
Not overpowering
Searching for a budget-friendly oud perfume? You may notice that they are few and far between. The reason is that real oud is extremely expensive, so to create an affordable option, brands will call upon synthetic materials (which are also present in many pricey perfumes). While it smells slightly synthetic, this is a great pick for anyone on a budget. Combining oud with fresh bergamot, warm amber, and smoky incense – it has a grown-up aroma that's elegant and sophisticated.
Compared to its luxurious counterparts, the staying power isn't great. But because of the price point, you can spritz this on throughout the day without feeling guilty. Our tip? Apply one of the best body moisturizers before misting this on – it will help the fragrance really stick to the skin. Out of all the Zara perfumes, this is by far our favorite and, on testing, we all agreed that it smells far more expensive than it is. Try it!
6. Tom Ford Oud Wood EDP
Best woody oud perfume
Specifications
RRP: $205/£195 for 50ml
Top notes: Rosewood, cardamom, Chinese pepper
Middle notes: Oud, sandalwood, vetiver
Base notes: Vanilla and amber
Reasons to buy
+
Impressive longevity
+
Mysterious and masculine
+
Signature scent-worthy
Tom Ford's Private Blend Oud Wood pays homage to oud's Middle Eastern roots. "Evoking the enveloping warmth of incense-filled temples, this ground-breaking composition of exotic, smoky woods includes rare oud, sandalwood, rosewood, eastern spices, and sensual amber," says the brand. From this description, you can imagine the sort of scent this is – smooth, smoky with a hint of spice.
One of the best men's colognes as well as best oud perfumes for women, we believe this unisex fragrance will appeal to many. It's sophisticated and elegant and we adore the addition of vanilla and tonka bean that adds an overall creaminess to this otherwise rich scent. While it's not one we'd wear all year round, we'll definitely bring it out in the cold, winter months.
7. CREED Royal Oud EDP
Best spicy and woody oud perfume
Specifications
RRP: $220/£210 for 50ml
Top notes: Lemon, pink pepper, bergamot
Middle notes: Cedar, galbanum, angelica roots
Base notes: Sandalwood, oud, tonkin musk
Reasons to buy
+
Unique fragrance
+
Impressive longevity
+
Beautiful dry down
Inspired by the breath-taking architecture of a Persian palace, this opulent blend is designed to conjure up its elements - wood, leather, marble, and gold. A true masterpiece, we were blown away by this fragrance that only seems to get better with time. At first, it smells smoky with a hint of pepper and citrus before it makes way for the rich oud and silky sandalwood base. It's here where this fragrance truly shines.
If you're wondering how to choose a perfume that's essentially a confidence boost in fragrance form, give this perfume a spritz. From our experience, it will make you feel amazing. As with all Creed fragrances, a little goes a long way and the longevity on the skin is impressive (we found that it sticks around for 8 hours or more). And while we may not wear this every day, it's the perfect pick for date night, special occasions, and work meetings – whenever you want to feel like your best self.
8. Diptyque Oud Palao EDP
Best Eastern-inspired oud perfume
Specifications
RRP: $190/£130 for 75ml
Top notes: Labdanum, camphor, patchouli
Middle notes: Bulgarian rose, Madagascar vanilla
Base notes: Laotian oud, tobacco, sandalwood rum
Reasons to buy
+
Impressive longevity
+
Intense and intoxicating scent
+
Complex scent
One of the brand's best-sellers, Oud Palao is a stand-out scent that demands to be noticed. Another rose and oud concoction (as you can probably tell, these two notes get along very well), this fragrance gets its name from the palao variety of oud that comes from Laos. While oud steals the spotlight, this blend also contains vanilla, incense and a hint of tobacco that together create a warm and inviting scent.
It may not last quite as well as some of the others on this list, but that also means it'll never be overpowering. We found this a great scent for summer's last days and early autumn. We can imagine taking this on vacation and spritzing it onto sun-baked skin ready for a balmy evening spent outside with a glass of vino in hand. Or, if that isn't an option, wear this at home and let the sweet and spicy blend transport your senses to a faraway land. D.i.v.i.n.e.
9. Byredo Oud Immortel EDP
Best vegan oud perfume
Specifications
RRP: $195/£127 for 50ml
Top notes: Incense, cardamom
Middle notes: Brazilian rosewood, papyrus, patchouli
Base notes: Moss, tobacco leaves, oud
Reasons to buy
+
Impressive longevity
+
Intense oud fragrance
+
Great for evening
Reasons to avoid
-
May be too masculine for some
An ode to oud, this beautiful blend celebrates this precious ingredient that was used in traditional incense and perfume many millennia ago. In fact, according to the brand, oud is mentioned in one of the world's oldest written texts, the Sanskrit Vedas from India. Here, it is mingled with spicy cardamon, warming woods, and an earthy base of moss and tobacco woods.
Far from sweet, this scent is masculine and sensual with a heavy dry down. We like the addition of citrus lemon which cuts through the warm, heady earthiness. Overall, it's a very potent scent that has impressive staying power. We can imagine spritzing this onto a tailored suit before a big event or lavish dinner date. It's grown-up and sophisticated.
10. Carolina Herrera Oud Couture EDP
Best long-lasting oud perfume
Specifications
RRP: $289/£215 for 100ml
Top notes: Jasmine
Middle notes: Rose damascena, Taif Rose
Base notes: Oud, incense, benzoin
Reasons to buy
+
Impressive longevity
+
Good sillage
+
Mature, formal fragrance
Reasons to avoid
-
Simplistic considering the price
This East meets West fragrance marries precious oud from agarwood with soft florals and opulent resins. According to the brand, "Oud Couture draws inspiration from Middle Eastern culture giving it a more contemporary twist of New York's cosmopolitan spirit and style sensibility." At first, we detected the lightness of jasmine before this scent quickly unfolded to reveal beautiful rose and smoky incense. The oud lingers in the background and adds richness to this fragrance.
Combining some of the most popular perfume notes, this is a definite crowd-pleaser. But considering the expensive price tag, it's perhaps more simplistic than we would have expected. We found that the dry down is mainly a rose perfume with a hint of smokiness – and while this is lovely, if you're looking for intense oud, we'd recommend opting for one of the other perfumes listed here.
---
Is oud a feminine scent?
Oud is typically described as having a masculine scent, hence why it's present in plenty of men's colognes as well as unisex fragrances. However, when combined with soft florals or sweet fruits, it can also take on a feminine scent. On its own, oud is very distinctive – "it smells rich, leathery and animalic," says Carlo.
Why is oud so expensive?
Because of its rarity, high demand and the effort of extracting it – oud is one of the most expensive oils in the world. "A very small percentage of the Aquilaria tree goes through the process of infection, caused by an infestation of insects that create a fungal infection in the heart of the tree," explains Carlo. "Over many decades, this darkens the infected wood – known as agarwood – which by now has developed the rich aroma that is distilled into oud oil."
Extremely rare and costly, "around 40 to 70 kilos are needed to yield just 20 to 40ml of oil," says Carlo, "and each tree that has the infected wood will only have four kilos on a good day." This explains why many of the best oud perfumes come in way over the $100/£100 mark. Although it is an extremely long-lasting note on the skin and rarely needs reapplying through the day, which does help counterbalance the expense somewhat.