Our 12 favorite fall fragrances for spicy and cozy new-season vibes
w&h beauty editor reveals her ultimate fall fragrance picks, from timeless classics to unique new scents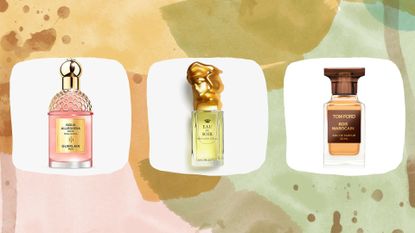 (Image credit: Future)
There's no use denying the old clichés about fall fragrance. Do you want a rich, spicy, smoky, warming and comforting perfume for this chilly new season? Thought so.
Of course, scent is subjective, and your idea of the best perfume for women may differ wildly to your best friend's. But just as autumn's declining temperatures and residual back-to-school energy make us collectively yearn for a shiny new pair of boots, a similar universal urge hits to ditch our best best fruity perfume and other such scents for summer in favor of something a little deeper and sultrier.
And this fall, I'm pleased to report there's an abundance of gorgeous fragrances to, well, fall for. From blockbuster new launches by big-name brands to under-the-radar cult bargains and timeless classics that I've worn for years. These are my personal fall perfume picks that will make a perfect scented accompaniment to your seasonal vibe shift.
How we tested fall fragrance for this feature
Why you can trust Woman & Home Our expert reviewers spend hours testing and comparing products and services so you can choose the best for you. Find out more about how we test.
This list is split into two categories; new discoveries for fall 2022, and my all-time favorites. This means each and every one of these fall perfumes has either been worn by me for months, if not years, or (in the case of the newbies) at least a day or two, to test how they wear, dry down and how long they last. They have also been assessed on price vs strength, as there's no fair comparison between eau de toilette vs parfum. And of course, all-important aesthetics, dressing table worthiness, and giftability.
New-season launches
Jimmy Choo I want Choo Forever EDP
RRP: $71/£68 for 60ml
Who says fruity fragrance can't be fall fragrance? This night-time version of megaselling I Want Choo blends black cherry liquor and rose into the original jasmine scent. The beauty of this is that it's heady without being overpowering and it's great value for a long-lasting Eau de parfum strength. It smells like a night out (a glam one) then dries down to a comforting tonka bean hug that's like taking off your fabulous-yet-excruciating heels, and climbing into bed.
Sisley Eau du Soir Eau De Parfum
RRP: $104/£85 for 30ml
This might surprise you. At first it's strangely refreshing for a fall perfume (and sunshiney for one whose name translates as 'evening water') But just wait. The thing that is so delicious about this is how it unfolds, starting off citrussy and bright, opening up into cool white flowers before a gloriously aromatic mossy, greenness kicks in. This smells expensive - and it is a little bit expensive - but it also lasts extremely well and is completely unique. Note the sculptural gold-plated stopper too. Gorgeous.
Caudalie The des Vignes Eau Fraiche
RRP: $38/£28 for 50ml
If you find heavy fragrance for fall as unwelcome as pumpkin-spice-everything, I've got the light yet seasonally appropriate scent for you. It has three main notes: white musk, neroli, and ginger. Not only is this citrus-to-spice combo beautiful in its perfectly balanced simplicity, it also has enough of a warming kick not to feel wildly inappropriate when you've turned the heating on. As an Eau fraiche it's got a lower concentration of perfume oils, so will need topping up more, but at this price, who's complaining?
Guerlain Aqua Allegoria Forte Rosa Rossa EDP
RRP: $125/£95 for 75ml
You can always count on Guerlain to concoct a classy little number, and this is one of the loveliest rose perfumes I've smelt in ages. This is an intensified EDP version of the brand's winning Aqua Allegoria formula (optimistic fragrances with a luxe twist) and the star of the show is Bulgarian rose, a rich version of the traditional flower that's got a syrupy Turkish delight feel about it. It's sun-baked and almost overripe, which feels fitting for a season of bountiful gluts. Plus, the classy bottle is refillable and the ingredients are 95% naturally derived (including organic alcohol, which is rare.)
(opens in new tab)
Tom Ford Private Blend Bois Marocain EDP
RRP: $262/£195 for 50ml
One for luxury lovers. If you have the cash to flash or want to treat a loved one, this ticks all the fall perfume boxes and then some. It's a rich and long-lasting perfume, with bags of depth from cedar and thuya woods (from the Atlas mountains of Morocco) There's nothing flowery or sweet about it, and it has a pleasing little tingle from pink peppercorn. This keeps things nicely balanced and ups its suitability for daytime as well as its clear purpose: after-dark seduction. The packaging is to-die-for, no surprises with Tom Ford and the escapism factor is a nice bonus when summer holidays are well and truly wrapped up.
Narciso Rodriguez Narciso Eau de Parfum Cristal EDP
RRP: £49.50 for 30ml (UK only)
Musk in all its forms is the basis of Narciso Rodriguez' highly regarded fragrance line, and this new kid on the block is a perfect fall perfume. It has the warm base you'd expect from said musk, with zippy bergamot and a distinct thwack of woods (cedar and sandal) at the end. It's got an intensity thanks to being an EDP, but isn't heavy. In fact, I'd say this is one of the most balanced, crowd-pleasing scents here, which, along with the pretty little pink cube of a bottle, means it would make an excellent gift for any fragrance fan.
Timeless fall classics
RRP: $65/£59 for 30ml
Plenty of perfumes describe themselves as addictive but this genuinely offers me the same dopamine bump as my top daily vice, because guess what? It smells like coffee. More like a sweet mocha than my 8am black americano, but if you like a brew, chances are you'll find this as moreish as I do. It's got heady florals and vanilla to balance things out, and is distinctive enough that people will probably know what you are wearing. While the glitzy bottle has an air of the night about it, I find a spritz offers a nice energy kick on gloomy mornings.
RRP: $200/£127 for 50ml
Byredo founder Ben Gorham never just makes perfume, he creates concepts. This sounds a little pretentious but we beauty eds lap that kind of thing up. And even if you don't, just know that this brand never puts out a duff scent. True to form, this is described as being like the "last perfume on earth" with a distinctly eastern-inspired cocktail of fig, Sichuan pepper, resins and plum. Concept aside, whenever I wear this it gives me wood and spice overload, bringing to mind bonfires and incense, which does feel a bit end of days. But also just like a truly excellent and distinctive autumn scent.
Jo Malone London Cypress & Grapevine Cologne Intense
RRP: $123/£105 FOR 50ml
Instead of the usual warmth, this fall fragrance feels a bit chilly. Specifically, like walking in a forest, taking lungfuls of crisp air. It's green and bracing without relying on citrus for freshness, which is clever. As a cologne intense, this is more luxe and long-lasting than other Jo Malone scents. Despite being one of my best Jo Malone fragrances, my sticky-fingered boyfriend pinches it with irritating regularity, hence the mess of the bottle's label in my photo below.
Escentric Molecules Molecule 01 EDT
RRP: $81/£72 for 100ml
Not strictly a fall perfume (I wear it all year round) But it does come into its own during chillier months when the Iso E Super ingredient that reacts with your body to create a unique smell seems to kick into high gear. It smells different on everyone, but many find it musky, woody, and enduring for an EDT. Don't expect fireworks, it's nicely low-key, but others will notice it, so definitely do expect people to ask what it is.
Creed Royal Princess Oud EDP
RRP: $330/£165 for 30ml
I know, that price! But Creed is the best of the best and this had to be on this list. Like most scents I'm drawn to, it is unexpected. It has oud but doesn't smell like the rest of my best oud perfumes. It's far more floral, a luxury bouquet of lovely things like rose, iris, and violet that dries to a subtly resinous base. A 9am spritz on the wrist will still be there at 10pm. So that spendy little bottle will last longer than most.
(opens in new tab)
D'Orsay Fragrances Dandy Or Not G.A. Eau de Parfum
RRP: $104/£103 for 50ml
A relative newcomer to my collection, this comes from a heritage French brand (Est.1830) and I am so glad it's arrived on our shores. D'Orsay's 16 gender-neutral scents are all worth a sniff, but this is my favorite, marrying hazy 'last days of sunshine' vibes with sexy spice and notes including grapefruit, black tea, cardamom, and leather. This may be under the radar now, but I doubt it will be for long. I'd advise you to get in and make this your signature scent before everyone else discovers it.
Beauty Editor, womanandhome.com
As woman&home's Beauty Channel Editor, Fiona Mckim has tried more products than she's had hot dinners and nothing makes her happier than raving about brilliant finds on womanandhome.com or her instagram grid (@fionamckim if you like hair experiments and cute shih-tzus). Fiona joined woman&home as Assistant Beauty Editor in 2013 under industry legend Jo GB, who taught her everything she needed to know (learn about ingredients and employ extreme cynicism). She has since covered every corner of the industry, from interviewing dermatologists and celebrities to reporting backstage at Fashion Week and judging the w&h Beauty Awards.