The 10 best Zara perfumes that you need in your collection
Our beauty team ranks the best Zara perfumes available to buy now, including long-lasting scents and designer alternatives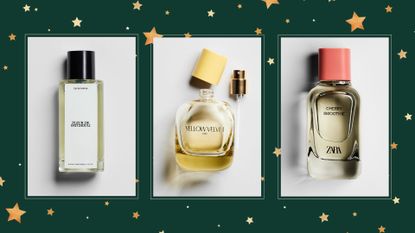 (Image credit: Zara)
woman&home newsletter
Sign up to our free daily email for the latest royal and entertainment news, interesting opinion, expert advice on styling and beauty trends, and no-nonsense guides to the health and wellness questions you want answered.
Thank you for signing up to . You will receive a verification email shortly.
There was a problem. Please refresh the page and try again.
When hunting for the best Zara perfume, there is no shortage of stellar options. Whether you prefer light and fresh scents or want something more warm and woody, there is an affordable Zara perfume just waiting for you.
Undoubtedly among the best perfumes for women, Zara perfumes are our favorite on the high street, with scents, packaging, and lasting power to rival high-end designer fragrances. However, it can be tricky to pick out a perfume from a high street retailer without smelling it in person, and that's where we can help. "Buying a fragrance online is notoriously challenging because of the obvious limitation – you can't smell through a screen," says Master Perfumer Ruth Mastenbroek (opens in new tab), from Ruth Mastenbroek Perfumer London, who suggests using fragrance families as a handy cheat.
"The families are a simple way of telling you what the style of a fragrance is. Consider it like the genre of a movie. It's an easy way for a shopper to know what to expect," says Mastenbroek. "The key categories (woody, fresh, floral, ambery) are broken further down into sub-categories, for example, a fresh fragrance could be green or citrus. For people shopping online, this is useful as it gives a quick glimpse of what types of notes they can expect." Once you've narrowed down your preferred category, you're ready to shop! And for more guidance as to the best Zara perfume for your taste, these are our top 10 buys from the high-street retailer right now.
How we tested the best Zara perfume
Why you can trust Woman & Home Our expert reviewers spend hours testing and comparing products and services so you can choose the best for you. Find out more about how we test.
Perfume is extremely subjective, which is why we tested a wide range of Zara fragrances with a variety of different notes to select the best from each fragrance family. As well as seeking out the best fruity, woody, fresh, and floral perfumes, we also paid attention to factors like lasting power and potency to determine which budget Zara scents really are the best. Figuring out how to choose a perfume to suit your taste can be tricky, but with the help of this thorough guide, picking the best Zara perfume has never been easier.
10 best Zara perfumes, chosen by our beauty team
1. Zara White
Best overall Zara perfume
Specifications
RRP: $17.90/£12.99 for 90ml eau de toilette
Notes: Lychee, freesia and magnolia
Reasons to buy
+
Light, fresh scent
+
Adaptable for all occasions
+
Timeless
Reasons to avoid
-
Not for those who prefer more woody scents
Zara White is one of our all-time favorite fragrances due to how versatile it is. Light, fresh, and floral, this is the sort of perfume we think anyone and everyone would like, thanks to the subtlety of each note. If you are after a perfume that is adaptable to all manner of occasions and vivid without being overbearing or too powdery, White is definitely the one to go for.
The magnolia notes are the most prominent here, with sweet lychee fading into the background of this scent. We would still recommend this perfume to those who don't like sweetness, as the freshness substantially outweighs it here. We have had the miniature roller ball version of this perfume in our makeup bag for years, and it never seems to run out. Even the smallest amount clings to the skin all day long, making it our favorite long-lasting perfume for everyday wear.
It's worth noting that Zara perfumes come in various strengths and this one is an Eau de Toilette. When weighing up eau de toilette vs parfum, remember "Perfume and cologne are sold in different concentrations, meaning there are different ratios of fragrance oil to alcohol," explains Iember Gordon, Fragrance Expert and Head of Marketing at The Fragrance Shop (opens in new tab). "The more concentrated forms, like pure Parfum, will cost the most and last the longest, whilst the less concentrated versions like an Eau De Toilette, will cost less and the spritz won't last as long." However, with white, this is no problem - its lightness is part of the appeal and is perfect for all-day wear.
2. Zara Cherry Smoothie
Best sweet Zara perfume
Specifications
RRP: $25.90/£17.99 for 100ml eau de parfum
Top notes: Cherry, plum and almond
Middle notes: Peruvian balm blend, crushed heliotrope and hawthorn berries
Base notes: Black vanilla and tonka beans
Reasons to buy
+
One of Zara's most unique perfumes
+
Similar to a popular designer scent
+
Beautiful packaging
Cherry Smoothie is one of the most distinctive Zara perfumes. Definitely the best fruity perfume on offer, it is sweet and powerful - reminiscent of old-school cherryade with some added kick. As soon as we tested this, we noticed that it smells remarkably similar to Tom Ford's Lost Cherry, but ever so slightly sweeter. Where Lost Cherry has subtle spicy hints, Cherry Smoothie's almond top note cuts through instead. If you are looking for an alternative to Tom Ford's much-loved designer fragrance, Cherry Smoothie comes in at almost 1/15th of the cost, for a bottle twice the size.
Due to its fruitiness, this is a perfume that will appeal to those who like a youthful and punchy perfume. We always recommend Cherry Smoothie as a brilliant gift, particularly for those who want to diversify their collection beyond typical floral fragrances, or for younger loved ones who may just be getting into the perfume world. The best Zara perfume for making a statement, it is one of our all-time favorites, but if you're still not convinced Mastenbroek has a handy tip.
"If you want to see what other people think of a fragrance before committing to buying a bottle, there are useful review websites such as Fragrantica (opens in new tab), which gives fragrances a score out of 5," advises Mastenbroek. Cherry Smoothie ranks at 4.1/5, one of the highest Zara perfume ratings on the site, so you can be sure it is a crowd-pleaser too.
3. Zara Applejuice
Best light and fresh Zara perfume
Specifications
RRP: $25.90/£17.99 for 180ml eau de toilette
Top notes: Apple, orange and pink grapefruit
Middle notes: Rose, jasmine, violet and peony
Base notes: Cedar and sandalwood
Reasons to buy
+
Fruity but not overly sweet
+
Very affordable
+
Versatile scent
Zara Applejuice is said to resemble one of the best Chanel perfumes, Chance. Though it is less powerful than Chance, when testing we found that the scent is extremely similar, making Applejuice the ideal option for casual wear if you want to save your pricey Chanel for special occasions. Fruity without being overly sweet, Applejuice is a perfume for those who like feminine fragrances that are also fresh. We found that it is the sort of perfume that is not immediately noticeable but still leaves a subtly clean and crisp aroma that comes through in wafts throughout the day.
The only downfall we found when testing is that it is not quite as long-lasting as other Zara perfumes we have tried. However, you can maximize wear time by paying attention to when you apply your fragrance. "The best time to spray perfume on your skin is right after your shower," says Gordon. "This is because moisture gives your scent something to hold on to, so spraying your signature scent on after your skin has been freshly washed boosts its staying power."
We have this one in our perfume rotation for the days when we want to go for something more natural, and it is a smell we will never get tired of. Plus, at under $26/£18 for a 180ml bottle, it wins the title of the best cheap perfume on this list.
4. Zara Gardenia
Best mature Zara perfume
Specifications
RRP: $25.90/£17.99 for 180ml eau de parfum
Notes: Orange blossom, coffee, peach, raspberry
Reasons to buy
+
Wears beautifully
+
Premium scent
+
Universally appealing
There are several variations of the Zara Gardenia scent, but we love the original version best. The best Zara perfume for a mature sweetness, Gardenia has been compared to YSL's Black Opium. However, after testing, we think that it is less overwhelming than Black Opium - in the best way. Designer fragrances are usually very potent and long-lasting, but this also means that they can sometimes be slightly suffocating when first applied. Gardenia bypasses that and cuts straight to the worn-in smell that sits gracefully on the skin for hours.
Navigating how to buy fragrance online can be challenging, especially if you're not totally sure which scents you like best. So, if you want to make a purchase that you know won't fail you, Gardenia has our vote. The contrast between the floral and coffee notes creates a perfectly balanced, crowd-pleasing perfume that is both feminine and slightly musky. As another one of Zara's most affordable perfumes, it is a fantastic price for a foolproof fragrance that works especially well in the colder months.
5. Zara Orchid
Best floral Zara perfume
Specifications
RRP: $25.90/£17.99 for 180ml eau de parfum
Top notes: Rose and lily of the valley
Middle notes: Peach and apple
Base notes: Musk, wood and amber
Reasons to buy
+
Great for perfume layering
+
Typically feminine scent
+
Youthful and light
Reasons to avoid
-
Not the most distinctive scent
If you liked the sound of Applejuice but want something a little more hearty, Zara Orchid is just that. It has all the light, fresh appeal of Applejuice, plus woody base notes that add an extra dimension. When testing, we found that it dries down to be musky and creamy, leaving the floral top notes to fade into the background. If you lean more towards floral scents but want to start dipping your toe into the woody world, this is the perfume to do it with.
"Some people may pay too much attention to the initial spritz [of a perfume], as they are sold on the top notes, without hanging around to see how the fragrance develops over time," explains Mastenbroek. "While helpful, some people may place too much importance on these notes." Orchid in particular proves this point, as the base notes that push through later on is what you really want to pay attention to.
The only negative to Orchid is that it isn't a particularly unique smell, in that it resembles many other floral perfumes. However, if you want something reliable that you will never grow tired of, we can't recommend it enough. And thanks to the variety of notes in this perfume, it is a perfect candidate for fragrance layering.
6. Zara Yellow Velvet
Best unique Zara perfume
Specifications
RRP: $17.90/£12.99 for 90ml eau de toilette
Top notes: Grapefruit, passion flower and peach
Middle notes: Osmanthus flower, peony and vanilla orchid
Base notes: White woods
Reasons to buy
+
Truly unique scent
+
Long lasting
+
Ideal size for travelling
Yellow Velvet is one of our all-time favorite Zara scents, and we believe that it is criminally under-hyped. It captures the very sweet spot between fruitiness and woodiness, making for a simultaneously playful yet mature scent that stands out from the crowd. Although it is one of our top scents for summer, it works equally as well for crisp winter days that could benefit from some warmth. The vanilla orchid and white wood notes are what really sell this perfume for us, and what makes this perfume linger on the skin all day long.
One reason that Yellow Velvet runs out quickly is that you won't be able to stop spritzing it once you start, and the slightly smaller bottle (though perfect for traveling) doesn't take long to get through. But at this price, repurchasing is no big deal. However, to get maximum wear out of this little bottle, we love layering it up as a hair perfume too - just be mindful about how you apply."Don't spritz directly onto your hair as the alcohol can cause damage to the hair," advises Gordon. "Try spraying your favorite fragrance on your hairbrush and brush it through dry hair, creating a more encompassing fragrance that lasts longer."
7. Zara Nuit
Best evening Zara perfume
Specifications
RRP: $25.90/£17.99 for 180ml eau de parfum
Top notes: Bergamot and peach
Middle notes: Iris and lily of the valley
Base notes: Amber and vanilla
Reasons to buy
+
Mature scent
+
Ideal for the winter months
+
Long lasting
Reasons to avoid
-
Not the best for daytime wear
Nuit does exactly what it says on the tin: it is the ultimate nighttime fragrance. Both sweet and woody, it is a distinctly mature smell that lends itself to after-dark wear, thanks to the mysterious and intriguing vibe that it gives off. The amber and vanilla base notes really steal the show here, and are the main scents you can make out whilst wearing Nuit. Plus, when testing, we found that you only need a couple of spritzes to get a potent scent, so it is sure to last you well.
This is a perfume that really needs to dry down to reach its full potential, as the opening notes do not accurately reflect the scent you will carry with you throughout the day. But once it settles in, this is a warm and cozy perfume that we love to turn to in the winter months. Though they smell substantially different, Zara Nuit evokes the same autumnal feelings as Maison Margiela Replica By The Fireplace, which makes you want to sip a mulled wine whilst wearing fluffy pajamas. Despite some of the sweeter notes, we think it could certainly act as a unisex fragrance for those who want something more gender-neutral.
8. Zara Fleur de Patchouli
Best premium Zara perfume
Specifications
RRP: $19.90/£15.99 for 90ml eau de parfum
Notes: Peony, patchouli and guaiac wood
Reasons to buy
+
Premium feel
+
Similar to a designer fragrance
+
Minimalist
Reasons to avoid
-
Pricier than other Zara perfumes
Fleur de Patchouli is one of Zara's more premium fragrances, created in collaboration with Jo Malone, so it does cost slightly more than the other Zara perfumes on offer. However, this is definitely the best Zara perfume if you want a true luxe feel that is worth every penny. From the packaging to the scent itself, it offers a brilliant price point for a stunning perfume in which no detail has been overlooked.
This fragrance sits at the earthy end of the floral spectrum, so we bet that even those who don't typically select floral scents will gravitate towards it. The gentle smell reflects that of fresh flowers at their best - not too powdery, and still retaining elements of the natural woody scents they are surrounded by. When testing, we noticed that the strong patchouli notes mimic Chanel's iconic Coco Mademoiselle perfume, making this an ideal cheaper alternative for everyday wear. However, where Coco Mademoiselle is subtly clean and soapy, Fleur de Patchouli is more natural. It is floral without sickly sweetness, and because of this, we believe Fleur de Patchouli is one of the most timeless Zara perfumes out there.
9. Zara Tuberose
Best on-the-go Zara perfume
Specifications
RRP: $10.90/£7.99 for 30ml eau de toilette
Notes: Tuberose, vanilla, wood
Reasons to buy
+
Light, minimalist smell
+
Powdery and fresh
+
Perfect handbag size
Zara's description of Tuberose is minimal, as it is presented as a 'mystery' fragrance. But if you know one thing about this perfume, it should be that, surprisingly, it doesn't smell much of Tuberose. However, it has still earned a place on our list of the best Zara perfume. When testing, we loved the delicate balance of vanilla and woody notes, making for a scent that sits perfectly in between sweetness and musk. If you are after the best vanilla perfume that isn't overtly sugary, we recommend giving Tuberose a go.
We also love this handy 30ml bottle that is the ideal size for your handbag, great for making fragrance top-ups throughout the day. Or, to really help this smell stick to you all day, you can apply it to your clothes. "If you have a signature scent, you can get your clothing to smell like it as well," explains Gordon. "Line your drawers with tissue paper that has been spritzed a few times and allow the scent to permeate the fabrics." Trust us, you will want every inch of you to smell like Zara Tuberose.
10. Red Temptation
Best spicy Zara perfume
Specifications
RRP: $29.90/£19.90 for 80ml eau de parfum
Top notes: Saffron and coriander spices, bitter orange
Middle notes: Jasmine and praline
Base notes: Moss and woody amber
Reasons to buy
+
Popular Zara fragrance
+
Ideal for day-to-night wear
+
Distinctive
Reasons to avoid
-
More pricey than other Zara perfumes
Red Temptation has become one of the most popular Zara perfumes of all time, and that is due to its similarities to the iconic Baccarat Rouge 540 by Maison Francis Kurkdjian, which has taken the fragrance world by storm. The perfect spiced autumnal scent, it is a great day-to-night perfume that won't seem out of place for any occasion. When testing, we loved the amber musk base notes that steal the show here.
We will say that this perfume is definitely one that grows on you, and perhaps not something that everyone will fall in love with at first wear. However, it is a truly distinctive perfume that is bound to draw compliments, and one that we guarantee you will keep turning to this season. Plus, it is pretty long-wearing, so will last throughout the day. But if you are going to wear this into the evening without reapplying, you can easily make it even more potent. "For situations where you can't have a shower before going from desk to dancefloor, use an unscented moisturizer on your skin before you apply perfume," says Gordon. "This will help lock the fragrance in better as it gives a moist skin impression."
Amelia joined woman&home after graduating with an MA in Magazine Journalism from City University in 2022. She specialises in lifestyle journalism and throughout her undergraduate degree she wrote for a variety of student publications, where she developed a love for all things style, beauty and sustainable fashion. She has previously written for titles including OK! Magazine, New! Magazine and Notion before she started her career as a lifestyle journalist with woman&home after completing an internship with the brand.