15 of the best cheap perfumes, from designer names to high street favourites
Our pick of the best cheap perfume options that smell just as beautiful as pricy luxury fragrances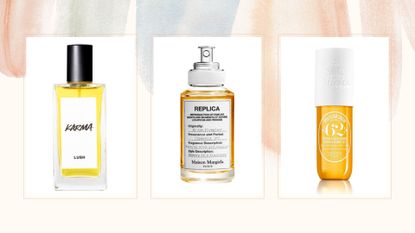 (Image credit: Future/Lush, Replica, Sol de janeiro)
Finding the best cheap perfume means striking the perfect balance between price and quality. With more affordable fragrances on the market than ever before, you can expect to find a low-cost scent scent that will serve you just as well as, if not better than, premium options.
The widely regarded best perfumes for women tend to come from designer labels and established fragrance brands, so it can take some searching to find budget friendly picks that you can trust. But whether you favour perfumes with jasmine or classic rose perfume, great affordable scents are easier to come by than you might think.
"Choosing a scent is a personal choice, so always go with what appeals to your senses and style and you can't go far wrong," advises Cathy Newman, Marketing and Customer Experience Director at The Perfume Shop. "Understanding fragrance ingredients and families is key," explains Newman, as once you settle on your favourite family out of floral, sweet, woody, and fresh, you'll know that you're more likely to enjoy fragrances within it. With options in every scent family and high street heroes as well as cult favourites, these are our favourite affordable perfumes to shop today.
The best cheap perfumes, chosen by our beauty team
Why you can trust Woman & Home Our expert reviewers spend hours testing and comparing products and services so you can choose the best for you. Find out more about how we test.
1. Zara Applejuice
Best designer dupe cheap perfume
Specifications
RRP: £12.99 / $17.90 for 90ml
Top notes: Apple, orange, pink grapefruit
Middle notes: Rose, jasmine, violet, peony
Base notes: Cedar, sandalwood
Reasons to buy
+
Similar to a popular Chanel scent
+
Unique combination of notes
+
Very affordable
Reasons to avoid
-
Not the most premium look
If you're looking for the best perfume deals, Zara fragrances are not to be missed. At just £12.99 / $17.90 for 90ml, Applejuice smells remarkably similar to Chanel Chance for a fraction of the cost, making it one of the best Chanel dupes on our list.
Though we have found Applejuice to be slightly less potent than Chance throughout the day, we love how light and fresh this fragrance is. If you don't like scents that are too powdery or sweet but still want that hint of femininity, this is for you. With fruity top notes mellowed out by a woody base, it manages to strike the perfect balance of youthful and sophisticated.
We love using our affordable perfumes like this for everyday wear, saving the pricier purchases for special occasions. We would happily sacrifice some of our other designer fragrances in favour of Applejuice, as it is a scent we know we will never grow tired of. One of the best Zara perfumes for summer.
2. Victoria's Secret Pure Seduction Body Mist
Best youthful cheap perfume
Specifications
RRP: £15 / $19.95 for 250ml
Notes: Juiced plum, crushed freesia
Reasons to buy
+
Very affordable
+
A lot of product for your money
+
Range of scents available
Reasons to avoid
-
May be too sweet for some
Victoria's Secret body sprays have long been popular with a younger crowd, thanks to their accessible and affordable price point. Not only are they cheap, but the brand also offers some seriously gorgeous fragrances that boast impressive lasting power. Pure Seduction is the brand's most popular scent and probably the most recognisable, and for good reason.
Light, floral and sweet, this body mist only needs a couple of spritzes to deliver a beautiful scent that won't budge. It is a typically feminine fragrance that will work for anyone who likes classic fruity scents. But we think that Pure Seduction has a little bit more edge, ideal for those who want their signature scent to be universally appealing but not at all boring. When using this fragrance, we found that the smell stuck to us all day long - even leaving traces right into the next day. We love the generous 250ml bottle that takes a while to get through, as well as the gorgeous gold lid that adds a premium feel.
The pink packaging and sweeter smell may be slightly too youthful for some tastes, but there are over 10 body mist scents on offer from this brand, so it's well worth checking out the Victoria's Secret fragrance selection no matter your taste.
3. Ted Baker Amelia
Best gourmand cheap perfume
Specifications
RRP: £20 / $35 for 30ml
Top notes: Rhubarb, magnolia
Middle notes: Jasmine, heliotrope
Base notes: Tonka, maple
Reasons to buy
+
Luxury feel
+
Sweet without being sickly
+
Fresh notes
+
Sleek, minimal design
Ted Baker may not be the first name that springs to mind when you think of fragrance, but the brand actually offers a range of beautiful and very affordable perfumes that we would recommend to anyone. Navigating how to buy fragrance online is particularly tricky, which is why sticking to brands we already know we can trust, like Ted Baker, is a smart first step.
Amelia is one of our absolute favourite fragrances for year-round wear as the sweet yet warm base notes work for summer and winter alike. When testing, the maple base notes are what really stuck out. Though subtle, they cut through the floral middle to deliver a sweetened scent that is also distinctly mature. We also found that this perfume becomes richer and warmer as it dries down, making it an ideal pick for colder seasons. Although this perfume is slightly sugary, it is not at all sickly.
We only wish that Amelia came in a 50ml bottle, as many other Ted Baker fragrances do. As the 30ml is fairly small and the 100ml has a weighty feel. We would welcome an in-between size to solve both problems. However, the 100ml version comes in at only £32 / $65, so still won't break the bank if you're happy with larger perfume bottles.
4. The Body Shop White Musk Flora
Best cheap perfume for casual wear
Specifications
RRP: £12 / $16 for 100ml
Notes: Bergamot, muguet, musk
Reasons to buy
+
Light, powdery scent
+
Perfect for everyday wear
+
Well priced
+
100% vegan
The Body Shop fragrances all fall under the affordable category, and each of them is well worth testing out when hunting for the best cheap perfume. White Musk Flora in particular is a classic scent that will never fall out of favour, and one we always reach for. Its minimal notes and simple, light finish make this a perfect spritz-and-go perfume for the days you want something fresh and casual to see you through.
A gorgeous balance of floral and musky, this perfume is for those who like typically feminine scents. When testing, we loved how quickly this settled on the skin and that the perfume hardly changed as it dried down. Plus, a little goes a fairly long way with this product, as the misting nozzle distributes the fragrance evenly. We love to liberally douse ourselves in our favourite perfume, and the low price tag of White Musk means that we don't feel bad about doing it.
If you have been wondering do perfumes expire and want something that you know you will fully use up before that happens, this has our vote. It is just the right size for traveling and ideal for both day and nighttime wear. Its only downfall is that it isn't as long-lasting as other affordable perfumes we tested, but for the price, reapplying throughout the day is easily justified.
5. Lush Karma
Best natural cheap perfume
Specifications
RRP: £30 / $65 for 30ml
Notes: Patchouli, Brazilian orange and Siberian fir
Reasons to buy
+
Available in two sizes and as a solid
+
Very long lasting
+
Unlike any other high street scents
+
Natural ingredients
Reasons to avoid
-
More of a wintery scent, not ideal for year-round wear
If you are looking for the best cheap perfume that will really stand out from the crowd, Karma has to be at the top of your list. To us, this perfume is impossibly comforting, thanks to its rich orange and patchouli notes that are powerful enough to last all day long.
Despite the minimal notes, Karma doesn't feel like a simple fragrance. When testing, we found this perfume to be distinctively earthy and spicy – quite unusual, while also possessing universal appeal. It is a fragrance that we always notice on others and one that will certainly bring in compliments. Thanks to being a perfume with Patchouli, it feels mature and refined compared to other affordable fragrances, so we recommend it for those who want a strong signature scent. Karma rivals the best scented candles in terms of potency and evokes the same warming feel, making it an ideal pick for winter wear.
Although the 30ml bottle isn't huge, it will last a very long time thanks to its strength. We also love the solid version, which is even cheaper, for a more concentrated scent that travels well. Karma is one of Lush's original fragrances and has been on sale for years, so it is a timeless scent that you can be sure will never go out of style.
6. Ouai Melrose Place Eau de Parfum
Best cheap floral perfume
Specifications
RRP: £49 / $60 for 50ml
Top notes: Champagne, pink peppercorn, berry, lychee
Middle notes: Peony, rose, freesia, jasmine, bergamot
Base notes: Amber, sandalwood, white musk, cedarwood
Reasons to buy
+
Sleek packaging
+
Floral and light
+
Dupe for a designer fragrance
Reasons to avoid
-
May be overly-sweet for some
This light, floral scent is the ultimate feminine fragrance for day-to-night wear. With hints of bergamot, lychee, cedarwood, and white musk, OUAI describes this scent as a one-way ticket to LA in a bottle. Certainly at the sweeter end of the spectrum, this perfume is ideal for anyone who is on the hunt for a bold scent that will rake in the compliments.
When we first smelled Melrose Place we were instantly reminded of the iconic Burberry Her Eau de Parfum due to the floral and woody undertones. However, where Burberry fades fast, Melrose Place lingered; for hours after applying, the sweet top notes were still strong without being overwhelming.
Floral fragrances are amongst the hardest to get right, due to the large variation in the base notes. However, OUAI has struck just the right balance with Melrose Place. Plus, the round bottle and magnetic close lids add a sleek touch, making it one of our favourites in terms of packaging. For those who like a more unisex fragrance, this probably isn't the one for you. However, OUAI offers three equally gorgeous scents with a more neutral smell. We recommend North Bondi or Dean Street for peppery and crisp scents respectively.
7. Issey Miyake L'Eau D'Issey Eau de Toilette
Best cheap designer perfume
Specifications
RRP: £66 / $90 for 50ml
Top notes: Rose, lotus
Middle notes: Lily, fresh flowers
Base notes: Precious woods
Reasons to buy
+
Fresh and light
+
Long lasting power
+
Timeless scent
One of the standouts on this list, as soon as we first spritzed L'Eau D'Issey we were totally hooked. Inspired by fresh water, this perfume is delicate and crisp with top notes of lotus and rose, though it does not smell floral in the typical sense. It is overwhelmingly fresh with a subtle hint of flowers, ideal for those who want a scent to be noticeable but not too sweet or musky.
Launched in 1992, this set the bar as the first aquatic floral women's fragrance - and it is no wonder that many brands have since followed suit. We love that this perfume's combination of notes is perfectly balanced to create a smell that is familiar yet striking, without being overwhelming. Certainly among the best long lasting perfume for women, we also found that L'Eau D'Issey settles on the skin and won't budge for hours - a must for everyday or evening wear.
The Issey Miyake brand is known for simplicity and timelessness, which this fragrance captures perfectly. From the design of the bottle, said to be inspired by a full moon over the Eiffel Tower, to the fragrance itself, this is a scent that has felt modern yet classic for three decades. The fact it happens to be affordably priced is just another bonus!
This sample was provided by Perfume Direct and is available to shop here.
8. Sol de Janeiro Brazilian Crush Cheirosa 62 Perfume Mist
Best cheap perfume for travel
Specifications
RRP: £19 / $20 for 90ml
Top notes: Pistachio, almond
Middle notes: Heliotrope, jasmine petals
Base notes: Vanilla, salted caramel, sandalwood
Reasons to buy
+
Adaptable for hair and body
+
Convenient for travel
+
Budget friendly
Reasons to avoid
-
Doesn't last as long as traditional perfumes
For those who want to channel the brightness of summer year-round, Cheirosa 62 is a perfect scent for summer, thanks to its sweet and light top notes. However, the salted caramel and sandalwood base notes work just as well for the colder months, bringing a touch of warmth and spice to your everyday scent. If you tend to gravitate towards anything pumpkin spice-related as we approach fall, you will love Cheirosa 62. Another sweet perfume, this is one for those who want a noticeable and youthful smell to rival the best vanilla perfumes.
As a perfume body spray hybrids that can also be used on the hair, Sol de Janeiro fragrances really give some bang for your buck. Available in 90ml or a whopping 240ml, this is by far one of the largest affordable perfumes we sampled, yet it still comes in at the lowest end of the price spectrum. But, with a body-mist formula, it does fade faster than traditional perfumes. To keep the scent strong it is necessary to reapply in the middle of the day, or just before going out for the evening. But with a low price point, we didn't find the need for re-application to be an issue.
The plastic bottle (which is refillable in the 240ml size) is ideal for traveling and on the go, as you don't have to worry about a glass bottle smashing. We took the 90ml size on a three-week trip with us, and it made for the perfect day-to-night scent that worked beautifully for the summer season.
9. Glossier You
Best cheap perfume for every taste
Specifications
RRP: £57 / $68 for 50ml
Top notes: Ambrette seeds, ambrox
Base notes: Pink pepper, iris
Reasons to buy
+
Perfect everyday scent
+
Long-lasting
+
Smells different on everyone
Reasons to avoid
-
May be too subtle for some
Perhaps one of our all-time favourite perfumes, Glossier You is a standout for any taste. It's made up of mainly base perfume notes, which means it will last longer and allow more of your natural scent to blend with the perfume to create your unique 'You' smell. The idea is that this perfume smells slightly different on everyone, and for that reason, You is a particularly tricky scent to describe. Both fresh and musky, peppery and light, it is the ultimate fragrance for those who want a bit of everything in their smell, but don't want anything that will overwhelm the nose.
We found that it was easy to forget you're wearing this perfume. At times it seems like the fragrance has faded after a few hours, but then that familiar scent blows through at unsuspecting moments and it suddenly smells as fresh as when it was first applied. The beauty of You is that while you may become accustomed to the smell, passers-by will be struck by the subtle freshness of it - trust us, you will get compliments when wearing this.
The thick baby pink glass bottle with a bright red lid also builds on the appeal, by adding a feminine touch that looks gorgeous on display in your beauty cabinet. For anyone hunting for the best cheap perfume, You is a foolproof option that also won't break the bank when it is time to repurchase. It also comes in solid balm form, which we reckon is one of the best solid perfume options for gifting, thanks to its ageless and timeless aroma.
10. Ghost Orb of Night Eau de Parfum
Best cheap perfume for evening
Specifications
RRP: £29 (UK only)
Top notes: Mandarin, cherry, almond, bergamot
Middle notes: Freesia, orange blossom, ylang-ylang, jasmine
Base notes: Sandalwood, caramel, white musk, ambergris
Reasons to buy
+
Perfect evening fragrance
+
Long-lasting
+
High-end dupe
Reasons to avoid
-
Not as adaptable for daytime
Looking for a perfume with the allure and lasting power of a designer label, but not the price tag? Look no further than Ghost Orb of Night. Reminiscent of YSL Libre Eau de Parfum but at less than half the price, Orb of Night is the perfect sexy scent for evening time that definitely smells more exorbitant than it is. The top notes of cherry and almond offer a subtly sweet aroma, whilst the musky base notes add nighttime attraction.
When we tested Orb of Night we were surprised by how strong the scent is, however it settled after a few minutes to become much more subtle and floral on the skin. This is certainly a fragrance that improves with time, thanks to the different layers that reveal themselves slowly. When shopping for an evening fragrance, lasting power is key, which is why Orb of Night has our vote.
Moreover, the crescent moon packaging of this perfume is a standout amongst other fragrance bottles and is unique without being tacky, thanks to its neutral bronze colour. For a reliable yet distinctive scent that will see you through nights out and special occasions alike, opt for this gorgeous Ghost fragrance.