10 of the best cheap perfume buys, from designer names to new classics
Our pick of the best cheap perfume options that smell just as beautiful as pricy luxury fragrances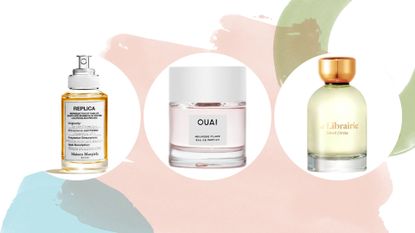 (Image credit: Future)
Finding the best cheap perfume means striking the perfect balance between price and quality. But just because a scent falls at the low-cost end of the spectrum, that doesn't mean it won't serve you just as well, if not better, than premium options. Some of the best affordable perfumes on the market land in the budget category, and these stunning picks will have you feeling and smelling your best without straining your wallet.
Finding the best perfumes for women can be challenging due to the wealth of fragrances available, and securing a signature scent that will come to define you is no mean feat. You need a fragrance that will suit all of your moods, occasions, and needs. But from the best rose perfume to spicy scents that make perfect fall fragrances, great affordable perfume is easier to come by than you might think.
Despite the assumption that big-name fragrances carry a hefty price tag, there are a surprising amount of designer and notable brand fragrances that come in at $60/£50 or less. Don't shy away from brands you know and love, as it's more than likely that some of their best perfumes will be available in smaller sizes, for less than you expect. From Maison Margiela and Issey Miyake to drugstore favorites, there is an affordable perfume for every taste.
How we tested the affordable perfume for this guide
Every perfume included in this guide was tried and tested by us to give you the best possible idea of what each scent is like. We paid attention to factors such as how the scent lasts, how it changes throughout the day, and how much you really get for your money. We have also taken into account the brand, packaging, price point, and occasion each scent can be worn for. So despite the subjectivity of scents, our guide will tell you everything you need to know to make the best cheap perfume purchase for you.
The best cheap perfumes, chosen by our beauty team
1. Ouai Melrose Place Eau de Parfum
Best cheap floral perfume
Specifications
RRP: $60/£49 for 50ml
Top notes: Champagne, pink peppercorn, berry, lychee
Middle notes: Peony, rose, freesia, jasmine, bergamot
Base notes: Amber, sandalwood, white musk, cedarwood
Reasons to buy
+
Sleek packaging
+
Floral and light
+
Dupe for a designer fragrance
Reasons to avoid
-
May be overly-sweet for some
This light, floral scent is the ultimate feminine fragrance for day-to-night wear. With hints of bergamot, lychee, cedarwood, and white musk, OUAI describes this scent as a one-way ticket to LA in a bottle. Certainly at the sweeter end of the spectrum, this perfume is ideal for anyone who is on the hunt for a bold scent that will rake in the compliments.
When we first smelled Melrose Place we were instantly reminded of the iconic Burberry Her Eau de Parfum due to the floral and woody undertones. However, where Burberry fades fast, Melrose Place lingered; for hours after applying, the sweet top notes were still strong without being overwhelming.
Floral fragrances are amongst the hardest to get right, due to the large variation in the base notes. However, OUAI has struck just the right balance with Melrose Place. Plus, the round bottle and magnetic close lids add a sleek touch, making it one of our favorites in terms of packaging. For those who like a more unisex fragrance, this probably isn't the one for you. However, OUAI offers three equally gorgeous scents with a more neutral smell. We recommend North Bondi or Dean Street for peppery and crisp scents respectively.
2. Issey Miyake L'Eau D'Issey Eau de Toilette
Best cheap designer perfume
Specifications
RRP: $79/£45 for 50ml
Top notes: Rose, Lotus
Middle notes: Lily, Fresh flowers
Base notes: Precious woods
Reasons to buy
+
Fresh and light
+
Long lasting power
+
Timeless scent
One of the standouts on this list, as soon as we first spritzed L'Eau D'Issey we were totally hooked. Inspired by fresh water, this perfume is delicate and crisp with top notes of lotus and rose, though it does not smell floral in the typical sense. It is overwhelmingly fresh with a subtle hint of flowers, ideal for those who want a scent to be noticeable but not too sweet or musky.
Launched in 1992, this set the bar as the first aquatic floral women's fragrance - and it is no wonder that many brands have since followed suit. We love that this perfume's combination of notes is perfectly balanced to create a smell that is familiar yet striking, without being overwhelming. Certainly among the best long lasting perfume for women, we also found that L'Eau D'Issey settles on the skin and won't budge for hours - a must for everyday or evening wear.
The Issey Miyake brand is known for simplicity and timelessness, which this fragrance captures perfectly. From the design of the bottle, said to be inspired by a full moon over the Eiffel Tower, to the fragrance itself, this is a scent that has felt modern yet classic for three decades. The fact it happens to be affordably priced is just another bonus!
3. Sol de Janeiro Brazilian Crush Cheirosa 62 Perfume Mist
Best cheap perfume for travel
Specifications
RRP: $20/£19 for 90ml
Top notes: Pistachio, Almond
Middle notes: Heliotrope, Jasmine Petals
Base notes: Vanilla, Salted Caramel, Sandalwood
Reasons to buy
+
Adaptable for hair and body
+
Convenient for travel
+
Budget friendly
Reasons to avoid
-
Doesn't last as long as traditional perfumes
For those who want to channel the brightness of summer year-round, Cheirosa 62 is a perfect scent for summer, thanks to its sweet and light top notes. However, the salted caramel and sandalwood base notes work just as well for the colder months, bringing a touch of warmth and spice to your everyday scent. If you tend to gravitate towards anything pumpkin spice-related as we approach fall, you will love Cheirosa 62. Another sweet perfume, this is one for those who want a noticeable and youthful smell to rival the best vanilla perfumes.
As a perfume body spray hybrids that can also be used on the hair, Sol de Janeiro fragrances really give some bang for your buck. Available in 90ml or a whopping 240ml, this is by far one of the largest affordable perfumes we sampled, yet it still comes in at the lowest end of the price spectrum. But, with a body-mist formula, it does fade faster than traditional perfumes. To keep the scent strong it is necessary to reapply in the middle of the day, or just before going out for the evening. But with a low price point, we didn't find the need for re-application to be an issue.
The plastic bottle (which is refillable in the 240ml size) is ideal for traveling and on the go, as you don't have to worry about a glass bottle smashing. Plus, the 90ml size can go in your carry-on and will last for even long-haul trips.
4. La Librairie Neroli Divine Eau de Parfum
Best cheap perfume from the drugstore
Specifications
RRP: £25 for 100ml (UK only)
Top notes: Pear & Orange Flower
Middle notes: Jasmine & Tonka
Base notes: Almond Milk
Reasons to buy
+
Very affordable
+
Unique scent
+
Premium packaging
Underdogs in the fragrance market, La Librairie carries an impressive range of affordable perfumes with a premium touch. Our particular favorite is Neroli Divine, due to its distinctive smell that we haven't found in another cheap perfume. The pear top notes come across much more neutral than sweet, mimicking the natural crisp scent of the fruit. Plus, the almond milk base works perfectly to enhance the skin's natural scent and add a touch of cleanliness. Citrusy and zesty, this is ideal for those who want to capture floral smells without that sickly sweetness that often comes with them.
If you don't want to sacrifice the premium experience with your affordable fragrance, any La Librairie scent will serve you well. Not only do the perfumes themselves have a high-end feel, but the packaging and branding is amongst the most sophisticated we have seen. The perfume bottles are perfect to have on display and this scent would also make an ideal gift for beauty lovers.
The only downfall of this perfume is its lasting power, which isn't as strong as other perfumes we have tried. After a few hours, the smell fades to a barely-there strength that is still noticeable close-up, but unlikely to attract attention. However, this provides an ideal opportunity for re-application in the middle of the day that will enhance the scent even more.
5. Glossier You
Best cheap perfume for every taste
Specifications
RRP: $64/£49 for 50ml
Top notes: Ambrette seeds, ambrox
Base notes: Pink pepper, iris
Reasons to buy
+
Perfect everyday scent
+
Long-lasting
+
Smells different on everyone
Reasons to avoid
-
May be too subtle for some
Perhaps one of our all-time favorite perfumes, Glossier You is a standout for any taste. It's made up of mainly base perfume notes, which means it will last longer and allow more of your natural scent to blend with the perfume to create your unique 'You' smell. The idea is that this perfume smells slightly different on everyone, and for that reason, You is a particularly tricky scent to describe. Both fresh and musky, peppery and light, it is the ultimate fragrance for those who want a bit of everything in their smell, but don't want anything that will overwhelm the nose.
We found that it' was easy to forget you're wearing this perfume. At times it seems like the fragrance has faded after a few hours, but then that familiar scent blows through at unsuspecting moments and it suddenly smells as fresh as when it was first applied. The beauty of You is that while you may become accustomed to the smell, passers-by will be struck by the subtle freshness of it - trust us, you will get compliments when wearing this.
The thick baby pink glass bottle with a bright red lid also builds on the appeal, by adding a feminine touch that looks gorgeous on display in your beauty cabinet. For anyone hunting for the best cheap perfume, You is a foolproof option that also won't break the bank when it is time to repurchase. It will also make a standout 18th birthday gift to aid the transition into adulthood, thanks to its ageless and timeless aroma.
6. Ghost Orb of Night Eau de Parfum
Best cheap perfume for evening
Specifications
RRP: £34 (UK only)
Top notes: Mandarin, cherry, almond, bergamot
Middle notes: Freesia, orange blossom, ylang-ylang, jasmine
Base notes: Sandalwood, caramel, white musk, ambergris
Reasons to buy
+
Perfect evening fragrance
+
Long-lasting
+
High-end dupe
Reasons to avoid
-
Not as adaptable for daytime
Looking for a perfume with the allure and lasting power of a designer label, but not the price tag? Look no further than Ghost Orb of Night. Reminiscent of YSL Libre Eau de Parfum but at less than half the price, Orb of Night is the perfect sexy scent for evening time that definitely smells more exorbitant than it is. The top notes of cherry and almond offer a subtly sweet aroma, whilst the musky base notes add nighttime attraction.
When we tested Orb of Night we were surprised by how strong the scent is, however it settled after a few minutes to become much more subtle and floral on the skin. This is certainly a fragrance that improves with time, thanks to the different layers that reveal themselves slowly. When shopping for an evening fragrance, lasting power is key, which is why Orb of Night has our vote.
Moreover, the crescent moon packaging of this perfume is a standout amongst other fragrance bottles and is unique without being tacky, thanks to its neutral bronze color. For a reliable yet distinctive scent that will see you through nights out and special occasions alike, opt for this gorgeous Ghost fragrance.
7. Replica By the Fireplace Eau de Toilette
Best cheap perfume for winter
Specifications
RRP: $53/£51 for 30ml
Top notes: Clove Oil, Pink Pepper, Orange flower petals
Middle notes: Chestnut accord, Gaiic wood oil
Base notes: Vanilla accord, Cashmeran
Reasons to buy
+
Seasonal
+
Long lasting
+
Very unique
Reasons to avoid
-
Specific, so may not appeal to some
Known for its range of distinctive and vivid scents that perfectly match their namesakes, Replica fragrances are undoubtedly some of the best on the market. From Under the Lemon Trees and Coffee Break to Springtime in a Park, there is no scenario that Replica scents don't cater for. As we move towards winter and prepare for darker and colder evenings, there is no more fitting scent than By the Fireplace.
This fragrance really does exactly what it says on the tin, smelling identical to a glowing, crackling fireplace that instantly carries you to a cozy Holiday setting. With top notes of clove oil and pink pepper, the spice-infused eau de toilette is unmissable. It is a particularly strong scent that will set you apart from the floral and powdery perfumes that are usually popular, so this smell is not for the fainthearted.
On testing, it lingered both on the skin and in the air for hours after spraying, leaving that familiar and authentic bonfire-like smell on our clothes too. This is certainly one of the more potent Replica fragrances, so it is really worth the slightly higher price tag. If you like the sound of Replica fragrances but aren't a huge fan of smoky, wintry scents, consider shopping other perfumes from the Replica range that all retail for the same price; our favorites are Bubble Bath and Sailing Day.
8. Jimmy Choo I Want Choo Eau de Parfum
Best cheap fruity perfume
Specifications
RRP: $69/£47 for 40ml
Top notes: Peach, Mandarin Orange
Middle notes: Red Spider Lily, Jasmine Sambac
Base notes: Vanilla, Benzoin
Reasons to buy
+
Mature scent
+
Good lasting power
+
Light and fresh
Reasons to avoid
-
Not our favorite packaging
This fruity Jimmy Choo fragrance is one of the more mature scents on this list, ideal for those who want a sophisticated yet soft perfume that will last all day. With top notes of peach and orange, plus fragrant jasmine middle notes, this natural and clean smell is noticeable without being overbearing. And with a collection to rival the best Chanel perfumes, Jimmy Choo has many gorgeous scents for him and her, all within a reasonable price range, making it one of our top picks when it comes to the best cheap perfumes from a famous designer brand.
The main thing we noticed when testing this perfume is how it changes on the skin. When we first sprayed it on we weren't entirely convinced by the smell due to its fruitiness, but after a few minutes, it settled to become the perfect soft daytime scent. This only improved throughout the day, as it left a lovely clean, and natural smell on our clothes and skin. We also found that this fragrance leaves a beautiful glowy sheen on the skin after application, something that we haven't noticed with any other perfumes. This is especially flattering when sprayed around the neck and collar bones to reveal a beautiful radiance.
The only thing we don't totally love about this perfume is the packaging, due to the rounded spray lid that can be slightly slippery and harder to grip when applying the perfume. Be mindful of this, particularly when you have other beauty products on your hands such as makeup or hair oil.
9. Jean Paul Gaultier Classique Eau de Parfum
Best cheap perfume for day to night
Specifications
RRP: $60/£54 for 30ml
Top notes: Rose, Star Anise
Middle notes: Orange Blossom, Ginger
Base notes : Vanilla, Amber
Reasons to buy
+
Ageless
+
Beautiful packaging
+
Iconic scent
Reasons to avoid
-
Don't get as much for your money as other scents
This fragrance is a classic in the perfume world, largely thanks to its iconic packaging that has become synonymous with the JPG brand. Just as the best Jo Malone perfume is instantly recognizable, Classique is a scent that is known and loved by many, which is why it is one of our favorites. A floral yet hearty scent, it is a typically feminine fragrance that would suit almost any age or occasion, from 30th birthday gift to a romantic anniversary present, making it the perfect all-rounder.
One of the challenges that come with choosing the best cheap perfume, or any perfume, is the distinction between daytime and evening scents. Though there is no hard and fast rule, certain notes lend themselves better to particular times and settings than others. However, we found that Classique is the ideal transitional perfume thanks to its mix of hearty amber and soft rose that work in harmony.
One thing to keep in mind is that there are three different sizes of Classique, and we would only class the smallest one as a truly affordable perfume. However, as this scent has been on the market for a while, there are almost always discounts and offers available on larger sizes. Don't be afraid to search a few different retailers to get the best possible deal.
10. Marc Jacobs Daisy Dream Eau de Toilette
Best classic cheap perfume
Specifications
RRP: $66/£46 for 30ml
Top notes: Blackberry, grapefruit and succulent pear
Middle notes: Jasmine, lychee and blue wisteria
Base notes: White woods, musks and coconut water
Reasons to buy
+
Adored in the perfume world
+
Beautiful packaging
+
Good lasting power
When you think of high-end perfume, Marc Jacobs Daisy is one of the first to come to mind, as it's adored by fragrance connoisseurs and newcomers alike. Daisy Dream takes the classic Daisy scent and reinvents it slightly for a more youthful, modern smell that is ideal for everyday wear.
Reminiscent of the best men's cologne due to its woodiness, Daisy Dream lasts brilliantly on the skin and sticks particularly well to hair and clothes, meaning your smell will follow you all day. A subtly floral yet woody scent, it is delightfully fresh and light, reminding us of crisp and sunny winter mornings. When we tested Daisy Dream we were reminded of L'Eau D'Issey in terms of the light yet alluring smell on the skin, however, Daisy Dream features berry top notes which makes for a more typically fruity-floral scent. If you are shopping for perfume for someone else, we think Daisy Dream is the perfect safe pick that is bound to be adored by the receiver.
The only downfall, which is common when shopping for affordable designer fragrances, is the small bottle. Due to the beauty of this scent, you are likely to want to wear it every day, meaning you may get through it quickly. However, as with the JPG fragrance, Daisy Dream is very often on sale with some excellent deals.
How to choose the best affordable perfume
Bigger is better: "If you're shopping for a fragrance it's always better to buy the biggest bottle that you can afford. A 100ml bottle will always give you a much better cost per wear than a 30ml bottle, for example," says PerfumeDirect.com's Head of Ecommerce, Jonny Webber. (opens in new tab)
Don't depend on duty free: "In the past, the airport duty free shop would be the perfect place to stock up on a bargain holiday scent – but the days of duty-free always giving you the best deals are behind us. Do your research before you go on holiday to see how your favorite fragrance compares online to the price you will be paying at the airport to guarantee the best deals"
Search clearance sections: "The clearance section is where you will find the best deals. Brands will discontinue scents, remove certain sizes or packaging may change. The clearance section is therefore a great place to look for the best deals on your favorite scents. You might also find out-of-season gift sets in there – if you're someone that starts their Christmas shopping six months early you might find some fantastic deals."