How to choose a perfume: a beginners guide to finding your favorite scent(s)
If fragrance shopping feels like the wild west to you, our cheat sheet on how to choose a perfume can help you find the one (or several)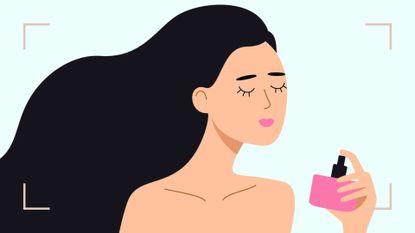 (Image credit: Future/Getty images)
Knowing how to choose a perfume a daunting prospect for a complete beginner – from crowd-pleasing big brand buys to niche perfumers, there are more fragrances on offer now than ever before.
But fear not: whether you're looking for a reliable classic that's earned its place as one of the best perfumes for women, or simply a long-lasting perfume that'll hang around for the day, we've got you covered with some key pointers that'll help you find the one (or a few). Think of this as scent 101 for total newbies who only have fragrance commercials to go upon.
First things first, while many of us romanticize the idea of having a signature fragrance, there's no need to stress about finding your scent soulmate. "Don't put too much pressure on yourself," says fragrance writer and presenter Alice du Parcq, who hosts the fragrance-themed Instagram Live series Desert Island Spritz. "I love the idea of having a small collection of 'The Ones', rather than 'The One', like a little array of personality signatures or scented outfits for different occasions."
As well as top tips picked up from experts over the years, we've also asked Alice du Parcq for her invaluable insights, as one of the industry's biggest perfume enthusiasts. Let's get you on your way to finding your new signature scent.
How to choose a perfume: 7 tips to find scents you love
1. Browse perfumes in physical stores
We now live in a world in which the majority of beauty products can be ordered to our homes in just a few quick clicks. But, unless you're ordering a scent that you've already sniffed and liked, or you're repurchasing an old favorite, perfume shopping is best conducted in real life because of that all-important smell element.
Instead of scrolling a screen while asking yourself what perfume should I wear, head out to a department store or shopping mall and, "Shop first thing in the morning when your senses feel fresh and the crowds aren't too overwhelming," recommends du Parcq.
2. Know your EDT from your EDP
Not clear on the difference between eau de toilette vs eau de parfum? A very simplified explanation is that it's all to do with the concentration of ingredients, which in turn correlates to how long it'll last on your skin. Eau de toilettes are lighter, and therefore may need topping up more often – but they also tend to be cheaper. Eau de Parfums are more concentrated and will last longer, and parfum is more concentrated still – and even more luxurious.
Many popular perfumes will come in both eau de toilette and eau de parfum so you can pick the strength that suits you, like classic bestsellers Chanel No. 5 and YSL Black Opium, for example.
Our beauty team recommends...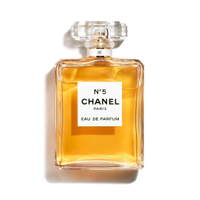 Chanel N°5 Eau de Parfum | RRP: from $90/£65
Top notes: Ylang-ylang, bergamot, neroli
Middle notes: Rose, jasmine, iris, lily of the valley
Base notes: Amber, vanilla, sandalwood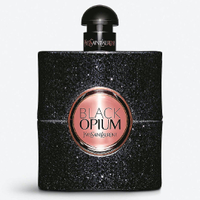 YSL Black Opium Eau de Parfum | RRP: from $110/£59
Top notes: Pink pepper, pear
Middle notes: Orange blossom, vanilla
Base notes: White musk, patchouli, cedarwood, black coffee
3. Consider when you want to wear your scent
With every perfume you try, have the times you're hoping to wear it in mind and ask yourself, what perfume should I wear for this specific scenario? Are you shopping for an everyday spritz or something that you'll save for special occasions and evening celebrations?
"With each perfume you try imagine various scenarios where you might wear it, for instance, the school run, a brunch with friends, a glam dinner party, or cocktails in a posh hotel," du Parcq advises. "Think of perhaps six to eight 'moments' where you can imagine yourself spraying perfume, and use that as an editing tool for choosing your scent. Ask yourself, 'would this work in one of those moments?'"
4. Don't commit to spraying on your skin straight away
Those little slips of card you'll find pots of near the fragrance testers? Those are test strips; make use of them. The last thing you want is to spray a scent you hate straight onto your skin and be stuck with it for the day.
"If there's something you keep returning to and absolutely love the smell of, then spritz it on your skin," du Parcq says. Her other top tip when it comes to test strips is to bring a pen. "I know this sounds super basic, but if you're spraying lots of blotters it's so easy to forget what's what," she explains. "Scribble the brand and the fragrance name on each one so that later on when you smell them in their full dried-down glory you know what they are!"
5. See how it wears on you
Once a particular perfume has your attention, the next stage of learning how to choose a perfume is seeing how it wears on your skin. To really get a feel for how a perfume smells on you, spritz and then take note of how it smells both after 5-10 minutes once it's dried down, and then again a few hours later.
Du Parcq's top tip for assessing how a fragrance wears throughout the day? "Spray the tops of your wrists, rather than the underside," she says. "You're less likely to wash it off when you go to the bathroom, and the hairs on your arms are porous so they'll help the fragrance cling on for longer."
6. Try out discovery sets
If you like the idea of trying different scents out for a few days each before you buy, a discovery set gives you the chance to try on a number of fragrances, either as a one-off or as part of a subscription service.
"This is a brilliant way to try before you buy and experience a few different fragrances from a favorite brand without committing to a full-sized bottle," du Parcq says. "The Perfume Society does fantastic multi-brand boxes, while Hoohaa specializes in independent, niche brands where you get a surprise sample – in a very generous sized bottle! – every month."
Our beauty team recommends...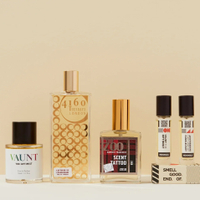 HooHaa Fragrance Subscription | RRP: from £14.95 per month
Designed for perfume aficionados as well as lost souls wondering how to choose a perfume from the thousands on offer, this clever subscription sends a monthly scent shipment with three samples to suit your tastes (in very chic branded atomizers.)
7. Learn what you like (and dislike)
When a fragrance stands out to you as getting your seal of approval, take note of whether the main notes are obviously citrus, woody, or floral fragrances, for example. If you aren't sure, have a quick Google, ask an assistant in store which category your potential new scent falls into (or head to our detailed guide to perfume notes) Also, have a think about other factors that are important to you, an eco-friendly refillable perfume for example, or ethical brands that give back to their growers.
That'll give you a little indication of the fragrance families you like – as will doing the same for those you don't like – to help inform you how to choose a perfume in the future, be it the best oud perfumes, best rose perfumes or perfumes with patchouli.
Happy spritzing!
Sign up to our free daily email for the latest royal and entertainment news, interesting opinion, expert advice on styling and beauty trends, and no-nonsense guides to the health and wellness questions you want answered.
Lucy is a UK-based beauty journalist who has written for the likes of Marie Claire, Cosmopolitan, OK!, Women's Health and more, as well as contributing to woman&home. Her work covers everything from expert skin and haircare tips to the latest product launches and the show-stopping beauty looks spotted backstage at London Fashion Week. During her career she's interviewed some seriously famous faces, from Little Mix to Drag Race royalty The Vivienne, as well as chatting to the industry's leading hairdressers, dermatologists and make-up artists.