The best flower fragrances that boast subtle notes for a fresh scent
These flower fragrances are beautiful, modern and chic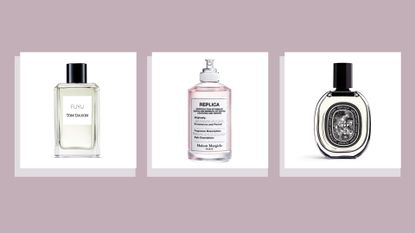 (Image credit: Future)
Flower fragrances never really go out of style—but as soon as the spring months hit, brighter skies and growing blooms outside tend to ignite that creeping urge to go and splash out on lovely floral perfume.
While most of us have probably already got a steady arsenal of the best perfumes for women, the change in weather—which inevitably always brings a shift of mood and perspective—can leave us craving fresh and upbeat botanical perfumes. Just like the season switch can change your mindset on the best foundation for your needs or make you rethink skincare ingredients and opt for a lighter and fresher skincare routine, it also leaves us moving away from deep and heady perfumes and towards lighter flower perfumes.
If you are trawling the web for floral perfume inspiration, it can be tricky to work out how to buy fragrance online without actually smelling it. This isn't helped by the fact that flower fragrances can come with the risk of smelling like you've just walked through a field of blooms or had an unfortunate encounter with some stubborn lily pollen. So if you're after an untraditional flower fragrance, or scents incorporating botanicals that aren't necessarily in-your-face flower explosions, it's important to choose your spritz carefully and opt for one with a number of well-blended notes.
The best flower fragrances as tested by our experts
Whether you're looking for a signature flower fragrance or are a self-confessed perfume polyamorist (guilty) and want a new addition to your collection, there are plenty of nuanced and delicate floral perfumes to choose from.
1. Jo Malone London Rose Blush Eau de Cologne
Specifications
RRP: $74/£55 for 30ml
Top notes: Basil Grand Vert
Heart notes: Rose
Base notes: White Musk
Typically we think of rose perfumes as being fairly traditional in style, but you can always trust Jo Malone London to put a fresh spin on a classic. Here, that timeless rose heart is surrounded by herby green basil and mouthwatering lychee and honey notes that bring to mind a delicious summer pudding.
The resulting scent is a youthful and cheeky take on flower fragrance, making it one of the best Jo Malone fragrances for those looking for something floral but not too heavy from the brand. Unfortunately, for fans of the scent it's not available in candle form, but their Red Roses is one of the best Jo Malone candles for emulating a similar aroma.
2. Maison Margiela REPLICA Springtime in the Park
Specifications
RRP: $135/£99 for 100ml
Top notes: Pear accord, bergamot essence, blackcurrant accord
Heart notes: Lily of the valley accord, jasmine grandiflorum absolute, rose damascena absolute
Base notes: Musks, vanilla accord, ambrox
Opening with a sweet and juicy blackcurrant note that is enhanced by the subtle addition of pear and beautifully balanced by a citrussy bergamot touch, this poetic scent tells the story of a crisp verdant spring afternoon as it lingers on the skin.
The heart of this fragrance is packed with floral hints of classic springtime blooms like jasmine, rose and lily, but these usually punchy notes hit the nose in a gracefully nuanced manner for a feminine but both fun and elegant spritz. Grounded in musk, vanilla and a muffled hint of sharp ambrox, this leaves a sweet but slightly earthy aroma in its wake.
3. Gucci Bloom Profumo di Fiori Eau de Parfum
Specifications
RRP: $135/£105 for 100ml
Top notes: Jasmine sambac absolute
Heart notes: Natural tuberose, jasmine bud extract and ylang ylang
Base notes: Sandalwood accord, sun drenched wood accord, orris concrete, benzoin and musks
Where there's a floral perfume, there's Gucci. Their Gucci Flora scents were the stalwart of our younger years and then the Gucci Bloom range came along bringing with it a garden full of nuanced feminine scents.
"The idea for Bloom was born from flowers because I'm obsessed with flowers; flower essences are part of an ancient world," says Gucci creative director Alessandro Michele, who created the Bloom collection. "Bloom is about a stroll in a garden, and a memory of what accompanies that walk."
Profumo di Fiori is a warm, sunny twist on the original Gucci Bloom scent—perfect for matching your mood to the summer or bringing some warmth to the colder months of the year. Literally translating to 'fragrance of flowers', it brings together a range of bright florals which are grounded by creamy woody and musky notes for an elegant feminine finish.
4. Creed Aventus for Her
Specifications
RRP: $280/£160 for 30ml
Top notes: Green apple, Calabrian bergamot, pink pepper, lemon
Heart notes: Rose, lilac, ylang-ylang, blackcurrant, pineapple, peach
Base notes: Sandalwood, cedarwood, patchouli, musk, ambergris
With a crisp apple and citrus opening sharpened by a rose-based hint of spicy pink pepper, Creed's Aventus for Her is a real stunner from the very first sniff—probably the basis behind why it's developed such a cult following. But there's so much more to this complex fragrance as the many other aromas wade in.
As it moves through the middle notes you're met with a pleasing hint of sweetness from the juicy pineapple and blackcurrant and fresh peach, which blend effortlessly with the perfume's floral stars—rose, lilac and rich ylang-ylang. What's truly magic about this fragrance though, is the way it smooths out all these bold notes with the salty ambergris and finishes on a silky base of musks and woods. A beautiful flower fragrance that has so much more to it than just blooms and one to opt for if you're always searching for which perfume lasts longest.
5. Diptyque Fleur de Peau eau de parfum
Specifications
RRP: $190/£130 for 75ml
Top notes: Aldehydes, pink peppercorn, angelica, bergamot
Heart notes: Iris, Turkish rose
Base notes: Musk, ambrette, carrot, ambergris, sandalwood, leather, amberwood
The best Diptyque candles and perfumes are known for their addictively nuanced notes, so it's no surprise that this flower fragrance—whose name directly translates as flower of the skin—uses florals in such a remarkably clever and unique way that you can hardly pick out the flowery notes at all.
Flipping the typical scent journey of most perfumes, Diptyque's Fleur de Peau opens with a pleasingly musky aroma that sees a spicy floral note of pink pepper deepened and a sharp hint of bergamot softened thanks to the aldehyde addition. With a powdery blanket of iris and rose that come together with tender notes of ambrette and ambergris, it fuses the skin with velvety florals for a comfortably recognisable signature scent.
6. Tom Daxon FUYU
Specifications
RRP: $220/£155 for 100ml
Top notes: White Peach
Heart notes: Jasmine, Iris
Base notes: Soft Musks, Cedarwood
Musk shines through even on the first spritz of this slick perfume, but meets the subtly sweet white peach note for a deep freshness that lingers on the skin thanks to the cedarwood base.
What really holds this fragrance together amongst all of that is the bold floral heart of jasmine and iris that add a touch of bold femininity to this otherwise somewhat unisex aroma. Earthy orris sits on the skin for hours after spritzing this—perfect for an evening out.
7. Viktor&Rolf Flowerbomb Eau de Parfum
Specifications
RRP: $165/£110 for 100ml
Top notes: Tea, bergamot, freesia
Heart notes: Sambac jasmine, cattleya orchid, centifolia rose
Base notes: Amber, cashmeran, patchouli
While this famous flower fragrance makes some pretty bold claims that give the impression of a one-dimensional perfume that would leave you smelling like a florist, clever top notes of zesty tea and bergamot lift the blooms in this for a pleasingly fresh opening aroma.
And after moving through iconic flower notes of jasmine, orchid and rose, this is beautifully grounded by creamy cashmere and warm amber for a comforting floral all-rounder.
8. Byredo Lil Fleur Eau de Parfum
Specifications
RRP: $210/£178 for 100ml
Top notes: Cassis, tangerine, saffron
Heart notes: Damascena rose (oil), leather
Base notes: Blonde woods, amber, vanilla
Nuance is what Byredo does best, and we love their expert blending in this floral offering. Fruity cassis and juicy tangerine give this a sweet opening with touch of sharpness that is lifted by a soft and earthy decadent note of saffron.
But of course the real star of this spritz is the rose that sits in the middle with the musky leather. Finishing with sweet vanilla, warm amber and woods, this leaves a warm floral sweetness on the skin.
9. Chloé Signature Eau de Parfum
Specifications
RRP: $132/£89 for 75ml
Top notes: Lychee
Heart notes: Damascena Rose essence
Base notes: Amber
Like the best Chanel perfumes, this designer bestseller has spawned many a bargain dupe—but nothing will ever live up to the original.
A comforting but attractive spritz that heroes the rose note and introduces a curious hint of sweet and juicy lychee as warm amber lingers throughout the day.
10. Armani/Privé Cyprès Pantelleria Eau de Parfum
Specifications
RRP: $113/£96 for 50ml
Top notes: Mandarin, bergamot
Heart notes: Aquatic accord, clary sage
Base notes: Amber, vetiver
Proving that flower fragrance doesn't have to be overtly feminine, this is one classy, sea-soaked scent. The inclusion of citrussy, herbaceous flowers like neroli and bergamot make this instantly bracing on the nose, drying down to a mineral middle reminiscent of wild Italian beaches, then come earthy woods and mossy vetiver.
If you prefer fresh notes, colognes or even the best men's colognes, this ultra elegant and unique scent will be sure to please.
11. Furla Preziosa Eau de Parfum
Specifications
RRP: Saffron, pink pepper
Top notes: Rose
Heart notes: Vanilla, suede
Base notes: £40 for 30ml
From the first perfume collection by the Italian house best known for their cult handbags, this is a warm, sweet and seductive scent.
By keeping flower fragrance notes of rose and geranium at the heart, surrounded by headier ingredients this stops short of being overtly floral and instead feels sexy and grown-up. If you usually opt for the best vanilla perfumes but want something floral too, this is a good choice.
12. Serge Lutens La Dompteuse Encagée Eau de Parfum
Specifications
RRP: $132/£110 for 50ml
Top notes: Frangipani blossom
Heart notes: Almond
Base notes: Ylang ylang
Decadent and delicious are two words that come to mind when you catch a whiff of this luxurious flower fragrance by French perfumer Serge Lutens.
The use of sultry, exotic flowers such as frangipani give this a distinctive 'balmy evening on a tropical holiday' vibe and the sophisticated yet sweet dry-down lingers for hours on the skin.