The best floral fragrances to wear all summer long
These floral fragrances are sophisticated, complex and modern...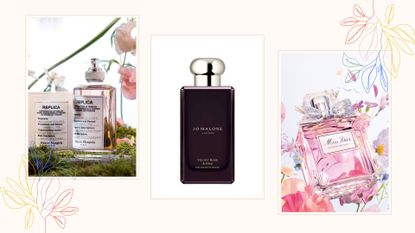 (Image credit: Future/Brand)
Floral fragrances never really go out of style – but as soon as the summer months hit, these refreshing blends truly come into their own. From soft rose to sultry jasmine, there are a myriad of florals to choose from and, with our carefully selected edit, you can find the right one for you.
While most of us have probably already got a steady arsenal of the best perfumes for women, the change in weather – which inevitably always brings a shift of mood and perspective – can leave us craving fresh and upbeat botanical perfumes.
If you are trawling the web for floral perfume inspiration, it can be tricky to work out how to buy fragrance online without actually smelling it. This isn't helped by the fact that flower fragrances can come with the risk of smelling a little dated and traditional. So, if you're after an untraditional flower fragrance, or scents incorporating botanicals that aren't necessarily in-your-face flower explosions, you're in the right place as we break down our favorite modern blends below.
The best floral fragrances, as tested by our experts
Why you can trust Woman & Home Our expert reviewers spend hours testing and comparing products and services so you can choose the best for you. Find out more about how we test.
Whether you're looking for a signature floral fragrance or are a self-confessed perfume polyamorist (guilty) and want a new addition to your collection, there are plenty of nuanced and delicate flower perfumes to choose from.
1. Jo Malone London Velvet Rose & Oud Cologne Intense
Best flower fragrance overall
Specifications
RRP: $117 / £106 for 50ml
Top notes: Clove
Heart notes: Damask rose
Base notes: Oud
Typically, we think of rose perfumes as being fairly traditional in style, but we can always count on Jo Malone London to put a fresh spin on a classic. Here, rare Damask rose is blended with a mix of spicy clove and smoky oud to deliver a sweet, warm and intoxicating aroma that works just as well on balmy summer nights as it does on cold, winter evenings.
A unique and beautiful blend, this is definitely one of the best Jo Malone fragrances around. It's sultry, sophisticated and, in our opinion, will appeal to many floral scent enthusiasts. In fact, we like the fragrance so much that we even bought it in candle form (in our humble opinion, it's one of the best Jo Malone candles) so we can scent our surroundings too.
2. Maison Margiela REPLICA Springtime in the Park
Best fresh flower fragrance
Specifications
RRP: $135 / £99 for 100ml
Top notes: Pear accord, bergamot essence, blackcurrant accord
Heart notes: Lily of the valley accord, jasmine grandiflorum absolute, rose damascena absolute
Base notes: Musks, vanilla accord, ambrox
Combining the freshness of one of the best fruity perfumes with the elegance of a floral fragrance – this well-balanced blend is clean, uplifting and ever so moreish. On first sniff, we were struck by the sweet pear and sharp blackcurrant opening that's laced with zesty bergamot. Together, these notes smell crisp and bright.
After a little while, we detected the beautiful blooms (think jasmine, rose and lily) that add a softness and sophisticated edge to this otherwise fun and joyful fragrance. Grounded in musk, vanilla and ambrox, the lasting impression is still sweet and fresh but also slightly earthy. Overall, this is the perfect pick for anyone after a clean everyday scent that's not at all powdery or bland.
3. Gucci Bloom Profumo di Fiori Eau de Parfum
Best real flower fragrance
Specifications
RRP: $135 / £105 for 100ml
Top notes: Jasmine sambac absolute
Heart notes: Natural tuberose, jasmine bud extract and ylang ylang
Base notes: Sandalwood accord, sun drenched wood accord, orris concrete, benzoin and musks
Gucci is renowned for its beautiful 'Bloom' blends and Profumo di Fiori is a classic. "The idea for Bloom was born from flowers because I'm obsessed with flowers; flower essences are part of an ancient world," says Gucci creative director Alessandro Michele, who created the Bloom collection. "Bloom is about a stroll in a garden, and a memory of what accompanies that walk."
Described as a more radiant version of the original Gucci Bloom scent, Profumo di Fiori combines heady tuberose with sweet ylang ylang and musky jasmine. If you're a fan of white florals, this is the perfect scent for you as it conjures up their aroma perfectly. At its base, you'll also find creamy woods for a smooth finish. Overall, this perfume is a powerful floral fragrance that smells luxurious and expensive. We're hooked!
4. Creed Aventus for Her
Best long-lasting flower fragrance
Specifications
RRP: $280 / £160 for 30ml
Top notes: Green apple, Calabrian bergamot, pink pepper, lemon
Heart notes: Rose, lilac, ylang-ylang, blackcurrant, pineapple, peach
Base notes: Sandalwood, cedarwood, patchouli, musk, ambergris
Creed's Aventus for Her demands to be noticed with its strong, powerful aroma that combines crisp apple and citruses with spicy pink pepper. At first, we weren't sure about this scent – it smells masculine, sharp and slightly soapy. After a while, however, we found ourselves coming back for more (thanks to the addictive dry-down) and can understand why this scent has such a cult following.
As it settles on the skin, the sweetness of pineapple, blackcurrant and peach make an appearance before the soft florals steal the show (including rose, lilac and ylang-ylang). But where it shines, in our opinion, is at its base where smooth musks and warm woods linger on the skin. Complex and unique, this flower fragrance has so much more to it than just blooms and is worth the spend if you're always searching for which perfume lasts longest.
5. Diptyque Fleur de Peau eau de parfum
Best light flower fragrance
Specifications
RRP: $190 / £130 for 75ml
Top notes: Aldehydes, pink peppercorn, angelica, bergamot
Heart notes: Iris, Turkish rose
Base notes: Musk, ambrette, carrot, ambergris, sandalwood, leather, amberwood
Housed in a chic vessel with Diptyque's signature branding, this beautiful bottle has major #shelfie appeal, easily rivalling that of some of the best Diptyque candles. Looks aside, it also smells incredible with its light and airy concoction of musks, florals and citruses. Subtle yet distinctive, we can imagine wearing this with a flowy linen dress. A great scent for summer, as well as everyday wear, this floral number is not at all overpowering or cloying.
Inspired by the ancient Greek love story of Psyche and Eros, this scent is romantic and, to us, almost acts as a skin scent. Similar to Glossier You, this fragrance will smell slightly different on everyone – enhancing the skin with a warm floral fruity aroma that eventually dries down to a cottony musky base. As for longevity, this one sticks around from dusk until dawn and we could still detect it on our clothes the following day.
6. Tom Daxon FUYU
Best unisex flower fragrance
Specifications
RRP: $220 / £155 for 100ml
Top notes: White Peach
Heart notes: Jasmine, Iris
Base notes: Soft Musks, Cedarwood
Musk shines through even on the first spritz of this slick perfume, but meets the subtly sweet white peach note for a deep freshness that lingers on the skin thanks to the cedarwood base. This combination of botanicals freshness and earthiness reminds us of the best lavender perfumes, so if you're a fan of those, or gender-neutral leaning scents this will suit.
What really holds this fragrance together amongst all of that is the bold floral heart of jasmine and iris that add a touch of bold femininity to this otherwise somewhat unisex aroma. Earthy orris sits on the skin for hours after spritzing this—perfect for an evening out.
7. Viktor&Rolf Flowerbomb Eau de Parfum
Best classic flower fragrance
Specifications
RRP: $165 / £110 for 100ml
Top notes: Tea, bergamot, freesia
Heart notes: Sambac jasmine, cattleya orchid, centifolia rose
Base notes: Amber, cashmeran, patchouli
A cult classic, Flowerbomb by Viktor & Rolf continues to be one of the most popular flower fragrances around. One sniff, and we can totally see why. Landing on our shelves back in 2005, the carnal blend is said to capture the essence of thousands of flowers and the sensation of passing through a secret garden. Feminine, fresh and youthful, this scent combines freesia and peony with sambac jasmine and rose accord.
While this fragrance will appeal to many, it will especially appeal to a younger nose (making it a great 21st birthday gift). When spritzing this on, we were instantly transported to our early twenties – a time when we would douse ourselves in loud floral fragrances before hitting a bar, party or day drinks. It's fun and timeless and we especially love the pink, grenade-inspired bottle that has become iconic.
8. Byredo Lil Fleur Eau de Parfum
Best fruity flower fragrance
Specifications
RRP: $210 / £178 for 100ml
Top notes: Cassis, tangerine, saffron
Heart notes: Damascena rose (oil), leather
Base notes: Blonde woods, amber, vanilla
Stockholm-born, Byredo is a luxury fragrance brand that aims to translate emotions and memories into scents. And Lil Fleur is a prime example of this. Inspired by the spirit of youth, Byredo creative director and founder Ben Gorham and French perfumer Jérôme Epinette wanted to capture the mix of emotions, both happy and sad, that we experience in our youth. "As a brother to a sister and a father to a daughter, in my experience it does not get more beautiful and interesting than the personalities of a young spirit," says Gorham.
At first, the scent is bright and joyful with notes of tangerine and cassis, laced with soothing Damascena rose. It's fresh, breezy and youthful. Once the scent settles on skin, it begins to deepen becoming moodier with warm woods, creamy vanilla and amber. It's at its base where this scent smells less youthful and more sophisticated. We love how this fragrance tells a story and the warm dry down is utterly addictive.
9. Chloé Signature Eau de Parfum
Best feminine flower fragrance
Specifications
RRP: $132 / £89 for 75ml
Top notes: Lychee
Heart notes: Damascena Rose essence
Base notes: Amber
On first impressions, we adore this scent on looks alone. The beautiful bottle, adorned with a pink bow, looks classy and elegant. In keeping with the branding, the scent smells elegant too. Feminine and pretty, this is a timeless fragrance that marries peony and freesia with rose, magnolia and amber. And while certain floral fragrances can smell dated and powdery, this one does not. It's refreshingly light and has a real rose scent.
Rose is definitely the star of the show here – all petal soft and delicate – we're obsessed. On the skin, it does smell a little soapy which may not be for everyone. But if you adore rose fragrances that are fresh, modern and realistic, this is the perfect pick for you. At its base, subtle amber adds warmth to this otherwise floral blend and the warming note lingers on the skin long after spritzing.
10. Armani Privé Cyprès Pantelleria Eau de Parfum
Best aquatic flower fragrance
Specifications
RRP: $113 / £96 for 50ml
Top notes: Mandarin, bergamot
Heart notes: Aquatic accord, clary sage
Base notes: Amber, vetiver
Proving that flower fragrances needn't be overtly feminine, this floral number from Armani is fresh and aquatic. Inspired by Pantelleria, an Italian island where sparkling Mediterranean seas meet dark volcanic rocks, this fragrance conjures up the scent of salty fresh air and sea-soaked woods. Bright neroli and citrus notes give this scent its freshness, while herbal clary sage, oakmoss and vetiver add a rich, earthy edge.
If you prefer fresh notes, colognes or even the best men's colognes, this ultra-elegant and unique scent will be sure to please. We found it to be calming and soothing, transporting our minds to wilderness-lined beaches. As for staying power, this one lasts for 8 hours+ and while it is strong at first, it soon settles on the skin, lingering in the background.
11. Furla Preziosa Eau de Parfum
Best budget flower fragrance
Specifications
RRP: £40 for 30ml (international shipping available)
Top notes: Saffron, pink pepper
Heart notes: Rose
Base notes: Vanilla, suede
If you're after an affordable flower fragrance that smells expensive, turn your nose to Preziosa by Furla. The Italian fashion brand, that's renowned for its leather handbags, has branched out into the world of fragrance with this amber floral number. Strong, rich and intoxicating, this scent is not for the faint-hearted. It demands to be noticed with its heady blend of saffron, pink pepper, rose, freesia, vanilla and suede.
A great choice for those who adore the best vanilla perfumes, this slightly gourmand scent combines creamy vanilla with florals and spices to create a warm, moreish scent. In terms of staying power, this fragrance lingers all day/night long which, considering the price point, is very impressive. We'd like save this scent for evenings out or special occasions like a wedding. For us, it's a little overpowering for everyday wear.
12. Serge Lutens La Dompteuse Encagée Eau de Parfum
Specifications
RRP: $132 / £110 for 50ml
Top notes: Frangipani blossom
Heart notes: Almond
Base notes: Ylang ylang
Decadent and delicious are two words that come to mind when you catch a whiff of this luxurious flower fragrance by French perfumer Serge Lutens. The use of exotic flowers such as frangipani give this a distinctive 'balmy evening on a tropical holiday' vibe and the sophisticated yet sweet dry-down lingers for hours on the skin. Alongside frangipani, the scent features ylang ylang and almond.
It's sweet, creamy and well-balanced with an overriding yellow floral aroma. Once it dries down, this fragrance takes on a soapy aroma that's fresh and slightly minty. A great everyday scent for summer, this scent gets better with every sniff. If, however, you're not a fan of white and yellow florals – we'd recommend looking elsewhere. Frangipani is the main note here and it's perhaps not for everyone.