10 of the best lavender perfumes for dreamy spring vibes
Soothe your senses with our edit of the best lavender perfumes – from pretty and powdery to fresh botanical blends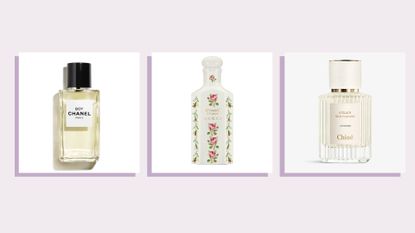 (Image credit: Future/Brand)
After a new signature scent? Consider one of the best lavender perfumes. Instantly recognizable, lavender has a distinctive aroma that's often thought of as a sleep remedy, due to its calming and soothing properties. But in the world of perfume, lavender has so much more to offer.
Lavender may not be the first note that springs to mind when selecting a new scent – but it is in fact extremely popular, starring in many of the all-time best perfumes for women. "In a perfume, it gives the perfumer many options for deep, long-lasting freshness," says Eva Carlo, perfume expert for The House of Creed. "If you're in a humid and hot environment, forget citruses and reach for clean aromatics instead."
No one trick pony, lavender has many scent profiles – depending on the variety and the region it grows in. "It's floral, herbaceous, woody, sometimes smoky and it can also be minty and evergreen," says Carlo, "it has so much variety." The key is finding the best lavender perfume that appeals to you. To help, we've whittled down our must-try spritzes below.
How we tested the best lavender perfumes for this guide
Why you can trust Woman & Home Our expert reviewers spend hours testing and comparing products and services so you can choose the best for you. Find out more about how we test.
The perfumes featured in our edit have all been tried and tested by us so we can provide as much detail as possible on what each scent has to offer. Ranging in price points, we tried a wide selection of perfumes from ultra-luxe to budget-friendly brands to bring you our edit of the best. The floral fragrances that scored highly (and are included below) performed well on longevity, silage, scent, and branding. And while fragrance is extremely personal, our guide will help steer you in the right direction to find the lavender-laced scent for you.
The best lavender perfume, by our beauty team
1. YSL Libre Eau de Parfum
Best crowd-pleasing lavender perfume
Specifications
RRP: $80.75 / £65 for 30ml
Top notes: Lavender, mandarin, blackcurrant
Middle notes: Orange blossom, jasmine
Base notes: Vanilla, musk, cedar
Reasons to buy
+
Impressive longevity
+
Sensual, warm scent
+
Lovely for evenings
Reasons to avoid
-
Slightly synthetic scent
We can totally understand why this fragrance from YSL has mass appeal. A definite crowd-pleaser, the distinctive scent combines several popular perfume notes, including jasmine, lavender, vanilla and musk, to create a sensual, intoxicating fragrance. If, however, you're not drawn to white florals, we'd suggest steering clear – as orange blossom and jasmine (alongside lavender) initially steal the show. After a while, musk and vanilla make an appearance, giving this floral number a sweet creaminess.
Overall, we'd describe YSL Libre as sophisticated, sensual, and a little bit masculine. It's a great pick for night-time when you want a fragrance that demands to be noticed. But for the day, we'd personally opt for a lighter, fresher fragrance that lingers in the background. With that said, there's definitely space in our fragrance cabinet for this intoxicating, long-lasting blend that will seriously stick to the skin for 12 hours or more.
2. BOY CHANEL Les Exclusifs de Chanel Eau de Parfum
Best timeless lavender perfume
Specifications
RRP: $177/£169 for 75ml
Top notes: Lavender, grapefruit, lemon
Middle notes: Geranium, orange blossom, rose
Base notes: White musk, sandalwood, vanilla, moss, heliotrope
Reasons to buy
+
Good longevity
+
Sophisticated scent
+
Evolves on skin
Arguably one of the best Chanel perfumes out there, Boy Chanel was dreamt up by nose Olivier Polge who drew inspiration from the inseparable bond between Gabrielle Chanel and Boy Capel. Said to transcend gender, this unisex scent has mass appeal with its citrus, woody and floral concoction.
On the first sniff, we were hit by a clean, soapy aroma that comes thanks to lavender, geranium, and citruses. After the scent settles on the skin, spicy and woody notes come to the fore – adding warmth and depth. It's here, at the dry down, where this fragrance truly comes into its own and the lavender takes on a powdery aroma. While it may be too powdery for some, we found this scent to be calming and comforting. As for longevity, this luxurious fragrance lingers for hours on end (think 8 hours plus). We'll be wearing this spritz right through spring to balmy summer nights.
3. Ariana Grande Cloud Eau de Parfum
Best budget lavender perfume
Specifications
RRP: $45/£30 for 30ml
Top notes: Lavender, pear, bergamot
Middle notes: Cream, praline, coconut, vanilla orchard
Base notes: Musk, woody notes
Reasons to buy
+
Affordable
+
Addictive scent
+
Warming aroma
This purse-friendly pick from Ariana Grande has become somewhat of a scent sensation. Often hailed as one of the best cheap perfumes around, fans regularly compare this fragrance to the iconic Baccarat Rouge from Maison Francis Kurkdijan (which costs $325/£215 for 70ml). Sweet and addictive, Cloud combines soft lavender with pear, coconut, praline, and musk. Initially, we found this fragrance to be overpoweringly sweet – but give it a while and the sweetness soon settles with a creamy coconut dry down.
For a distinctive scent that stands out from the crowd, this is your guy. But if gourmand scents aren't your thing, we'd recommend opting for one of the more classic lavender perfumes here, such as Jo Malone Silver Birch & Lavender Cologne. Although you detect a hint of lavender at first, this is eventually replaced by a marshmallow-like sweetness. In comparison to other more expensive scents the longevity is weak, but if you're a fan of fragrance layering, this is a great second scent to spritz on top of a body lotion or a stronger base.
4. Gucci The Alchemist's Garden Moonlight Serenade Eau de Toilette
Best luxury lavender perfume
Specifications
RRP: $169.99/£191
Top notes: Lavender
Middle notes: Sage
Base notes: Tonka bean
Reasons to buy
+
Beautiful bottle
+
Airy and light aroma
+
Timeless scent
We'll admit it: we're easily swayed by pretty packaging, and this bottle from Gucci won us over immediately. Seriously chic, the white bottle is adorned with gold italic font and the brand's feminine rose print that will add a touch of sophistication to any dressing table. Looks aside, this fragrance smells incredible too. Combining delicate lavender with green sage and creamy tonka bean – it's well-balanced with a fresh, airy aroma that's not at all overpowering.
The fact that it's not overpowering may be a downfall for some (specifically, anyone after a 'look at me' fragrance). It's subtle and sophisticated and because it's a water-based scent (meaning it contains a far lower dose of alcohol than Eau de parfum) it's less likely to be irritating on the skin. So if you're following a skincare routine for sensitive skin, this is the perfect pick for you. This is a high-end designer perfume with a price tag to match, so won't be within budget for everyone. But overall, we're big fans of this realistic lavender scent that delivers a splash of floral freshness.
5. Jo Malone London Silver Birch & Lavender Cologne
Best woody lavender perfume
Specifications
RRP: $80/£55 for 30ml
Top notes: Grapefruit
Middle notes: Lavender
Base notes: Birch, woody notes
Reasons to buy
+
Fresh, clean scent
+
Good longevity
+
Well balanced
If you're a fan of earthy, woodsy fragrances – turn your nose to this opulent blend from Jo Malone. Laced with lavender, roasted oak, and grapefruit, this scent has a crisp freshness that, to us, conjures up an English garden on a sunny spring day. Our advice? If you find yourself stuck inside all day and are craving that fresh-air feeling, we'd highly recommend spritzing this on. It's refreshingly clean and has an outdoorsy quality that will transport your mind elsewhere.
Admittedly, this scent won't appeal to everyone. It's masculine, punchy and demands to be noticed. But if woody perfumes are your go-to, we reckon this could be your new signature. A long-lasting perfume, Lavender & Silver Birch lingers on the skin for several hours (6 or more) and, unlike many others, does not change or evolve over the course of the day. We'll be wearing this one to the office.
6. Chloé Atelier des Fleurs Lavanda Eau de Parfum
Best lavender perfume for spring-summer
Specifications
RRP: $229/£112 for 50ml
Notes: Lavender accord
Reasons to buy
+
Distinct and pure lavender scent
+
Fresh, clean, and light
+
Not overpowering
We were completely blown away by this beautiful blend from Chloé that's inspired by the perfumer's memory of his mother walking through the heat of the garden with lavender in her arms. Celebrating the Provencal flower in all its effervescent glory, this is the most realistic lavender scent we've come by. Delicate, fresh, and sunny – its mood-boosting aroma is the perfect scent for summer and one we can imagine misting onto a linen white dress with a glass of pale rosé in hand.
And while its freshness may fool you into thinking it's not long-lasting, this perfume does in fact linger. We spritzed this onto our skin first thing in the morning and could still detect the scent the following day. Impressive! This also means one spritz is enough for daylong wear, which helps prolong that pricy ribbed glass bottle that's just as beautiful as the fragrance inside. It comes with a pale pink and gold lid embossed with the Chloe logo. To conclude, we are utterly obsessed with this fragrance and can safely say, it's the best lavender perfume for the incoming warmer days.
7. Frederic Malle Music For A While Eau de Parfum
Best unique lavender perfume
Specifications
RRP: $275/£165 for 50ml
Top notes: Lavender, anise, bergamot, mandarin orange
Middle notes: Pineapple, geranium
Base notes: Patchouli, caramel, sugar, vanilla, labdanum
Reasons to buy
+
Very unique scent
+
Great performance
+
Complex fragrance
If you're after a scent that's entirely unique and original, turn your attention to Music For A While from Frederic Malle. Unlike any other fragrance we've tested, this perfume will have you perplexed (in a good way, hopefully). Opening with a hefty hit of lavender and anise – it smells extremely overpowering at first and a little like soapy licorice. To be completely honest, we weren't hooked at first sniff – but stay with it as this is a complex fragrance that really evolves on the skin.
Once that initial aniseed scent subsides, pineapple steals the spotlight and, contrary to what you may think, blends exceptionally well with lavender. Sharp and fruity yet delicate and floral – the contrast really works. At the dry down, patchouli and vanilla make an appearance, cutting through that fruity sharpness with a soft sweetness. This is a potent, unique fragrance that, in our opinion, gets better with every sniff – but it's one we'd recommend testing on the skin before making a purchase.
8. Initio Parfums Privés Oud for Greatness Eau de Parfum
Best oud lavender perfume
Specifications
RRP: $410/£305 for 90ml
Top notes: Saffron, nutmeg, lavender
Middle notes: Oud
Base notes: Patchouli, musk
Reasons to buy
+
Warming aroma
+
Evolves on the skin
+
Impressive longevity
If you're in the market for a seriously opulent fragrance (that will set you back a considerable amount), Oud For Greatness from INITIO is worthy of consideration. A celebration of oud, this is a great choice for anyone with a penchant for the best oud perfumes. Warm and addictive, this scent also stars fresh lavender, sweet nutmeg and spicy saffron.
While rich, oud scents aren't normally our go-to, we were won over by this number. It smells sophisticated, expensive and, after spritzing it onto a poplin shirt, we felt instantly more polished. Although it's a potent fragrance, that will definitely get you noticed, it also has a welcoming hit of freshness (we're putting this down to the lavender). The longevity and silage are second to none – this perfume will linger on clothes for hours and even days. And while we won't reach for this every day, it's a great 'going out' scent that will make you feel more put together.
9. Creed Erolfa Eau de Parfum
Best aquatic lavender perfume
Specifications
RRP: $239/£185 for 50ml
Top notes: Bergamot, mandarin, ginger and basil
Middle notes: Lavender, coriander, watermelon, cucumber and jasmine
Base notes: Sandalwood, cedarwood and musk
Reasons to buy
+
Fresh, uplifting scent
+
Impressive longevity
+
Unique and distinctive
Reasons to avoid
-
Strong masculine scent not for everyone
Pitched traditionally as one of the best men's colognes, we believe that this fresh, aquatic scent from Creed has wide appeal. Drawing inspiration from a sailing trip around the Mediterranean, this scent is designed to 'transport you to a salty sun-baked boat deck in the heat of summer.' One sniff and we were (mentally) there. Think salty air, skin warmed from the sun, and a crisp, citrus breeze.
While lavender gives this fragrance a lasting freshness, lemon, orange and watermelon also make it one of the best fruity perfumes around. If you like your perfume blends to be fruity, uplifting, and fresh – this is the one for you. And while it is masculine, it's not overpoweringly so, thanks to the sweetness of the fruits. Overall, this is a lovely sunny scent that will have you dreaming of your next getaway.
10. Guerlain Frenchy Lavande Eau de Parfum
Best citrus lavender perfume
Specifications
RRP: $380/£290 for 100ml
Top notes: Lemon, bergamot
Middle notes: Petitgrain, citron, lavender, sage, neroli
Base notes: Ambergris, vetiver, tonka bean
Reasons to buy
+
Well balanced fragrance
+
Evolves beautifully on skin
+
Uplifting and clean
Reasons to avoid
-
Very pricy
-
Not ultra-distinctive
Seriously sophisticated, this fragrance exudes opulence (which is fitting, considering the price point). And while it is indeed expensive, it's also long-lasting and we could still detect the scent eight hours after application. Combining zesty lemon and bergamot with fresh lavender, sage, and neroli – this perfume has a clean, herbaceous aroma that's not at all powdery or cloying. A great pick for every day, this is an amiable, beautiful blend.
After a while, once the fragrance has settled on the skin, we enjoyed the warm, woodsy dry down that came thanks to vetiver and tonka bean. And although we'd normally go for something a little sweeter, we can appreciate this refreshing perfume that's jam-packed with marine and herbaceous notes. If it's not for you, note that this is also one of the best unisex fragrances and would make a great beauty gift idea.
---
How to choose the best lavender perfume
Look at the fragrance family: "Lavender plays well with many other ingredients including flowers, woods, herbs, resins, vanilla, and fruity notes," says Carlo. To find the right blend for you, seek out a lavender perfume that's laced with the notes that you're usually drawn to.
Consider your personal style: "Are you classical and elegant? Or do you want something outdoorsy and sporty?" asks Carlo. Your answer can help guide you in the right direction. For something outdoorsy, look for citrus and herbaceous notes. If it's elegance that you're after, seek out white florals and soft musks.
Emma Stoddart is a freelance beauty journalist and self-confessed skincare aficionado with over five years' industry experience. Emma has worked for some of the UK's top women's titles including Net-A-Porter, Stylist and Grazia. Her experience spans online and print as well as producing editorial shoots with some of the industry's biggest artists, including Val Garland. Asides from working with them behind the scenes, she's also had the chance to interview the likes of Patrick Ta, Pat McGrath, and Sam McKnight for all their insider tips and tricks.