The best Chanel perfumes, as chosen by a beauty editor
These are the best Chanel perfumes of all time—is your favorite in the mix?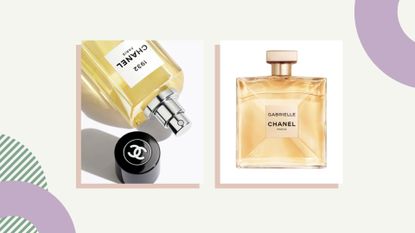 (Image credit: Future/Chanel)
Choosing the best Chanel perfumes is no great hardship. The French house's hallowed halls are heaving with gorgeous scents—from the iconic N°5 to cool, contemporary customers like Gabrielle. In fact, the only thing remotely difficult about creating this all-time best-of list was getting the numbers down to a neat top five.

But whittle it down I did, because while you can't really go wrong with any Chanel perfume, this tightly-curated list will help you get it absolutely right. Whether you're looking for the best perfume for women as a gift or treating yourself to a new flower fragrance, perfume sales are skyrocketing—John Lewis has reported a 24% year-on-year increase—so there's no better time to snap up your new signature Chanel scent.
Whatever your tastes, you're in safe hands with the best Chanel perfumes and this list represents the crème de la crème of what the Parisian maison has to offer, according to yours truly anyway. These are the Chanel fragrances that I genuinely adore, that live on my dressing table, and have been on my skin during countless moments I'll never forget - plus a few I wish I could. Bonne chance mes amis!
The best Chanel perfumes of all time
Why you can trust Woman & Home Our expert reviewers spend hours testing and comparing products and services so you can choose the best for you. Find out more about how we test.
1. Chanel N°5
Best timeless Chanel perfume
Specifications
RRP: $108/£86 for 50ml EDP
Style: Clean floral
Notes: May rose, jasmine, vanilla
No surprise that this tops our best Chanel Perfumes list—also, no apologies for picking an obvious winner. N°5 made a splash when it launched in 1921 due to an unusual overload of nose-tingling aldehydic notes and has retained that impact a full 100 years later. This is thanks to a supremely balanced composition of clean, soapy aldehydes, sophisticated florals and a lingering dry down that should satisfy those who want to know which perfume lasts longest for day-to-night wear.
Many people catch their first whiff of this perfume via an older family member (thank you, mother) and in the grand tradition of misguided daughters, I felt N°5 was a bit much in my teens. Needless to say I've seen sense now. It can take a bit of maturity to fully 'get' Chanel N°5, but honestly, that's part of the appeal. It smells like nothing else, is instantly recognizable and yet never feels boring or overfamiliar. As ever, mothers know best.
2. LES EXCLUSIFS DE CHANEL 1932
The best ultra-luxe Chanel perfume
Specifications
RRP: $250/£169 for 75ml EDP
Style: Sparkling, powdery, musky
Notes: Jasmine, grapefruit, iris woods
Nobody shops at Chanel for a bargain. Buying a piece from this brand, however small, is actually buying into a larger idea - an aspiration to become a more luxurious you. I reckon this scent typifies that more than any other on my list. This is for obvious reasons (it's from the spendiest of 'em all Les Exclusifs collection) but also because it looks and feels like money. And it makes you smell moneyed.
The scent's inspiration is Coco Chanel's first diamond collection, created in - you guessed it - 1932. That would explain the sparkling, citrus and aldehyde first hit, which dries to old-school-in-a-good-way powdery iris plus musky, woody loveliness. It feels special because it is special. And though I'm not generally a fan of keeping things for good, I save this for my most anticipated evenings and get a Pavlovian response of fancy occasion butterflies whenever I smell it. It's chic and very Chanel. It's also very 'rich woman you meet at a dinner who looks and smells absolutely incredible but intimidates you a bit.' So if you're wondering how to choose a perfume that radiates pure fabulousness, here she is.
3. Les Eaux de Chanel Paris-Edimbourg
Best unique Chanel perfume
Specifications
RRP: $130/£112 for 125ml EDT
Style: Earthy, aromatic
Notes: Bergamot, juniper berry, cypress, cedar
Call it favoritism, call it unconscious bias, call it whatever you like but this under-the-radar Chanel scent based on the rugged beauty of Edinburgh (ahem, my hometown) deserves to be shouted about. Unlike many of the brand's better-known perfumes, which tend to lean into classic floral notes, this feels modern and a little bit untamed, all mossy green forests and smoky peat with a citrusy bergamot top.
With notes like that, it won't surprise you to hear that this makes one of the best men's colognes as much as it does the best Chanel perfumes. It sits within the Les Eaux de Chanel range, all of which are eau de toilette strength, and this certainly has an easy-breezy appeal for those who prefer their scents on the airier side. I would say the 125ml bottle lasts for ages, but that really depends whether your other half pinches it every single day as mine does.
4. Chanel Coco Noir
Best Chanel perfume for evening
Specifications
RRP: $108/£91 for 50ml EDP
Style: Heady, rich
Notes: Bergamot, rose, tonka, patchouli
Hello, sexy. The opaque black bottle probably gives you a decent idea of what to expect inside this vamped-up version of 1984's Coco Eau de parfum. Bear in mind that the OG Coco was already on the spicy-seductive side, with exotic jasmine, ylang-ylang and sweet, creamy tonka. This is that with added danger - well, ok added rose - but a rose that feels naughtily fleshy alongside the classic Coco hippie patchouli funk.
Naturally, a scent this sensual lends itself to romantic evenings, but it also works nicely on a solo outing to the cinema, just for you. Unlike many perfumes aiming for nighttime wear, this isn't stop-you-in-your tracks strong. The tonka adds a comforting richness much like the best vanilla perfume but is nicely balanced out by zippy top notes. Wear this after dark and you'll give off a quiet elegance, wear it during the day and prepare to get noticed—the choice is yours.
5. Chanel Gabrielle
Best modern floral Chanel perfume
Specifications
RRP: $108/£86 for 50ml EDP
Style: sparkling floral
Notes: tuberose, ylang-ylang, orange blossom, jasmine
Gabrielle may be the fifth best Chanel perfume in this rundown, but it's straight in at number one for visual appeal. Would you look at that gorgeous bottle? In an ultra-fine lamé toned glass with a very cool, contemporary design, you would never shove this to the back of the drawer (then remember about and have to panic-Google do perfumes expire a year later).
Inside the bottle, we get a scent that is composed of 100% floral notes, yet manages to be neither stuffy nor particularly traditional. It packs in exotic jasmine, a fleshy tuberose base and has a freshness that's unexpected with this many flowers involved. If I smelt this on a friend, prior to knowing and loving it, I may not have guessed it was Chanel at all, such are my associations with this brand and classic perfumery. Then again If there's one thing this list proves it's that the best Chanel perfumes routinely push the boundaries—they just carry it off with a soupçon more style than most.
---