The best vanilla perfume for every taste, mood and occasion
Our beauty team selects the best vanilla perfume—from huge bestsellers to cool cult buys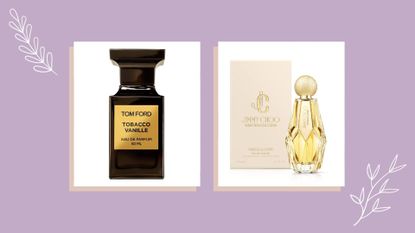 (Image credit: Future/Getty images)
The best vanilla perfumes are a perfect example of just how evocative fragrance can be.
This note strikes that perfect accord of being sugary sweet but also exceptionally comforting and nurturing. It reminds people of childhood, baking, nostalgia, and is like an enveloping, comforting hug wrapping itself around you when you spray it on. It's no wonder so many of the best perfumes for women and best men's cologne include vanilla. It's also perfect for fragrance layering—offering a deliciously warming back-note to everything from flower fragrances to the best rose perfumes.
The best vanilla perfume isn't all sweetness and light though, many have a naughty side too. "There's a spicy, carnal, slightly feral side of vanilla that becomes addictive and raunchy. So within a perfume, it radiates with a lot of sensuality and confidence," says fragrance writer and presenter, Alice du Parcq. Find your perfect sweet yet seductive vanilla scent with our tried and tested guide to the best vanilla perfumes the market has to offer.
How to pick the best vanilla perfume for you
Why you can trust Woman & Home Our expert reviewers spend hours testing and comparing products and services so you can choose the best for you. Find out more about how we test.
When it comes to choosing perfume it's all about what you like. But, when dealing with vanilla, there are some things to know, advises Alice:
Stick with perfumes: "High-quality vanilla essence—whether natural or incredible synthetic variations—has a spicy, smokey feel to it, so you won't tip into pudding land. I would avoid vanilla-flavored body products as those tend to be way too sweet."
Get ready for a reaction: "One of the coolest things about our brains is they're designed to recognize fight or flight smells; ie food or fire. If you have a spike of vanilla in your perfume, your brain is wired to be highly aware of it, so perfumes with that gourmand aura will smell prominent to you and people around you—reinforcing the idea that it's long-lasting and worth the money!"
Don't scrimp: "Cheap vanilla will smell sickly sweet, so my best tip is to invest the money you would have usually spent on a new handbag and spend it on a great quality perfume."

So if you were wondering which perfume lasts longest, Vanilla has much to offer in that department.
The best vanilla perfume, chosen by our beauty team
1. Tom Ford Tobacco Vanille Eau de Parfum
Best luxury vanilla perfume
Specifications
RRP : $205/£174
Key notes: Tobacco leaf, vanilla, wood sap, ginger
Reasons to buy
+
A masterful blend
+
Distinct and unique
+
Very long-lasting
+
Glamorous brand
Reasons to avoid
-
Unusual so won't please everyone
It's no surprise that famous perfectionist Mr Ford's take on the best vanilla perfume is very much vanilla, done his way. This is the opposite of what you might expect from a vanilla scent. So instead of being sweet and comforting it is bold, smoky and sexy with a huge kick of spice.
Ford describes this fragrance as being inspired by an "English gentleman's club" and on testing we can only say we wish we were members of the clubs that smell like this. The initial hit is very much smoky-sweet tobacco and woods infused with a touch of sticky dried fruit. Then as it dries down we experienced layer upon layer of scent from resins to a cocktail-like kick of ginger, all very much underpinned by sexy, warming vanilla. Needless to say, this makes an excellent perfume for winter.
As well as being unique and ridiculously glamorous, the best thing about this is it's complexity. You could spray it on once in the morning and keep smelling it all day long, always a little bit different.
2. Marks & Spencer Gardenia & Vanilla Eau De Toilette
Best budget vanilla perfume
Specifications
RRP : £12.50 (uk only) for 100ml
Key notes: grapefruit, gardenia, vanilla, sandalwood
Reasons to buy
+
Pretty, likeable blend
+
Great for every day
+
Excellent value
Reasons to avoid
-
EDT won't last as long as EDP on skin
Good old Marks & Spencer. As well as selling some of the best bras in the 'biz their beauty and fragrance offering is well worth a look too, starting with this very good value eau de toilette. It would be wise at this point to say, obviously, a high street fragrance should not be compared to one costing hundreds. But if you're looking for an easy-breezy floral-vanilla scent to wear every day and spray on as liberally as you please then this could be it.
On first glance, we were very impressed with the chic plum-toned bottle, which we would happily keep on display next to our best Chanel perfumes. The scent itself is also surprisingly sophisticated given the minimal price. The vanilla itself is fairly prominent, although it's nicely balanced out by the citrusy fruity perfume top note, and sweet floral heart. While this describes itself as a floral fragrance, vanilla fans will be glad to know that it is the one note we could still smell on our skin a few hours after applying.
3. YSL Black Opium Illicit Green EDP
Best gourmand vanilla perfume
Specifications
RRP : $78/£57 for 30ml
Key notes: Pear, mandarin, jasmine, coffee, vanilla bourbon
Reasons to buy
+
Smells good enough to eat
+
Unique vanilla bourbon accord
+
Cool bottle
Reasons to avoid
-
Might be a little sweet for some
The original YSL Black Opium has become a modern fragrance sensation thanks to its uniquely addictive coffee and vanilla accord—and it's well worth a sniff if you're not already familiar. If you already know and love the OG and fancy trying something a little bit different, this could be the best vanilla perfume to meet those needs.
It contains fleshy fruits like fig and pear plus the classic vanilla and coffee duo, but this time it's souped-up in what's called a "vanilla bourbon superinfusion." On testing, we found this boozy take on vanilla had a nice sweet-sharp kick that was very grown-up. The mandarin top plays off against vanilla's sweetness for an unexpectedly fresh beginning on the first spray, although when it dried down the residual impression was one of warmth, coffee, and spices. Delicious.
4. Jimmy Choo Seduction Collection Vanilla Love
Best sexy vanilla perfume
Specifications
RRP : $220/£175 for 125ml
Key notes: vanilla, amber, patchouli
Reasons to buy
+
Sexy and seductive
+
Modern but feels like a classic
+
Gloriously decadent
This vanilla perfume is all about confidence, sparkle, and elegance, and that's not only reflected in the scent itself—it's teamed with decadent ingredients like amber and patchouli for a full-on glamorous effect—but in the gold faceted bottle that we loved displaying on our dressing table too.
This isn't a scent that will let you slink into the corner and go unnoticed. We found this one of the most noticeable and long-lasting perfumes of the bunch, so it is a fragrance for when you want to be the star of the show. There's no denying that it has a high price tag, but Kimmy Choo's Seduction Collection is designed with high concentrations of perfume oil and fine ingredients that are a cut above the brand's mainline fragrances. So if you do splash out, you will get plenty of bang for that buck.
5. Marc Jacobs Daisy EDT
Best fresh vanilla perfume
Specifications
RRP: $60/£46 for 30ml
Key notes: wild strawberry, violet leaves, vanilla
Reasons to buy
+
Cult fragrance
+
Iconic bottle
+
Light and fresh
Reasons to avoid
-
Everyone else might be wearing it
We found Daisy is a slightly unexpected vanilla perfume because the first notes that engulf you are super sparkling and green. The strawberry gives it a youthful feel, whilst red grapefruit and gardenia add a fruity freshness that most vanilla scents don't have.
However, when it dried down the vanilla and musk lingered on our skin, which is utterly delightful and certainly makes this the best vanilla perfume to suit a range of ages. Thanks to its fresh impression and lightness of touch you could easily wear this every day, meaning you'll never have to frantically Google do perfumes expire after retrieving it from the back of a drawer.
6. Liz Earle Botanical Essence No.15 EDP
Best surprising vanilla perfume
Specifications
RRP: $75.50/£54 for 50ml
Key notes: pink pepper, damask rose, bourbon vanilla
Reasons to buy
+
Unexpected brand choice
+
Fresh and spicy
+
Unisex
Reasons to avoid
-
Opaque bottle means you won't know when you're running low
Liz Earle is probably not a brand you would think of when looking for the best vanilla perfume—or buying fragrances in general—but that needs to change immediately because after trying it we can confirm that this perfume is an absolute sensation.
It combines sexy, sultry notes of vetiver and benzoin that give it that musky, smoky edge, with fresher notes of bergamot, pink pepper, and rose. The result is a scent that is ultra-wearable for everyone, wherever you're going and for whatever you're doing.
7. Thierry Mugler Angel EDP
Best sweet vanilla perfume
Specifications
RRP: $85/£78 for 50ml
Key notes: chocolate, caramel, vanilla
Reasons to buy
+
The cult vanilla perfume buy
+
Distinctive
+
Refillable bottle
Launched in 1992, Angel shook up the perfume world with its first-of-a-kind mix of ingredients. The edibly-delicious food-based flavors became so iconic, they spurred the creation of a new fragrance category; gourmand.
Gourmand scents smell good enough to eat, and that is what Angel is all about. While we aren't usually a huge fan of sweet perfume, we couldn't help but love this familiar, sugary, comforting moment of vanilla, chocolate, and caramel-based deliciousness in a perfume bottle. And providing you've got a sweet tooth, you can't get better than that.
8. Jo Malone London Myrrh & Tonka Cologne Intense
Best alternative vanilla perfume
Specifications
RRP: $196/£130 for 100ml
Key notes: lavender, myrrh, tonka
Reasons to buy
+
Long-lasting on the skin
+
Intense
+
Smoky yet sweet
Reasons to avoid
-
Might be too heavy for some
Tonka bean is often used as an alternative to vanilla as they smell almost completely identical. Here it is paired with heady, musky, and sexy myrrh to create one of the best Jo Malone fragrances of all time, and a perfect choice if you are looking for the best vanilla perfume with a bit of a twist.
On testing, we found that the lavender cut through beautifully to prevent the overall scent from being too overpowering. But this is definitely for those who want to stand out from the fragranced crowd and wear something that will have people asking (perhaps begging) to know what it is.
9. Flower by Kenzo EDT
Best subtle vanilla perfume
Specifications
RRP: $72/£58 for 50ml
Key notes: mandarin, rosewater, vanilla
Reasons to buy
+
Subtle
+
Light and fresh
+
Minimal but striking bottle
Reasons to avoid
-
Might not be vanilla-y enough
Whilst this is most definitely a vanilla-based perfume, that's not where our nose instantly went when first smelling it. There's a powdery, nostalgic feel to this fragrance. In fact, there are notes in here that might remind you of your Grandma (which is no bad thing—think timeless, not fusty)
It's when this dries down that it turns into a far more modern scent with a delicious vanilla undertone. This makes it likely to be the best vanilla perfume for those who just want a little hint of comforting sweetness, rather than a full-on vanilla overload.
10. Serge Lutens Un Bois Vanille EDP
Best unisex vanilla perfume
Specifications
RRP: $150/£110 for 50ml
Key notes: coconut milk, liquorice, black vanilla
Reasons to buy
+
It smells like nothing else
+
Not sickly sweet
+
Your other half can steal it too
Technically, all perfume is unisex—it feels retro to say a man can't smell like flowers or a woman shouldn't smell like woodsmoke if she likes. With that said, this is definitely the best vanilla perfume on our list for true gender-neutral appeal. There's an almost leathery element to this fragrance, which pairs with the buttery vanilla beautifully and prevents it from becoming too rugged or too sweet.
We love the slick, minimalist black bottle, which will appeal to everyone and the fragrance can either be dabbed directly onto the skin or spritzed on by inserting the spray top. It may be a bit spendy, but the luxurious concentration of perfume oils included ensured it lasted the day on our skin.
11. Hugo Boss Boss Alive EDP
Best everyday vanilla perfume
Specifications
RRP: $98/£72 for 50ml
Key notes: apple, cinnamon, Madagascan vanilla
Reasons to buy
+
Modern but smells like a classic
+
Mood-boosting
+
Works on everyone
If there was an 'everyman' of vanilla perfumes, then this is probably it—and we mean that in the best possible way. It's vanilla but not too vanilla and is very nicely balanced with fruity and floral notes, making it the ultimate adaptable perfume to fit everywhere.
We found this was a great everyday perfume, meaning it suits a pair of jeans and a t-shirt, just as it does your most glam little black dress. We wore it for the school run, the office, coffee with the girls, and date night. Once you've smelt it and worn it, you'll wonder how you survived without it.
12. Paco Rabanne Olympea EDP
Best mass-market vanilla perfume
Specifications
RRP: $84/£66 for 50ml
Key notes: cashmere wood, water jasmine, salted vanilla
Reasons to buy
+
Floral and fresh
+
Sexy
+
Familiar and comforting
Reasons to avoid
-
Might be overly familiar to some
Right from the first sniff we were convinced that it would be hard to not like this fragrance. Within the round, laurel-adorned bottle lots of different fragrance notes are ticked off, meaning that with just one spray there's something for everyone.
It begins a little bit floral, with exotic white botanicals such as jasmine, but then an unexpected and very welcome salty vanilla hum kicks in. Once it's dried down we found the sultry woody notes linger the longest. A younger wearer will feel sophisticated wearing it and an older woman will feel emboldened. Win-win.
13. Atelier Cologne Vanille Insensee
Best niche brand vanilla perfume
Specifications
RRP: $142/£98 for 100ml
Key notes: Madagascan vanilla, English oak, lime
Reasons to buy
+
Completely unique scent
+
People won't have smelt it before
+
Ultra classy for gifting
This utterly gorgeous fragrance is everything a great vanilla perfume should be. A little bit sweet and comforting with a hint of sultriness from the woody notes of English oak.
We love this brand for creating some of the most beautiful citrus-based scents on the market—they are masters of taking joyful, almost frivolous ingredients and crafting beautiful grown-up perfumes from them. On that note, this manages to be both energetic and classic all rolled into one. Run, don't walk, to go and buy it.
14. Jean Paul Gaultier La Belle Parfum
Best musky vanilla perfume
Specifications
RRP: $94/£73 for 50ml
Key notes: pear, tonka, vanilla
Reasons to buy
+
Brilliant bottle design
+
The LBD of vanilla perfume
+
Very glamorous
Reasons to avoid
-
Fans of the original might not like it
As with all things Jean Paul Gaultier, this is a fragrance that's 'a bit much' in all the best ways possible. From the iconic perfume bottle design to the full-on, glamorous, sweet, and indulgent scent that's inside.
After wearing it on several occasions, we'd call this the best vanilla perfume for anyone with a 'more is more' life philosophy. The vanilla is fairly bold then doubled-down upon thanks to the inclusion of vanilla's scent-twin tonka bean. The fresh, juicy top notes of pear keep it fun and youthful too. It's the sort of perfume that you might think to save for special occasions only, but then again, that's not what life is about anymore so we say wear it every day with your head held high.
---
woman&home thanks Alice du Parcq (opens in new tab) for her time and expertise