The 10 best Dior perfumes of all time, as chosen by a beauty editor
Our beauty insider picks the very best Dior perfumes that will make you feel eau so sophisticated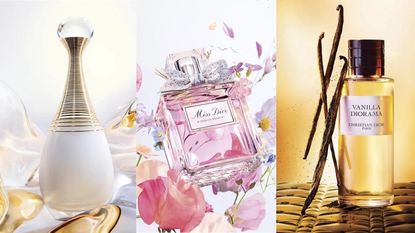 (Image credit: Dior)
Searching for the best Dior perfumes of all time? You're in the right place, as we have whittled down our favorite finds from the House of Dior, known globally for elegant, sophisticated blends. Crafted from the finest ingredients, these fragrances are complex, refined, and really do last the distance.
Founded in 1946, the House of Dior made its first foray into the fragrance field with Miss Dior. A green, chypre scent, this fragrance was designed to "leave a trail of desire in a woman's wake". While it continues to be a cult classic, the French Maison has gone on to launch many more of the most beloved, best perfumes for women, including Dior J'Adore and Dior Addict.
With a particular interest in floral fragrances, many of Christian Dior's perfumes feature a bouquet of blooms. And here, we've included some of our favorites. But we've also selected other, less obvious choices that celebrate ingredients like vanilla and sea salt. Have a read, pick the fragrance that speaks to you, then go and smell it IRL - it may just be your new signature scent.
THE 10 BEST DIOR PERFUMES OF ALL TIME
Why you can trust Woman & Home Our expert reviewers spend hours testing and comparing products and services so you can choose the best for you. Find out more about how we test.
1. Miss Dior Eau de Parfum
Best overall Dior perfume
Specifications
RRP: $127/£83 for 50ml
Style: fresh floral
Notes: peony, lily-of-the-valley, apricot, rose, musk, sandalwood
Two Dior fragrances were vying for our number one spot: Miss Dior EDP and Dior J'Adore. Both timeless classics, each with their own distinctive perfume notes – we would happily crown both these bottles as #1. But when pushed to pick between the two, the newer Miss Dior EDP has the edge. It's fresh, floral, and exudes femininity with its striking bouquet of delicate rose perfume, fresh lily-of-the-valley, powdery iris, and apricot-tinged peony accord. At its base, comforting musks, sweet vanilla and creamy sandalwood leave a lasting impression.
Housed in the instantly recognizable bottle, adorned with the Miss Dior bow, it reminds us of our late teens when we first ventured into the world of 'adult' fragrances and became acquainted with Miss Dior EDT. Sweet, without being sickly-sweet, this scent became a signature for many. But it's the latest incarnation, Miss Dior EDP, that now has our heart, with its slightly more sophisticated take on florals that's less sweet and more vibrant – leaving behind soft musk in its trail.
2. Dior J'Adore Eau de Parfum
Best iconic Dior perfume
Specifications
RRP: $118/£88 for 50ml
Style: fruity floral
Notes: ylang ylang, damask rose and sambac jasmine
Dior J'Adore is an iconic fragrance that continues to be one of the brand's best-sellers and has done for over 20 years. One sniff, and you'll understand why. An ode to Christian Dior's love for florals, the carnal blend, which launched back in 1999, celebrates different flowers from around the world. There's ylang-ylang and Damascus rose from Turkey, Indian jasmine sambac, and jasmine grandiflorum from Grasse, aka France's fine fragrance mecca. Together, these blooms create a pillowy soft scent that's classy and modern.
While this scent was too sophisticated for our teenage noses, it became a big hit later in life as our tastes matured. Now, we can fully appreciate the white floral and musky blend that's laced with refreshing fruits (think peach, pear, bergamot and melon). It's sharp, sweet, and soft – all at the same time - and will make the wearer feel polished and put together. The perfect scent for summer, we can imagine spritzing this onto a crisp white linen shirt, paired with tailored shorts. Tres chic!
3. Dior Addict Eau de Parfum
Best Dior perfume for evening
Specifications
RRP: $84/£83 for 50ml
Style: amber floral
Notes: mandarin leaf, orange blossom, jasmine sambac absolute, bourbon vanilla
Addictive by name, addictive by nature – Dior Addict EDP is an intoxicating, seductive scent that will have you coming back for more (in our case, much more). Not for the faint-hearted, this fragrance demands to be noticed with its lingering blend of fresh mandarin leaf, floral jasmine sambac, and creamy bourbon vanilla. In fact, if you're wondering which perfume lasts longest, this Dior number is a top contender that will stick around from dusk until dawn.
Bold, confident, comforting, and nostalgic – Addict is a scent we want to wear while out dancing. Well, truth be told, it's a scent that we did wear out dancing, a lot, during our twenties. That's not to say it's limited to this age group – but we'd now likely reserve this fragrance for cocktails or parties. If you're yet to smell this scent, we'd describe it as warm, comforting, and sweet with the stars of the show being vanilla, sandalwood and spice.
4. Dior Vanilla Diorama Eau de Parfum
Best vanilla Dior perfume
Specifications
RRP: $125/£110 for 40ml
Style: amber vanilla
Notes: orange, pink pepper, lemon, rum, cacao, cardamon, bourbon vanilla, sandalwood, patchouli
Searching for the best vanilla perfume? Turn your nose to this gourmand fragrance from Dior. Inspired by Christian Dior's favorite pastry, named the Diorama Gourmand, this scent smells good enough to eat (in the best way possible). It's creamy, comforting, and oh so moreish with its luxurious blend of Madagascan vanilla, rich cocoa, and boozy rum. One sniff of this scent and you can imagine the type of dessert it's inspired by – all flaky pastry, dark chocolate, and soft vanilla, with a slice of orange on top. D.i.v.i.n.e.
And while many vanilla fragrances fall into the sugary sweet camp, conjuring up the aroma of freshly baked cookies, this vanilla perfume is far more refined. It smells rich, not sweet, and gets better as it evolves on the skin with a woodsy, spicy dry down. We are hooked and highly recommend saving this one for special occasions, like weddings or birthdays. Expect lots of "you smell amazing" compliments while wearing it.
5. Dior Eden-Roc Eau de Parfum
Best Dior perfume for holiday escapism
Specifications
RRP: $125/£110 for 40ml
Style: woody floral
Notes: sea salt, citruses, mineral notes, jasmine, coconut, pine tree and labdanum
It may sound cliché, but this really is summer, bottled. Inspired by Hotel du Cap-Eden-Roc (aka one of the world's most exclusive and glamorous hotels), this scent is designed to conjure up the hotel's lavish atmosphere and picturesque setting overlooking white clifftops and the Mediterranean Sea. An aquatic perfume, Dior perfumer-creator Francois Demachy called upon sea salt and mineral notes to mimic the scent of warm, salty air.
As it develops on the skin, you'll start to notice a suntan lotion scent that's thanks to jasmine and coconut. The dry down is green and a little herbaceous which is an ode to the hotel's beautiful gardens. Overall, it's an elegant fragrance that's sunny yet chic and would also make one of the best men's colognes. Every time we spritz this on, it instantly transports our senses (and mind) to Cote d'Azur. Simply close your eyes, breathe in the smell and imagine basking in the sunshine atop the cliffs, listening to the sounds of the turquoise blue sea below. Heaven!
6. Dior Hypnotic Poison Eau de Parfum
Best Dior perfume for winter
Specifications
RRP: $102/£89 for 50ml
Style: Amber vanilla
Notes: Liquorice, almond, jasmine sambac, orange blossom, vanilla and tonka bean
If you like the original Hypnotic Poison Eau de Toilette, then you'll love this Eau de Parfum iteration. Landing on our shelves in 2014, this has quickly become one of the brand's best-sellers. Darker and more mysterious than the original, the EDP packs a punch with its intoxicating blend that contrasts white florals (think jasmine sambac and orange blossom) with sharp licorice and creamy vanilla. It's sweet yet sophisticated and gets better with every sniff.
Ideal as a perfume for winter months, this fragrance is warming and comforting. In fact, it smells familiar – after a while, it reminded us of the smell of playdough (in the best way possible), and we found ourselves quickly going back for more. Scent aside, the dark juice is housed in the brand's iconic Poison bottle, featuring a round apple-like shape in a deep scarlet shade designed to conjure up 'forbidden fruit'. Seriously striking, this fragrance has major #shelfie appeal. And with impressive staying power (we're talking 8 hours or more), it has major scent appeal, too.
7. JOY by Dior Eau de Parfum Intense
Best mood-boosting Dior perfume
Specifications
RRP: $79.99/£70 for 30ml
Style: Amber floral
Notes: Neroli, bergamot, jasmine, rose, vanilla, tonka bean, musk and sandalwood
JOY by Dior Intense is a mood booster in fragrance form. Bright and breezy, the sunny scent combines zesty bergamot and mandarin with delicate florals and creamy sandalwood. As it dries down on the skin, we detected the soft scent of rose which lingers long after spritzing. Ideal for everyday wear (and for anyone who adores florals), this is not a 'look at me' fragrance – rather, it's a delicate sophisticated number that lingers quietly in the background.
If you prefer something bold like one of the best oud perfumes, this fragrance is probably not for you. But if you're drawn to soft florals that smell fresh, as opposed to powdery, this is the perfect pick. A best-seller for good reason, it really does have mass appeal and will not overpower as many other fragrances do. Our only word of warning is that the longevity of this scent is moderate, so we recommend moisturizing your skin before spritzing this on to boost its staying power.
8. Dior J'adore Parfum d'Eau
Best recently launched Dior perfume
Specifications
RRP: $130/£126 for 100ml
Style: Floral
Notes: Neroli, jasmine sambac, magnolia, rose, honeysuckle
Destined to become another cult classic, Dior's latest J'adore fragrance is the epitome of a crowd pleaser. We know we say it a lot, but this new number from the fragrance house has serious mass appeal. It's light (much lighter than the original), creamy and refreshing with a soft petal scent that combines delicate white florals (including neroli, jasmine sambac and magnolia) with refreshing green notes. Overall, the scent is elegant and sophisticated and, to us, conjures up that fresh out the shower feeling.
Not at all overpowering, this scent has been formulated without alcohol (a first for Dior), meaning it doesn't have that initial harsh alcohol aroma. Instead, you're hit with a floral freshness that lingers on the skin for around three to four hours before evolving into a clean skin scent. "This is a true ode to the white flowers of J'adore, in a fresh and spontaneous interpretation," says Francois Demachy, the nose behind the scent. A great pick for everyday wear, paired with a soft glam makeup look, Dior J'adore Parfum D'eau is a light and bright concoction that never veers off into powdery territory - we're obsessed.
9. Dior Holy Peony Perfume
Best fresh floral Dior perfume
Specifications
RRP: $270/£115 for 40ml
Style: Floral
Notes: Peony, rose, lily of the valley, strawberry, raspberry, woods and musk
You guessed it, Holy Peony is another floral fragrance that exists in Christian Dior's La Collection Privée. As the name suggests, this fragrance is designed to personify the peony blossom with a delicate, fresh aroma that's soft and feminine. As with the new J'adore fragrance, this floral number doesn't veer into powdery territory – instead it's light and airy with a fruity freshness (that's thanks to notes of strawberry and raspberry).
If it's a loud, statement scent that you're after – this pick probably isn't for you. For that, we'd recommend something stronger like Chanel's No5 which is arguably one of the best Chanel perfumes ever. In contrast, Holy Peony is extremely subtle, perfectly capturing the beautiful, delicate nature of the peony flower. As the scent evolves on skin, warm woods and musk make an appearance, adding depth to this otherwise simplistic (but very pleasing) fragrance. Ideal for the summer months, this light, feminine and elegant fragrance gets our vote. Try it!
10. Dior Addict Eau Fraîche
Best Dior perfume for every day
Specifications
RRP: $130/£107 for 100ml
Style: Fruity floral
Notes: Bergamot, grapefruit, freesia, pomegranate, white musk and woods
This fun, fruity and fresh fragrance is guaranteed to put a spring in your step. Seriously uplifting, one sniff of this and you'll instantly feel perkier. A floral fruity concoction, this scent combines zingy bergamot and grapefruit with delicate florals and woodsy notes. While the crisp fruits cut through the white florals – the lasting scent is a powdery one that smells sophisticated not unlike the best lavender perfumes. This is a great choice for anyone who's obsessed with more traditional floral fragrances.
As for wearability, we can imagine wearing this on a balmy summer's night, spritzed onto a billowy dress. So pretty, this is a happy scent that will reel in the compliments. The only downside? The longevity is weak compared to other Dior fragrances we've tried (and listed here), lasting a few hours at most. We'd recommend misting it onto hair and clothes too, for a longer-lasting scent.
Emma Stoddart is a freelance beauty journalist and self-confessed skincare aficionado with over five years' industry experience. Emma has worked for some of the UK's top women's titles including Net-A-Porter, Stylist and Grazia. Her experience spans online and print as well as producing editorial shoots with some of the industry's biggest artists, including Val Garland. Asides from working with them behind the scenes, she's also had the chance to interview the likes of Patrick Ta, Pat McGrath, and Sam McKnight for all their insider tips and tricks.