Fragrance layering: how to scent-scape your body and home
Master the art of fragrance layering and discover a myriad of ways to enjoy your favourite scent - from hair perfumes and scented body creams to diffusers and candles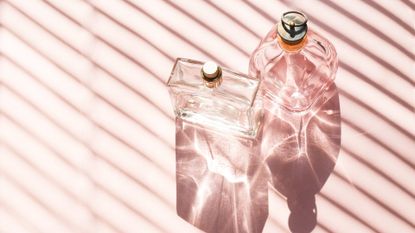 (Image credit: Studio Doros / Getty)
Fragrance layering isn't just some slick marketing trick to get us to splurge on the matching lotion, body wash or even the whole coffret. It's a savvy move that increases the longevity of your favorite scent.
If you're someone who finds that even the best perfume for women seems to disappear from your skin, and are constantly searching for which perfume lasts longest, fragrance layering could be the trick you've been looking for.
There's no denying that your signature eau de parfum spritzed from a bottle is always wonderful—whether you prefer the galvanizing crispness of a fresh citrus or you're more partial to a flower fragrance—but it's not the only way to enjoy perfume.
From hair perfumes and scented body creams to enticing diffusers and the best scented candles, there's a host of fragrance offerings to choose from when you practice the art of fragrance layering in both your beauty routine and at home.
But how do you decide what's right for you? We are here to help you navigate your way through all the sweet-smelling ways to enjoy fragrance, so you can scent-scape your whole life. Ready, steady, spritz!
What is fragrance layering?
Fragrance layering is, quite simply, the act of using more than one fragrance product at once.
It's all about embracing your inner 'scent-ologist' and creating your own bespoke perfume with some smart scent mixing. Our sense of smell is the most emotive of all the senses, with the power to evoke memories and emotions with a single whiff. Fragrancing layering is a growing trend, with more people than ever craving a scent completely unique to themselves.
Fragrance-cocktailing doesn't have to mean spritzing two perfumes on top of one another either. It can also be achieved through layering perfumed body lotion or hand cream with your signature scent to create an aroma that is particular to you.
And it's not just skin that can get in on fragrance layering either. While personal perfume sales fell during the pandemic, the home scent scene exploded with the most popular Jo Malone candles as their sought-after perfumes.
According to a survey by the NPD Group in 2020, 85% of fragrance users were reported to have used home scents—led by candles—during the pandemic. As Amanda Morgan, UK MD of Diptyque explains, "It is no secret that scent impacts mood and productivity, and now that many people are continuing to spend more time at home, we see more customers wanting to harness the strong emotional impact of scent in their homes and spaces to excite, soothe, calm or more."
The fragrance pyramid rules for fragrance layering
Before you begin this perfume pick 'n' mix, it's wise to become acquainted with the way scents are structured. Think of perfumes as pyramids:
So where should you start? Begin by matching fragrances with a common note within the pyramid to see how well they play together. If you're nervous about spraying them straight onto your skin, it's a good idea to spritz each perfume into its cap then waft both from side to side under your nose to get a sense of their blendability.
Fragrance layering for your body and hair
Bath oils are a fantastic vehicle for fragrance, combining skincare with a spa-like sensorial experience to create the ultimate pampering routine. Spike a warm bath with your favourite oil scented with one of the best Jo Malone fragrances, then lie back and inhale the aroma as it nourishes your skin and leaves it with a soft veil of scent for hours after your soak.
1. The best aromatic bath oils
---
---
2. The best perfumed body lotions
Give your fragrance wardrobe a shake-up by way of application, scented lotions and creams can really enhance your best cheap perfume, creating something longer lasting and more complex. Fragrance evaporates more quickly from dehydrated skin so moisturizing is important, and if you layer your fragrance with the corresponding body lotion, oil or cream, you can double down on the trail of your signature scent, and reap the skin smoothing benefits of a nourishing body moisturizer.
---
---
3. The best hair perfumes
Why stop at skin? There are good reasons to extend your signature scent beyond your pulse points to sweeten other parts of the body. Hair, for example, 
is naturally more porous than 
skin and retains fragrance well, so your scent is 
released gently over time.
But here's the caveat—it's important to use a fragrance designed specifically for hair, since the alcohol content of regular perfume can be very drying. Done right though, hair perfume will enhance and prolong your olfactory journey. It's also a more affordable way to wear your signature scent, given that less alcohol content means more juice for your money.
---
---
Fragrance layering for your home
Our sense of smell is inextricably linked with memory and emotion, more so than any of the other senses. It follows then that we can use perfume to control and cajole our mood. With the lines between work and home still very much blurred, home scenting is a way to reinstate serenity and balance, as well as furthering our enjoyment of our favourite eau de parfums.
As Emma South, Jo Malone London Fragrance & Lifestyle Expert puts it, "Currently our homes may have taken on a great deal of additional purposes, all whilst remaining the same size and at a time when we need our homes to be a sanctuary of calm," which is perhaps one of the reasons why the home fragrance category boomed during 2021.
The premise of using a nocturnal scent is smart, too. The act of spritzing the same fragrance each evening becomes a ritual, stimulating the limbic system (the part of your brain that controls emotional stimuli) to ready your mind and body for a better night's sleep. As Olivier Polge, Chanel In-House Perfumer Creator, puts it, "I love the idea of a fragrant touch left on a pillow or scarf, rekindling a memory the next day," Sweet dreams, indeed.
1. The best fragrances for your bedroom
---
---
2. The best fragrances for your work space
As we gradually return to the workplace, many of us will be facing a split pattern with some days in the office, and the rest at home. This altered landscape and greater work/life balance means that we need all those parts, previously compartmentalised by a lengthy commute, must now blend and work seamlessly together. This is when fragrance-zoning can be a helpful tool.
"The art of home scenting is about adding to the spatial dimensions of a property, creating and delineating new spaces within an open plan area and also helping to structure the day, creating scented signals that direct us from work to leisure, day to night," explains Emma.
We can all relate to the galvanizing effect a waft of freshly-brewed coffee has on the senses, and using the best Diptyque candles, luxurious diffusers and room sprays to scent your surroundings has the potential to engage the senses in the same way. "There is no rule when it comes to what scents to have in each room," says Emma, "but you may want something fresh and invigorating in the kitchen."
---
---
Sign up to our free daily email for the latest royal and entertainment news, interesting opinion, expert advice on styling and beauty trends, and no-nonsense guides to the health and wellness questions you want answered.
Stephanie Maylor is a Beauty Editor working across five national magazine titles, with almost 15 years' experience in the industry. She has written for many brands, including woman&home, Grazia, Now, More!, Fabulous, NW, Woman, Woman's Own, Woman's Weekly, Essentials, Best, Chat, and OK! online.
In 2010 she launched her own beauty blog, which was shortlisted for Best Beauty Blog in the 2011 and 2012 Johnson & Johnson Beauty Journalism Awards. She has interviewed many high profile industry experts and celebrities including Alesha Dixon, Twiggy and Christina Hendricks.