41 beauty gift ideas for all budgets, hand-picked by our beauty team ready for Mother's Day
Treat the mother figure in your life to one of these brilliant beauty gift ideas this Mother's Day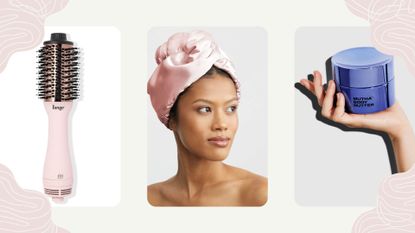 (Image credit: Future)
Our editors have spent hours finding the best beauty gift ideas to buy this March so you can save time shopping for the prefect present for your loved one's birthday or ready for Mother's Day.
From luxurious Diptyque perfumes to Chanel skincare, we all know beauty products make excellent presents and our edit on the best beauty gifts features a wide range of ideas for every kind of giftee.
Whether you're searching for the best Mother's Day gifts or want to treat your teen to an 18th birthday gift they will love, these beauty gift ideas span the whole spectrum of the beauty shelves. Consider us your trained eye. As spoiled beauty editors, we've seen endless options for all sorts of beauty gift ideas. We may be notoriously, horribly difficult to buy for, but we're also truly excellent at picking presents and can pinpoint exactly what's worth spending your hard-earned cash on.
So, we've done all the hard work for you, personally selecting and curating this list of the most beautiful, trendy, and glamorous beauty gift ideas. With everything from the best skincare products to the best scented candles these beauty gift ideas will be sure to surprise and delight.
41 beauty gift ideas, picked by our beauty team
Why you can trust Woman & Home Our expert reviewers spend hours testing and comparing products and services so you can choose the best for you. Find out more about how we test.
1. Chanel Nº5 The Gold Body Oil
Reasons to buy
+
Ultra glamorous
+
Nourishes skin and adds glow
+
Generous 250ml size
Show me a woman who doesn't want this and I'll show you... well, someone immune to the lure of Chanel + golden shimmer who should consider donating her brain to science, truth be told.
You really don't need me to tell you why this would make a great beauty gift. But if you're asking, it's because this luxurious oil is an absolute stunner, both in the bottle and on the skin. It's got a very fine gold shimmer that translates as a juicy highlight effect on the body and is delicately fragranced with Chanel Nº5 (easily the most iconic and, to many, the best Chanel perfume of all time) It's a luxury buy for sure, but the bottle is very generously sized and a little goes a long way.
2. Sol de Janeiro Brazilian Crush Cheirosa 62 Perfume Mist
Reasons to buy
+
Warm, sweet everyday scent
+
Cult-favorite
+
For hair and body
+
Vegan and cruelty-free
If she's huge on smelly goods and a fan of the best vanilla perfumes, Sol de Janeiro's Crush Cheirosa 62 Perfume Mist will be a winner. The iconic scent is filled with warm and sweet fragrance notes, with its main scents being vanilla and caramel. And it's not just a body mist. With it being a hair and body perfume spray, you can spray it from head to toe, literally!
With over 3,000 five-star ratings and being our personal favorite, we're pretty confident they'll love this just as much as the cult favorite cream, if not more. And if you're looking for a gen z-approved gift they'll actually love and use, the chances are this bottle of deliciousness is already on their wishlist.
3. Victoria Beckham Beauty Satin Kajal Jewel Liner
Reasons to buy
+
Perfect party makeup
+
Luxurious and beautifully made
+
Choice of three shades
When buying makeup as a present, we often center the search around gift sets or huge palettes with innumerable options. But actually, one perfect piece might be far better received. Like this, a beautiful new jewel-toned liner from Victoria Beckham Beauty (a brand known for creating some of the best eyeliners in the 'biz)
It comes in three tones, Gold Lamé, Night Flash and Sequin Green, all of which are highly glamorous. The texture is creamy and smudgeable but the pigment sets down and lasts incredibly well. As with everything VB, the packaging is chic and we love the handy little smudger on the end, too.
4. Dior Rouge Dior Minaudiere
Reasons to buy
+
A keepsake mini-clutch plus makeup
+
The ultimate gift for lipstick lovers
+
Four refillable Rouge Dior lipsticks
One for someone you love very much indeed. This Dior set bridges the beauty and fashion worlds by popping four highly wearable shades of lipstick (Enchanted Pink, Midnight Rose, Mystic Plum, and Rouge Fortune) into an elegant micro-clutch, with a gold chain strap and removable lipstick holder.
All things considered, that actually makes this not-insignificant price tag a pretty good deal. Beauty gift ideas don't come much more glam than this, down to the shiny CD logo on that cute little case and astrology-inspired embossing on each of the lipstick bullets. Gorgeous.
5. Vieve Skin Dew XL
Reasons to buy
+
Cool cult brand
+
Multitasking makeup
+
XL size feels like a real treat
I'm a big fan of giving people beauty gifts that are a supersized version of something they might buy themselves. That way, you know it's a product they love but it still feels like a decadent treat. Case in point: this XXL version of the cult multitasking cream by makeup artist-founded brand Vieve.
Whether your intended recipient has tried this before or not, they're almost guaranteed to love the dewy gleam it adds to the skin, whether applied like a primer before makeup, a highlighter afterward or used on the body to add a special shimmer. It's hydrating, packed with skincare, and not too shimmery. Plus, this is a very 'if you know, you know' brand, so if you buy it for someone with their finger on the beauty pulse you'll almost certainly get some cool points in return.
6. Treatwell gift card
Reasons to buy
+
Spend as much as you like
+
The gift of beauty treatments
+
They can pick whatever they fancy
Let's be honest, gift cards make life better all around don't they? Better for the buyer, who can be sure they're not going wildly off-piste, and better for the receiver who can actually use it on something they truly love.
And who wouldn't love this? A gift card for Treatwell, the beauty booking platform that gives your lucky giftee the option to arrange any treatment they fancy, from nails to luxe facials and massage at thousands of salons. Cards start from £10 so it also makes a neat Valentine's Day gift idea if you're a bit stuck on what beauty gift to buy. They'll get a nice file and paint mani and you'll save yourself a stressful lunch break trip to the store to find something.
7. 111Skin Black Diamond Eye Edit
Reasons to buy
+
As luxurious as skincare comes
+
Includes active skincare and silk mask
+
Marble design won't need wrapping
Doctor-founded skincare line 111Skin really is as high-end as it gets, with super luxurious products loved by everyone from Jennifer Aniston to Kim Kardashian. That, as well as all the active ingredients they cram into their products, goes some way to justifying the steep old price tag. And if you do have the readies to invest this much on a gift, we'd recommend doing so with this set.
It includes the potent Celestial Black Diamond Eye Cream, three of the cult Celestial Black Diamond Eye Masks, a Celestial Black Diamond Contour Gel and silk sleep mask in a sophisticated marble design. All come gorgeously boxed up and ready to de-puff, treat and hydrate.
8. Tatcha The Water Cream Oil-Free Pore Minimizing Moisturizer
Reasons to buy
+
Luxury skincare
+
Lightweight
+
Oil-free and refreshing
+
Great for all skin types
Give the gift of great skin with one of the best lightweight moisturizers. Enter... the Tatcha Water Cream, an extremely light, cooling, and gel-like moisturizer that works for all skin types.
With ingredients of Japanese botanicals, this cream refines, tightens, and smoothens the skin without the oily finish. And although this water-based moisturizer is perfect for those hot summer days, its hydrating formula will also bring moisture back to dry winter skin, making it the perfect gift year-round.
Give her the best face moisturizer that's not only packed with amazing ingredients but is aesthetically pleasing enough to display on her bathroom counter. And just when you thought this cream couldn't get any better, we almost forgot to mention the included gold spoon that'll give her a high-end skincare experience.
9. This Works Deep Sleep Bath Soak
Reasons to buy
+
Relaxing and pampering
+
Suitable for all ages
+
Feels like a treat without being wildly expensive
If you know someone who cherishes their beauty sleep or perhaps doesn't get quite enough, give them the gift of a good night's sleep with these incredibly hardworking bath salts, blended with lavender and vetivert. This is one of those beauty gift ideas that's bound to make even the most stressed of minds find balance and calm and encourage them to nod off. A word of warning - after using these, I was almost comatose afterward. Definitely one to use before bed, rather than in the middle of the day.
10. Jo Loves Golden Gardenia
Reasons to buy
+
Crowd-pleasing scent
+
Gorgeous packaging
+
Sparkly and glam, without being overly so
Perfumes are one of the best 40th gift ideas, treating your recipient to a thoughtful, uplifting scent. While they can be an incredibly personal purchase, this warming, luxurious perfume is sure to be a crowd-pleaser. It's one of the best floral fragrances I've tried in recent years, and the gold packaging gives it an extra luxe touch.
11. Diptyque COLLECTION 34 BOULEVARD SAINT GERMAIN Candle
Reasons to buy
+
The best known luxury candle brand
+
Scent that most will love
This practical and luxurious present would make one of the best housewarming gifts for a beloved friend. The best Diptyque candles might be pricey but once you've experienced the utterly delicious scent of this limited-edition candle you'll quickly understand that the investment is justified. A rich blend of woody notes with crushed blackcurrant leaves creates a unique, addictive scent. The classic jar adds to the appeal and can be used to store makeup brushes once the candle burns down. Double win.
12. Byoma Hydrating Trio
Reasons to buy
+
Brilliantly affordable
+
Great for difficult-to-buy-for teens
+
Effective, fuss-free skincare
For the skincare savvy, or teens in your life who are getting to know their skincare ingredients, this three-piece gift set is a must. It's by cool US brand Byoma, who have a focus on fuss-free, hardworking skincare that's designed to keep the skin barrier content. It's the perfect introduction to the world of skincare, that won't harm delicate skins. The packaging happens to be especially pleasing too.
13. Drowsy Sleep Co Silk Sleep Mask
Reasons to buy
+
Beautiful luxury mulberry silk
+
Unisex
+
Available in nine colors
I wear an eye mask to sleep every night, so I'd consider myself a connoisseur. This, as far as I'm concerned, is the Rolls Royce of the eye mask world. It's made of sumptuous, nicely padded, super-soft mulberry silk. It wraps around your head without digging in, and I really like that the wide band goes all the way around - giving a tiny bit of noise cancellation, which is a nice bonus. It washes like a dream too, which hasn't been the case with a lot of my other, more expensive silk masks.
14. Slip Silk Pillowcase
Reasons to buy
+
Available in multiple colors
+
Will treat skin and hair
+
High quality silk
The beauty gift they didn't know they needed. Silk pillowcases are the best way to tame frizzy hair, and they also help prevent sleep lines. Slip is the brand I recommend the most for high-quality, soft silk that washes well, and these pillowcases are available in a vast array of colors and sizes, so you can match their bedding of choice.
15. Aesop RESURRECTION AROMATIQUE HAND BALM
Reasons to buy
+
Beautiful fresh scent
+
Pampering treat
+
Effective, softening hand cream
Sometimes the best gifts are things that you love, but could never justify buying. Case in point: this ultra-fancy hand cream. Would you ever spend this much on hand cream for yourself? Unlikely. But should you spend this much on hand cream for someone you love? Absolutely. This posh cream is one of the ultimate beauty gift ideas. It has a fresh herbal scent with a zingy citrus twist. Your loved ones will love using every last drop.
16. The Flatlay Co Makeup Bag
Specifications
RRP: From £19.89 (UK only)
Reasons to buy
+
Useful and pretty
+
Available in many prints and colors
+
Affordable
+
Great for travel
Are you struggling to find a gift for someone who has everything? Well, look no further. Let's be honest, beauty cases can get grubby pretty quickly, so just about everybody appreciates being given a shiny new one, particularly if it's as beautiful as this. It's also a clever buy - it opens out fully flat, so when you're traveling, you can open it up and see all your products - no digging around trying and failing to find your best mascara in a rush. It's available in a whole host of colors, but this pink leopard combo brings me joy.
17. Dreem Distillery CBD Night Drops
Reasons to buy
+
Helps aid sleep
+
A little goes a long way
+
High quality, potent CBD
For someone in need of serious TLC, I'd recommend these potent CBD drops. The list of benefits of CBD are endless, but CBD for sleep is one of the best-known ones. This is one of the best CBD products I've ever tried. In fact, I took a couple of drops of this after a long, over-tired week and slept for a solid 13 hours. I was essentially reborn. I immediately bought one for my friend who struggles to sleep - she was similarly evangelical.
18. Gucci Rouge A Levres Voile Lipstick
Reasons to buy
+
Luxury brand
+
Neutral shade that will go with many makeup looks
+
Gorgeous packaging
Makeup fanatics will love this heavenly lipstick by Gucci. Not only is the packaging irresistible, but the pink-tinted nude is the ultimate goes-with-everything shade. Who said neutral lipstick has to be boring? When it comes to picking the perfect nude lipstick for your giftee, this is a pretty good suits-all shade, thanks to that little spike of rose pink.
19. Glossier The Makeup Set
Reasons to buy
+
Great for everyday makeup
+
Boy Brow keeps eyebrows in place all day
+
Pigmented liquid blush
+
Simple, easy makeup
This Glossier trio was made for the giftee who isn't big on full-glam makeup looks but is fine with a few coats of the best drugstore mascara and a little blush for color. This makeup set includes Glossier's beloved Boy Brow gel pomade (which I can attest is amazing at keeping your brows in place), a pigmented liquid blush, and lengthening mascara. And if you're looking for the best 18th birthday gift, this trio is the perfect makeup starter kit for those entering the beauty world.
20. Diptyque Do Son Solid Perfume
Reasons to buy
+
Strong flowery scent
+
Long lasting
+
Gorgeous packaging
If your giftee's perfume collection consists of the best flower fragrances, introduce her to the best solid perfumes. And Diptyque Do Son is the best of the best. This solid perfume will be her number-one beauty staple, with strong scents of orange blossom, tuberose, and jasmine. We love the spray version of this scent, but with the solid perfume's long-lasting formula and being half the cost, we love this version even more. And the best part? It's refillable!
21. Ardell Magnetic Accents Lashes 001
Reasons to buy
+
No adhesive needed
+
Easy application
+
Natural looking
+
Adds volume and length
Is there anything more glamorous than a set of the best false eyelashes? Whether they want to achieve a dramatic eye look or an immediate high-impact, minimal-effort makeup look, they'll appreciate this set. Although a pack of lashes isn't the fanciest gift, it's a useful gift she'll thank you for. We love how light and natural-looking these eyelashes are. No one will know if she got them done professionally or did them herself. And if she doesn't know how to apply false lashes, these Ardell falsies make things easier with their magnetic lash band.
22. KNC Beauty All Natural Retinol Infused Eye Mask
Reasons to buy
+
Hydrates and depuffs under eyes
+
No parabens and sulfates
+
Luxurious pampering treats
+
Cute, star-shaped eye mask
It's not every day you see cute-shaped eye masks that are retinol infused and made with natural, nourishing ingredients. KNC Beauty is a Black-owned beauty and skincare brand with products that keep your skin naturally fresh. The brand has many colorful and cute facial items, such as these star-shaped retinol-infused eye masks.
Your giftee will love adding these to their self-care morning routine. Their under eyes will be hydrated, bright, and puffy-free. And if you want to start them with a luxe KNC Beauty bundle, you can throw in the cult-favorite collagen-infused lip mask.
23. Le Labo Multipurpose Balm
Reasons to buy
+
Handy multitasker
+
Will fit into handbags and pockets
+
Unisex
Add a touch of luxury to the every day, by gifting your loved one the ultimate elevated handbag essential. Dry cuticles? Thirsty skin patches? This deliciously scented balm will do a bit of everything. It uses a blend of shea, mango, and kokum butter to soften skin. The scent is classic Le Labo, too - bergamot and lavender with tonka bean. Lush.
24. CurrentBody Skin LED Light Therapy Mask
Reasons to buy
+
High quality LED
+
Flexible and comfortable
+
Can be used with hydrating mask
+
The ultimate gift for skincare obsessives
Great skin is always in style and so are LED light masks. The CurrentBody Skin LED Mask is one of the best at-home red light therapy devices and makes the perfect beauty gift for skincare obsessives of any complexion type. Not only is helping clear acne one of the key benefits, but it's also incredible for boosting collagen and keeping skin looking plump and bouncy. It's like having a three-minute professional facial every day. Expensive, yes. But if you're looking to splurge on someone who really deserves it, look no further.
25. ghd curve thin wand
Reasons to buy
+
Creates on-trend '90s curls
+
Easy to use
+
Works on all hair types
There are so many heat styling tools to choose from, but I'd recommend this curl styler for wish lists this year. The '90s perm style is coming back with a vengeance, and this tool is the key to cheating the look (without having to commit to a scary perm). I use it in my curly hair to tidy up any loose waves for special occasions. An underdog, but a brilliant gift.
26. Olaplex Bonding Duo
Reasons to buy
+
Hair repair at the highest level
+
Sought-after brand
+
Recommended by hairdressers
If you know someone who's obsessed with keeping their hair in tip-top condition, they're going to love this offering from the cult brand Olaplex. This hair repair brand has achieved rave reviews for its salon treatments and some of the best hair masks on the market, becoming synonymous with sorting out damage for all hair types. This duo will keep all hair types healthy and happy.
27. Floral street the discovery set
Reasons to buy
+
A chance to try a few different scents
+
Miniatures are useful for travel
+
Supports a small business
I'm a huge fan of Floral Street's scents, and this collection is the perfect way to try them all out. I gifted this to my friend before getting married, then surreptitiously found out her favorite before gifting her the full-sized bottle to wear for her big day. She told me it was her best wedding gift ever - personal, and a little bit sneaky. See? I told you I was good at this.
28. Chanel Le Vernis in Étoilé
Reasons to buy
+
Can be worn alone or as a top coat
+
Chanel always sets the nail trends
+
A perfect little luxury gift
This amber top coat is a seasonal limited-edition with bags of beauty gifting appeal. There is something timeless and chic about giving your loved one a single Chanel Le Vernis.
This warm shimmering tone can be worn alone as a sheer wash, built up into an opaque amber or, our personal favorite, worn as a top coat over your favorite moody hue (it looks incredible over Chanel Rouge Noir) It's worth noting that the shimmer in this is ultra-fine. It's subtle and polished, perfect for those who prefer a pared-back nail vibe.
29. Revlon One-Step Hair Dryer and Volumizer Hot Air Brush
Specifications
RRP: : From $37.45 / £40.49
Reasons to buy
+
Adds bounce and volume
+
Salon blowout finish
+
Glides easily
+
Affordable
Give the beauty-lover in your life one of the best hair dryer brushes because chances are it's already on her beauty wishlist. Rated as the overall best in our dryer brush guide, the Revlon One-Step Hair Dryer and Volumizer Hot Air Brush gives you a salon blowout finish without the salon price. We love how easily this dryer brush glides even through the thickest hair texture. This Revlon hot air brush does heat up quickly, which is great for those days when you're pressed for time, but we do recommend applying heat protection for hair beforehand to help prevent heat damage.
30. Esarora Ice Roller for Face & Eye
Specifications
RRP: From $18.99 / £28.81
Reasons to buy
+
Feel-good cooling effect on face
+
Eliminates puffiness
+
Detachable head
+
Affordable
+
High-ratings
The perfect 21st birthday beauty gift for a post-hangover, self-care morning, or a great Mother's Day gift idea for a pampered day at home, this ice roller is one of the best facial rollers to smooth out puffy eyes while rejuvenating the skin. And no need to worry about buying batteries. This face roller is battery-free. Your giftee can place this roller in the freezer to experience the amazing facial cooling effect.
31. Sigma Beauty Essential Trio Brush Set
Reasons to buy
+
Travel-friendly brush set
+
Beginner-friendly
+
Soft and high quality
+
Affordable
The Sigma Beauty Essential Trio Brush Set is an excellent gift if your beauty giftee is always on the go. This set includes an angled face brush and two classic eye brushes for blending and eye shading. Its convenient size makes it easy to throw in a purse or carry-on bag, and it's the perfect everyday makeup brush set, making for a useful gift.
32. Foreo Luna 4 Facial Cleansing & Massage Device
Reasons to buy
+
Cleanses and massages face
+
Eight adjustable intensities
+
300 uses per charge
+
Portable
What better way to end a long day than with a small cleanser and face massager duo that removes all the dirt and makeup in one minute while you enjoy an intensified face massage? The Foreo Luna 4 is the perfect gift to spoil the beauty lover in your life. The facial tool has eight massage settings, silicone touch points, and a long-lasting battery life with 300 uses per charge.
33. French Girl Nail & Cuticle Oil
Reasons to buy
+
Strengthen nails and stimulates growth
+
Rollerball applicator
+
Hydrates cuticles
+
Travel size
A gift they didn't know they needed, the French Girl Nail and Cuticle Oil is small but useful and the perfect add-on to a DIY beauty gift bundle. The oil is great for keeping your cuticles hydrated during winter months and makes for a shiny and professional finish for at-home manicures. And did we mention it's a rollerball applicator? An even better reason to buy!
34. Chanel Le Lift Eye Revitalizer
Reasons to buy
+
Reduces puffiness
+
Helps with dark circles
+
Restores skin
+
Luxury skincare gift
Just about any giftee would love receiving a Chanel gift, and if investing in a skincare routine is one of their 2023 goals, then what better way to help them kickstart their new skincare journey than with a Chanel under-eye set?
Yes, these aren't the most affordable under-eye patches, but it's a luxury beauty gift worth buying for a very special giftee. The Chanel Le Lift Eye Revitalizer features a cooling roll-on serum and 10 hydrogel patches sets for a firm, rejuvenated under-eye.
35. Koolatron Portable Cosmetics Fridge with LED Lighted Mirror
Reasons to buy
+
Built-in LED lighted mirrored door
+
Lightweight with retractable carry handles
+
Removable shelf
Bring the spa to their home with one of the best skincare fridges to keep their beauty products in tip-top shape. This aesthetically pleasing Koolatron mini fridge is the ultimate beauty gift, serving as a refrigerator for skin products and a mirror you can use while applying your skincare or makeup. And its Dimmable LED lighting makes this gift even better.
36. Vanity Planet Outlines Facial Steamer
Reasons to buy
+
Picked as best in class by our beauty editors
+
Suction cups to prevent slipping
+
Can use essential oils in the three oil wells
A multi-functional beauty gift they'll love and use, the Vanity Planet Outlines Facial Steamer is sleek and pretty and the perfect beauty appliance to detoxify and soften your skin. Our experts chose this Vanity Planet steamer as one of the best facial steamers, with its quick water heating, essential oils use, and nozzle adjustments being a few things that set this steamer apart from others on the market.
37. L'ange Le Volume 60mm Dryer Brush
Reasons to buy
+
2-In-1 dryer and brush means more ways to use it
+
Blow dries all hair types
+
Three-heat settings to minimise hair damage
+
Salon blowout results
Want to buy your favorite gal pal a beauty gift that'll save her trips to the salon and make hair wash days easier? The L'ange Le Volume is the best hair dryer brush and the perfect gift option. From its gorgeous pink exterior to its three-heat settings that leave your hair soft, frizz-free, and silky, this dryer brush is everything plus more. Our shopping writer tested the L'ange dryer brush on her thick curly hair and was left impressed with how straight and bouncy it made her hair.
If you need more persuading, check out our L'ange blow dryer brush review.
38. Zara Deep Garden Perfume
Reasons to buy
+
Light floral scent
+
Long-lasting making it great value for money
+
Great for layering with other scents
The best Zara perfumes are not only affordable but they are also brilliantly long-lasting. If your giftee has been talking about adding a new spring fragrance to their collection, I highly recommend snagging Deep Garden. I purchased this floral scent last spring in the 90ml and just restocked it with the 100ml for this year.
This perfume is long-lasting and has the perfect amount of lightness for your lucky recipient to layer with her other scents, but it is strong enough to wear alone. And with it only costing $25.90/£17.99 you might want to grab one for yourself at the same time.
39. Kitsch Microfiber Hair Towel
Reasons to buy
+
Quicker drying time
+
Microfiber material is gentle on all hair types
+
Keeps hair frizz-free
+
Secures hair in place
+
Cute colors and designs
A hair towel is another beauty gift they'll never stop thanking you for because nothing is worse than dripping, wet hair or a towel that won't stay wrapped. The Kitsch Microfiber Hair Towel keeps your washed hair out of your face and off your shoulders while protecting it from breakage, snagging, and tangles.
Don't be surprised if you see your giftee wearing this way past the drying time. This hair towel comes in many cute prints and colors. It'll become an accessory to her outfit.
40. Supergoop! Unseen Suncreen SPF 40
Reasons to buy
+
Doesn't leave white cast
+
Weightless and works like a primer for a 2-in-1 beauty benefit
+
Suitable for all skin types and tones
+
Sensitive skin friendly
Although we should wear sunscreen all 365 days of the year, having the best facial sunscreen handy is crucial for healthy skin as we transition into the spring and summer months. One sunscreen I would recommend to any, and everyone is the Supergoop! Unseen Sunscreen SPF 40. This sunscreen will become a staple in their makeup and skincare routine from its invisible finish to its powerful and skin-benefiting ingredients.
I've been using this sunscreen for two weeks now, and I love how it smoothes my pores and grips my face like the best primers.
41. Mutha Body Butter
Reasons to buy
+
Whipped with shea, cocoa, and mango butters
+
A rich cream that feels lightweight
+
Minimizes stretch marks
+
Woman founded
The female-founded beauty brand Mutha all started when Hope Smith, esthetician and mom of four, created a product that helped eliminate stretch marks and was safe to use during pregnancy. This skin product soon became loved by many pregnant women and is now the luxurious Mutha Body Butter that is suitable for all skin types, giving your skin the moisture and softness it deserves.
This hypoallergenic body butter is packed with nourishing ingredients, such as shea, mango, and cocoa butter, as well as fatty acids, vitamins, and pure seeds extracts. And the best part is it minimizes stretch marks! Making it the perfect beauty gift.
Rhiannon Derbyshire is the Senior Beauty Editor for Woman & Home and other publications.
She started interning for glossy magazines while working alongside her Fashion Journalism degree. There, she was lured to the beauty desk, seduced by matte lipsticks, posh shampoos, and every skincare product imaginable. 10+ years into her career, she can confidently tell you why the best mascaras are always high street, and why SPF is a non-negotiable all year round. Ask her about her curly hair routine, skincare minimalism, and how to find the exact right red lipstick