Joy-sparking beauty gift ideas for all budgets and tastes
From luxe perfumes to cult skincare, our beauty ed's top beauty gift ideas are sure to delight your nearest and dearest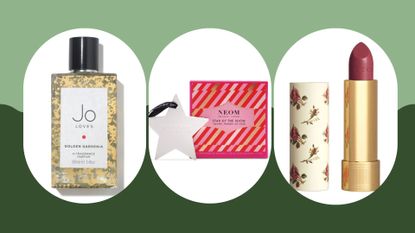 (Image credit: Future)
Searching for beauty gift ideas is a fun task, but it can also be a time-consuming one. We all know beauty products make excellent presents, but with options available for every conceivable taste and budget it can be tricky to narrow down the ideal gift for your special someone.
Whether you're searching for ultra-special 50th birthday gift ideas, a cool buy that'll make the best 18th birthday gift for a picky teenager, or a romantic gift for him or her, these beauty gift ideas span the whole spectrum of the beauty shelves, which can be an overwhelming shopping experience to the untrained eye.
Luckily, you can consider me your trained eye. As a spoiled beauty editor, I've seen endless options for all sorts of beauty gift ideas. This makes me notoriously, horribly difficult to buy gifts for (apologies to my family for that) but also means I am truly excellent at picking gifts. I can pinpoint exactly what's worth spending your hard-earned cash on, whether that's the best hair straighteners for your niece, or adding a touch of luxe to your sister's skincare routine.
So, I've done all the hard work for you, tracking down and curating this list of the most beautiful, glamorous beauty gift ideas. With everything from the best skincare products to the best scented candles these beauty gift ideas will be sure to surprise and delight.
The best beauty gift ideas for everyone
1. Tatcha Japanese Ritual for Radiant Skin
Reasons to buy
+
Luxury skincare treats
+
Worth £127
+
A chance to test out the newly-landed brand
Give the gift of great skin with this luxurious set, which includes four of the Japanese brands' bestsellers, including the Camellia cleansing oil, Rice Polish, Essence and their iconic Silk Cream. The brand only just launched in the UK this year, so this is the ideal option for skincare obsessives. I know I'd be happy to see it peeking out from under the tree when that time rolls around again.
2. This Works Deep Sleep Bath Soak
Reasons to buy
+
Relaxing and pampering
+
Suitable for all ages
+
Feels like a treat without being wildly expensive
If you know someone who cherishes their beauty sleep or perhaps doesn't get quite enough, give them the gift of a good night's sleep with these incredibly hardworking bath salts, blended with lavender and vetivert. This is one of those beauty gift ideas that's bound to make even the most stressed of minds find balance and calm and encourage them to nod off. A word of warning - after using these, I was almost comatose afterward. Definitely one to use before bed, rather than in the middle of the day.
3. Jo Loves Golden Gardenia
Reasons to buy
+
Crowd-pleasing scent
+
Gorgeous packaging
+
Sparkly and glam, without being overly so
Perfumes are one of the best 40th gift ideas, treating your recipient to a thoughtful, uplifting scent. While they can be an incredibly personal purchase, this warming, luxurious perfume is sure to be a crowd-pleaser. It's one of the best floral fragrances I've tried in recent years, and the gold packaging gives it an extra luxe touch.
4. Diptique COLLECTION 34 BOULEVARD SAINT GERMAIN Candle
Reasons to buy
+
The best known luxury candle brand
+
Limited edition 220g
+
Scent that most will love
This practical and luxurious present would make one of the best housewarming gifts for a beloved friend. The best Diptyque candles might be pricey but once you've experienced the utterly delicious scent of this limited-edition candle you'll quickly understand that the investment is justified. A rich blend of woody notes with crushed blackcurrant leaves creates a unique, addictive scent. The classic jar adds to the appeal and can be used to store makeup brushes once the candle burns down. Double win.
5. Byoma Hydrating Trio
Reasons to buy
+
Brilliantly affordable
+
Great for difficult-to-buy-for teens
+
Effective, fuss-free skincare
For the skincare savvy, or teens in your life who are getting to know their skincare ingredients, this three-piece gift set is a must. It's by cool US brand Byoma, who have a focus on fuss-free, hardworking skincare that's designed to keep the skin barrier content. It's the perfect introduction to the world of skincare, that won't harm delicate skins. The packaging happens to be especially pleasing too.
6. Drowsy Sleep Co Silk Sleep Mask
Reasons to buy
+
Beautiful luxury mulberry silk
+
Unisex
+
Available in 12 colors
I wear an eye mask to sleep every night, so I'd consider myself a connoisseur. This, as far as I'm concerned, is the Rolls Royce of the eye mask world. It's made of sumptuous, nicely padded, super-soft mulberry silk. It wraps around your head without digging in, and I really like that the wide band goes all the way around - giving a tiny bit of noise cancellation, which is a nice bonus. It washes like a dream too, which hasn't been the case with a lot of my other, more expensive silk masks.
7. Slip Poolside Queen Striped Silk Pillowcase
Reasons to buy
+
Available in multiple colors
+
Will treat skin and hair
+
High quality silk
While we're on the topic of silk - at the risk of painting myself as a huge diva, I also always sleep on silk pillowcases. It's the best way of taming my frizzy hair, and it also helps prevent sleep lines. Slip is the brand I recommend the most for high-quality, soft silk that washes well, and these pillowcases are available in a vast array of colors and sizes, so you can match their bedding of choice. For a print statement, I'd say stripes are always in style.
8. Aesop RESURRECTION AROMATIQUE HAND BALM
Reasons to buy
+
Beautiful fresh scent
+
Pampering treat
+
Effective, softening hand cream
Sometimes the best gifts are things that you love, but could never justify buying. Case in point: This ultra-fancy hand cream. Would you ever spend this much on hand cream for yourself? Unlikely. But should you spend this much on a hand cream for someone you love? Absolutely. This posh cream is one of the ultimate beauty gift ideas. It has a fresh herbal scent with a zingy citrus twist. Your loved ones will love using every last drop.
9. The Flatlay Co Makeup Bag
Reasons to buy
+
Useful and pretty
+
Available in many prints and colors
+
Affordable
+
Great for travel
Are you struggling to find a gift for someone who has everything? Well, look no further. Let's be honest, beauty cases can get grubby pretty quickly, so just about everybody appreciates being given a shiny new one, particularly if it's as beautiful as this. It's also a clever buy - it opens out fully flat, so when you're traveling, you can open it up and see all your products - no digging around trying and failing to find your best mascara in a rush. It's available in a whole host of colors, but this pink leopard combo brings me joy.
10. Dreem Distillery CBD Night Drops
Reasons to buy
+
Helps aid sleep
+
A little goes a long way
+
High quality, potent CBD
For someone in need of serious TLC, I'd recommend these potent CBD drops. The list of benefits of CBD are endless, but CBD for sleep is one of the best-known ones. This is one of the best CBD products I've ever tried. In fact, I took a couple of drops of this after a long, over-tired week and slept for a solid 13 hours. I was essentially reborn. I immediately bought one for my friend who struggles to sleep - she was similarly evangelical.
11. Gucci Rouge A Levres Voile Lipstick
Reasons to buy
+
Luxury brand
+
Neutral shade that will go with many makeup looks
+
Gorgeous packaging
Makeup fanatics will love this heavenly lipstick by Gucci. Not only is the packaging irresistible, but the pink-tinted nude is the ultimate goes-with-everything shade. Who said neutral lipstick has to be boring? When it comes to picking the perfect nude lipstick for your giftee, this is a pretty good suits-all shade, thanks to that little spike of rose pink.
12. Boy Smells Hypernature Votive Trio Candle Set
Reasons to buy
+
Beautifully packaged
+
Trio of scents
+
Fashion-forward brand
People can get snarky about luxury candles but even I, the most difficult person on earth to buy for, am always happy to receive one. You just can't go wrong - it's something they're unlikely to buy themselves, but feels like a touch of affordable luxury. My only stipulation is that you force whoever you bestow with these beauties to actually light them, and not just 'save them for best' (my pet peeve). Perhaps the addition of a posh box of matches in the gift bag will give them the push.
13. Neom STAR OF THE SHOW CERAMIC NATURAL DIFFUSER
Reasons to buy
+
Bargain
+
Multipurpose and useful
+
Reusable for years
A perfect little stocking filler. This star-shaped ceramic diffuser will hold onto any scent you spritz it with (I'd recommend some essential oils to give it better staying power). Hang onto door handles, wall hangings, or even onto your tree for an easy, fuss-free way to scent your home. It's the perfect holiday accessory, but it can be used all year round.
14. Dr Jart+ Cicapair™ Skin Soothing Gift Set
Reasons to buy
+
Ultimate skin soother
+
Hardworking products
+
Beauty classics to please skincare fans
I'm a huge fan of Dr Jart's skincare, but they're probably best known for their Cicaplast range, which is included in many of the best skincare routines for rosacea. This set includes a foam cleanser, a repair cream, a serum as well as a full-sized Tiger Grass Color Correcting Treatment, which is one of my all-time favorite buys. The set is worth £52, so it's a brilliant saving, too.
15. Elemis The Story of Frangipani Monoi Gift Set
Reasons to buy
+
Luxurious pampering treats
+
Incredibly delicious scent
+
Full sized products within a beautifully packaged box
One word to describe this scent? Heaven. I hoard bottles of the brands' best body oil, in the Frangipani scent, so doubling up the scent with this duo of a shower cream and body cream, is the dream gift. It'd be the ultimate pick-me-up during the dreary winter months. The box they're housed in is especially beautiful too - no need for gift wrap.
16. Le Labo Multipurpose Balm
Reasons to buy
+
Handy multitasker
+
Will fit into handbags and pockets
+
Unisex
Add a touch of luxury to the every day, by gifting your loved one the ultimate elevated handbag essential. Dry cuticles? Thirsty skin patches? This deliciously scented balm will do a bit of everything. It uses a blend of shea, mango, and kokum butter to soften skin. The scent is classic Le Labo, too - bergamot and lavender with tonka bean. Lush.
17. Dr Dennis Gross Spectralite LED Mask
Reasons to buy
+
High quality LED
+
Incredibly effective treatment
+
The ultimate gift for skincare obsessives
Great skin is always in style. I've dedicated an entire light therapy for acne article to this mask and I can think of no better present for skincare obsessives of any complexion type. Not only is helping clear acne one of the key benefits, but it's also incredible for boosting collagen and keeping skin looking plump and bouncy. It's like having a three-minute professional facial every day. Expensive, yes. But if you're looking to splurge on someone who really deserves it, look no further.
18. ghd curve thin wand
Reasons to buy
+
Creates on-trend '90s curls
+
Easy to use
+
Works on all hair types
There are so many heat styling tools to choose from, but I'd recommend this curl styler for wish lists this year. The '90s perm style is coming back with a vengeance, and this tool is the key to cheating the look (without having to commit to a scary perm). I use it in my curly hair to tidy up any loose waves for special occasions. An underdog, but a brilliant gift.
19. Olaplex Bonding Duo
Reasons to buy
+
Hair repair at the highest level
+
Sought-after brand
+
Recommended by hairdressers
If you know someone who's obsessed with keeping their hair in tip-top condition, they're going to love this offering from the cult brand Olaplex. This hair repair brand has achieved rave reviews for its salon treatments and some of the best hair masks on the market, becoming synonymous with sorting out damage for all hair types. This duo will keep all hair types healthy and happy.
20. Floral street the discovery set
Reasons to buy
+
A chance to try a few different scents
+
Miniatures are useful for travel
+
Supports a small business
I'm a huge fan of Floral Street's scents, and this collection is the perfect way to try them all out. I gifted this to my friend before getting married, then surreptitiously found out her favorite before gifting her the full-sized bottle to wear for her big day. She told me it was her best wedding gift ever - personal, and a little bit sneaky. See? I told you I was good at this.