The best hair dryer for a professional blowout at home—from top-rated brands like Dyson and GHD
Picking the best hair dryer can be a challenge, so we tested the best models for every hair type, concern, and budget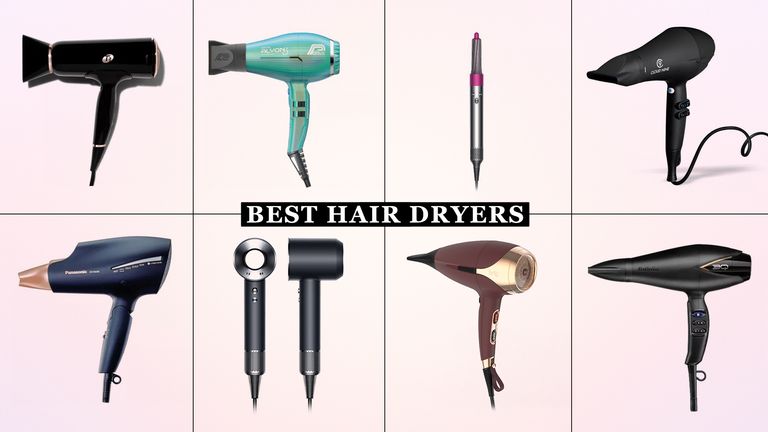 (Image credit: Future)
If you want to know what the best hair dryer is, you're not alone. Regardless of where you sit on the low-to-high-maintenance scale, this is one beauty tool that just about everyone uses.
In fact, a recent Philips Global Beauty Index survey found that 76% of women used a hair dryer at home, making hair dryers the most popular beauty tool among 12,000 women surveyed. Just like with the best hair straighteners, there are countless models available, ranging from simple lightweight dryers to super-covetable high-tech models like the Dyson Supersonic, so it makes sense to seek guidance when looking for the best hair dryer to create salon-worthy styles at home. Just don't forget to have heat protection for hair in your arsenal.
Choosing the best hair dryer for your hair type: key features to look out for
When it comes to selecting the best hair dryer, it's imperative to assess the features offered. More importantly, how they work for your hair type. For instance, adjustable heat and speed settings are ideal for all hair textures—since both accelerate the styling process and thereby help minimize heat damage and frizz. The same goes for most included attachments, which can be maneuvered to your preference.
There are several attachments to consider during your shopping journey. Concentrators, for example, work well for everyone because they enable the dryer to blow air directly onto hair. The key, however, is selecting the right size. Broad and extended nozzles cater to thick, long locks as they cover more surface area; while narrow concentrators are perfect for hyper-targeting unruly curls and frizz. Comb nozzles are similar to concentrators, but they feature comb-like teeth at the end, allowing users to dry hair sans brush or comb.
Those with wavy to corkscrew locks should opt for a hair dryer that comes with a diffuser attachment—something that users with thin, fine hair don't necessarily need unless they want more volume. Diffusers not only speed up the drying process but also add body and enhance wave and curl patterns.
How we selected and tested our best hair dryer picks
Beauty editor Fiona McKim tested these best hair dryer picks repeatedly over several weeks. She weighed up every aspect of the dryers, from the way they feel in the hand, weight, ease of controls and cleaning, as well as a rundown of special technical features. With this in mind, there were a few variants that didn't make the final cut, namely cordless hair dryers and bonnet hair dryers, which, after research, did not live up to their promises in terms of performance, so we sadly couldn't include any model of this type in our best hair dryer edit.
In this guide, as well as a review of what each dryer is genuinely like to use, you will find technical information, including the weight, power, and warranty for each hair dryer, because we believe these details are just as important when it comes to making a purchasing decision. We'll also provide information on the different types of hair dryers, from ionic to salon professional, as well as the answers to all your hair dryer questions, like "Do I need a cold shot or a diffuser?" and "How powerful does a hair dryer need to be?" You'll find these details at the bottom of this guide.
The best hair dryer, as reviewed by our experts
Best powerful hair dryer
Specifications
RRP: $399.99/£299
Weight: 1.5lb/659g
Power: 1600W
Warranty: 2 years
Reasons to buy
+Nimble, stylish design+Fast, powerful and quiet+Reduced hair damage +Excellent user experience
Reasons to avoid
-High price -Magnetic nozzle can be unstable
Let's get the obvious out of the way first: Not everyone has hundreds of dollars to budget for beauty, and you certainly don't need to spend that much to buy a quality hair dryer (there are plenty of excellent budget-friendly choices on this list). But, if you are planning to make a sizeable investment, it's easy to see why the Dyson Supersonic has such a devoted fan base, and why we had to write up a Dyson hair dryer review in our best hair dryer guide.
As you'd expect from the brains that managed to turn vacuum cleaners into a bonafide status symbol, the spec is impressive. The main selling point is power, generated from a 13-blade digital motor, positioned not in the head of the dryer, as is the industry norm, but in the handle. Said motor sends 13 liters of air per second up to the head, which is then multiplied to 41 liters and checked 20 times per second to maintain a precise temperature. The aim is fast, controlled drying and styling without the damage of extreme heat. The dryer runs at a relatively low 1600W, proving bigger isn't always better when it comes to power.
So, what's it actually like to use? In a word, impressive. Considering how much technology the Dyson packs in, the experience is pleasingly pared back, with three speed controls and four heat, plus a cold-shot button. Tap the power button and it whooshes right to full speed, not a second wasted warming up, plus it's noticeably quiet and a dream to control, thanks to that handle-based motor (why didn't anyone think of that before?).
When tested with the styling concentrator and smoothing nozzles, it left a lovely shine on fine hair without flattening it down and there's a third diffuser attachment for curls, too. A rough dry without any of the nozzles did leave our hair a bit fluffy, so we'd recommend using one of the three. They attach magnetically, which is handy when you snap them on, less so when they on occasion click back off of their own accord. We also managed to loosen the little vent at the base of the handle after a couple of months of continuous use, but needless to say, these are minor gripes in this Dyson hair dryer review.
We're nitpicking because, overall, the Dyson Supersonic experience is pretty peerless—as to whether you have $400 to spend, we'll leave that up to you. Fortunately, there are plenty of best Dyson hair dryer deals out there, too.
See our full Dyson Supersonic hair dryer review
Best ionic hair dryer
Specifications
RRP: $249/£159
Weight: 1.72lb/780g
Power: 2200W
Warranty: 2 years
Reasons to buy
+Sophisticated look and feel +Powerful, highly concentrated airflow+Ionic technology for smoothness+User-friendly controls
Reasons to avoid
-Upper end of the weight spectrum-Diffuser attachment sold separately
When GHD launches a product, we pay attention. As an innovator, the brand foresees what consumers want even before we do. (Case in point: GHD launches the original styler; suddenly we all want poker-straight hair.)
The all-new GHD Helios Professional Hair Dryer promotes fancy claims, namely that it is the brand's lightest, fastest professional dryer. It offers ultra-powerful drying performance and salon results, with 30% more shine when tested on 101 women compared with their usual dryer.
Compared to previous GHD models, it's sleeker, and you can pick from five colors—classic black, ink blue, powder pink, white, and, our personal favorite, classy plum with gold accents. The casing is matte with a velvety texture that feels very sophisticated. At 1.72lb/780g, it isn't the lightest option we tested. Even so, it feels nimble and easy to maneuver due to its ergonomic design. The weight is balanced fairly equally between handle and head.
Beyond good looks, the GHD Helios offers unparalleled performance and, naturally, rightfully earning its spot in our best hair dryer list. The dryer features a light, brushless motor that boasts airflow of 120kph, and you can certainly feel that power when you flick it on to full heat and speed. The dryer whooshes into action, albeit in a reasonably quiet way.
Additionally, it includes powerful ionic technology. The dryer releases negative ions to smooth as you dry. (For more information on ions, see our cheat sheet at the bottom of this article.)
And boy does it smooth unruly tresses. In fact, w&h beauty director Sarah Cooper-White, who helped vote this dryer as our top hair tool in the 2020 W&H Hair Awards, says it gives her the sleekest, fastest blow-dry she's ever managed at home.
Ultimately, this smoothing effect can be attributed to powerful ions, a highly concentrated airflow, and an ultra-slimline nozzle. Together, these elements grant users greater control over styling.
The Helios includes user-friendly settings: two speeds, two heats, and one cool shot button. Unarguably, we'd say this is more than enough, and anything more would be superfluous.
Overall, the GHD Helios is a brilliant all-rounder. It features incremental improvements on prior technology, but nothing that will alienate or annoy those who love older GHD models. This powerful tool makes for a satisfying and ultra-speedy—if not 100% silent—drying experience.
See our full GHD Helios hair dryer review
Best salon hair dryer
Specifications
RRP: $279/£129.95
Weight: 1lb/456g
Power: 2250W
Warranty: 1 year
Reasons to buy
+Compact and extremely light+Reliable and durable +Stylish design +Simple controls
Reasons to avoid
-No bells and whistles
If you ask a room full of hairstylists to name their best hair dryer, expect Parlux to win the majority vote. This Italian brand has amassed a fierce cohort of loyalists, and, after testing its merits, we can certainly see why.
As far as aesthetics go, this dryer can reasonably be described as sexy. It comes in 10 colors, from inky matte black to bright corals and yellows. (We tried peacock-like jade.) Thanks to its prism exterior, the dryer reflects unique shades, depending on the light.
By design, it's small, sleek, and incredibly light, slightly heavier than the GHD Flight: a travel dryer. Still, it boasts a muscular 2250W of power. You'll notice the power right away, especially considering how little the hair dryer weighs. In short, it's a dream to dry even thick hair—no achy arms.
Looks and feel aside, the Parlux Alyon includes a fair number of useful features. The heat and speed options are practical and uncomplicated—to operate, simply flick the switch on the side of the handle. This proved surprisingly handy for mid-dry temperature adjustments: We were able to intuitively use our thumbs instead of having to pull the dryer away to see which button we were pressing.
Since it's ionic, the dryer helps prevent frizz and damage, while the K-Advance Plus motor promises powerful airflow and a robust lifespan of at least 3,000 hours. Additional touches include two smoothing nozzles in the box, plus a tactile cool button that has a satisfying click. Ultimately, these are signatures of the Parlux brand that you'll rarely find elsewhere.
The dryer also features a patent-pending HFS "Hair Free System"—a tiny corkscrew within the back vent that catches and prevents hair from getting trapped in the dryer. Though it appears tricky, this feature is quite simple to master, with a 10-step instruction booklet included. Still, we aren't convinced it deserves such fanfare compared to an ordinary twist-off vent.
See our full Parlux Alyon review
4. Remington Thermacare Pro 2400
Best cheap hair dryer
Specifications
RRP: $39.99/£44.99
Weight: 1.6lb/724g
Power: 2400W
Warranty: 3 years
Reasons to buy
+Good value +Relatively light
Reasons to avoid
-Less luxurious materials-Black attachments jar visually
Call it the tech takeover of beauty, call it pink tax—whatever's happened, it's fair to say the cost of all the best hair dryer picks has been on a steep incline for a few years now. But that doesn't mean you can't find something great at a price that doesn't require a sharp intake of breath before you hit "add to cart." Enter the Remington Thermacare Pro 2400.
After testing many hair dryers costing north of $100, it's tricky to approach a below-$50 model without making assumptions about its comparative performance, but the Thermacare Pro 2400 blew those misconceptions away.
It looks the part, with nice creamy white and muted gold casing that did feel a smidge plasticky, but pleasant enough to hold. The technical spec matches up to its pricier counterparts in many ways; it's got ionic technology and a ceramic grille for evenly spread heat. The motor sends out 90km/56mi of air per hour and boasts double the lifespan and lower noise than the brand's previous models.
As well as three heat and two speed controls, there's a cool shot and a booster button that ramps up the airflow, rough drying roots in double time. This feature did make the dryer noisier, but nothing intolerable. It comes with two styling nozzles and one diffuser, more than the usual offering at this price, and gave me a nice everyday blow-dry in as much time as I would expect from any dryer.
A minor gripe: It would be nice if the nozzles were white, not black, as they looked a little incongruous stuck on the end, but aesthetics are secondary to performance and this performs very well indeed. If you want something nice-looking, powerful, and reliable to give your hair a day-to-day blast without requiring you to sell your firstborn, this could be the best hair dryer for you.
5. T3 Cura Luxe
Best quiet hair dryer
Specifications
RRP: $229.99/£195
Weight: 1.56lb/709g
Power: 1875W
Warranty: 2 years
Reasons to buy
+Enjoyable drying+Digital display and clever controls+Auto pause feature
Reasons to avoid
-A little heavy -Pricy
Among the models we tested, we came to the T3 Cura Luxe with some of the highest expectations, and not only because it gives the Dyson Supersonic a run for its money on the price. Within the beauty industry, T3 has a reputation for innovation and, incidentally, makes our favorite curling wand (the customizable Whirl Trio). So, how did their latest luxury hair dryer measure up?
From the minute you slip it out of its box, the Cura Luxe makes a good impression, all sleek glossy, and black with copper detail; there's a white version, too, if that's your thing. It looks a tad large compared with some of the others we tried. (It's about 25cm long, compared with 21cm for the Remington and Parlux.) But fortunately, it doesn't feel clunky in hand. The display is digital, which feels very swish—click one button to flip up and down five heat settings or two speeds. The cool-shot button is lockable, too, making life easier if you need to set a head of thick hair—no sore thumb from holding it down.
As mentioned, this is a brand known for moving the needle, and there's plenty of that going on in the Cura Luxe. Its most unique feature is the auto-pause—take your fingers off the handle and put the dryer down, and it automatically stops airflow, resuming only when you pick it back up again. You can imagine how useful this proved when attempting a big bouncy blow-dry with various round brushes. It takes a couple of seconds to notice it's been dropped and self-pause, but in several weeks of testing, it never failed to kick in.
The power-to-noise ratio is impressive— even on full heat and speed, it's noticeably quieter than the other high-end models. There's also ionic technology, plus a volume-boost switch, which temporarily stops the smoothing ions. (T3 recommends you use that while rough-drying roots.)
Not to mention, you'll find all the thoughtful mod cons you'd expect in a high-end dryer: Two smoothing attachments, a long cable with a handy Velcro tidier, and an easy click-off vent at the back.
While we want to avoid using the D-word, it must be said that the T3 Cura Luxe is the closest thing we tested to the Supersonic in terms of features and performance. It's a little more traditional in looks and spec, but has plenty of its own unique selling points and rings in cheaper than its rival, even less at some online retailers. As we said of the best hair dryer that shall not be named, this is an exceptional set, but whether you have $200+ to spend is between you and your credit card.
6. Dyson Smooth + Control Airwrap styler
Best hair dryer and styler in one
Specifications
RRP: $549.99/£399
Weight: 1.45lb/660g
Power: 1300W
Warranty: 2 years
Reasons to buy
+Versatile styling+Kind to hair+Slick and enjoyable to use
Reasons to avoid
-Expensive-Tricky to master
The Dyson Airwrap isn't going to be for everyone. To begin with, there is the obvious expense. It's not going to suit you either if you're someone who wants to blast your hair dryer in the most fuss-free manner possible and don't like to play around with your style much. Regardless, if you do like to experiment with different styles, like drying first, then curling in waves, adding volume with rollers, or smoothing with a hot brush, you will very likely try the Dyson Airwrap and wonder where it has been all of your life.
Using the Airwrap is so enjoyable you might actually start looking forward to styling your hair in the morning. If you go for the Airwrap Complete, you will get a total of six attachments that cover everything you can imagine doing with your 'do: A dryer attachment that essentially turns it into the Supersonic Dryer (minus the styling nozzles); 30mm and 40mm barrels to create waves of varying degrees of tightness; a round volumizing brush; plus firm and soft smoothing brushes. Each one is neatly clicked and locked into the top of the styler and the world is your hair-shaping oyster!
The technology hinges on a phenomenon called the Coanda effect, a powerful spinning impeller within the tool that creates a pressurized flow of air to attract hair towards the attachment, wrapping it around the barrel or holding it against the brush. Air is then pushed over the strands, combined with highly controlled heat, to dry and style hair without ever subjecting it to the searing temperatures of hot styling tools. You can set the hair using a cool-shot button or just flick it back off and out drops a shiny curl, bouncy wave, or perfectly smoothed section of hair. It really is very satisfying and positively mouse-like in volume compared with your average hair dryer, making this truly worthy of the best hair dryer status.
It is worth pointing out that for the Airwrap's Coanda-effect technology to work (more on that below), the curling barrels do need to be switched between left and right sides, which is a minor inconvenience but one that is more than justified by the rest of the slick user experience.
Most of the attachments are novice-friendly, but there's definitely a knack for using the waving barrels, which you probably won't master the first time. But we found the sleek sexiness of the device is more than enough motivation to keep trying, and we had nailed it by the third time—after our usual curling wand was starting to look outdated and more than a little damaging in our eyes.
The Airwrap is ideal for travel as it's essentially every styler plus your best hair dryer in one ultra-slim and lightweight package. As we said, the Dyson Airwrap isn't for everyone, but if you can invest and are a heavy user of a variety of drying and styling tools, this could replace them all in spectacular style.
7. Harry Josh Pro Tools Ultra Light Pro Dryer
Best lightweight hair dryer
Specifications
RRP: $339/Not available in the UK
Weight: Less than 1 lb/454g
Power: 1875 watts
Warranty: 2 years
Reasons to buy
+Easy to maneuver+12 heat and speed settings +11-ft long extension cord+Quickly dries and styles hair
We all know and love the classic Harry Josh Pro Tools Pro Dryer 2000, a top-tier media darling, collector of industry accolades, and formidable solution against bad hair days. Allow us to introduce the Ultra Light Pro Dryer, the brand's reimagined spin on the original model.
Ideal for all hair types, this hair dryer integrates all of the accoutrements we've come to wax poetic about in the Pro Dryer 2000. It's encased in sleek mint-green and incorporates handy features, like a patented silencer, two nozzle concentrators, a sizable cord, and 12 heat, speed, and ion settings for personalized styling.
But compared to the unwieldy tools of yore, the Ultra Light is featherlight, weighing less than traditional dumbbells. What's more, it features a curved handle, which is both easy and comfortable to hold as you style. Ultimately, its practical design minimizes muscle strain, enabling users to curate coiffed looks with ease and finesse.
Moreover, the Ultra Light Pro Dryer is lightning-fast—the Fast and Furious of styling tools. This claim may seem hyperbolic; however, it's certainly warranted—as the tool swooshes air at a consistent speed of 94 miles per hour. Naturally, expedient drying time minimizes hair frying and damage; and it's especially convenient if you're in a rush.
The dryer also features a dual filtration system, which reduces energy consumption. Plus, it harnesses the manpower of negative ion technology that dries but doesn't damage precious tresses.
8. GHD Flight
Best travel hair dyer
Specifications
RRP: $99/£59
Weight: 0.93lb/422g
Power: 1000W -1400W
Warranty: 2 years
Reasons to buy
+Powerful for its size+Foldable handle
Reasons to avoid
-Minimal settings-May not suit very curly or thick hair
The GHD Flight aims to solve a universal vacation-hair dilemma: Do you use valuable baggage allowance on your powerful but clunky dryer, or take something smaller but accept a substandard drying experience? The answer, says GHD, is neither. The Flight is our best hair dryer for travel as it weighs in at 422g/14 oz, around half the weight of the GHD Air, yet packs in 70% of the power of the larger model. Handily, you can adjust the voltage between 120 for the US and Canada, and 240 for Europe, by sticking a coin in a little groove and flicking it around.
The controls are fairly simple—two hot settings, one cool, and that's it. The hottest it will ever get is 65ºC/149°F, which is plenty if you're vacationing somewhere balmy. Although the cool setting could be a little colder, it still has a decent de-frazzling effect if you use it to finish your blow-dry.
Probably the best thing about the Flight is its physical form—it's made of lightweight plastic but still looks the part. The handle folds inwards to make it less awkward to pack, and the quoted 422g/14 oz is including the nozzle and cord, so it feels incredibly light.
Of course, it's not the best hair dryer out there in terms of power—no travel dryer could be—but this comes pretty darn close. Our reviewer's hair is of the classic "fine but you've got lots of it" variety, and we didn't notice too much difference in drying time or styling effect from our usual best hair dryer.
If you have extremely thick or curly hair, it might be a different story. (Although anecdotally we'd suggest that you probably wouldn't want to go near very curly hair with a dryer at the best of times, let alone in hot and humid conditions.) You'll find it easy to store the GHD Flight away, thanks to its sleek black carry case. We didn't bother using it on vacation as it's far chunkier than the dryer itself, and we never have space to spare. If you're not the sort of person who has to sit on even the best suitcase to get it closed, then you might find it a useful extra layer of protection.
Best hair dryer for damaged hair
Specifications
RRP: $99.40/£179.99
Weight: 1.10lb/500g
Power: 1800W
Warranty: 2 years
Reasons to buy
+Unique moisturizing technology+Large variety of heat settings+Very light and easy to store
Reasons to avoid
-Controls could be more intuitive-Not the sexiest-looking
The Panasonic Nanoe & Double Mineral dryer doesn't dehydrate and fry precious strands. On the contrary, it accelerates drying time by maintaining 1,000 times more moisture in the hair, courtesy of patented Nanoe technology.
In layman's terms, the dryer takes microdroplets of water from the air, splits them into even tinier particles, and sends them out into your hair along with an ionic charge. These ions and tiny particles then penetrate the hair cuticle and hydrate it from within. Together, they moisturize your scalp, combatting dryness, flakiness, and poor hair health over time.
Nanoe tech aside, the dryer leverages unique ionic technology, which releases ions from not one but two mineral electrodes. It also offers an impressive variety of styling modes, from classic hot and cold to scalp mode. The scalp mode maintains a temperature of 50ºC/122°F, ideal for drying your hair from root to tip without scorching it. Not to mention, we're happy to report it's not too unwieldy to handle—it's easy on the arms.
Another option is Nanoe mode, an intelligent heat control that detects the temperature of your environment and self-adjusts accordingly. This is particularly handy for hot summer days and holidays, especially if you're someone who tends to go for the highest heat settings by default.
The final mode is skin, which, if selected and aimed at the face for one minute, promises to deliver moisturizing Nanoe molecules into the skin. We found this a little bit odd and would rather just use skincare products. Nonetheless, if you have dry skin and are someone who loves a bit of kit, then why not?
In terms of aesthetics, this is not the sexiest-looking of the best hair dryer picks. It's fairly chunky and squat with harsh lines, rather than curves, although the rose-gold accents do soften up the overall look. Despite a slightly clunky appearance, it weighs in at just 500g/1lb—less than the Dyson—and ticks those little practicality boxes that count with the devices we use every day. We also love its long anti-tangle cord and foldaway handle, handy for easy storage and travel.
See our full Panasonic Nanoe & Double Mineral hair dryer review
Best hair dryer for frizzy hair
Specifications
RRP: $133.99/£120
Weight: 1.25lb/567g
Power: 2200W
Warranty: 10 years for motor, 5 years for parts
Reasons to buy
+Ultra-powerful drying and smoothing+Strong ionic capabilities +Lightweight+Reliable, with long warranties
Reasons to avoid
-Pricey for this brand-Can get very hot
Albeit pricey, the BaByliss 3Q is worth the investment. And after we put it through its paces, this stalwart for pros has earned a coveted spot in our styling regimen.
The 3Q's competitive edge is its digital and brushless motor. In general, brushless motors generate less friction and vibrations for a quieter drying experience. Furthermore, many last far longer than the average motor. Luckily for you, this one comes with a 10-year guarantee.
But more notably, brushless motors cut drying time and the duration in which heat blasts onto your hair. The muscular airflow also accelerates styling time, shifting to precise temperatures in seconds.
Much like its contenders, the 3Q is ionic and sends out negatively charged ions that interact with frizz-causing positive charges in your hair. They break down water molecules, so expect a sleeker blow-dry overall.
The settings are customizable and handy, with three heats, two speeds, and a cold-shot switch, rather than the usual hold-down button. The cooler settings deliver a noticeably smoother blow-dry with The ultra-skinny nozzle. However, full heat may feel uncomfortable when applied directly to your entire head. Should you go down this route, be sure to have trusted heat protection nearby.
Fortunately, the thoughtful gizmos don't end there. The 3Q is adorned in a velvety matte casing and comes with a lengthy 3m cord and hanging loop. In addition, the dryer features an energy-efficient filter, which can be easily clicked off for cleaning out hairs, flotsam, and jetsam. The instructions manual underscores styling tips, plus suggested heat and speed combinations for each hair type.
Overall, the BaByliss 3Q offers reliability and convenience for all hair types. Backed by high-performance tech, it creates specific styles and cares for your hair along the way.
See our full BaByliss 3Q hair dryer review
11. Revlon Salon 360 Surround Hair Dryer
Best hair dryer for thick hair
Specifications
RRP : $33.95/£99
Weight: 1.98lb/900g
Power: 1800W
Warranty: 4 years
Reasons to buy
+Excellent smoothing+Super speedy drying
Reasons to avoid
-Heavy -Tricky to dry back of head
Most hair dryers are essentially a combination of the same sorts of things—heat, speed, airflow, and a long nozzle from which they blow—but the Revlon Salon 360 Surround is something a bit different, which makes it our best hair dryer for thick hair. The nozzle has two modes: Classic, which is just as it sounds, then 360 Surround, where you slide the outer casing around to open out a central vent. By placing sections of hair within the gap and running the dryer up and down as you go, hair is blasted with air from both sides, rather than just the top, resulting in a sleeker, smoother look and a promise to cut drying time by 60%.
Leaving the nozzle aside for a moment, the other features are spot-on for a dryer of this price, with three heat and two speed settings, plus a cool shot button for that all-important final style. The filter at the back clicks off easily for cleaning and the cord is a decent 2.5m/8.2ft, so you won't have any issues stretching from plug to mirror.
Of course, what you really want to know about is that innovative 360 mode, but it would be impossible to start without mentioning that this dryer is definitely on the heavier side and a little noisier than some of the others we tested. We assume that's down to all the technology crammed into the nozzle. Regardless of its weight, the dryer is easy to control in Classic mode, which the instructions suggest you use to rough dry before switching for the last bit of the process. We were concerned that the nozzle would get untouchably hot but needn't have been; it stays cool and comfortable to click around after ten minutes' drying at full heat.
Feeding large sections of hair through the gap is easy around the front, where they dried speedily and smoothly. Around the back is a different story, where it's tricky to see exactly what's going on and also to angle the gap correctly. We're sure it's something you'd get the knack of after a few goes, and after seeing the difference in smoothness from the front of the hair to the back (which we gave up on and dried in classic mode), for some, it would be worth persevering.
It's fair to say this isn't the dryer for everyone, but could be an attractive option if you are looking for the best hair dryer for long, thick, straight hair that takes an age to dry the traditional way, or needs a thorough going over with straighteners to depuff after blow-drying.
12. Hershesons Ionic Professional Hair Dryer
Best hair dryer for wispy fine hair
Specifications
RRP: $174/£110
Weight: 1.98lb/900g
Power: 2200W
Warranty: 180 days
Reasons to buy
+Smoothes as it dries+Attractive and sleek+Professional xl cord
Reasons to avoid
-Heavy-Nozzles require force
Hershesons is a big name in the professional world, renowned among us beauty insiders for "cool girl' cuts and high-concept salon spaces. Their styling tools like the Hershesons Ionic Professional Dryer fly a little further under the radar than some of the big mass brands on this list, but definitely have a strong following with those in the know.
Starting with aesthetics (because if you're spending $100/£100+, that's important), this is as slick as they come, all glossy white casing and chic grey attachments. It certainly has the feel of a professional bit of kit, with its long 3m cord, large hanging hook, designer travel bag, and a full complement of speed and heat settings—two apiece plus a properly cold cool-shot button.
This was technically one of the heaviest models tested, although you really wouldn't know it when drying your hair; the design feels ergonomic, comfy in the hand, and easy to control. This weight probably makes it one of the best hair dryers for fine hair or short styles rather than thick or very long locks.
It's not super quiet, but not loud either, and comes with two smoothing nozzles of varying widths, the narrower of which was particularly good at adding volume to the roots of my fine hair when drying upside down. You do need to use a bit of elbow grease to get the nozzles on and off at first, but I'd rather a sturdy fit than flimsy and flying off mid-dry.
The best thing about this dryer is how it makes hair look and feel, which is noticeably soft and frizz-free. There's no immediately obvious reason for this, so I'll go with some very effective ionic technology, which sends out negative ions to smooth positively charged frizz and break down water in the hair to cut down damaging drying time.
The heat settings likely play their part, too; even at their highest, they don't feel outrageously hot and damaging but still offer a rapid blow dry. Whatever the reason, this is a results-driven yet kind dryer that has plenty of style to boot. As a side note, the Hershesons Tourmaline Professional Curling Tong is also worthy of very high praise indeed, but that's a different review for a different guide.
13. Cloud Nine Airshot
Best hair dryer for curly hair
Specifications
RRP : $231.95/£109
Weight: 1.79lb/810g
Power: 2000W
Warranty: 1 year
Reasons to buy
+Ions and infra-red +Powerful smoothing+Strong variation in heat settings
Reasons to avoid
-Slightly unwieldily-Diffuser sold separately
Cloud Nine is better known for straighteners than hair dryers. But lo and behold, the brand's top-rated Airshot ticks just about every box in our research criteria and then some.
The Airshot dryer has similar features to a few other professional dryers in our roster, primarily Parlux and Hershesons. However, it's a notch above in some respects. The main draw? It combines ceramic and vitamin-infused tourmaline. This clever combo evenly distributes heat and delivers a major ionic boost, imparting noticeable shine even after one use. Needless to say, it performs miracles on thick, curly, and frizzy hair types. (Hence why we've declared it one of the best hair dryers for curly hair.)
By construction, the Airshot is easy on the eye: It's matte black and compact, with two nozzles included. It switches easily between three heat and two speeds, too. Though sold separately, the diffuser is a step above the usual flimsy numbers included in dryer boxes. It incorporates uniquely shaped contoured 'fingers' that lift and separate curls without causing frizz. Still, given the cost of the dryer, we wish it was included without the extra expense.
Another drawback: The Airshot is a tad bulky and it wasn't even the heaviest dryer we tried. Luckily, there are plenty of features that compensate for this flaw, like its low-pitched motor noise, cool button, and LED indicator on the back of the handle. Whereas the cool button quickly cools down the temperature, the LED indicator lights up as a guide for users. As one would expect with Cloud Nine, this dryer is an excellent, easy-to-use tool that pays more attention to hair health than others within its price category.
14. BaByliss Super Power Pro 2400
Best budget hair dryer for different textures
Specifications
RRP: $55/£40
Weight: 2lb/950g
Power: 2400W
Warranty: 5-year guarantee
Reasons to buy
+Fast drying+Slim concentrator nozzle+Looks stylish
Reasons to avoid
-No diffuser attachment included
On first appearance, you wouldn't pick the BaByliss Super Power Pro 2400 out of our lineup as a budget pick. Its smooth black body and touches of rose gold will bring a classy look to most vanity tables and it doesn't compromise on styling quality either.
Its powerful motor makes for fast drying and the slim concentrator nozzle is perfect for taming curls and waves and achieving a frizz-free look. The hair finish is not as sleek as other more expensive options on the market, but it still cuts styling time and leaves you with a lovely natural look.
One issue we do have is that it doesn't come with a diffuser attachment, as that addition is a must-have for anyone who wants to make the most of natural curls. However, we've included it in our best hair dryer roundup because you could purchase a universal diffuser separately and it is a good, affordable option.
Which is the best hair dryer for me?
The three most important considerations you need to make when picking the best hair dryer for you are your hair type, styling behavior, and, of course, budget.
If you have low-maintenance hair and use a hair dryer every so often, you can easily go with a basic, lightweight model, whereas if you have thick, unmanageable hair and spend hours creating a professional blow-dry most mornings, it's worth investing in something with a few more bells and whistles, as well as a higher price tag.
Noise levels are best considered if you use your dryer on others, perhaps in a professional hairdressing environment or on children, where the weight of a dryer becomes more important the longer your hair takes to dry. If you have curly or textured hair, avoiding arm ache is essential, so heaviness needs to be factored in when selecting the best hair dryer.
Finally, think about the condition of your hair—if damage is an issue, look for even heat distribution and several heat and speed settings. If your hair's in good nick, lots of power, an effective cool button, and plenty of attachments for styling may be more of a priority.
What are the types of hair dryers?
There are three main types of hair dryers. The best hair dryer type for your hair will depend on the condition of your locks and how long it takes to dry them.
Ionic hair dryers: One of the most popular features in modern dryers and with good reason. Our hair has a natural positive charge, which causes frizz and static. Ionic hair dryers release a stream of negative ions, which grab onto the positive ones and neutralize them for a smoothing effect. Ions can also help reduce drying time as they break down positive ions in the water in your hair, dispersing it so you can dry for less time on a lower heat, thus reducing damage.
Ceramic hair dryers: Essentially, hair dryers work by pushing concentrated air over something hot, then said heated air blasts your wet hair dry. The material of the "something hot" affects the efficiency of this process and, to many, ceramic is the gold-standard material. The reason for this is ceramic heats up extremely quickly and evenly, so every iota of air emitted from your dryer retains a consistent temperature and no one section of your hair is frazzling while a surrounding area is out in the cold.
Tourmaline hair dryers: Another material used for "the hot bit," tourmaline is a gemstone that's crushed into a powder then reformed to be used in dryers and other hot tools. The reason it's so popular is that, when heated up, it generates infrared heat and an ionic charge, both of which help dry hair quickly—with less damage and good smoothing properties too.
How powerful does a hair dryer need to be?
In simple terms, the more powerful a dryer is, the hotter the element will get and the faster it can blow-dry your hair. However, this doesn't take into account technology, such as airflow concentrators and brushless motors, plus extreme heat causes damage, so bigger isn't necessarily better when it comes to power. As a general guide, the best hair dryers have more than 1500W of power.
Do I need a diffuser on my hair dryer?
If you have curly hair, yes, although some would argue that very curly hair types shouldn't go anywhere near a dryer. Nonetheless, waiting to air-dry is neither practical nor enjoyable a lot of the time. A diffuser attachment will simply cradle hair as it gently dries, rather than forcing the cuticle this way and that, and destroying the lovely natural movement.
Do I need a cold-shot button on my hair dryer?
For anyone who likes to dry their hair into a particular style, such as using tension to straighten it or a round brush to add in flicks or add root lift, a cold-shot button is essential. This is because the cooler air will set in place whatever style you have just used heat to create. If you only use your blow-dryer to give your hair a general blast and rough-dry, a cool-shot button is probably negligible.
What hair dryers do professionals use?
That really depends on the professional. Well-known salons often work with specific brands preferred by their big-name stylists, as well as the ones said stylists have relationships with—Dyson and GHD are brands we see a lot in a professional capacity.
Then there are the hair dryer brands that are widely used in salons and by session stylists on location and shoots but aren't widely available in the places that we would look for beauty tools. These are brands like Elchim and Parlux, whose Alyon model won our best salon dryer award for 2020.
Ask a professional what they look for in a hair dryer and three themes will emerge: Power, reliability, and ergonomics. That last factor might sound strange, but even if your hair is seriously thick and takes what feels like an age to dry, the average hairstylist still spends ten times longer than you with a hair dryer in their hand on any given day, so the comfort of holding and movement is crucial.
This is why we often see more compact models, such as the Dyson and Parlux, in the hands of the pros, over powerful but heavier options here.
As woman&home's Senior Beauty Editor, Fiona Mckim has tried more beauty products than she's had hot dinners and nothing makes her happier than raving about a brilliant beauty find on womanandhome.com or her instagram grid (@fionamckim if you like hair dye experiments and cute shih-tzus)

Fiona joined woman&home as Assistant Beauty Editor in 2013, working under legend Jo GB, who taught her everything she needed to know about the industry (clue: learn about ingredients and employ extreme cynicism).
In a previous life, Fiona studied journalism back home in bonnie Scotland and honed her skills as a features writer at publications including Junior and Prima Baby, with a brief and terrifying stint on the showbiz gossip pages of a tabloid newspaper in between. She's a skincare fanatic who can't resist adding an extra step to her routine if it's all the rage in Japan, loves fragrance, has fun with makeup and never turns down the chance to test a new hair tool. Basically, she loves it all.

When not slathering herself in self tan or squinting at a tiny ingredients list on a moisturiser, you'll probably find Fiona enjoying something to do with food - cooking it, eating it, cajoling her friends into trekking across London to try a hyped pop-up in a dirty car park.
Come to think of it, the hot dinners and beauty products are probably about even.