8 best Dyson Airwrap dupes – affordable alternatives to the sellout styler
Our Beauty Editor's pick of the best Dyson Airwrap dupes to achieve beautiful bouncy hair for less – from top brands like Shark, Revlon and Babyliss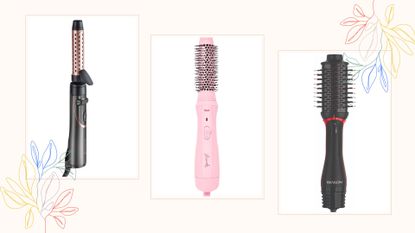 (Image credit: Future)
Dyson Airwrap dupes should create smooth, bouncy, salon-worthy hair in one multi-functional tool. Most important though, is that they do all this without the eye-watering price tag of the original all-in-one super styler.
Your typical Dyson Airwrap review will eulogize the myriad attachments, its impressively quiet motor, and of course Dyson's unique Coanda effect technology, which creates a spinning vortex of air to set hair rather than using direct heat. It is a revolutionary tool that has changed the way most of us think about styling hair. But with such game-changing technology comes a hefty RRP ($600/£500) Thankfully, big-name brands like Revlon, Remington, and Babyliss have launched Airwrap alternatives below the $120/£100 mark. Like the Dyson, some of these styling tools even dry hair as well as style, so you don't need to splurge on the best hair dryer, saving you even more. Ker-ching!
The trade-off for affordability is that even the best Dyson Airwrap dupes can't replicate the Coanda effect. Instead, these hot brush tools use tension, hot and cold air, and in some cases, rotating barrels to create a range of styles and impressive volume. "These products make it so easy for consumers to create that faux blow look at home, and rival a hair stylist's professional blow-drying technique to create a salon-worthy finish," says Syd Hayes (opens in new tab), BaByliss ambassador. "These kinds of tools can be used on all hair types, textures, and lengths," he continues. "I've really noticed the positive impact of the technology on thicker and frizzy textures too." We've done the blasting, smoothing, and blow-drying for you to bring you the best Airwrap-inspired tools to level up your hair game.
How we tested these Dyson Airwrap dupes
Why you can trust Woman & Home Our expert reviewers spend hours testing and comparing products and services so you can choose the best for you. Find out more about how we test.
To come up with a definitive list of the best Dyson Airwrap dupes for this review, I tested many tools over several weeks, washing and styling my hair with all of the various attachments that came in each kit. I also tested a few of them on my daughter to see how they performed on her finer, curly hair versus my coarse, wavy hair.
During the testing process, I was assessing how the tools felt in the hand, the number of heat and speed settings, how easy it was to switch attachments, and technical specifications such as weight and warranty. I also evaluated each tool's ability to smooth, volumize and curl my hair, and of course, affordability was an important consideration.
The best Dyson Airwrap dupes, chosen by our beauty editor
1. Shark Flexstyle Air Styling & Hair Drying System
The best Airwrap dupe to rival Dyson
Specifications
RRP: $269.99/£299.99
Weight: 1.54lb/700g
Settings: 3 heat and airflow settings
Warranty: 2 years
Extra attachments: Auto-wrap curlers, Paddle brush, Oval brush, Concentrator, Diffuser, Storage case
Reasons to buy
+
Fast drying power
+
Generous number of attachments
+
Handy storage case
Reasons to avoid
-
Still pretty expensive
-
Curls lack staying power
If you've had the privilege of using the Shark hair dryer, you'll be just as excited as we were to try this multi-styler. It is, after all, the only tool on our list to use the Coanda effect - the same hair-wrapping airflow technology as Dyson. It also has the largest number of attachments of any dupe we've tried – five to be precise, just one shy of the trailblazing Dyson. So it will come as no surprise that this is the most expensive Dyson Airwrap dupe in our selection (although it is still £200 cheaper than the Dyson benchmark).
w&h Beauty Channel Editor, Fiona McKim tested the Shark Flexstyle, and she has thoughts. "I'm lucky enough to be in possession of a first-generation Airwrap and have used it on and off for years, so I was intrigued to see how the Shark measured up. To say this bears resemblance to Dyson's styler would be like saying supermarket Malties are a little bit like Shreddies. From the shape and feel of the styler to the attachments, heat and speed settings, this is clearly designed to be extremely similar - and who can knock them for that?"
"On the theme of similarities, I found that using the Shark, I could achieve pretty much everything I can do with my Airwrap. From a bouncy blow dry with the oval brush to beachy waves with the auto-wrap curlers, it's all here. There is a bit of a knack to it, but if you know how to use a Dyson Airwrap, you'll have this down in seconds. I found styles were just as easy to create and lasted a similar amount of time (which, incidentally, has always been a gripe of mine with the Airwrap – the curls drop out of my fine hair far more quickly than when I use my best curling iron)"
"Now for the differences - firstly, the Shark is heavier. Not in a way that'll annoy you, just something I observed when I held them both at the same time. It's also more like a traditional hair tool in terms of materials and the unboxing process. Dyson really has nailed that Apple-like trick of making tech feel sexy. The Shark is a fairly attractive device but lacks that phwoar effect you get pulling a gleaming Aiwrap from its beautiful leather storage case. It's also a little bit noisier, again not much, and if I was being really pernickety I'd say that the cold shot takes momentarily longer to get cold. As I said, I'm being picky, because these are the sorts of upgrades spending an extra $300/£200 will get you. But overall, in terms of Dyson Airwrap dupes, you probably won't get closer to the real thing than this."
2. Hot Tools Volumiser Set 2-in-1 Brush and Dryer
The best Airwrap dupe for thick hair
Specifications
RRP: $154.27/£129
Weight: 1.8lb/860g
Settings: 2 heat settings plus a cool setting
Warranty: 1 year
Extra attachments: 71mm x 45mm classic head, 61mm x 38mm head for short hair, plus travel pouch
Reasons to buy
+
Ionic technology smoothes frizz
+
Fast-drying
+
Friction-free surface helps hair glide through
+
Easy to use
Reasons to avoid
-
Noisy
-
Lacks ability to curl
I've never been good at mastering an at-home bouncy blow-dry, so something like the Hot Tools Volumiser Set is right up my street. It's not the lightest tool in our selection. It is noticeably bulkier than the Dyson Airwrap and much noisier.
As many a Dyson fan will concede, the Airwrap does take some practice to get the curl and volume just right. But the Hot Tools Volumiser is completely foolproof to use. The titanium plate surface and charcoal-activated bristles helped my hair to glide through without getting tangled.
It comes with two oval volumizing attachments, a classic size and a smaller version, with three heat settings at the base. If you have short hair, I think even the smaller attachment may be a little too cumbersome to create any kind of curl in the hair. Truthfully, there's not a massive difference between the 71mm and 61mm head. I like to create movement when blow-drying my hair – it's what I'd ask a stylist for – but even the smaller attachment struggled to create bends in my long hair. It did, however, create a smooth, frizz-free finish very quickly. My hair went from damp to dry and polished in about 10 minutes. That is very quick. Usually, it takes me that long to blast-dry with a hairdryer. What was also impressive was its ability to create a style with staying power. My daughter's hair is very curly. A smooth blow-dry is no match for her curls and by morning it's full of delicious springy tendrils again. But after using this in the evening, she woke up to hair that was still smooth and bouncy. Needless to say, she's a fan.
Other clever practical choices include the 3m salon-length cable that swivels so it doesn't tangle. The rubbery cool tip is generous too, so you can get good tension on the hair without catching your fingers on the hot vents. Like the Beauty Works Hot Brush and Revlon One-Step Volumiser, this isn't a complete like-for-like of the Dyson Airwrap. Its attachments are designed for volume, rather than curls. But if speed-drying is your goal then this could be the Dyson Airwrap dupe for you, especially if your hair is long, thick, and prone to frizz.
3. Beauty Works Speed Styler Hot Brush
The best Airwrap dupe to straighten fine hair
Specifications
RRP: $110/£74.99
Weight: 1.06lb/482g
Settings: Variable temperature from 80-210ºC
Warranty: 1 year
Extra attachments: N/A
Reasons to buy
+
Digital display
+
Chic faux-leather carry case
+
Different heat settings to suit hair type
+
Smooth, shiny finish
Reasons to avoid
-
Takes a long time to heat up
-
Heavy unit
-
Struggles through thick hair at times
The Beauty Works Speed Styler is more of a hot brush, with no extra attachments, which smoothes kinks and flattens frizz. You could compare it to the kind of sleek result you'd get using the Dyson Airwrap's Firm Smoothing brush head.
Unlike the Dyson Airwrap though, the Speed Styler can only be used on dry hair so you'll either need to let your hair dry naturally or blast it with a hairdryer first, which obviously takes a bit more time. However, it is a handy tool to turn to when you need to smooth over second-day hair, as opposed to clamping down with your straighteners. The paddle brush feels a little less damaging somehow.
The unit is definitely heavier than a lot of the Dyson dupes on our list, and I found it weightier than my best ghd straighteners. But it was the only tool on our list to have a digital temperature display, which was a nice touch so you can change the temperature to suit your hair type – cooler for fine hair, hotter for thick hair. It takes quite a long time to heat up, so it's not the best tool to use if you're in a rush to tame unruly hair before work. It took a full two minutes to reach 180ºC - the average recommended setting. Despite the large paddle brush design, I found it best to work in small sections with this. It straightened and smoothed my hair well, and made it look a lot more reflective. The effect was more natural than the poker-straight, Kardashian-liquid-smooth result I'd get from my straighteners.
The brush has a curved design and ionic-coated bristles that helps to detangle strands as you style. Despite this, I found the brush struggled through my thick, coarse hair at times, so I think it's definitely more suited to finer hair. Of the 5 star reviews I read, many described how well it worked on taming fine, flyaway hair.
4. Babyliss Air Style 1000
The best value Airwrap dupe
Specifications
RRP: $84/£70
Weight: 15.9oz/453g
Settings: 2 heat settings plus a cool setting
Warranty: 3 years
Extra attachments: Concentrator drying nozzle, 50mm volumising brush, Smooth blow-dry brush, Conical curling attachment, Heat-protecting glove
Reasons to buy
+
Great value
+
Lightweight
+
Range of attachments
+
Ability to smooth, volumize or curl hair
Reasons to avoid
-
Noisy
-
Hair must be 80% dry before styling
With four attachments in the box, not only is this one of the closest matches to the Dyson Airwrap, but it's a great value option too. The downside? It's much louder than the Airwrap, but then again, not many can rival Dyson's quiet-as-a-mouse motor. It doesn't replicate the Coanda effect either - where the Airwrap draws the hair around the curling barrel for you, the Babyliss Airstyle acts like a traditional blow-dry tool, meaning you have to wrap the hair around the barrel yourself. This can be tricky, especially when you want to direct the curl in different directions away from the face. I did manage to get the hang of it by the end of my styling session, and the curls were bouncier than if I'd used a tong. My hair is weighty and notoriously difficult to style, which may have contributed to the fact that it didn't hold the curl for more than a day.
Babyliss advises that hair is 80 percent dry before styling. It's more time-consuming than an all-in-one like the Revlon One-Step Volumiser or the Hot Tools Volumiser Set, which style from wet, but the styler comes with a drying nozzle so you have everything you need to take hair from sopping to smooth. The attachments click in and out of the base with ease. The paddle brush-style smoothing nozzle didn't do as much as I'd hoped to take down the frizzy hair at my roots, but it helped get my hair in a better position to use the conical curling tong. The attachments get quite hot during styling, so the heat-proof glove proved very useful in switching heads quickly without scalding. I have always been a fan of the Babyliss Big Hair rotating brush. I've recommended it to so many friends I should be on commission. The volumizing barrel in this set didn't quite have the same oomph. Maybe it's because you have to rotate it yourself, which I did find tricky on my long hair. Or maybe it's down to the size. At 50mm, it's on the large end of the radial brush spectrum so not so good for shorter hair or smoothing bangs.
Overall, I thought this was excellent value for money. It's lightweight and simple enough to use. It's a tool Syd Hayes often recommends. "XXL hair is something we are seeing across red carpets and backstage this season and can easily be created using this multi-purpose tool," explains Hayes. "If you blow-dry often, this styler makes it so much easier as you don't have to hold a dryer and a brush. It does the hard work for you and gives the perfect result."
5. ghd Rise Hot Brush
The best Airwrap dupe for root lift
Specifications
RRP: $189/£169.00
Weight: 13oz/370g
Settings: Constant optimum 185ºC temperature
Warranty: 2 years
Extra attachments: N/A
Reasons to buy
+
Curls, lifts, and flicks hair in one
+
Doubles volume, compared with naturally dried hair
+
Lightweight, sleek design
+
Safety stand to protect surfaces
Reasons to avoid
-
Pricier than others on our list
-
Only used on dry hair
Unlike the Dyson Airwrap, or indeed many of its dupes, the ghd Rise heats up like a traditional curling tong rather than using the hot and cold air of a blow-dry brush. This means it can only be used on dry hair, so you'll have to bust out the hairdryer before you get down with the Rise. You can use this tool in a number of ways, all of which require practice. Adding root lift was probably the easiest to get right. Wrap a small section of hair around the barrel, close to the roots, hold for five seconds and rise up as you release. I felt like Cheryl Cole - the X Factor years. For body and bounce, you treat the Rise as you would the best heated rollers, wrapping it up from the ends to the roots and holding it there for five seconds. This technique didn't seem to do much for my hair, which I put down to the sheer length and thickness of it. Curls were the trickiest to master. You have to glide the barrel down the hair then roll it up towards the root, hold and unwind. Luckily, ghd has preempted this with some great tutorials online.
As with all ghd products, the Rise emits a little beep when it's reached optimum temperature and is ready to use, which happens in a mere 15 seconds. There are no settings here - you get what you're given. And what you're given is an optimum styling temperature of 185ºC, which is consistently maintained across the narrow 32mm barrel throughout styling. The nylon bristles are quite shallow at 5mm, which is what allows you to get right into the root, without hair getting tangled. I've seen some amazing 'after' pics using the Rise on long hair. That just didn't happen for me, but I think it would be a great fit for short hairstyles or medium hairstyles, looking to add oomph quickly.
6. Mermade Hair Interchangeable Blow Dry Brush
The best Airwrap dupe to create waves and curls
Specifications
RRP: $103.50/£99
Weight: 10.5oz/300g
Settings: 2 heat settings, plus cool setting
Warranty: 2 years
Extra attachments: Pre-style drying attachment, 60mm oval barrel, 32mm curling barrel
Reasons to buy
+
Full money-back guarantee
+
3 attachments
+
Curls smooths and dries hair
+
Incredibly lightweight
Reasons to avoid
-
Attachment lock can be unstable
I was blown away by how good this was. It's the one my daughter wanted to try first - I'll give you three guesses why. Clue - it begins with 'P' and ends in 'ink'. I have to say, even I am quite taken with the Barbiecore colorway. The first thing I noticed (besides the plug-to-barrel pink) was how light it was. I didn't get the usual arm ache when blow-drying with this.
Like the Babyliss Air Style, hair should be mostly dry before styling with this, but the drying attachment took care of that and ensured my hair was ready to be smoothed out in about five minutes. The 60mm oval barrel smoothed my hair nicely. It's on the large side but still managed to curl my hair under at the ends. I was slightly worried that the bristle tufts, despite being flexible, would get tangled in my hair, but it didn't knot up at all. Neither did my daughter's hair, which is a little finer. I did accidentally press the release button, detaching the head by mistake mid-styling - it seems to be positioned right where my thumb wants to sit, but one swift twist and it clicks back in.
Of all the tools on this list, I achieved the best ringlets with the Mermade's 32mm curling head. They were so bouncy and didn't drop as quickly. Sure, the Mermade isn't going to swirl the hair around the barrel like the Dyson does for you but the cool tip is a good size to avoid burning fingertips as you twirl sections around the barrel. This is a great bouncy blow-out in a box, with a silky-smooth result that means you don't have to rely on backup from your straighteners.
7. Revlon One-Step Volumiser Plus
The best Airwrap dupe for speedy styling
Specifications
RRP: $69.99/£69.99
Weight: 1.1lb/510g
Settings: 3 heat settings, plus cool setting
Warranty: 4 years
Extra attachments: N/A
Reasons to buy
+
2-in-1 dry and style function saves time
+
Reasonably-priced
+
Easy to use
+
Fast results
It might not come with the high-tech vortex technology or wardrobe of attachments the Dyson Airwrap does but Tik-Tok-ers are obsessed with this 2-in-1 dryer and brush for its body-boosting results. This is Revlon's second incarnation with a detachable head that makes it easier for carting around, and a 30 percent smaller barrel than the original Volumiser. So what does that mean for hair? For one, you can get the oval barrel even closer to your roots for extra body. It also makes it easier to create bend and movement in the hair, particularly for shorter styles. This 2.0 version also has a new ceramic titanium tourmaline coating, which gives even heat distribution and therefore less damage to hair.
It is quite heavy and chunky, so after completing my whole head of hair, it's fair to say my arm needed a rest. It's one of the more affordable options on our list, and about eight times cheaper than the Dyson Airwrap, but the results were brilliant, and it delivered the most volume and bounce of any tool. The downside for my hair type was that it didn't smooth out all my frizz, so I did need a quick pass-over with my straighteners to iron out those annoying flyaways at the root. There's no pomp to this styling tool, which is kind of refreshing. It's so quick and easy to use, and if you haven't got the room to store a thousand attachments, its simplicity is bliss.
See our full Revlon Hair Dryer Brush review
8. Remington Curl and Straight Confidence AirStyler
The best Airwrap dupe with a rotating barrel
Specifications
RRP: $80/£59.99
Weight: 0.9lbs/415g
Settings: 2 heat settings, plus cool setting
Warranty: 3 years
Extra attachments: Pre-styling nozzle, Firm paddle brush, 40mm soft bristle brush, 30mm rotating tong
Reasons to buy
+
Rotating barrel
+
Handy carry case
+
Dries, smooths, curls and adds volume
+
Great value
+
One of the quieter models on our list
Reasons to avoid
-
The curling tong requires practice
-
Long appliance
With its rotating barrel, the Remington Hot Air Styler is able to mimic the technique used by hairstyles to curl and smooth hair dry. It also rotates in both directions, which is very helpful when you want to curl hair away from the face on each side. On top of the four attachments, there's a pretty sturdy storage case for packing up your styler so it certainly feels like you're getting a lot of bang for your buck here.
Whilst it's far from a heavy tool, the handle and attachments feel long - not too dissimilar to the Dyson Airwrap, which is similarly bulky. It offers a good range of attachments and styling versatility, like the Airwrap, and it was definitely quieter than the Hot Tools Volumiser and Babyliss Air Style 1000. The curling barrel has a clip, just like you'd find on a traditional curling tong, but I found this a bit redundant, and actually made the whole process more laborious.
It did a good job of creating looser curly hairstyles, but they were quick to drop. Again, this is more than likely down to my hair type - even the best curling irons can't create lasting ringlets on me. It was with the 40mm soft bristle brush that this tool, and the rotating aspect in particular, really excelled. It kept hair taut without yanking and smoothed out frizz. It's a slightly smaller barrel than the Babyliss Air Style 1000, which makes it a great option for mid-length hair, or those with long hair looking to create more of a bend in their blow-out.