Shark FlexStyle review: our beauty writer's thoughts on the do-it-all hair tool
If you're looking to invest in a new hair styler, our Shark FlexStyle review has every detail you need to know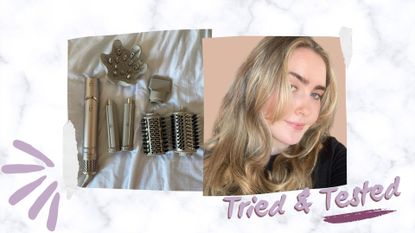 (Image credit: Future/Amelia Yeomans)
For the price tag, this is a tool that delivers on all fronts. It's a little more complex to get the hang of than a standard one-style tool, but when you consider that it is suited to all hair types, lengths, and styling preferences, there are few people the Shark FlexStyle won't impress.
Reasons to buy
+

Extremely versatile

+

Easy to use

+

Range of settings

+

Less pricey compared to others on the market
Reasons to avoid
-

Some attachments are slightly fiddly
Why you can trust Woman & Home Our expert reviewers spend hours testing and comparing products and services so you can choose the best for you. Find out more about how we test.
As someone who is always on the hunt for the perfect hair styler, I was excited to write this Shark FlexStyle review. This multi-purpose hair dryer and styling tool promises big things due to its impressive range of attachments, but does it deliver on results?
Specifications
Weight: 2.32kg
Watts: 1,400w
Cord length: 2.44m
Guarantee: 2 years
RRP: $299.99 / £279.99
Finding the best hair dryer for your needs is not as easy as it may seem, particularly if your hair is unruly and requires a lot of styling. That's why a tool like the Shark FlexStyle promises the best of all worlds, providing five different attachments for drying, diffusing, curling, straightening, and smoothing, so everything from wavy hairstyles to super sleek finishes are easily achievable.
To give the best possible Shark FlexStyle review, I have tested the tool's capabilities in creating several different hairstyles, from bouncy curls to diffused natural waves and even a classic 90s blowout. I paid close attention to both the ease of use and how well each style lasted in my hair, as well as looking at other factors including weight, drying time, and how easy it was to switch between attachments. After thorough testing, these are my honest thoughts on the Shark FlexStyle.
Our beauty writer's Shark FlexStyle review
Shark FlexStyle Design
Masters of vacuum cleaners and air purifiers, Shark already knows a thing or two about great tech. But when it comes to tools like blow driers or the best curling irons, there is a whole different set of criteria to meet.
It is clear that the FlexStyle takes inspiration from the Dyson Airwrap for its curling attachments, utilizing the same Coanda technology to wrap hair around the barrel. Although it could be categorized as a Dyson Airwrap dupe, we found that the other FlexStyle attachments perform pretty differently from any other tool we have tried, so it has plenty of unique selling points.
The blow dryer base on which you attach the various styling tools is impressively designed for extremely easy use – and we love that you can blow dry your hair without needing any add-ons. Plus, the FlexStyle measures heat 1,000 times per second ensuring consistent air temperatures that gently dry with minimal heat damage.
What attachments come with the Shark FlexStyle?
Labeled as a five-in-one tool, the Shark FlexStyle actually comes with six attachments. These are the paddle brush, oval brush, two curlers (left and right barrels), the styling concentrator, and the curl-defining diffuser. To use the hair dryer function alone, you simply twist the barrel down to reveal the hair dryer head. Here's how each one works:
Main blow dryer: A classic hair dryer design, this forms the base that you attach the other styling tools to. Just twist the head of the dryer down to get a powerful blow dry that makes rough-drying a total breeze.
Paddle brush: A wide bristle brush that is ideal for detangling as well as styling, this attachment provides a sleek blowout look that will tame frizzy hair and give a straight finish whilst drying.
Oval brush: Designed like the best hair dryer brushes, the oval brush attachment is perfect for the bouncy blow dry look. With dual bristles, it smooths and reduces frizz whilst providing body.
Curlers: Probably the most recognizable part of the Shark FlexStyle, the curling barrels work by automatically wrapping your hair around the wand whilst simultaneously drying. With one barrel for the left side of your head and a separate one for the right, you can choose the direction of your curls and switch out the attachments accordingly.
Styling concentrator: This is the attachment for those who want a salon-worthy blowout in one simple step. The slim nozzle concentrates the air making for a seriously powerful air stream that gets your hair dried in no time and is best used with a brush to get a pin-straight finish.
Curl diffuser: This looks and performs like a classic diffuser, except with extendable prongs to reach and lift the roots. If you have curly or coily hair and want natural definition, this is the attachment for you.
If you have read our Dyson Airwrap review, you will know that the ease of use with tools like this largely depends on getting used to using the barrels. I found that my hair actually wrapped around the Shark FlexStyle barrels more easily than it does on the Airwrap – perhaps because I found the Shark to be more powerful, so it was better at controlling my thick and frizzy hair. Even if it is your first time using a tool like this, you will find that the FlexStyle curlers are easy to get the hang of, thanks to the strong suction.
How well does the Shark FlexStyle perform?
What I loved most about the Shark FlexStyle were the super simple heat and power settings that can be switched up mid-styling. The push buttons are much easier to operate than switches, and the cool shot button is comfortable to hold down when finishing up styling. If you like to switch between blow dryer strengths and use a variety of temperatures on your hair, you will love the ease of the FlexStyle.
The diffuser is another attachment that I was seriously impressed by. I had expected it to perform similarly to other diffusers for curly hair that I have tried, but it gave a much more defined result as well as drying my hair super quickly. Plus, the easily movable prongs gave me gorgeous curls up to my roots – something I haven't found with other diffusers. This attachment alone has made me want to start wearing my natural waves more often, which is no mean feat.
I found the paddle and oval brush attachments to be brilliant at drying and they both gave me a gorgeous sleek style. Great for detangling and drying, I could get my whole head of hair from damp to styled in about 20 minutes, with the option to add more bounce to the ends if needed. If you have curtain bangs or a box bob, you'll love the finish these tools give that totally removes the need for blow drying and then styling – hallelujah.
On the days you just want to dry your hair, the built-in drier or styling concentrator both do the job excellently. I was pleasantly surprised by how powerful these tools were when on the highest setting. However, if you have fine or dry hair, you may want to stick with the lower setting on the concentrator to avoid any tangling or messiness caused by the strength of the blower.
If you typically struggle with blow dryer tools and find that your curls don't hold, it is worth giving the FlexStyle a go. The power of the dryer, combined with the range of heat settings, gave me long-lasting styles that didn't budge, even without using my best hair styling products.
What's not good about the Shark FlexStyle?
Truthfully, there is very little that I don't like about the Shark FlexStyle. I have used a lot of different hair styling tools in my life, and my dry and frizzy hair takes a lot to look its best. After thorough testing, I can confidently say that the FlexStyle delivers just that.
The main downfall that I noticed was the two separate barrels for different curl directions. This is a fiddly and slightly inconvenient factor that does slow down the styling process, and I would much prefer it if only one curling barrel was needed. This is not a deal breaker for me but is something I would like to see improved upon if the FlexStyle gets an update in the future.
Another slight negative is that it is an expensive tool at $299.99 / £279.99, however, compared to others on the market, and considering you get five tools in one, I think it is well worth the investment. If you were to purchase each of these attachments as separate tools at the same quality, you would definitely end up spending more.
Shark FlexStyle review: my verdict
So is the Shark FlexStyle worth it? I would say absolutely. I'm pretty fussy when it comes to styling tools, as I hate using anything that takes more than half an hour to get my full head done (tough, but a requirement I will stick to), and the FlexStyle not only works quickly but also provides long-lasting, salon-worthy styling.
Its biggest rival, the Dyson Airwrap, comes in at double the price, but you will get extremely similar results from both tools. I would say that the FlexStyle is best suited to those who want powerful and effective styling that can be trusted to last all day, so it is particularly worth the investment for people with tricky-to-manage hair, looking to make their life a lot easier.
Whether you have straight hair in need of bounce, frizzy locks that need some TLC or want to embrace natural hairstyles by taking care of your curls, the Shark FlexStyle should work for you. My new go-to for all occasions, this tool really is a winner.
Amelia joined woman&home after graduating with an MA in Magazine Journalism from City University in 2022. She specialises in lifestyle journalism and throughout her undergraduate degree she wrote for a variety of student publications, where she developed a love for all things style, beauty and sustainable fashion. She has previously written for titles including OK! Magazine, New! Magazine and Notion before she started her career as a lifestyle journalist with woman&home after completing an internship with the brand.