The bouncy blow dry guide: four steps to a voluminous blow dry
Our expert bouncy blow dry guide will ensure your hair never falls flat again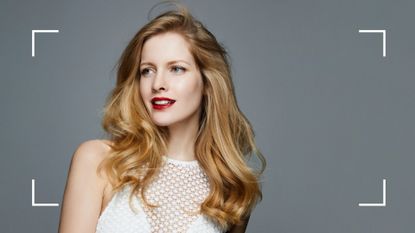 (Image credit: Getty images)
Achieving a bouncy blow dry at home needn't be a head—or arm—ache. And while we all love treating ourselves to a professional blowout, bi-weekly salon visits are more of a dream than a reality for the majority of us. So, off to the mirror with hair tools in hand it is!
This year, the supermodel blowout is set to be one of the biggest hair trends 2023 has to offer, and the first step to achieving a beautifully bouncy blow dry is getting your hands on the best hair dryer for your hair type. However, even the most technical hair dryer can't magic up 90s blowout hair even the Duchess of Cambridge would be proud of without a little expertise on your part.
So we've asked the pros for their bouncy blow dry secrets and guess what? They're surprisingly simple. Whether you have a long hairstyle, short hairstyle, poker-straight and fine 'do or naturally bouncy curly hairstyle, anyone can achieve a volume-packed blow dry with this step-by-step- guide.
How to do a bouncy blow dry in four simple steps
1. Apply styling products (but sparingly)
After washing, apply a little serum to the ends of towel-dried hair before misting roots with a volumizing lotion of choice. You may also want to throw in a heat protector spray if you plan on smoothing your hair with the best hair straighteners after drying. This holy trinity of hair products should ensure that your style holds up in the face of humidity and grease.
Your hair will likely need some extra oomph to create long-lasting body and shine before you even plug in your hair dryer, but don't be tempted to load the hair up with huge quantities of hair styling products—less is more where big hair is concerned. "Don't slather hair in heavy styling products, such as mousses or creams," advises Mark Woolley, founder and creative director of Electric Hair. "Pre-blow-dry styling products should aim to hold the root up without weighing the hair down." It's also worth investigating longer term solutions such as professional Brazilian blow dry or at-home keratin treatments to improve manageability.
---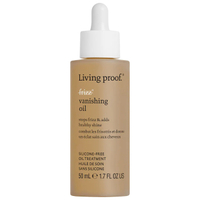 (opens in new tab)
Living Proof No Frizz Vanishing Oil | RRP: $30/£31
This silicone-free, fast-absorbing serum smooths ends from the get-go, to help you nail how to make your blowout last longer. It also comes recommended by many an expert hairstylist we've quizzed.
2. Stick to the 60% rule
After washing with the best shampoo and conditioner for your hair type, your hair needs to be at least 60% dry before you begin creating your bouncy blow dry. Tugging at the hair with a brush when it's very wet can cause breakage, and hair that's sopping wet is tricky to style. Jack Merrick-Thirlway, creative director of Neville Hair & Beauty, recommends "gently towel drying hair first before rough drying it using just your fingers and a hair dryer".
The key to a swingy, healthy-looking bouncy blow dry is to initially blot away moisture without roughing up the hair cuticle, which can cause frizzy hair and static later down the line. A fast-drying microfibre towel will do the hard work for you while you have breakfast or do your makeup.
From there, let gravity do the work, and go gently with heat. "Flip your head upside down when rough drying to get the roots moving in the opposite way. Going against the direction of how your hair falls naturally creates maximum root lift, resulting in a bigger blow dry," advises Mark. "Don't automatically crank up your hair dryer to the highest heat setting. Using a medium heat setting will almost always create the volume you're after, while also maintaining the hair's shine. If you burn your hair by applying too much heat, you'll actually lose the style, shape and shine."
---
3. Blow dry in sections
Now it's styling time. Start at the back of the head and work your way towards the front, using the airflow-narrowing nozzle on your hair dryer to dry each section quickly and thoroughly. Mark favors using a round natural-bristle brush, so that "you can lift the roots and apply tension to the hair without damaging it". Metal bristles can heat up too quickly and also don't tend to grip the hair as well, meaning that you're more likely to need to repeatedly work on the same section of hair to achieve results, risking further heat damage.
As for technique, Jack underlines that sectioning hair produces seriously professional results: "Take medium to large sections of hair, depending on its thickness, and roll the brush up to the roots. Hold with good tension as you dry the roots, then smooth the brush down the length of the hair and repeat the process until each section is dried. "To shape the ends, curl hair around the brush until they're dry (the ends dry quicker the roots) and apply the cool shot on your hair dryer to set the style." If you have tried this technique many times without success then now would be a good time to point out that learning how to use a blow dryer brush could save you some time and energy – something to think about!
For even more bounce, Jack suggests wrapping each section of your hair in Velcro rollers and blasting with cool air. Alternatively, create curls with the best curling iron and secure them to your head with sectioning clips. Cool, then simply release the curls, give your head a shake and run your fingers through the ends to create movement.
---
4. Hold the volume in place
Big hair may need a helping hand to stay that way, but don't go too crazy with the hairspray. Mark suggests focusing your energies on your roots: "You want to hold on to the natural movement, rather than 'sticking' the hair in place."
If your hair has fallen flat, spritz with a heat protector spray and rework the front sections and roots with your hair dryer and round brush. This is preferable to backcombing in terms of retaining thickness long term. "Try to avoid backcombing. While backcombing may give you instant root lift, it can cause breakage. Over time, this can affect the overall thickness of your hair and make it increasingly hard to manage," explains consultant trichologist Anabel Kingsley.
One final word from Anabel to maintain your style—big hair requires a hands-off approach: "Do not run your hands through your hair too often. Oils and dirt from your hands can make your style drop."
---
woman&home thanks Mark Woolley, Jack Merrick-Thirlway and Anabel Kingsley for their time and expertise
Anna is a multilingual award-winning journalist with over ten years of experience working in the beauty, lifestyle and travel industries.
Her extensive editorial portfolio includes Women's Health, Woman & Home, The Sunday Times Style, Refinery 29, Cosmopolitan, Elle, Red and Good Housekeeping.
Anna is also well versed in commercial work, having experience in both start-up and corporate environments.