The best shampoo and conditioner for each and every hair type
The best shampoo and conditioner for every head of hair—fine, curly, color-treated or flaky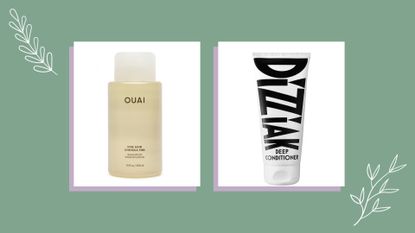 (Image credit: Future)
woman&home newsletter
Sign up to our free daily email for the latest royal and entertainment news, interesting opinion, expert advice on styling and beauty trends, and no-nonsense guides to the health and wellness questions you want answered.
Thank you for signing up to . You will receive a verification email shortly.
There was a problem. Please refresh the page and try again.
Looking to upgrade your shower caddy with the best shampoo and conditioner? Smart move. While shelves full of serums and sprays might suggest differently, shampoo and conditioner are the two most important products in your hair regimen. After all, great hair needs a great foundation, and this duo is your first chance to coax it into fine fettle.
Picking the best shampoo and conditioner is a vital first step in achieving healthy, glossy hair, long before you put your best hair dryer to work. And while different hair types and textures all have different needs, picking the right haircare is equally important for those with short hairstyles, bob hairstyles, curly hairstyles, natural hairstyles, and everyone in between.
Being such a core beauty staple, you'd think choosing the right wash and softener options would be straightforward, but there are still plenty of questions about shampoo and conditioner. How often should you wash your hair? Should I be co-washing instead of shampooing? What shampoo is best for the effects of hard water on hair? The good news is we've got all the answers you need. Read on to discover the best shampoo and conditioner for every hair type plus our expert breakdown of all your hair washing FAQs for your best lather, rinse and repeat yet.
The best shampoo and conditioner for everyone
Why you can trust Woman & Home Our expert reviewers spend hours testing and comparing products and services so you can choose the best for you. Find out more about how we test.
Shampoo & conditioner for fine or fragile hair
1. Ouai Fine Hair Shampoo and Conditioner
Best shampoo and conditioner for fine hair
Specifications
RRP: $61/£44 for both
Hair type: Fine, oil-prone
Key ingredients: Biotin, hemp seed extract, chia seed oil
Reasons to buy
+
Smells amazing
+
Light and volume-boosting
+
Conditioner softens without weight
A good shampoo for fine hair will cleanse your hair gently but effectively, leaving it clean and free from product build-up, while conditioner should leave your hair moisturized, nourished, and silky, but not heavy or greasy. This set does exactly that and then some. The shampoo is fresh and non-stripping while the conditioner manages to be both velvety soft and light-as-air, for weightless hydration. It includes the brand's signature Mercer Street scent (one of the loveliest flower fragrances we've ever smelled in haircare) which lingers for days.
2. Redken Acidic Bonding Concentrate Shampoo & Conditioner
Best shampoo and conditioner for damaged hair
Specifications
RRP: $29.70/£21.50 each
Hair type: Fragile
Key ingredients: Citric Acid, salicylic acid
Reasons to buy
+
Boosts weakened bonds
+
Leaves a shine on the hair
+
Smells lovely
Reasons to avoid
-
Not particularly softening
With an acidic complex and designed to shield weakened and damaged bonds within the hair, this shampoo also protects from heat styling to prevent future damage. Both the shampoo and conditioner smell incredible, like a fruity cocktail, which is always a winner in our books. It's probably better for fine hair types than thick as it doesn't have a particularly rich formula that makes ends feel hugely nourished when you step out of the shower. But it's nothing the best hair masks won't fix, and our tester's hair was noticeably easier to style and shinier after washing with these.
3. TRESemmé Moisture Rich Shampoo & Conditioner
Best shampoo and conditioner for dehydrated hair
Specifications
RRP: $7.98/£6 each
Hair type: Fine, dehydrated
Key ingredients: Vitamin E, glycerin, tangerine peel oil
Reasons to buy
+
Great value
+
Skincare ingredients
+
Long lasting
With deeply moisturizing ingredients normally used in skincare like glycerin and Vitamin E, this is a tonic for thirsty hair. Given the small price and giant 900ml bottles, it could be the best shampoo and conditioner for anyone looking to deeply hydrate fine strands on a budget too. The formula hones in on damage, leaving brittle patches feeling smooth and soft. It manages to not weigh hair down too, so you don't have to compromise on swish. Like many drugstore brands, the ingredients include silicones, but there's no denying the lovely 'slip' they give to the hair.
4. ECooking Volume Shampoo & Conditioner
The best volumizing shampoo and conditioner
Specifications
RRP: $26/£19 each
Hair type: Fine, flat
Key ingredients: Niacinamide, peptides, aloe vera, electrolytes
Reasons to buy
+
UV Protection
+
Skincare ingredients
+
Lots of natural and organic ingredients
+
Lovely aroma
This is a great under-the-radar brand for natural-leaning carefully formulated skincare (including one of the best eye creams around) and is also worth a look for for excellent hair care. This particular duo takes a two-pronged approach to increase volume in fine hair—the shampoo contains skincare ingredients like peptides and niacinamide to reinforce the hair's structure from within, while the conditioner employs light, water-holding ingredients such as aloe vera to hydrate without weighing hair down with heavy conditioning agents. Almost the entire formula is natural and/or organic, and it has an environmental shield to protect your color from dulling effects of UV.
Shampoo & conditioner for thick or curly hair
5. Aveda Be Curly Shampoo and Aveda Be Curly Conditioner
Best shampoo and conditioner for curly hair
Specifications
RRP: $25/£21.50 each
Hair type: All curls
Key ingredients: Wheat protein, aloe blend, lemon and bergamot essences
Reasons to buy
+
Gentle cleansing
+
Reduces frizz
+
Smells gorgeous
+
Certified cruelty-free
By its very nature, curly hair tends to be drier and more prone to breakage. This calls for a hefty dose of hydration, which this duo has in spades. The shampoo contains a special wheat protein and aloe blend that when applied wet, retracts as you dry to give curls more definition. The conditioner is deeply nourishing, with shine-enhancing seed oils plus a blend of aromatic citrus essences that smell incredible. Both work together to banish frizz halos and give definition to any curl type from coils to wavy hairstyles. Yes, it's a little bit pricy, but you get what you pay for.
6. Dizziak Hydration Wash and Dizziak Deep Conditioner
Best shampoo and conditioner for natural hair
Specifications
RRP: $23/£20 each
Hair type: Curls, coils and kinks
Key ingredients : Babassu oil, quinoa, aloe vera
Reasons to buy
+
Deeply nourishing
+
Rebalances PH levels of hair
+
Contains beautiful natural oils
+
Chic brand
Natural hairstyles can always benefit from plenty of added moisture, and these tubes of goodness won't disappoint. Dizziak hdration wash manages the fine art of clarifying and cleansing hair without stripping it, thanks to a well-balanced ingredient list of soapy cleansing things and nourishing ones like Babassu Oil. The deep conditioner has been something of a cult classic for years now, thanks to its rich, but not too heavy, texture and inclusion of plenty of gorgeous oils like Inca inchi, coconut, and argan. Both are sulfate-free and look excellent in your bathroom.
7. Object moisturising shampoo bar & Nourishing Conditioner bar
The best solid shampoo and conditioner for curls
Specifications
RRP: $24/£14 each
Hair type: Dry or dehydrayed
Key ingredients : Coconut milk, moringa, macadamia, shea butter
Reasons to buy
+
Eco-friendly
+
Deeply conditioning formula
+
Beautiful aroma
+
Equivalent to three bottles of shampoo
Reasons to avoid
-
If you're not a fan of solid bars
Natural oils can struggle to travel down to the ends of curls, causing dryness and dehydration. Which makes this oil-rich, handmade solid haircare one of the best shampoo and conditioner choices for curls that need a bit of nourishing love. As well as containing lovely stuff like coconut and macadamia oils in the shampoo and peppermint, mandarin and jojoba in the conditioner, the shampoo lathers exceptionally well for a solid bar, while the conditioner smells like spa heaven. Even the best shampoo bars require a little bit of getting used to and a bit more elbow grease to work into the hair than liquids, but it's well worth putting in the effort for the rewards you'll reap.
8. Color Wow Color Security Shampoo and Conditioner
Best shampoo and conditioner for color-treated curly hair
Specifications
RRP: $24/£19.50
Hair type: Colored, dull
Key ingredients : Wheat Protein, glycerin
Reasons to buy
+
Sulfate and 'nasty' free
+
Leaves hair shiny
+
Fresh smell
+
Protects color
Reasons to avoid
-
Less 'slip' than some formulas
If you have curls with balayage hair or another color treatment, it's important to maintain your shade and nourish your texture—luckily, this duo does both. They are sulfate-free, which will be good news to anyone following the curly girl method, and are designed without the usual things that can stick around on hair and cause dulling build-up, such as pearlising agents. This means that curls are left shiny and clarified, with a smoothness from the conditioner's 'cuticle sealing' formula. Both smell just like a salon and leave strands with impressive softness.
Shampoo & conditioner for color-treated hair
9. L'Oréal Elvive Colour Protect Anti-Brassiness Purple Shampoo and Conditioner
Best shampoo and conditioner for blonde hair
Specifications
RRP: $6/£5.50 each
Hair type: Bleached blonde
Key ingredients : Violet pigment, coconut extracts
Reasons to buy
+
Great price
+
Effective toning
+
Lots of pigment
Brassiness is a common bugbear for blondes, as highlights in hair can yellow over time making toning treatments more of a weekly necessity than a once every few months in-salon treat. This bargain duo uses purple pigment to neutralize yellowness, making it one of the best shampoo and conditioner sets for leaving blonde hair bright and icy (as well as dialing down green tones when you're wondering how to get chlorine out of hair) Like most of the best purple shampoos It packs a punch, so once a week should be enough to maintain your shade. You'll also need to give your shower tiles a wipe after using this, that purple pigment does seem to get around.
10. John Frieda Blue Crush Intensive Blue Shampoo and Conditioner
Best shampoo and conditioner for brunette hair
Specifications
RRP: $9.99/£6.99 each
Hair type: Brunette
Key ingredients : Crushed blue piment, glycerin
Reasons to buy
+
Good value
+
Keeps brunettes cool-toned
+
Moisturizes hair
Toning for blonde hair products aren't the only color shifters in town—brunettes need the best shampoo and conditioner to maintain their tone too. The great thing about brunette hair is it's rich tone and glossy sheen, but if your shade has lost its sparkle, this well-priced duo can help. Crushed blue pigments neutralize orange, red or brassy tones that may have crept in between appointments, leaving a deeper, cooler brunette in their place. Be warned, this pigment-packed pair can stain your hands if you leave it on for too long, so be speedy with your rinsing.
11. Davines Alchemic Shampoo and Conditioner in red
Best shampoo and conditioner for red hair
Specifications
RRP: $30/£19.50 each
Hair type: Red
Key ingredients : Vitamin B, glycerin, red pigment
Reasons to buy
+
Effective color enhancement
+
Unusual to find redhead products
+
Sulfate-free
+
Adds shine
The color molecule used to dye hair red is much larger than those used to color brunette and blonde hair, which is why it tends to fade so much faster. To keep your hair at its bold best for longer, stock up on shampoo and conditioner packed with additional pigment. This is a great home maintenance option for bottle reds, as well as naturally auburn hair. It contains moisturizing ingredient glycerin and really delivers on gloss for those wondering how to get shiny hair. Aim to use once a week, or more if you feel like you need it.
Shampoo & conditioner for scalp care and thinning hair
13. Earth Kind Bergamot and Sage Shampoo Bar and Organic Oats Conditioner Bar
The best sustainable scalp care shampoo and conditioner
Specifications
RRP: £6.95 (shampoo) £8.95 (conditioner) UK only
Hair type: Dry, sensitive scalp
Key ingredients: Organic avocado and olive oils, oat micro-protein
Reasons to buy
+
Eco-friendly option
+
Developed by a trichologist
+
Organic
+
Good lather
Reasons to avoid
-
Bars take a little getting used to
This shampoo and conditioner bar pairing has so much going for it—not least plastic-free eco credentials and a gentle, scalp-loving formula containing nourishing non-irritating ingredients like coconut cream cleansers and wheat amino acids. They smell pleasant in an unobtrusive way and feel nostalgic in the hand. Of course, if you're used to the convenience of squeezing liquid formulas out of a tube and the rich (chemically induced) lather they create then a bar might feel a little odd at first, but it's worth powering through for all the good this will do your hair and the world.
14. Mane 'n Tail Anti-Dandruff 2in1 Shampoo & Conditioner
Best shampoo and conditioner for dandruff-prone scalps
Specifications
RRP: $11.99/ £7.99
Hair type: Itchy, dry scalp
Key ingredients : Zinc, horse chestnut, meadowsweet
Reasons to buy
+
Soothing formula
+
Hydrates and cleanses
+
Convenient
+
Great price
Reasons to avoid
-
Two in one, so not ultra moisturising
Yes, we know two-in-one products are not for everyone, but if you have terrible memories of drying '90s formulas this is a big step up from those. Plus, it has the benefit of not overloading an already-clogged scalp with heavy conditioning agents. Although not strictly a hair type, flaky scalps are a common concern with many of us wondering how to get rid of dandruff, so it's important to use a targeted cleanser to get to the root of the problem. This 2-in-1 contains a blend of anti-inflammatory herbs to soothe irritation and prevent itchiness as well as zinc pyrithione to banish flakes. If you have very dry hair you may wish to use another conditioner on the ends, otherwise, this is a great timesaving treatment.
15. Kérastase Genesis Bain Nutri-Fortifant Shampoo and Kérastase Genesis Fondant Renforcatuer Conditioner
Best shampoo and conditioner for hair loss
Specifications
RRP: $35/£23.50 (shampoo) $42/£28 (conditioner)
Hair type: Thinning, fragile
Key ingredients : Edelweiss native cells, ginger root
Reasons to buy
+
Protects hair fibers
+
Instantly plumps
+
Luxurious and beautifully packaged
+
97% natural
Frustratingly, hair thinning can be triggered by everything from stress to diet, making it tricky to identify the cause. It's normal to lose up to 100 hairs a day, but if you're noticing more than usual swirling down the plughole, it might be worth checking in with your GP. In the meantime, this could be the best shampoo and conditioner for the job. They tackle hair loss by strengthening the hair in two ways—by protecting against environmental aggressors that cause weakness and breakage and gently clarifying then hydrating without stripping the hair or weighing it down (another cause of hair fall) The bottles also look gorgeous, as with everything Kérastase does, and smell like a dream.
16. Head & Shoulders Deep Cleanse Oil Control Shampoo & Supreme Strength Conditioner
Best shampoo and conditioner for congested scalps
Specifications
RRP: $6.49/£6 (shampoo) $8.97/£4.99 (conditioner
Hair type: Oily, congested scalp
Key Ingredients : Lactic acid, argan oil, bamboo
Reasons to buy
+
Deeply clarifying
+
Fresh scent and feel
+
Great value
A healthy scalp makes for happy hair, which is a mantra that Head & Shoulders have always championed. This deeply clarifying duo includes a new transparent shampoo that contains skincare acids like lactic acid gently shift dead cell build-up and decongesting a clogged scalp. The citrusy scent makes it zingy, tingly and a joy to use. There's no co-ordinating conditioner as such but is compatible with any within the Head & Shoulders collection. The nourishing Supreme Strength one is our top pick to nourish mid-lengths and ends after your mini scalp detox.
---
How often should I wash my hair?
"On average, I say wash your hair every three days—but everyone is different," advises hair expert and Viviscal brand ambassador Adam Reed, when it comes to how often should you wash your hair. "Three days is a good benchmark as it allows your sebaceous gland to regulate. Any more and you risk over lubricating the hair with its natural oils. Overwashing the hair can cause the sebaceous gland to produce too much sebum. This means hair feels oilier, and then will need to be washed more. If you strike the balance right, every three days will allow natural conditioning of the hair. Any less and you'll find that the hair can become built up by environmental pollution and will need more shampooing, causing it to look dull and lifeless."
Does hair clean itself?
As for the rumor that hair will eventually self-clean, this is, unfortunately, nothing more than a beauty myth. It might seem cleaner after a week or two, but it's likely you've just gotten used to the greasier texture. Skipping shampoos, or over-washing can both cause problems when it comes to the health of your hair and scalp—something Adam sees regularly in his salon.
"If people shampoo the hair too often, I find that the hair is much more difficult to blow dry and it can become static," Adam says. "On the other hand, clients who put too much product in their hair can 'cake up' the scalp with ingredients like kaolin (found in even the best dry shampoo). This can cause the hair to look lifeless. Similarly, if you're washing your hair every day this can cause metallic salt build-up in the hair because of the pipes in our showers. Hair tends to lose its sheen, looking dull instead."
How much shampoo and conditioner should use?
The experts are divided on this, but it really does come down to trial and error. Start by working a small blob of shampoo (the size of a 20p) into a lather, and only add more if your hair needs it. Using too much isn't necessarily bad for your hair, but is a waste of your hard-earned cash. The same goes for the conditioner. For fine hair, a little conditioner will go a long way—and you'll only need to use it on your ends. But if your hair is thick, dry, or textured, you're likely to need a generous dollop.
The most important thing is to make sure you rinse both your shampoo and conditioner thoroughly. Rinse until you think it's all gone, and then go again for another 15 seconds. Leaving product behind dulls the hair and can cause problems for your scalp health too.
Are sulphate-free the best shampoo and conditioners for your hair?
The simple answer is that it depends on the individual. Some people quickly notice an improvement in the health and condition of their hair when they stop using shampoos with sulfates. Others the opposite. But, sulfate-free shampoos are growing in popularity, which many people now actively avoiding them in shampoos.
"Sulphates can be found in a variety of products, from shampoo and toothpaste to laundry detergents," explains award-winning hairstylist Michael Van Clarke. But before you recoil in horror at the thought of washing your hair with detergent, it's important to understand that not all sulfates are created equal.
"The most commonly used sulfate in shampoo is Sodium Lauryl Sulphate (SLS), which is a very effective surfactant. It helps to dissolve grease and dirt, and it's nice and easy to rinse out." If your hair is naturally dry, or you have sensitive skin on your scalp, you might find that sodium lauryl sulfate does a bit too good of a job, stripping away much-needed moisture. It can speed up color fade too.
There are two other, gentler sulfates to look out for on your ingredients list:
SLES – Sodium Laureth Sulphate '"This is a much softer cleanser and has a larger molecular structure than SLS," explains Michael.
ALS – Ammonium Lauryl Sulphate "Even gentler than SLES, this has a larger, more complex molecule which is harder for outer layers of skin to absorb. Therefore it's seen as less likely to irritate sensitive skin."
Opting for a shampoo formulated with milder sulfates, or culling them from your routine, might not be a good idea if your hair is on the oily side. They don't lather as easily, so you have to work harder to break down styling products and grease.
---
woman&home thanks Adam Reed and Michael Van Clarke for their time and expertise
Beauty Editor, womanandhome.com
As woman&home's Beauty Channel Editor, Fiona Mckim has tried more products than she's had hot dinners and nothing makes her happier than raving about brilliant finds on womanandhome.com or her instagram grid (@fionamckim if you like hair experiments and cute shih-tzus). Fiona joined woman&home as Assistant Beauty Editor in 2013 under industry legend Jo GB, who taught her everything she needed to know (learn about ingredients and employ extreme cynicism). She has since covered every corner of the industry, from interviewing dermatologists and celebrities to reporting backstage at Fashion Week and judging the w&h Beauty Awards.