The best shampoo and conditioner combinations for each and every hair type
Whether your locks are thinning, dry or curly, we have the best shampoo and conditioner for you...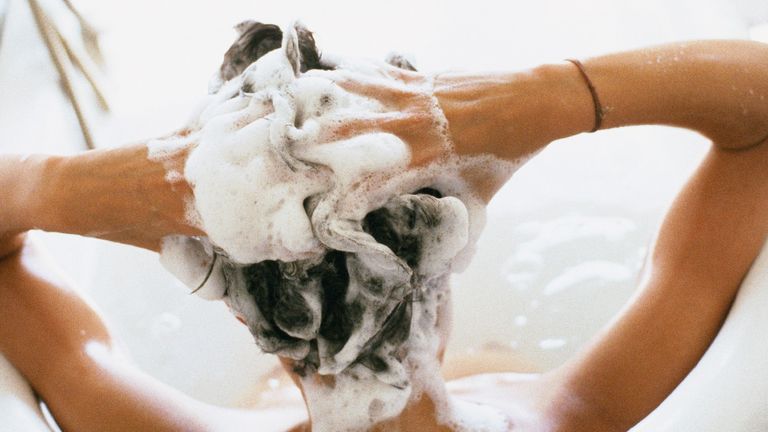 (Image credit: Getty)
Looking to upgrade your bathroom cabinet with the best shampoo and conditioner for your hair type? Keep reading...
While shelves full of serums and sprays might suggest differently, shampoo and conditioner are the two most important products in your regime. After all, great hair needs great foundations, and this duo is your first chance to coax it into shape.
Picking the best shampoo and conditioner is vital for healthy, glossy hair, regardless of whether you'll be styling with your best hair dryer or leaving to naturally air dry. It's equally important for all hair lengths too, whether your chosen 'do is a cropped, short hairstyle, a bob hairstyle or a long hairstyle.
With such a core beauty staple, you'd think things would be pretty straight forwards, but there are still plenty of common misconceptions around shampoo and conditioner. Do I need to wash daily? Should I be co-washing instead of shampooing? And how much conditioner is too much conditioner?
The question of whether shampoos that contain sulphates are damaging for your hair comes up regularly too. Ultimately, it's all down to personal preference, but more on that later.
We've asked the experts to break it down for your best lather, rinse and repeat yet…
The best shampoo and conditioner combinations for every hair type
Thanks to our beauty team's expert recommendations, finding the right shampoo and conditioner for your hair type has never been easier. Your dreamy new double act is just a click away…
Mane 'n Tail Anti-Dandruff 2in1 Shampoo & Conditioner
Best shampoo and conditioner for dandruff-prone scalps
Specifications
Sulphate-free: No
Vegan: No
Why use two products when just one will do? Although not strictly a hair type, dandruff is a big concern for many, so it's important to use a targeted cleanser to get to the root of the problem. This 2-in-1 helps to soothe irritation and banish flakes, as well as adding impressive shine and slip.
Kérastase Genesis Bain Nutri-Fortifant Shampoo and Kérastase Genesis Fondant Renforcatuer Conditioner
Best shampoo and conditioner for hair loss
Specifications
Sulphate-free: No
Vegan: No
Frustratingly, hair thinning can be triggered by everything from stress to diet, making it tricky to identify the root cause. It's normal to lose up to 100 hairs a day, but if you're noticing more than usual swirling down the plug hole, it might be worth checking in with your GP. In the meantime, this could be the best shampoo and conditioner for the job, as it tackles hair loss by strengthening your roots and rehydrating splitting lengths.
Head & Shoulders Deep Cleanse Oil Control Shampoo & Supreme Strength Conditioner
Best shampoo and conditioner for oily hair
Specifications
Sulphate-free: No
Vegan: No
A healthy scalp makes for happy hair, which is a mantra that Head & Shoulders have always championed. Their latest launch sees a new transparent shampoo that dives deep into pore to refresh and decongest clogged-up scalps. The citrus version is zingy, soothing and a joy to use. There's no coordinating conditioner as such, but is compatible with any within the Head & Shoulders collection. The nourishing Supreme Strength one is our top pick.
Aveda Be Curly Shampoo and Aveda Be Curly Conditioner
Best shampoo and conditioner for curly hair
Specifications
Sulphate-free: Yes
Vegan: Yes
By it's very nature, curly hair tends to be drier and more prone to breakage. This calls for a hefty dose of hydration, which this duo have in spades. Use the shampoo and conditioner together to banish the dreaded frizz halo and give definition to coils, curls and waves.
Pureology Hydrate Colour Care Shampoo and Conditioner
Best shampoo and conditioner for dry hair
Specifications
Sulphate-free: Yes
Vegan: Yes
Dry hair will benefit from a rich, nourishing, sulphate-free shampoo, and an even richer conditioner. This set has been specially formulated for coloured hair, helping to combat the dryness that comes as part-and-parcel of the process. The shampoo lathers well, and the conditioner leaves hair satisfyingly slippery. Plump for the super-sized bottles to bag a bargain.
Color Wow Color Security Shampoo & Conditioner
Best shampoo and conditioner for coloured hair
Specifications
Sulphate-free: Yes
Vegan: Not specified by brand
Keep your colour vibrant for longer with the help of a colour protect shampoo and conditioner. This duo smells just like a salon, and leaves both blondes and brunettes with impressive shine. As a welcome side effect, the conditioner wonders on frizz and frazzled ends too.
Dizziak Hydration Wash and Dizziak Deep Conditioner
Best shampoo and conditioner for afro hair
Specifications
Sulphate free: Yes
Vegan: Yes
Afro hair benefits from plenty of added-moisture, and these tubes of goodness won't disappoint. Dizziak's deep conditioner has been something of a cult classic for years now, thanks to it's rich, but not too heavy, texture. Prep hair with the co-ordinating sulphate-free wash for a nice, nourishing cleanse.
TRESemmé Moisture Rich Shampoo & Conditioner
Best shampoo and conditioner for dehydrated hair
Specifications
Sulphate-free: No
Vegan: No
For thirsty hair that's calling out for moisture, this could be the best shampoo and conditioner for anyone on a budget. It hones in on damage, leaving previously brittle patches and scraggly ends feeling smooth and soft. It manages to not weigh hair down too, so you don't have to compromise on swish. One bottle of each lasts for absolutely ages.
Redken Acidic Bonding Concentrate Shampoo & Conditioner
Best shampoo and conditioner for damaged hair
Specifications
Sulphate-free: Yes
Vegan: Not specified by brand
Designed to shield weakened bonds within the hair, the shampoo also protects from heat styling to prevent future damage. Both the shampoo and conditioner smell incredible, like a fruity cocktail, which is always a winner in our books. It doesn't leave your lengths feeling hugely nourished when you step out the shower, but hair is noticeably easier to style after using, with shine increased.
Ouai Fine Hair Shampoo and Conditoner
Best shampoo and conditioner for fine hair
Specifications
Sulphate-free: Yes
Vegan: No
If you have fine hair, weighing it down is likely to be your biggest concern. Luckily, Ouai's Fine Hair Conditioner manages to be both velvety soft and light-as-air, for weightless hydration. Topped with the brand's signature 'Mercer Street' fragrance, the floral scent lingers for days.
L'Oréal Elvive Colour Protect Anti-Brassiness Purple Shampoo and Conditioner
Best shampoo and conditioner for blonde hair
Specifications
Sulphate-free: No
Vegan: Not specified by brand
A common bugbear for bottle blondes, hair can develop brassy tones over time. This duo uses purple pigment to neutralise yellowness, so could be the best shampoo and conditioner for leaving hair blonde bright and icy. It packs a punch, so applying just once a week should be enough to maintain your shade.
John Frieda Blue Crush Intensive Blue Shampoo and Conditioner
Best shampoo and conditioner for brunette hair
Specifications
Sulphate-free: No
Vegan: Yes
Davines Alchemic Shampoo and Conditioner (Red)
Best shampoo and conditioner for red hair
Specifications
Sulphate-free: No
Vegan : Yes
The red colour molecule is much larger than those used to colour hair brunette and blonde, which is why it tends to fade so much faster. To keep your hair at it's bold best for longer, stock up on shampoo and conditioner packed with additional pigment. This is a great home maintenance option for bottle reds, as well as natural auburns. It really delivers on shine too, leaving hair extra glossy. Aim to use once a week, or more if you feel like you need it.
The great thing about brunette hair is it's rich tone and glossy sheen, but if your shade has lost its sparkle, you're in the right place. Crushed blue pigments neutralise orange, red or brassy tones that may have crept in between appointments, leaving a deeper brunette in their place. Be warned, this pigment packed pair can stain your hands, so use with gloves.
How should using the best shampoo and conditioner make your hair feel?
A good shampoo will cleanse your hair gently but effectively, leaving it clean and free from product build-up. What it shouldn't do is leave hair dry and squeaky, stripping away the oils our hair needs to stay soft and shiny.
Conditioner should leave your hair moisturised, nourished and silky, but not heavy or greasy. Apart from that, it's all down to personal preference and hair type.
How much hair washing is too much?
"On average, I say wash your hair every three days – but everyone is different", advises hair expert and Viviscal brand ambassador Adam Reed, when it comes to how often you should wash your hair.
"Three days is a good bench mark as it allows your sebaceous gland to regulate. Any more and you risk over lubricating the hair with its natural oils. Over-washing the hair can cause the sebaceous gland to produce too much sebum. This means hair feels oilier, and then, in turn, will need to be washed more. If you strike the balance right, every three days you will have a great release of sebum, allowing natural conditioning of the hair. Any less and you'll find that the hair can become built up by environmental pollution and will need more shampooing, causing it to look dull and lifeless."
As for the rumour that hair will eventually self-clean, this is unfortunately nothing more than a beauty myth. It might seem cleaner after a week or two, but it's likely you've just gotten used to the greasier texture.
Skipping shampoos, or over-washing can both cause problems when it comes to the health of your hair and scalp – something Adam sees regularly in his salon.
"If people shampoo the hair too often, I find that the hair is much more difficult to blow dry and it can become static," Adam says. "On the other hand, clients who put too much product in their hair can 'cake up' the scalp with ingredients like kaolin (normally found in dry shampoo). This can cause the hair to look lifeless. Similarly, if you're washing your hair every day this can cause metallic salt build-up in the hair because of the pipes in our showers. Hair tends to lose it's sheen, looking dull instead."
How much shampoo and conditioner should I be using?
The experts are divided when it comes to how much of the best shampoo and conditioner you should be using, but it really does come down to trial and error.
Start by working a small blob of shampoo (the size of a 20p) into a lather, and only add more if your hair needs it. Using too much isn't necessarily bad for your hair, but is a waste of your hard-earned cash. Pureology shampoo and conditioner bottles have handy symbols on their caps as a guide to how much you need to use.
Same goes for conditioner. For fine hair, a little conditioner will go a long way – and you'll only need to use it on your ends. But if your hair is thick, dry or textured, you're likely to need a generous dollop.
The most important thing is to make sure you rinse both your shampoo and conditioner thoroughly. Rinse until you think it's all gone, and then go again for another 15 seconds. Leaving product behind will not only rid your hair of its shine, but can cause problems for your scalp too.
Are sulphate-free the best shampoo and conditioners for your hair?
The simple answer is that it depends on the individual. Some people quickly notice an improvement in the health and condition of their hair when they stop using shampoos with sulphates in. Others the opposite.
But, sulphate-free shampoos are growing in popularity, which many people now actively avoiding them in shampoos.
"Sulphates can be found in a variety of products, from shampoo and toothpaste to laundry detergents," explains award winning hair stylist Michael Van Clarke.
But before you recoil in horror at the thought of washing your hair with detergent, it's important to understand that not all sulphates are created equal.
"The most commonly used sulphate in shampoo is Sodium Lauryl Sulphate (SLS), which is a very effective surfactant. It helps to dissolve grease and dirt, and it's nice and easy to rinse out."
If your hair is naturally dry, or your scalp sensitive, you might find that Sodium Lauryl Sulphate does a bit too good of a job, stripping away much-needed moisture. It can speed up colour fade too.
There are two other, slightly gentler sulphates to look out for on your ingredients list…
SLES – Sodium Laureth Sulphate 'This is a much softer cleanser and has a larger molecular structure than SLS,' explains Michael.
ALS – Ammonium Lauryl Sulphate 'Even gentler than SLES, this has a larger, more complex molecule which is harder for outer layers of skin to absorb. Therefore it's seen as less likely to irritate sensitive skin.'
Opting for a shampoo formulated with milder sulphates, or culling them from your routine altogether, might not be a good idea if your hair is on the oily side. They don't lather as easily, so you have to work harder to break down styling products and grease.