The best shampoo for curly hair: cleanse, hydrate, and fortify your curls
Our expert guide to the best shampoo for curly hair, coils, and kinks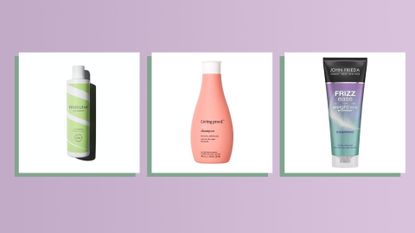 (Image credit: Future)
Choosing the best shampoo for curly hair, be that loose curls, kinks or coils, can make all the difference to the strength and even length of your hair. And because studies have shown that curly hair is more prone to frizz, dryness, tangling and breakage than straight tresses, it's important to get your cleansing choice right.
Shampoo is your first line of defense against the product, sweat, and dirt build-up that can lead to scalp issues like redness, itchiness, dryness, and flaking—making cleansing a non-negotiable part of your haircare routine. Getting haircare right can give you the manageability to create easy hairstyles, no matter what your curl type. Not using the best shampoo and conditioner for your curls can strip the scalp of much-needed moisture exacerbating those challenges that curly hair is more susceptible to—namely dryness and frizzy hair.
Luckily, we've got you covered. Whether you have a natural hairstyle, curly hairstyle or wavy hairstyle, this is your complete guide to the best shampoo for curly hair and all the best ways to take care of your beautiful natural texture.
How to pick the best shampoo for curly hair
Why you can trust Woman & Home Our expert reviewers spend hours testing and comparing products and services so you can choose the best for you. Find out more about how we test.
There are countless considerations to make when picking the best shampoo for curly hair, from budget to ingredients to how it smells, but these are your two key factors, according to the experts:
Sulfates vs sulfate free: Traditional shampoo formulas contain sulfates, a surfactant that enables formulas to give a deep cleanse and that sudsy lather that we've come to associate with a good clean, and can help strip away any mineral deposits that come as an effect of hard water on hair. However, sulfates can strip the scalp of those oils we make for a reason—to keep hair healthy and hydrated. "It's best to use a shampoo that doesn't contain the likes of sodium laureth sulfate, sodium lauryl sulfate, and ammonium laureth sulfate," says trichologist Ricardo Vila Nova. "Instead, look for alternatives like coconut, that still remove dirt and excess oil, but don't totally strip the scalp and leave naturally-dry curly hair even more parched." Wondering how often should you wash your hair with sulfate-free shampoo? It's all down to how your hair feels, but between 1-3 times a week suits most curl types.
Consider curl type: Curly hair is classified as type 3 or 4 with subcategories to help you further define your specific curl, kinks, or coils. "Type 3 curls are akin to springs that come in fine, medium, and thick varieties—they can be straightened with the best hair straighteners, and can boast major shine—but are prone to frizz and tangling," explains Elena Lavagni owner of Neville Hair & Beauty. "This makes hydrating, reparative, and curl-defining shampoos a good shout." At-home keratin treatment type shampoos can also be a great option for this curl type. "Type 4 coils shrink massively once dry, and these curls are either tightly coiled or have a compact zigzag pattern. This type is also generally parched in nature and tends to be coarser so sulfate-free shampoo is a must, as is a formula that's full of nourishing oils that help soften and smooth tresses," says Lavagni.
THE BEST SHAMPOOS FOR CURLY HAIR, AS SELECTED BY OUR EXPERTS
1. Kerastase Hydration Douceur Shampoo
The best shampoo for curly hair overall
Specifications
RRP: $35/£23.50
Key ingredients: Ceramide, Manuka honey, glycerine
Hair type: All curl types
Reasons to buy
+
Strengthening
+
Moisturising
+
Adds shine
Curly hair is more fragile than straight hair, and drier too, which is why this shampoo contains a patented ceramide that was developed after four years of research. It creates a barrier between the hair strand and environmental stressors to lock in moisture, improve strength, elasticity, and suppleness. You'll also find manuka honey in this rich, creamy, and bolstering formula, which doesn't weigh your hair down despite being ultra-nourishing.
Honey is rich in micronutrients that draw in moisture to combat the stubbornly dry nature of curly hair. It also helps restore the hair's natural body for curls that are more resistant to breakage and glossier (a bonus for anyone wondering how to get shiny hair.) You'll probably want to use this gentle cleanser every day. This is in no small part thanks to the inclusion of glycerin, a gold standard moisturizer, which hydrates from root to tip to help with curl definition and shine. You'll also love the warm fruity, floral scent that envelops your hair and fills your bathroom. And since it's sulfate-free you could use it every day too!
2. Imbue Coil Awakening Cream Cleanser
The best shampoo for dry curls
Specifications
RRP: $10/£8.99
Key ingredients: Coconut oil, baobab oil, black oat extract
Hair type: Ideal for 4a-4c curls
Reasons to buy
+
Deeply hydrating
+
Silky texture
+
Sulfate-free
Reasons to avoid
-
Fine curls might find formula too heavy
Oil-packed formulas might scare those with short hairstyles like pixie haircuts or fine hair, but for curls, nourishing oils are a prerequisite. This formula has them in spades to expertly rid the scalp and hair of product build-up, dirt, and grime without stripping away moisture. The most notable is coconut oil, known for its reparative and strand-smoothing qualities. It also packs in omega 3 fatty acid-rich baobab, known for its moisturizing and strengthening abilities, and black oat oil that helps seal the cuticle to prevent color fade, breakage, and frizz. Combined you can expect stronger, smoother more defined curls, kinks, and coils.
To get the best from this nourishing cleanser, hair needs to be fully drenched in water otherwise it can feel like you're not getting an even distribution. You'll find a little goes a long way if the hair is fully saturated. However, if your curls aren't dry or you have fine strands or loose curls like beach hair waves you might find this shampoo a little too heavy as it's created with type 4a-c curls, coils, and kinks in mind.
3. Gallinée Hair Cleansing Cream
The best shampoo for sensitive scalps
Specifications
RRP: $32/£23
Key ingredients: Lactic acid, prebiotics, fermented rice water, mafura oil
Hair type: All hair types
Reasons to buy
+
Good for your scalp
+
Balances PH levels
+
Gentle ingredients
+
Allows you to wash hair less often
From a brand obsessed with all things good bacteria, this sulfate-free, non-foaming hair cleanser is a gentle as they come. It's a creamy shampoo that soothes irritated scalps, keeps moisture levels balanced, and is clinically proven to help you nail how to get rid of dandruff too. This is thanks to time-release lactic acid, a gentle skincare acid that helps the skin to stay at its optimal pH level and keep the scalp hydrated. While prebiotics—a mix of ultra-gentle fibers and sugars—feed your skin's good bacteria and ward off the bad. For healthy curls, there's fermented rice water, an ingredient that's having a major moment as the starch it contains coats the hair shaft leaving it stronger, and shinier too. Lastly, mafura oil adds the moisture curly hair needs.
It would be ideal if this came with a nozzle to get the shampoo directly on the scalp, but since it doesn't it's best to section your hair when wet and run the shampoo bottle along the scalp squeezing gently as you go. This is an especially useful hack for those with long hairstyles as otherwise, it's easy to use far too much just to feel as though you're saturating your scalp and roots properly.
4. Pantene Pro V Gold Series Sulfate Free Shampoo
The best for textured kinks and coils
Specifications
RRP: $9.99/£5.99
Key ingredients: Glycerin, salicylic acid, argan oil
Hair type: Afro texture hair
Reasons to buy
+
Sulfate free
+
Oil-rich
+
Specifically designed for Afro hair
Reasons to avoid
-
Can be difficult to rinse out
Studies have shown that for Afro hair, dryness and breakage are a major concern, so a team of Black scientists and dermatologists co-created the Pantene Gold Series to combat these issues. Formulated specifically for women with relaxed, natural, or transitioning hair the whole line is made with technology that works to improve moisture, strength, elasticity, smoothness, and shine.
This sulfate-free cleanser removes build-up on the scalp without stripping hair of its natural oils, plus softens dry, damaged hair. It also hydrates and nourishes thanks to a medley of hair-friendly ingredients. Exfoliating salicylic acid helps slough off dry skin and dandruff on the scalp, humectant glycerin hydrates the scalp, strengthens and nourishes hair, and argan oil moisturizes and reduces breakage to help prevent hair thinning. For best results, emulsify the cream formula by placing it in the palms of your hands, rub hands together before massaging it into your scalp with your fingertips. If you only wash once a week or are addicted to your best hair styling products you'll want to use this two to three times in a row and rinse out thoroughly for the best results.
5. John Frieda Frizz Ease Weightless Wonder Shampoo
The best shampoo for fine, curly hair
Specifications
RRP: $8/£5.99
Key ingredients : Salicylic acid, aloe vera, glycerine
Hair type: Fine curly or wavy hair
Reasons to buy
+
Reduces frizz
+
Weightless
+
Can be used daily
Over 30% of women with frizzy hair also have fine hair, and both curls and fine hair are more likely to get tangled as well as suffer from flyaways and static. The difficulty with treating frizz and tangles is that moisture is key, yet fine hair can easily be weighed down, leaving curls looking dull and lacking bounce.
If this describes your predicament perfectly then this shampoo is for you. Infused with aloe vera water, it gently cleans fine, frizzy hair while offering enough nourishment thanks to mega moisture booster glycerin, which also tames frizz without weighing your fine curls down. Scalps are catered for thanks to salicylic acid which removes build-up for a thorough clean. However, bear in mind this formula contains sulfates which might be too aggressive for those with very dry curly hair.
6. Living Proof Curl Shampoo
The best luxury shampoo for curly hair
Specifications
RRP: $32/£31
Key ingredients: Amino acids, jojoba oil, shea butter, sunflower seed wax
Hair type: Type 3 and 4 curls, kinks and coils
Reasons to buy
+
Effective curl defining
+
Suits all curl types
+
Deeply nourishes
+
Luxurious fragrance
Following the curly girl method? This could be the best shampoo for curly hair to suit your needs. Despite being sulfate-free it lathers up really nicely and feels like a traditional shampoo formula despite being anything but. In fact, this shampoo contains a Healthy Curl Complex, which creates a shield around your curls to strengthen, define and eliminate frizz. The technology is a blend of amino acids, which are often found in the best hair masks and are known to contribute to hair strength and elasticity. The ingredient list also boasts nourishing jojoba oil, shea butter, and sunflower seed wax to encourage curl groupings.
Uniquely, you can actually start the detangling process once the shampoo is in your hair. This is thanks to the nourishing slip it offers as opposed to that squeaky clean stripped feel. This allows you to run your fingers through the lengths of your tresses before combing once you've applied the conditioner, which helps reduce breakage when the hair is wet.
7. OGX Quenching Coconut Curls pH Balanced Shampoo
The best budget shampoo for curly hair
Specifications
RRP: $7.99/£3.49
Key ingredients: Honey, coconut oil, citrus oil
Hair type: All curl types
Reasons to buy
+
Coconut fragrance
+
Not drying
+
Sulfate free
PH is the measurement of acidity and alkalinity, and it's important that the products we use on our skin and hair don't alter their natural PH. Our scalp has a PH of 5.5, while our hair's PH stands at 3.67. Much like using the wrong PH products can disrupt our skin barrier, using a shampoo that is too alkaline can trigger the hair cuticle to open, which results in moisture loss that leads to dryness, breakage, and frizz.
Cue this shampoo, which has the ideal PH for your scalp. Alongside being PH-balanced it contains a tropical blend of delightful-smelling ingredients, namely coconut oil, sweet honey, and citrus oil, which also condition, strengthen and define your curls. Be aware though that it does also contain silicones that coat each and every hair strand to offer a soft silky feel, but are known to build up over time and can only be removed by sulfates.
8. Bouclème Curl Cleanser
The best conditioning cleanser
Specifications
RRP: $25/£15
Key ingredients: Argan oil, virgin coconut oil, organic aloe vera, pomegranate extract, spearmint
Hair type: Dry hair
Reasons to buy
+
Reduces frizz
+
Smells good
+
Defines curls
Reasons to avoid
-
Can be too oil rich for non-dry curls
How often should I wash my hair is the eternal question for curly girls. Many experts say daily cleansing is a no-no for curls due to the harshness of cleansing ingredients and silicones, but Boucleme's non-foaming creamy cleanser is silicone and sulfate-free, and suitably gentle for everyday use. This means it could be the best shampoo for curly hair if you exercise regularly, work in environments where you get your hands or hair dirty, or simply live in a polluted area.
Designed for all curl types from loose to tight, this cleanser eliminates build-up and debris without stripping hair of its natural oils, so your curls are left beautifully soft and defined. It's powered by nourishing plant extracts—including virgin coconut oil, aloe vera, pomegranate extract and invigorating spearmint. Plus this award-winning formula is 98% naturally derived, with recyclable packaging, leaving your curls feeling as clean as your conscience.
9. DevaCurl Buildup Buster
The best for deep cleansing
Specifications
RRP: $28/£21.20
Key ingredients: Abyssinian seed oil, jojoba, micellar water
Hair type: Waves, curls, kinks and coils
Reasons to buy
+
Deep cleanses
+
Spa-like scent
+
Moisturizing
Has your hair has lost its mojo? Does it look lank and lackluster due to build-up from products, hard water, or environmental stressors? Step this way, because this rejuvenating serum cleanser is the best shampoo for curly hair that needs a jolt back to life. DevaCurl was the first brand to bring micellar water to haircare and many others have followed suit. As with any of the best micellar water products for hair, this is made up of tiny cleansing molecules that attract dirt like a magnet. This gently removes dead skin, product residue, dirt, and oil as well as hard water build-up, making it easier to deep cleanse without stripping the scalp of its all-important natural oils.
It has an interesting gel-like texture and a helpful nozzle dispenser so you can squeeze the uplifting eucalyptus, coriander, and peppermint-scented cleanser directly onto the scalp once a week. It's a treatment shampoo so you might not need it every time you wash, meaning you'll need another shampoo in your arsenal. You also absolutely need to follow this with a conditioner to seal in moisture, but you'll be rewarded for your effort with curls that are well-defined and gleaming.
10. Watermans Grow Me Shampoo
The best for hair growth
Specifications
RRP: $16.99/£13.95
Key ingredients: Biotin, caffeine, keratin, argan Oil
Hair type: All
Reasons to buy
+
Promotes hair growth
+
Sulfate free
+
Strengthens hair
Reasons to avoid
-
Sensitive scalps may find it too stimulating
Curly hair's natural propensity for dryness means it's also prone to breakage, which can result in those with curly tresses struggling to grow their hair past a certain point—usually the shoulders. It will take more than just shampoo to help your hair grow but this is a very good start, and one of these is sold every 30 seconds, which is pretty telling.
Formulated with a plethora of growth-boosting natural ingredients, most notably biotin, this stimulates keratin growth for stronger, thicker, and healthier hair. It also packs in caffeine to increase blood circulation in the scalp which helps deliver oxygen and hair-building nutrients to hair follicles. Plus it contains hero moisture booster argan oil, which traps moisture in the hair shaft to reduce breakage. It's sulfate-free yet cleanses thoroughly without stripping the hair and suits curls, kinks, and coils. The one downside is you have to leave it on the scalp for three to four minutes to let the growth ingredients work their magic. But it's so worth it for the cumulative results.
---
woman&home thanks Ricardo Vila Nova (opens in new tab) and Elena Lavagni of Neville Hair & Beauty (opens in new tab) for their time and expertise.