The Curly Girl Method: Everything you need to know about this groundbreaking curl care technique
The Curly Girl Method is the viral haircare approach at the center of the curl community. Here's how to master it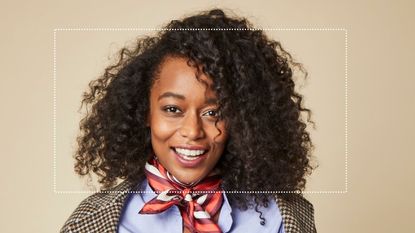 (Image credit: Future)
If you have curly hair, chances are you've heard the Curly Girl Method referenced on more than one occasion. It's the method that has been claimed and loved by much of the natural hair community for years now for its powerful way of transforming frizzy or weighed-down curls into shiny, bouncy, defined ringlets.
But adopting the method for your own curls might feel daunting, and it's hard to know where to start as there are a few things you need to cut from your current routine to be aligned with the Curly Girl ethos. Because that's the thing: This is, at its heart, a rather strict method that, when followed correctly, is super effective in helping you get the best out of your curls. And as with all guidelines, there might be some products and tools in your beauty stash that you'll probably need to tuck away (hint: your brushes) to be completely "Curly Girl complaint."
Everything you need to know about the curly hair method
The Curly Girl Method, explained
The Curly Girl Method (CGM, or CG) is a haircare approach specifically for curly hair brought to the forefront of the curl community by hairstylist Lorraine Massey when she implemented it in her DevaChan hair salons in New York City. Along with Michele Bender, Lorraine published Curly Girl: The Handbook in 2011, a detailed guidebook of styling and caring for different curly hairstyles, and which also highlighted key fundamentals in the CGM—namely, removing all ingredients that mess with your strands, like alcohol and sulfates, and discontinuing practices that harm your hair, to truly get the best out of your curls.
The method has since gone viral and has been enjoying increased success via online forums and social media. Over the years, helpful adaptions and variations have been made to nuance the method for all curls and coils. The method was especially championed by those who wanted to pare down their routines in favor of something gentler and effective versus focus on simply purchasing expensive products or tools, like the best hair dryer you can afford or splurging on a slew of latest-and-greatest shampoos that may or may not be doing more harm than good.
It instead stresses a mindset change: If you're used to doing things like washing your hair with regular shampoo and using heat on your curls, you might want to recalibrate your personal haircare routines as these are things that are huge no-no's in the curly hair community. There is also a list of ingredients that you need to avoid to be "Curly Girl compliant," as they hinder your curls' capability to thrive.
Curly Girl: The Handbook
---
Why is the Curly Girl Method good for curls?
"The CGM is an amazing method to take care of your curls using products and techniques that will result in you having your very best curls," says Michelle Sultan, Creative Director and Brand Ambassador for renowned curl line Imbue. "It encourages the use of products that are free from sulfates, parabens, wax-based silicones, and harmful mineral oils. The method also steers you away from using direct dry heat on hair to prevent damage from electrical appliances."
Ingredients to avoid with the Curly Girl Method
To be truly Curly Girl compliant, you need to avoid specific ingredients that merely sit on your strands and don't penetrate the hair, which can cause the hair to look heavy or lank and unable to hold a bouncy curl. Ingredients and practices to avoid are:
Waxes
Minerals
Silicones
Sulfates
Towel-drying
Heated appliances
If you're a fan of partaking in a bit of heat-styling, the bad news: It's time to store your straighteners and curling irons, as the CGM calls for stepping away from the heated appliances altogether. Heat is known to adjust the bonds in the hair to set it into a new style, and if done repeatedly, this can permanently change your curl pattern. The only acceptable heat is occasionally using a diffuser on the lowest heat setting.
What products do you need for the Curly Girl Method?
Having curly hair used to mean having to road-test a lot of different products and to do a trial-and-error approach to find the best for your specific type of curl. However, with the CGM, you only need a few basic products—you can adjust and add in according to your curl type and hair concern.
If you have dry hair, you might want to add in a hair oil to seal and lock in hydration and shine. It might take a bit of experimenting, but when you find your go-to products, the goal is to have your routine be super streamlined.
Clarifying shampoo: This is for your reset wash at the start of your Curly Girl journey, but also key to use if you accidentally use anything with "non-approved" ingredients.
Low shampoo/co-wash: To cleanse your hair weekly
Conditioner: To seal in moisture and to detangle
Curl gel: To set your curls
How to do the Curly Girl Method
Step 1: Do a reset wash
To start your CGM journey, the first thing you need to do is a 'reset' wash. This is a clarifying wash to rid your curls of any product build-up that might be on your hair from your pre-curly girl days. It restores your hair to a pre-product state, so you have a blank canvas to start your CGM. Following this wash, you use non-sulfate low shampoos and co-washes to cleanse your hair.
Kinky-Curly Come Clean Shampoo
---
SheaMoisture Coconut & Hibiscus Curl & Shine Shampoo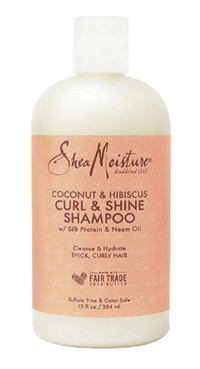 Thick, curly hair is moisturized, and body and shine are restored with the help of coconut and neem oils that hydrate while a silk protein blend nourishes without the weigh-down. And, of course, it's sulfate-free and cruelty-free, with ethically traded ingredients—we expected no less from this winning heritage brand.
---
Step 2: Condition
Next, add a lot of conditioner to dripping wet hair—about a handful—and rake through your hair with your fingers to detangle. When it comes to rinsing your conditioner, be sure not to rinse it out so it's squeaky clean; this is so the rest of the product you apply as a base to cling to.
SheaMoisture Coconut & Hibiscus Curl & Shine Conditioner
---
Step 3: Apply gel
While your hair is still soaking wet, apply your gel. If you're used to using a modest amount of styling gel, just know you need more for the CGM. The gel should fully coat your curls from root to tips. Then, when it comes to drying, gently squeeze out excess water with your hands or a t-shirt-textured hair towel, making sure to not disturb your curl pattern.
---
Step 4: Scrunch as it dries
When your hair is fully dry, delicately scrunch out the cast that's been left behind by the gel, and revel in the newfound bounce of your curls.
In case your hair needs more TLC or if you have more time for a treatment, you can include a few extra steps as illustrated in this handy guide:
How to do the Curly Girl Method for wavy hair
Does the Curly Girl Method work for everyone? The CGM really only works for anyone that has a naturally defined pattern. If you have tightly coiled, type 4c afro hair, then you might find that this doesn't work as well for you as your hair won't form the defined curls or coils that the CGM hopes to create. If you have wavy hair, the method can work, but you need to adjust it slightly and use lighter products. The guide below helps show how to tailor products and care depending on your curl type.
woman&home thanks Michelle Sultan of Imbue for her time and expertise.
Sign up to our free daily email for the latest royal and entertainment news, interesting opinion, expert advice on styling and beauty trends, and no-nonsense guides to the health and wellness questions you want answered.
Keeks is a London-based beauty writer and content creator. She has worked with titles including Cosmopolitan, VOGUE, Refinery29, Red, Elle, OK! and woman&home. While she has a well-rounded beauty obsession, her specialism is all things hair.
When she's not testing the latest hair tool on camera or waxing lyrical about styling tips, you'll find her re-watching old episodes of Real Housewives of Beverly Hills (or New York or Atlanta). She loves a social scroll as well as a romantic book, but nothing beats Sunday afternoon lunches with her friends and family. You can catch Keeks on all social platforms @keeksreid.